Eric & Michelle wanted to plan their wedding from the ground up – literally. First they picked a venue that would allow them to create the wedding of their dreams, one with no restrictions and where they could let their imaginations run wild! Turpentine Tree in Kurrajong Heights proved to be the perfect place.
"As the wedding was a destination wedding, we came with some family and friends (and five carloads of props, drinks and food!) and set up the wedding site two days before the wedding", Michelle began. "We booked the venue for the whole weekend and encouraged our guests to stay and make a weekend of it. It was awesome to have that extra time to spend with our family and friends, especially those who came out of town and flown halfway across the world to be with us. On the night before we had a delicious informal dinner at the local restaurant and the day after, we cooked everyone brunch. It was a great way to rope in some extra help to pack everything up (!) and nurse the hangovers!"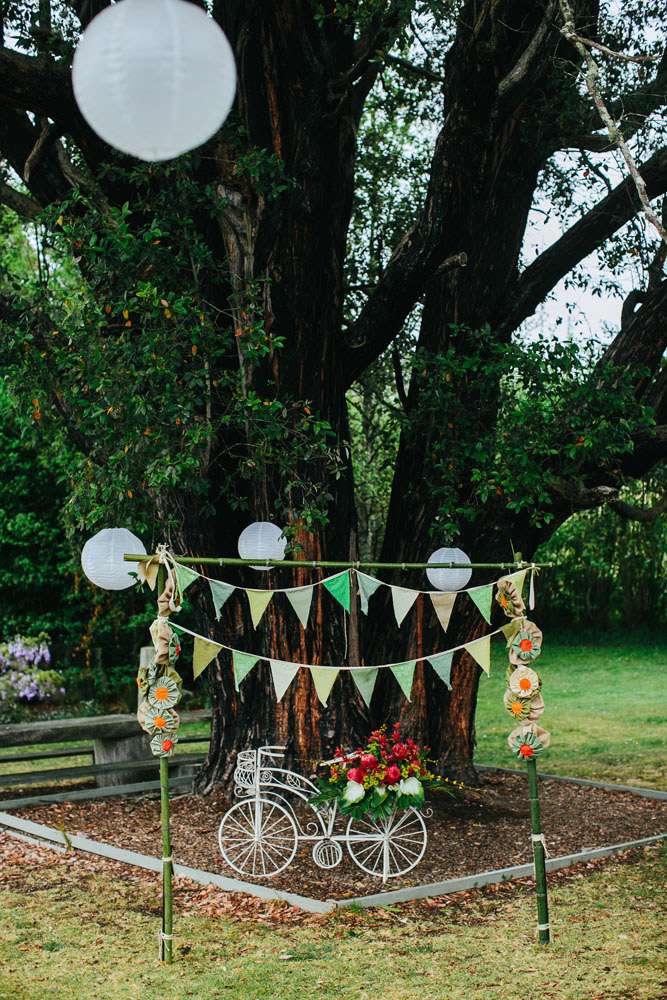 Obviously with a wedding so meticulously planned by the couple themselves, DIY was going to play a huge part. In fact the bride pretty much made anything she possibly could herself – with the help of friends and family of course. "The wedding was a total DIY affair," she explained. "We hosted craft parties and to go with the harvest theme. We collected vintage kitchenalia that belonged to family and friends for the table decorations and instead of floral centrepieces. We had potted herbs and fruit bowls filled with local fruits. Each table was named after a different herb and we had pots of that herb on the table. As favours we gave everyone native seedlings which everybody planted in the venue to help offset the carbon footprint of the wedding."
"With every decision we made about our wedding, we would ask ourselves 'is this a reflection of us and the values we stand for?'", she continued. "We didn't care about conforming to anyone's expectations of what a wedding should be. My mum, for example, wanted us to marry in a Catholic church and hold the reception in a more formal venue in Sydney. But neither of us are Catholic and are not formal people so we stood our ground and did our wedding our way. We wanted everything to have meaning though, so we made sure everything we had in the wedding was either a celebration of our family and friends (past and present); was recycled and reused or was strongly related to the things we love – food, drink, partying and music!"
"There was no question for Eric that he would wear his grandfather's 1950s dinner suit, which was also worn by Eric's older brother at his own wedding. Our wedding rings are made from the gold from my grandmother's ring and Eric's dad's ring, recycled palladium and my grandmother's vintage diamonds. To reflect my heritage my Mum and cousin made and sourced some Indonesian canapés and cakes."
"We aimed to make the wedding as eco-friendly as possible. I always was going to wear something that was vintage, pre-loved or made from sustainable materials and I finally found a gorgeous 1950s wedding dress online. A lovely elderly Chilean dressmaker in Sydney named Norma helped alter and line it. She also fixed the bodice for me as it was yellowing with age. The bridesmaids wore floral dresses of their own choices and guys wore grey suits they rented or already owned. The guests were encouraged to dress for a vintage garden party and wear something old, something borrowed and something new they will wear again. Most of the decorations we either already owned, sourced from op shops and the streets (!) or will use in our house afterwards – this included vintage kitchenalia, vintage suitcases and wooden crates."
"And finally, in terms of the food and drink… well…. I am a massive foodie and so this was a really vital element. We actually plunged more than half of our budget into the food. As the venue was self-catering, we tried to support local businesses and sourced food and some drinks from local places. Our friend Pauline baked the cake but we decorated it ourself with homemade candied orange. To evoke the feeling of a country fair cake competition and accommodate allergies, we also had family and friends bake other various cakes for a cake buffet."
"We designed, made and coordinated everything about our wedding ourselves", concluded the busy bride, "but we wouldn't have done it any other way. It was very time consuming, but having family and friends to help helped! The only thing I would have changed would have been to get a day-of coordinator so all our friends that were helping could relax a bit more on the day. However most importantly, we learnt that although some things may not go as planned, you have to just let go and enjoy getting married to your best friend!"
What a beauty – and an inspiration. Thank you to Michelle & Eric for sharing their day with us today.