What is it was all the exotic weddings I'm getting submitted recently? I think the universe must be telling me I deserve a long, sunny holiday!
Well when Myles & Barbara's Bali wedding landed in my inbox I just about spat out my cuppa with the anticipation of blogging it. Have you ever seen a wedding party so a) cool, b) expressive, & c) hilarious? No, me nigher. I couldn't wait to hear more…
"Myles proposed whilst sitting on the toilet, pants around his ankle. In Elfish," explained Barbara. "It really was very romantic… I promise you. We just wanted our wedding to be a big party, fun and happy with a little bit of looseness mixed in."
"F- me, where do we start with my favourite part? Erm… the thirteen best men. Dressed as horses. My groom in a bright pink suit. Being a Rock n Roll Bride and walking down the aisle to The Cult with my three bright bridesmaids. The awesome lesbian Mother celebrant who entertained and involved the crowd. The best man dressing as the pope for the speech. The groom starting his speech in Arabic quoting Saddam Hussein. Our video from the people who could not make the wedding – featuring a 70 year old couple, stark naked (you gotta see the video – posted below). Everyone diving into the pool… including me in my dress and my mother! The food was pretty good too apparently."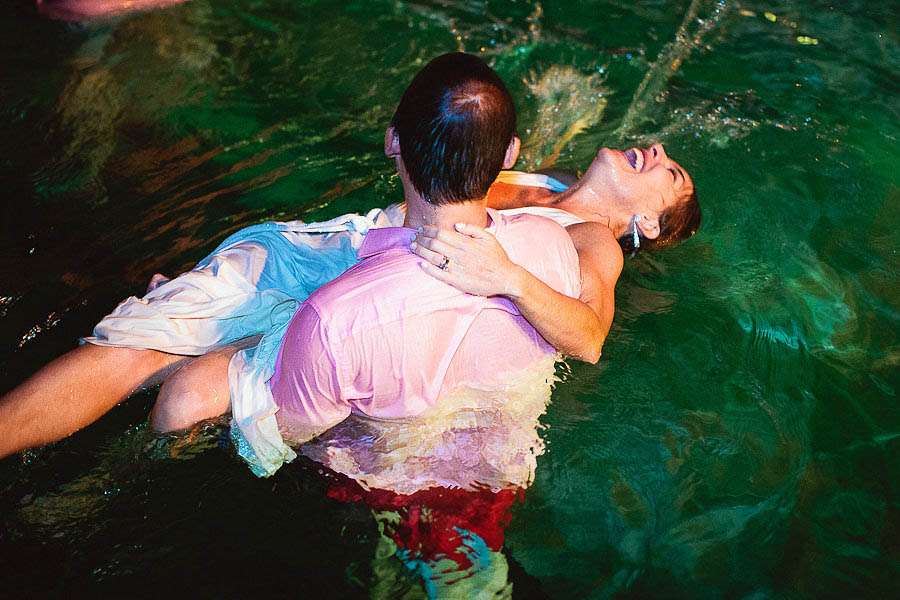 Yes these guys are amazing all round. I'm thrilled to share their wedding today… oh and the videos? Yes, watch them!
The Wedding Highlights…
And The "Sorry I Can't Make It" Movie…
Just aaaaawesome! Thank you to Myles & Barbara and their fabulous wedding photographers Aidan Dockery & Dominic Blewett for sharing these today. This photography just blows my mind…
Supporting Cast:
Photography Credit: Aidan Dockery & Dominic Blewett
Video Credit: Dean Holcombe
Ceremony Venue: Mahatma House, Bali
Reception Venue: Villa Matahari, Bali
Bride's Dress: Nicole Miller
Bride's Shoes: Badgley Mischka
Groom's Outfit: Marc Jacobs
Bridesmaid's Dresses: BCBG MaxAzira
DJ: Gus Til gus@gustill.com
Caterers: Bali Catering Company