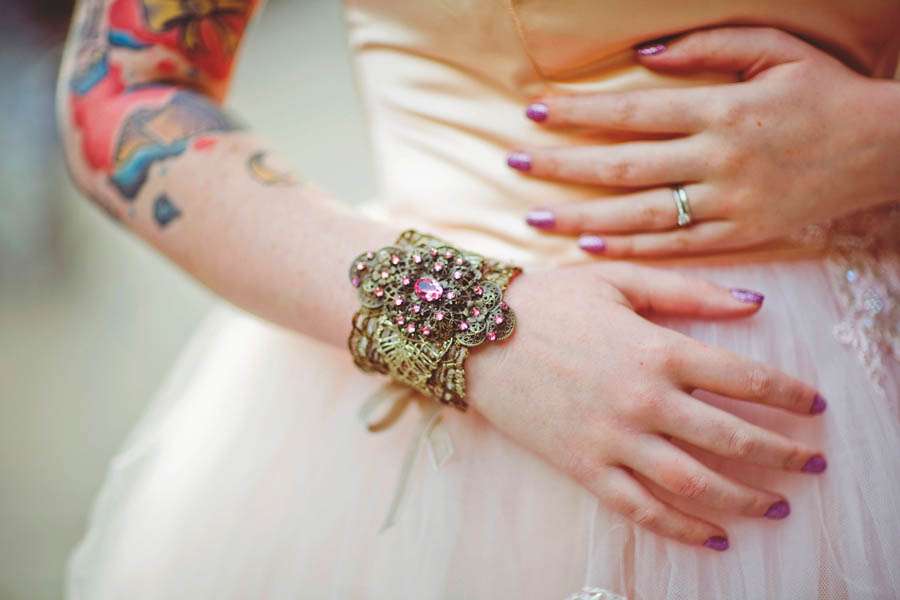 Photography Credit: Made U Look Photography
Fat, fat fat fat fat!" read Martha's Facebook status. I'd seen updates about her diet plan and weight goals over the past few months and it irked me. In fact anyone talking about weight loss and dieting makes me feel uncomfortable… it's just one of those things I don't like being thrust in my face. Diets can be dangerous things. I've had personal experience.
But Martha's statuses upset me particularly because I knew for a fact that only reason she was dieting was to fit into that size 10 Ian Stuart number. Yes, Martha is trying to lose weight for her wedding.
Don't get me wrong, there is nothing wrong with wanting to look your best on your wedding day, and I'm sure most brides, whatever shape or size, worry about how they're going to look. I am also well aware that many girls would like to lose weight regardless and that a wedding provides a convenient motivation. This is fine and it's great to want to be healthy and happy, whatever your shape or size. But the thing that upsets me the most is the way the wedding industry perpetuates the lie that you have to, or should at least consider, losing weight before you walk down the aisle.
I'm expecting this article to ruffle some feathers. But you know what, screw it, sometimes the old birds need to be ruffled. Let's look at some examples…
Wedding blogs providing weight loss tips and exercise regimens… wedding magazines favouring 'size 8-10, pretty brides' for their real wedding features (yes, I heard that from the editor of a wedding magazine with my own ears)… bridal shop owners asking girls if they plan to lose weight before their weddings and allowing them to order dresses 2 sizes too small… or even worse, telling them to not expect to be able to try on a sample dress over a size 12… TV shows dedicated to slimming for your wedding… companies set up with the sole purpose as to 'help' brides-to-be slim down… bridal bootcamps… wedding workouts… 'brideorexia'…!
The whole thing turns my stomach. And I'm not even talking about the extreme examples here – the bridalplasty TV shows or the girl who drip fed herself in the run up to her wedding. Christ no, the 'accepted' norms of what is OK to promote related to pre-wedding weight loss are scary enough.
Like this example, which I saw in this week's issue of Closer Magazine. It actually upset me so much I ripped the page out to share a few choice paragraphs with you…
Former Loose Women panelist Zoe Tyler reveals how she ditched her unhealthy diet to get her stunning bridal body
It's normally one of the most exciting moments for any bride-to-be, but when TV presenter Zoe Tyler tried on her strapless size 14 wedding dress for the second time last November, she was morified to discover it was too small. But it was the trigger she needed to take action and she went on to drop two dress sizes and 1st 4lb in two months…
Zoe, who's 5ft 7, weighed 11st before she had her son Jake, now 10, but at the time of her dress fitting in August, she was 12st 2lb and a size 14. Her weight has yo-yoed in recent years thanks to a series of failed weight-loss attempts…
She adds: "When I couldn't do up the zip on the wedding dress, I was so embarrassed. It made me realise I needed to diet and I was 100 per cent determined to lose weight so it would fit. It left me feeling unattractive, shocked and frustrated. I felt like crying…I was panic stricken…I thought my day, which was seven months away, was going to be ruined because I wouldn't be able to wear the dress of my dreams…
HOW IS THIS OK?! I don't know about you, but after reading that I instantly start to feel self-conscious about my own figure and diet. This article, like so many others, perpetuates the warped message that losing weight is something you need to do in order to feel beautiful on your wedding day.
Another example I've spotted recently was that a wedding company, who I actually greatly admire, tweeted this week that they were partnering with a very well known weight loss company. The company in question do actively promote a healthy weight loss message, but again, the association between losing weight and doing so for your wedding, to me, feels uncomfortable. I'd actually written the majority of this article before seeing the tweets so the whole irritation with the subject was fresh in my mind, hence why I probably replied voicing my disappointment with the collaboration. However a few of my followers tweeted back in agreement. One of them, wedding photographer and newly engaged Hannah Millard, was even prompted to write her own blog post on the subject.
This post is about something that doesn't make me happy. I've been engaged a matter of days and already the pressure is starting. As I type this, my Facebook ads are as follows:
Lose 2 Stone in 2 Weeks Lose stone and join the diet revolution like everyone else.
Lose 6 Kgs in 2 Wks Keep the kilograms off with these sneaky tricks…
Reach your Wedding Weight Lose the Weight in Just One Week at UKs Most Exclusive Weight Loss Retreats
It's not just offensive because of the crap grammar.
The pressure is always there from the media to look a certain way or break your heart trying but in my years of using Facebook, I have never seen a Facebook ad for weight loss. Now that I have decided to publish my happy news on there, what I get in return is a never-ending stream of confidence chipping. I can refresh and three or four ads will replace them. Lose 2 stone, slim down, learn this diet trick, no need to go to the gym, secret diet weapons, lose weight, lose inches… chipchipchip. This kind of aggressive advertising isn't meant to get you the first time you see it, or the second… it's unrelentingly there, in the corner of your eye."
Via Hannah Millard Photography
Now listen, I'm certainly not saying the wedding industry or any kind of media outlet are 100% to blame. Just as the media doesn't cause eating disorders, it also doesn't generally cause brides to think they need to shift pounds. But what it does do is perpetuate our messed up beliefs that thinner =  more beautiful. And this needs to stop.
NOW.
Unfortunately I don't see a shift in attitude from the media anytime soon. We buy the magazines and watch the TV shows regardless… they make their money and the bigwigs are happy. But what I do hope is that this article may encourage you to stop, to question and to shift your own attitude. I want to force you to look at the ludicracy of it all. You know your fiance loves you the way you are. You know you won't be happier if you could only be a different dress size. This knowledge may be deep down and hard to accept, but I know it's there, inside every single one of you.
Let's stop the madness. You are all beautiful. Whether you're a size 4 or a size 24 you're marrying someone who loves you. Every last inch of you. So let's not ignore this anymore. Let's ruffle some feathers and get the debate going. Let's remember what weddings, and marriages, should be all about and what they most certainly should not.