Kirsta & Alec's Arizona wedding had a Mexican art theme. Being married in an arts centre and with a mutual love of travel and other cultures (they met while working in an orphanage in Kenya) the idea of having this vibe for their wedding just felt right.
"We met working at an orphanage in rural Kenya," Kirsta told me. "Luck would have it that both our loves of travel and adventure lead us to being in the same remote place at the same time. We just happened to be placed as roommates and the rest is history! We fell in love over working with kids, farming projects, and other development work. After moving back to the States to live in Seattle for a year, we got the itch to live abroad again and moved to South Korea so that I could teach. We had a series of serious discussions (neither of us really 'proposed') and decided that we wanted to make it official. In April, we had an awesome little Embassy wedding in Seoul totally by ourselves. We knew we'd be going back to the US for the holidays, so it felt like a natural time to have a bigger ceremony with our families and friends. The whole idea behind having a second wedding was simply to have a big party to celebrate with those people that we love and miss so much while we are off adventuring."
"We were totally inspired by my hometown, Phoenix: the Southwest, Mexican art, big skies and bold colors" Kirsta explained when I asked about their inspiration. "Our wedding was different because we really chucked most of the traditional pieces of a wedding out the window. We meant for the day to be emotional and meaningful for us without being overly mushy. It was much easier as a couple to have the pressure and anxiety of 'The Big Day' out of the way because we'd already been married for six months. In hindsight I think we just didn't have time to do the stuff we didn't feel strongly about."
"We actually tried to avoid having a theme as much as possible, but if we gave it a title it might be 'good times, bright colors with Mexican/Southwest vibes'" she continued. "There was family attending from all ages, so we tried to incorporate a level of silliness and fun that would appeal to the kids. Although it was a wedding, we didn't want it to feel too stiff. I bought a bunch of pinatas and filled them with Mexican toys, they turned out to be a huge hit. The cascarónes (confetti filled colored eggs) were also a special treat, we found them online and used them after the ceremony as we entered the reception area. Guests (mostly the young kids) were throwing them at people all night. Confetti was everywhere."
The bride wore a grey gown from lovejune on etsy and Alec wore…well… a crotchless neon green mesh bodysuit under his suit! It was a bachelorette party joke gift that Krista got from a friend. "He surprised everyone the morning of the wedding. Those pictures will be so amazing when we are old and grey!" she laughed.
"We were both also really excited about getting to dress up really fancy for a day! I was so excited about my wedding dress, it was the first thing that we did after setting a date. I found the amazing lovejune etsy shop while I was in Korea; I knew I wanted a dress that wasn't white and wasn't traditionally 'bridal' and the owner did such an awesome job of working with me to get something amazing. I couldn't see the dress until 2 weeks before the wedding because it was too expensive to import to Korea, but I was SO pleased when I did."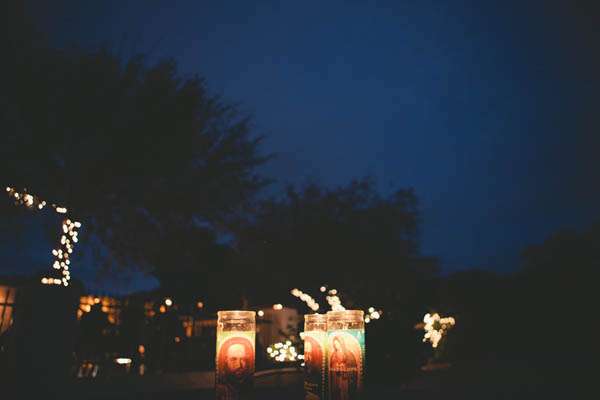 So utterly gorgeous. Thank you to Krista & Alec and their fabulous photographer Galaxie Andrews for sharing.
Supporting Cast:
Photography Credit: Galaxie Andrews
Venue: Shemer Art Center, Phoenix, AZ
Bride's Dress: lovejune on etsy
Bride's Shoes: Senso Diffusion
Cake: Barb's Bakery
Flowers: White Poppy
Band: Kashlee Clausen
Caterer: Richardson's