For this week's wedding note I thought I'd blog some money saving ideas relating to the wedding dress. Although, yes, your wedding dress may well be the most expensive dress you'll ever own, I'm well aware that the average price of somewhere between £1000 – £2000, is going to be out of a lot of bride's budgets.

Vintage
Photography Credit: Annamarie Stepney Photography (full wedding here)
Vintage wedding dresses are hugely popular right now but this does mean that a lot of vintage shops have hiked up their prices. But if you do your research, you can still get vintage gowns for a song. Try non-wedding specific shops like Beyond Retro where prices are likely to be lower. Vintage wedding-specific dress shops like For Coat No Knickers in London will even alter your own dress if you find a bargain elsewhere.
Vintage Reproduction
Photography Credit: Martyn & Clare Wheatley (Sinister Pictures) (full wedding here)
Vintage reproduction dresses are also a great way to get the vintage 'look' without the price tag. A frustrating thing about searching for genuine vintage dresses is that often the sizes are very small. Places like Vivien of Holloway, Honeypie Boutique, Dolly Couture and Peppermint Pretty, make gorgeous vintage-inspired gowns that are both affordable and can be made in any size.
Charity Shops
Photography Credit: Emma Case Photography (full wedding here)
Why not check out your local charity shop? Barnardos and Oxfam even have specialty wedding dress branches where you may well pick up an utter bargain!
I also found out recently that Sue Ryder regularly even have massive sales (there's one quite local to me in Nettlebed – I must make it down there!) where a lot of vintage shops and 'trendy' charity shops go to pick up stock. You have to go really early and probably queue up to get the best bargains (I've been told that you have to prepare yourself for a bit of a scrum!) but if you're on a budget this is AMAZING. My sister even picked up a 1960's coffee table from one of these sales for a fiver!
Secondhand
Photography Credit: We Love Pictures (full wedding here)
Websites like preownedweddingdresses.com and oncewed.com sell used wedding dresses from independent sellers. Brides can upload their dress details and photos after their wedding, plus their asking price. This is great for newlyweds who want to make some money back on their dress as well as brides-to-be who can't afford to buy their dream dress brand new!
The High Street
Photography Credit: Amy Radcliffe Photography (full wedding here)
If you're on a budget, the great British high street is an amazing place to look for wedding dresses. Stores like Monsoon and Coast have wedding dress lines and prices start from around the £100-mark! However don't restrict yourself to just their wedding dress lines, especially in Spring, you'll see loads of white and light coloured dresses all over the high street. One of my favourite high street dresses this year was this beaut from Traffic People Price? £50!
Something Borrowed
Photography Credit: Laura Burlton Photography (full wedding here)
It's not for everyone, the idea of wearing your Mother's wedding dress is hugely sentimental…although if your parent's got married in the 80's you might want to think twice…
If the dress isn't perfect, and your Mum doesn't mind of course, why not have it altered, reshaped or use the fabric in a new dress? When I was younger, I always thought I'd wear my Mum's wedding dress. It was actually my Grandmother's before her and is a beautiful gown. However my Mum was a ballet dancer when she got married so she was teeny tiny so there was no way I was going to get even one leg into it. Plus, with it being her Mother's dress I don't think she would have wanted it cut up either. It's such a lovely idea though.
Bespoke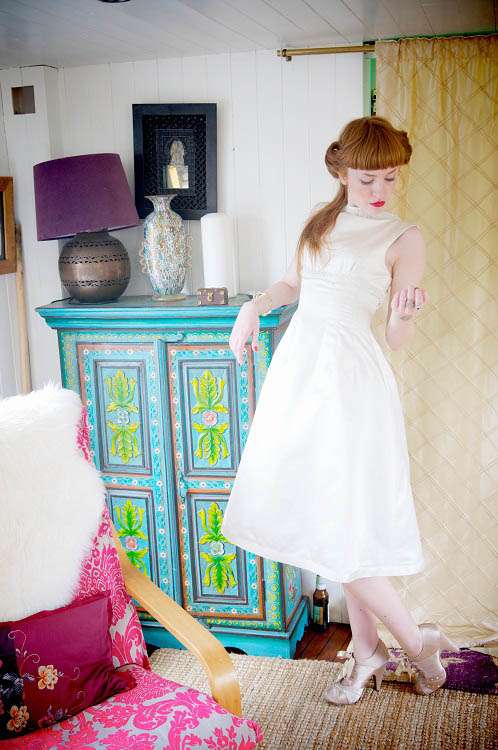 Photography Credit: Jacqui McSweeney Photography (full shoot here)
Having a dress made especially for you sounds totally opulent right? Well surprisingly, this route may not be as pricey as you might imagine. It's all about finding the right dressmaker for you. Do your research and look at local seamstresses as well as ones that specialise in wedding dresses. Many smaller or independent wedding dress designers will also work with you to make something one of a kind. Try Tobi Hannah, Joanne Flemming or Alexandra King for example.
Add some Jazz
Photography Credit: Bright Girl Photography (full wedding on the blog soon)
A great way to make your dress look more expensive than it was, is to buy a simple gown and accessorise it yourself. Not only will this add some personality to your dress, but it will mean you're wearing something really unique. How about a brightly coloured sash, a sparkly belt, felt flowers (try Princess Lasertron) or vintage brooches? You could even make your own rainbow petticoat! The possibilities are endless, just use your imagination baby!