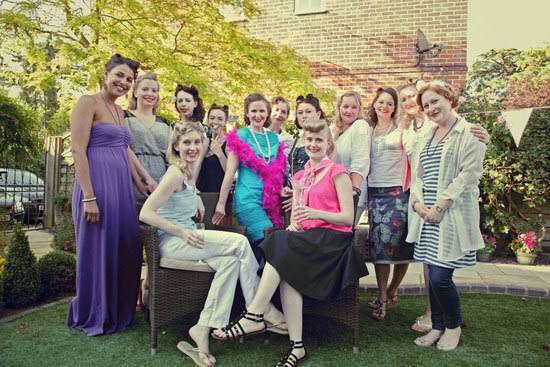 Photography Credit: Joanna Millington (full shoot can be seen here) Event organised by A Most Curious Party
Oh the wonders of the great British hen do (bachelorette party for my American friends). A time to let yourself go…your last night of freedom…an excuse to get horreniously drunk and snog a stripper.
Erm…Or maybe not.

I've been asked by a number of you for some non-tacky, non-sucky hen do ideas including Cynaide Kiss in the comments last week,

So I've called upon vintage hen do expert Abbie (AKA Tattybojangles) of The Vintage Hen House. Her hen do planning website is the place to go for amazing and unique hen do ideas, without a willy straw or L-plate in sight.
Over to you Mrs 'Bojangles…
There are a lot of alternatives people can choose from that don't involve the usual L-plates, pink fluffy head bands etc you're only really limited by your imagination. I would always take the bride-to- be as the starting point as use her likes, dislikes, dreams, wants, desires to think about activities, places to go and where to stay. If the bride to be is planning on having a DIY heavy wedding I may suggest that she looks at crafty options, you can find classes in jewellery and fascinator making, millinery, cupcake making and decorating, flower arranging and pretty much anything else you can use a glue gun for.

Have a look at Fabulous Tiaras who do jewellery making parties, Handmade by You and Silver Sixpence in her Shoe for handmade craft parties and Sharper Millinery for millinery parties.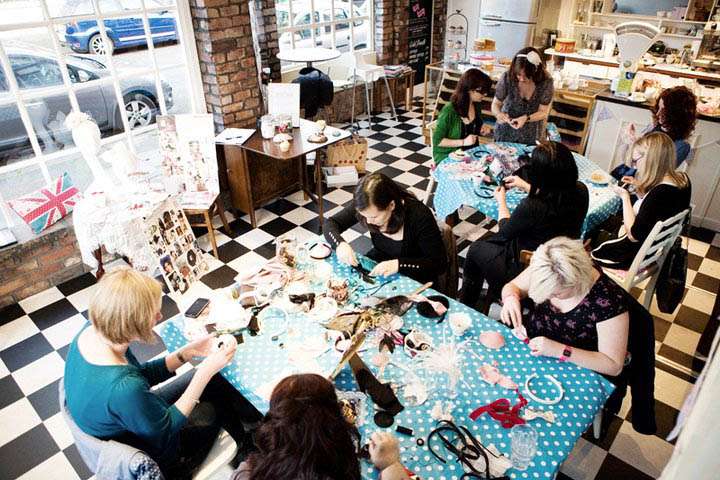 Photography Credit: Hannah Dornford May Making party with Silver Sixpence in her Shoe. Full event can be seen here
Lots of girls will wear their creations on the day which I think is lovely.

If the bride is a bit of an extrovert I would recommend a photo shoot. There are lots of stylist, hair and make-up artists who do hen parties and lots of photographers who can offer a range of styles from pin-up for girls who love the vintage look to more fashion styled shoots.These are an amazing way to capture this milestone in a really positive way. I love looking at my hen party pictures they are a great keepsake. Dont forget to ask your wedding photographer if they do hen party photography, it would be a nice change from an engagement shoot if your other half is camera shy.

For companies that specialise in pin up and hen do photography check out Ruby Demuir, Rockabetty Studios and Julia Boggio Studios (Kat even did one of these!)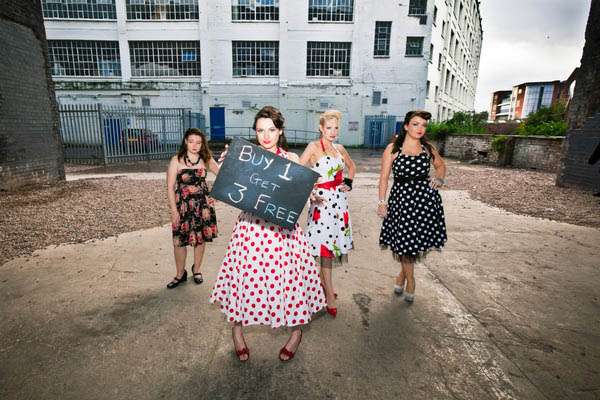 Photography Credit: Lee Allen (full shoot can be seen here)
If you love vintage you could get a make-over there are lots of people offering vintage styling and make-overs including Lekeux Events, The Powderpuff Girls and Vintage Pamper Box.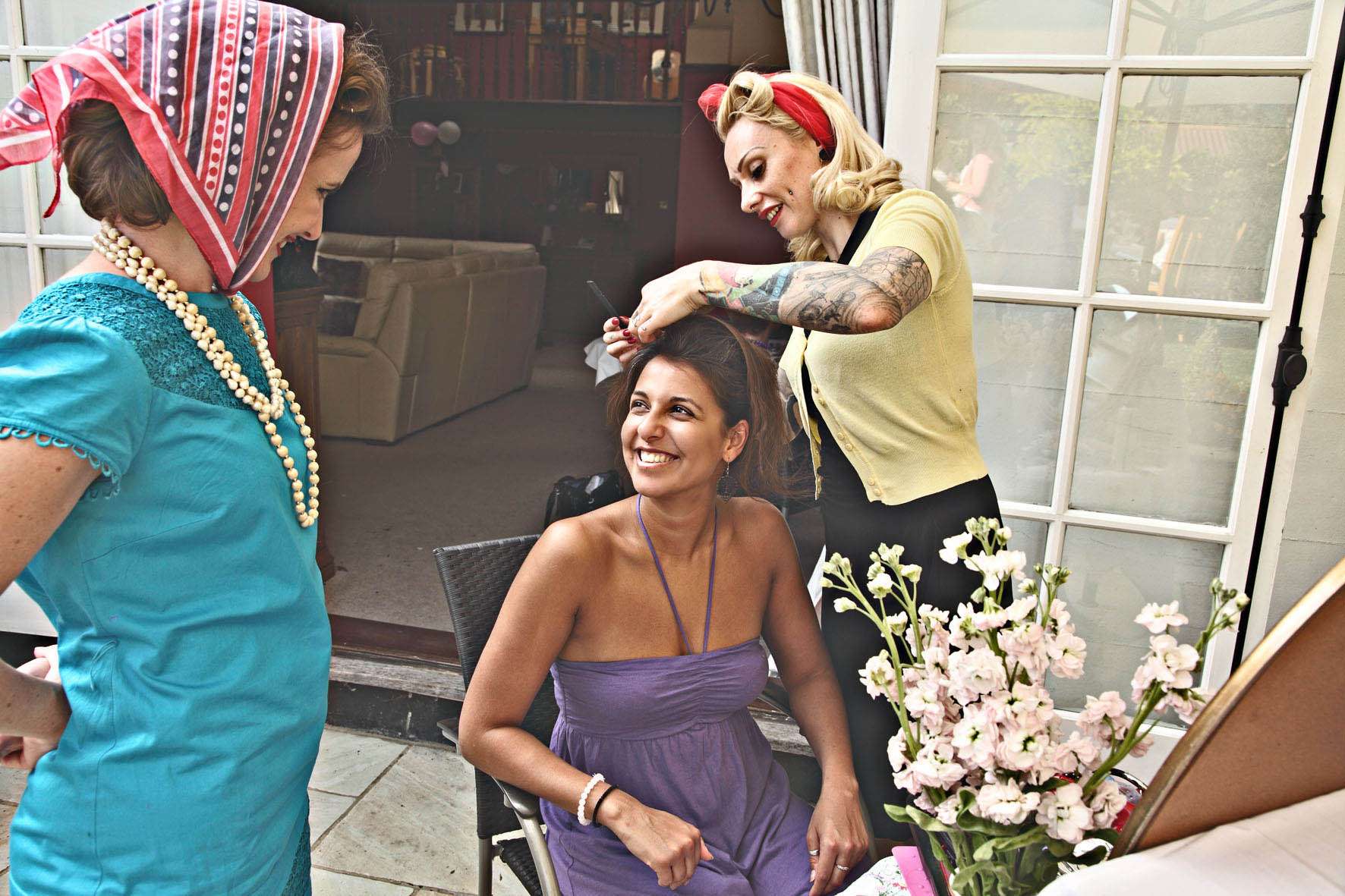 Photography Credit: Joanna Millington (full shoot can be seen here) Event organised by A Most Curious Party
Another idea is to have a burlesque or Charleston lesson, Charleston Dance not only do dance but also jazz singing, musical singing (Bugsy Malone, Chicago etc) and circus hoop lessons and I love the sound of this. Von Frocks do a great vintage hen party package including a dress to keep and Kitty Golightly do burlesque lessons.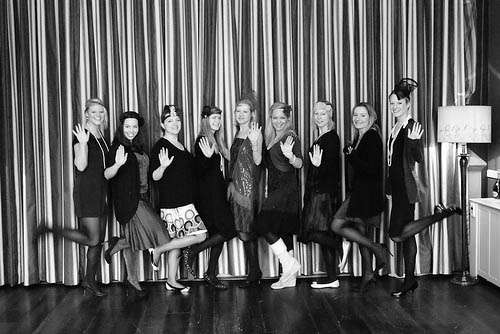 Image Credit: Charleston Dance
Tea parties are very popular and there are lots of places hiring out tea sets or venues you can have a traditional English tea party. I think these have caught on, one because they are very girly and pretty and its like recapturing those times as a little girl playing with your little tea set. But also they give people the opportunity to sit down and have a proper chat, especially now many girls rarely get chance to sit down with their family and friends on a regular basis these days.

Finally they are Gran friendly. If you are inviting Mum's, Aunt's and Gran's to your hen then a tea party is great way of incorporating them without making them feel uncomfortable vast amounts of raucous drinking.

Check out Airy Fairy Cake Boutique which is a gorgeous cafe which also does 'making' parties.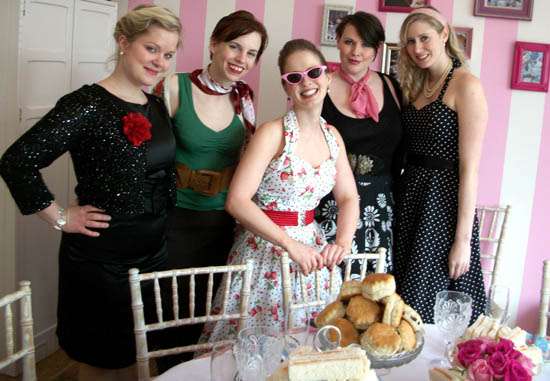 Vintage tea party at The Tea Party. Full event can be seen here
'Glamping' is another way to do hen parties, there are some amazing caravans out there styled with the most beautiful interiors. But you could also arrange to go to a festival if that's your thing. My scope is limited to vintage really but for example someone wanted to go to Spain for hers but her friends couldnt afford it so we looked at how we could do Spain in the UK with flamenco lessons and tapas bars. It's all about imagination.

Sawday's Canopy & Stars offer a number of different and unique glamping locations and places to stay all around the UK.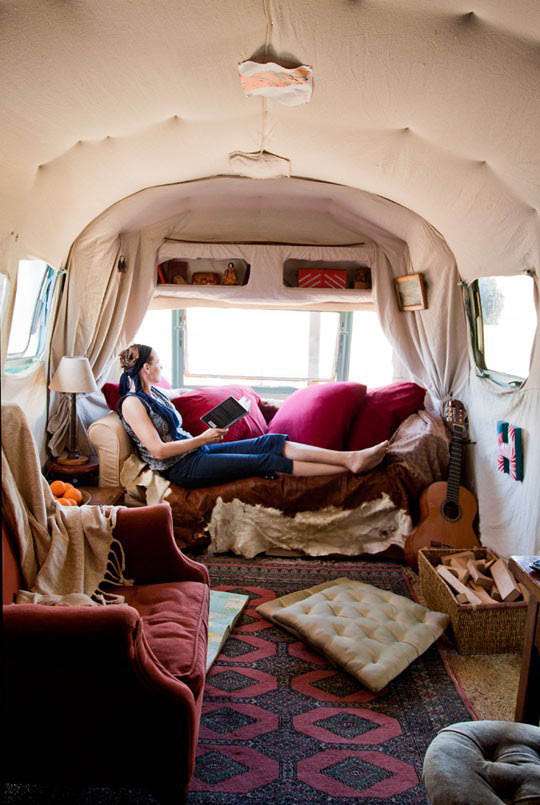 Image Credit: Re-Nest
I think you have to strip the idea back that a hen party is just a get together of a girl's nearest and dearest and the rest is pretty much open to what ever you want to do. Whether that's going for full on glamour with a make-over, driving a 4X4, posing your ass off with a photo shoot, sipping cocktails, relaxing at a spa, tucking into fine food or crafting the world is your oyster.

L-plates do not a hen party make – a bride-to-be does!

Abbie x
Thanks so much to Abbie for all her help with this article! For more hen do inspiration be sure to check out Abbie's vintage hen do planning website The Vintage Hen House.