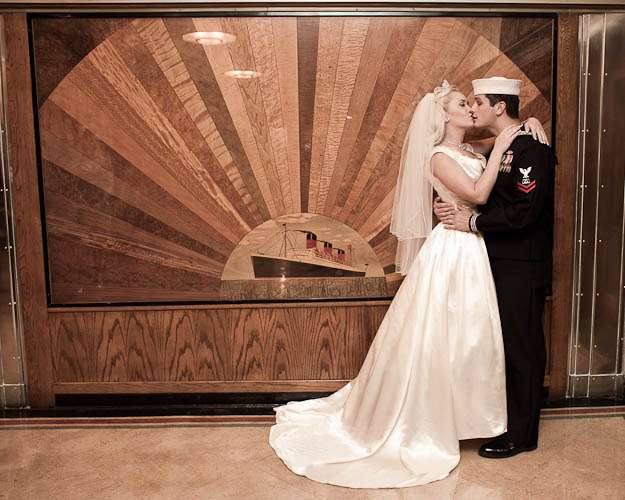 I was initially sent just Ben & Shelby's engagement session by their photographer Shani Barel, however when I laid eyes on their incredible wedding I knew I had to feature it instead! The wedding had a vintage, pin-up and sailor theme and I couldn't think of anything more perfect to grace the pages of Rock n Roll Bride.
I was also pleased to hear that the ideas behind the style of their wedding were actually 100% reflective on how they are in 'real life'. Ben is actually in the Navy and Shelby is a pin up model!  "I was stationed on the USS Los Angeles that was originally home ported in Pearl Harbor, HI," groom Ben told me when I asked the couple how they met. "The ship was on its way up to Bremerton, WA to decommission but made a stop in LA for a decommissioning ceremony. On Sunday, January 24th, I was the cook on duty aboard the ship but I was all finished and cleaned up with dinner, so a friend of mine asked if I wanted to go out.  So we immediately went to the bar. Sailors….. Anyway Ian and I went to what seemed to be the only place open in town called The Whale and Ale in San Pedro, CA. A few other sailors from the ship showed up and we all had a couple of beers and played cricket. As the night went on, I proceeded to the restroom and I notice in a huge way this cute blonde girl all fancy in a vintage dress and her hair all done up walking down the stairs. I was in awe. I had never seen a girl dressed in such a fashion and so stunning!"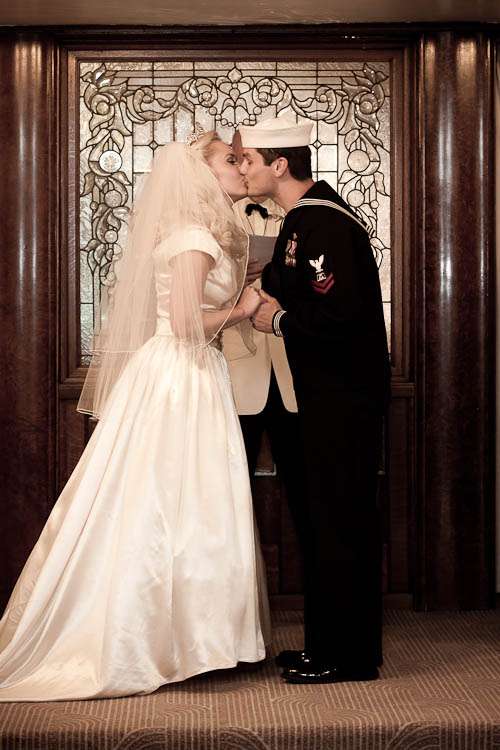 "Ben being a sailor was definitely a big inspiration for our wedding," confirmed Shelby. "The Queen Mary, stationed at Long Beach California has always been one of my favorite places and was the perfect setting for a sailor and a pin-up girl, it was like we went back in time to WWII."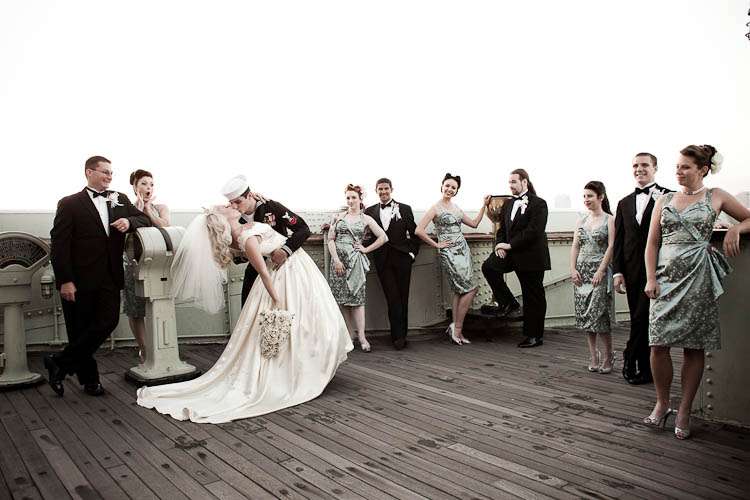 The bride wore a vintage dress (of course)…well in fact two dresses. The first was by Emma Domb and was originally her Mother's and the second, the feather dress, was made by her Mother who makes dresses for a living.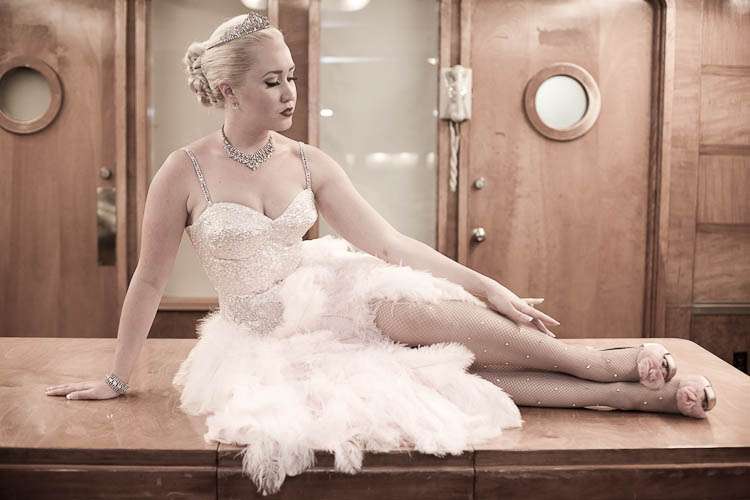 She even wore a genuine 1940's tiara and vintage jewellery. She even carried a paper flower bouquet from the 1940's. The groom wore his Navy uniform.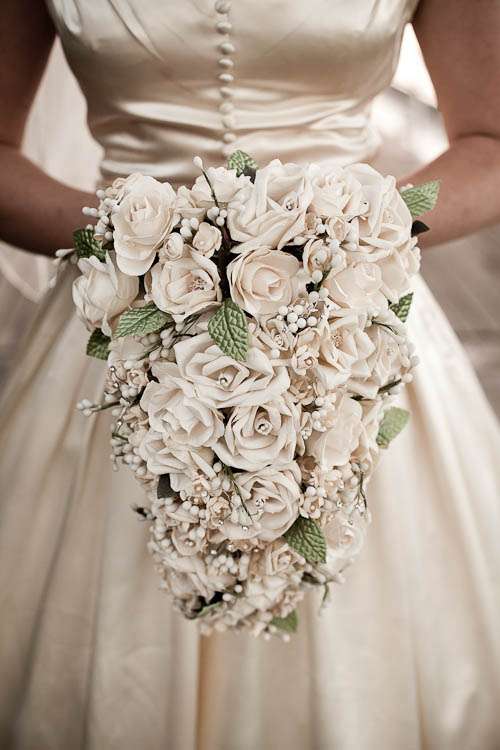 The cake was also a special touch as the bride's grandfather made the based and the cake topper was, again, genuine vintage. "Our cake topper was an antique sugar cake topper from 1944 with a little sailor and his tiny blonde bride I got it for just $14 on eBay due to the fact that somebody had taken a bite out of the base of it and chomped off one of the bride's arms! I repaired the topper and added extra flowers and leaves to the arch they stood under we also added our wedding date to the back of the topper to mirror the original wedding date that was painted on the front."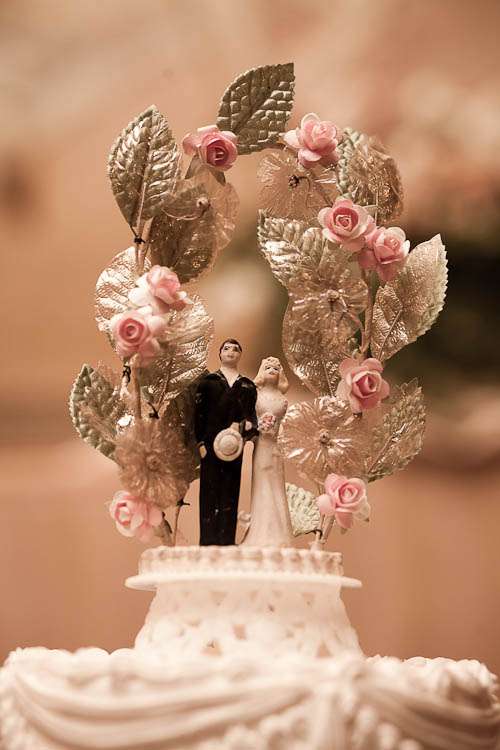 Thank you so much to Ben & Shelby and their fab photographer Shani for sharing these with us.
Photography Credit: Shani Barel Photography
Venue: The Queen Mary
Bride's Dress: Vintage & Vintage Suits by Mary
Bride's Shoes: Badgley Mischka (both pairs)
Groom's Outfit: Navy uniform
Bridesmaid's Dresses: Vintage Suits by Mary
Cake: Torrance Bakery
Flowers: Vintage (1040's) paper flowers
Band: Fly by Night & Rule of Thirds
Stationery: DIY