Ruth wearing Candy Anthony
So last week I was invited by Catherine Westwood, editor at Wedding Magazine, if I'd like to go hang out at a cover shoot with them. Ermmm… let me think about this for like two seconds…YES PLEASE! Before you go getting all excited, no I wasn't asked to model! It will probably be a cold day in hell before any wedding mag can have a pink haired chick on the cover. These publications have to appeal to the mass market and I feel that a neon-headed, inked bride might alienate a rather large proportion of their readership!
I was up early last Thursday and on the train to London, excited and honoured to have been invited…even though a little (no, a lot) tired. I arrived at the shoot at 9.30 to be greeted by a familiar face in hairdresser Sev of The Hepburn Collection who had been invited to do the hair, and Julia Ford, art editor of the magazine. I also got to hang out with the rest of the team, many of whom I'd met briefly before at various wedding shows and events. Alison from Pollen Nation (who I worked with on The Big Fat Wedding Bloggers Photo Shoot) was even there to supply some of the gorgeous flowers.
Stylist Claire puts the finishing touches to Ruth's first look
The models, Ruth (check out her beauty blog, A Model Recommends), Kirstie, Rose and Polly were all unsurprisingly stunning…and lovely. It was so fun to hang out with them and see them do their 'thing'. Unlike some of those reality TV shows you see, their was no model-to-model bitchiness (yeeey) and they were all completely charming and adorable…and Polly even brought cakes. I liked her instantly.
Model Polly is getting married in June and making 200 of these for her guests. How cute?!
The magazine intern Billy and press agent for Butler & Wilson, Jo, showed me the dresses and accessories for the shoot. They'd brought what seemed like enough to fill a whole bridal shop as Julia, Catherine and stylist Claire were deciding on which looks and dresses to go for then and there. It was all very organic and a total team effort went into how each style and shot should look. There as certainly no 'Devil Wears Prada' feel about the day! I even got to give my input into which dresses and accessories I liked (for the record Ruth's Candy Anthony number – pictured above – was my favourite.)
The beautiful and adorable Rose – it was her first time wearing a wedding dress!
Catherine told me that unlike wedding blogs, the styling and content of magazines has to be appropriate to appeal to the mass market, but that she was keen to push boundaries in whichever ways she could. For example one of the models, Rose, had a super short pixie crop hair style and they'd never had a bride with such short hair on the cover before. Also for one of the shots (each model had 2/3 outfits) Sev styled Kirstie's hair with a plait going across her forehead – again, something that to you and I might not seem completely ground-breaking, but for a mainstream wedding magazine this was a style that again, had never been put on a cover before.
Kirstie was stunning (and really did look like Reese Witherspoon)
I'll be honest, when people criticise the mainstream wedding mags for being to 'boring' or 'traditional' or 'samey' it really does upset me. This small team work tirelessly and to horrific deadlines to try and produce a magazine that will fly off the shelves (hell, blogs have it easy – we don't have to obsess over how many copies we sell!) This is why I am so excited that I've been asked to work alongside the magazine. It just proves that opposites really can work together and give a fully-rounded (traditional and alternative) view on weddings. Everybody wins.
OK I'm off to clamber off my soap-box now, hang on…
I sneaked a look at how the final shots were looking…
Editorial photographer Seb Winter worked quickly with each girl. As with any shoot I've been on, it's the hair, make up and styling that takes the most time. As you can imagine (especially for such a high profile shoot as this one!) they all need to be perfect. As I mentioned, each girl had 2/3 outfits. Catherine told me that they shoot nearly a year's worth of magazine covers in just one day – a time and money saving exercise. Well, there would be no point in hiring the studio, getting the whole team out of the office and acquiring all the dresses, accessories etc to just to do one shot! It was funny, because Julia showed us all the cover for the next issue (out in June) which was shot this time last year and with one of the same models who was with us that day!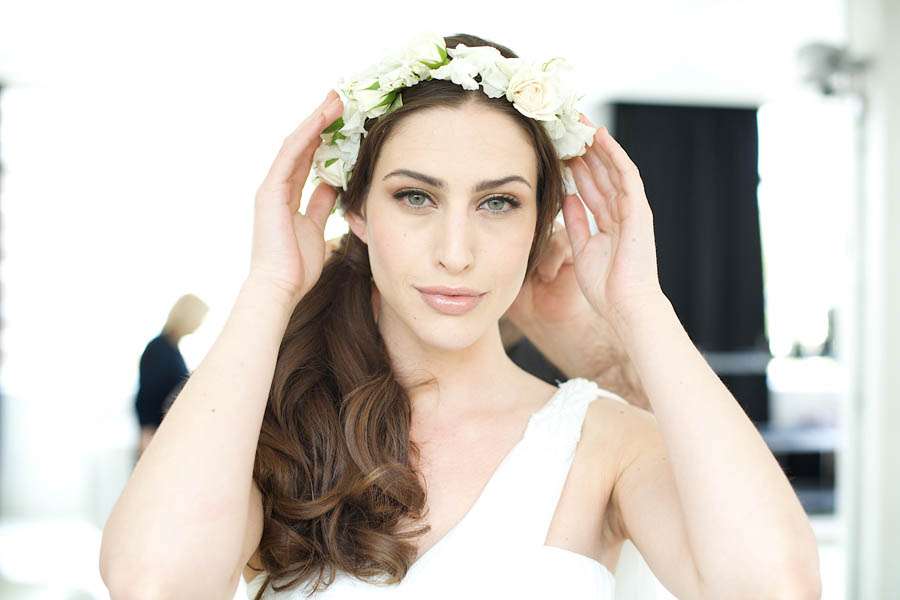 Polly. I wish I could hate her but she was too lovely for words!
The day was a long but awesome one. I had such fun hanging out with everyone and they really did make me feel like part of the family. I was honoured to have been asked by Catherine to attend, and I'm loving the fact that Wedding Magazine are realising the influence and power of wedding blogs and that they are keen to work closely with us. It's a very exciting time in this industry of ours, and I'm over the flipping moon to be a part of it.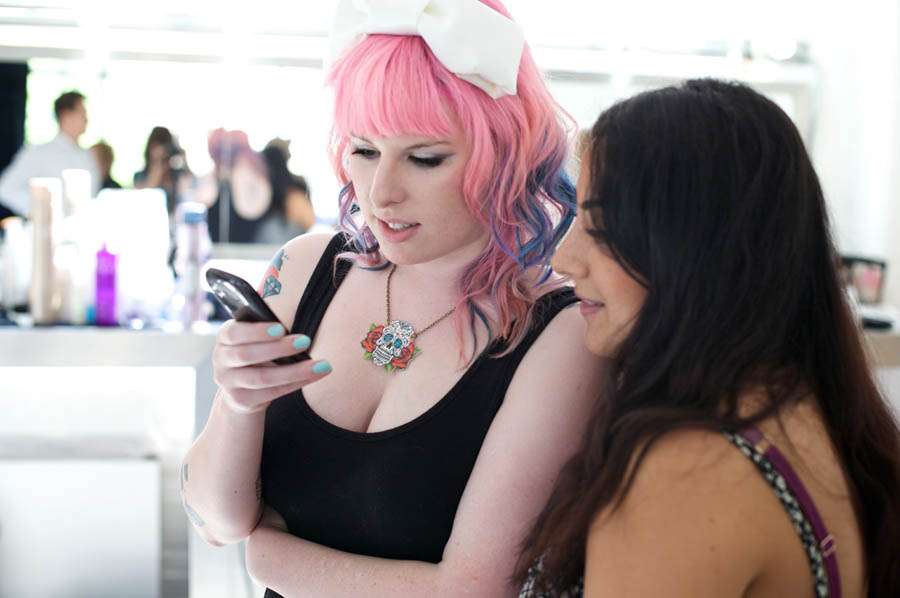 Intern Billy and I checking out the Twitter response after I posted a few pictures
And finally…I wanted to create my own Wedding Magazine cover…luckily for me the models (and the magazine editor!) all had a sense of humour.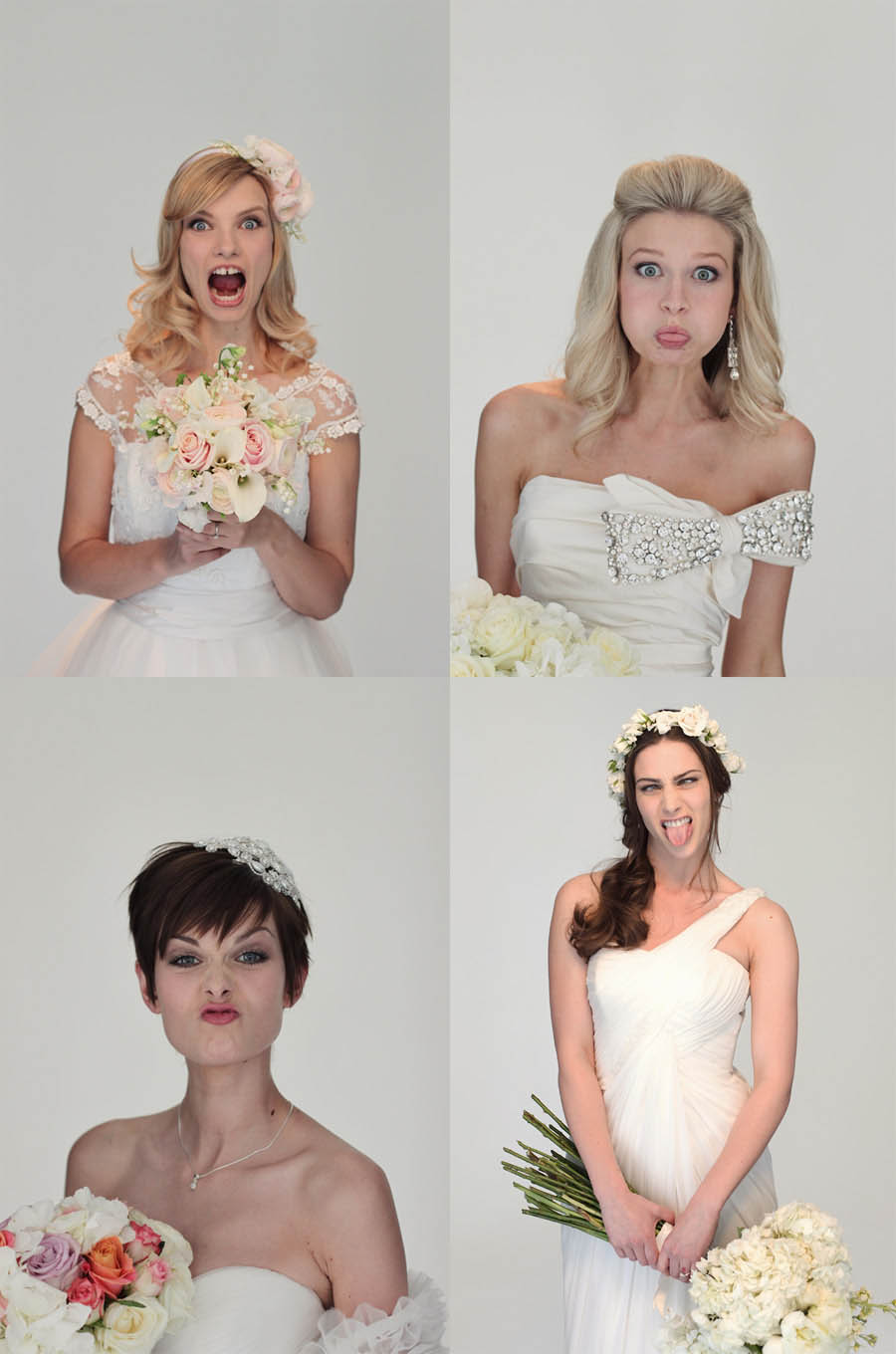 Dresses pictures (top row)
Candy Anthony
Olivia Couture (supplied by Blackburn Bridal Couture)
Art direction: Julia Ford (art editor) and Catherine Westwood (editor)
Photographer: Seb Winter at my management
Make-up: Cheryl Phelps at aartlondon
Hair: Severin at The Hepburn Collection
Fashion Stylist: Claire Ridley
Fashion intern: Billy Hasan
Models: Ruth Crilly of FM Agency, Kirstie Bennett at FM Agency, Rose Killin of MOT Models and Polly Furnival of Models One
Flowers: Provided by various florists – Pollen Nation, Mary Jane Vaughan, Violets & Velvet and Pesh Flowers
All Photography by myself & (where stated) Julia Ford