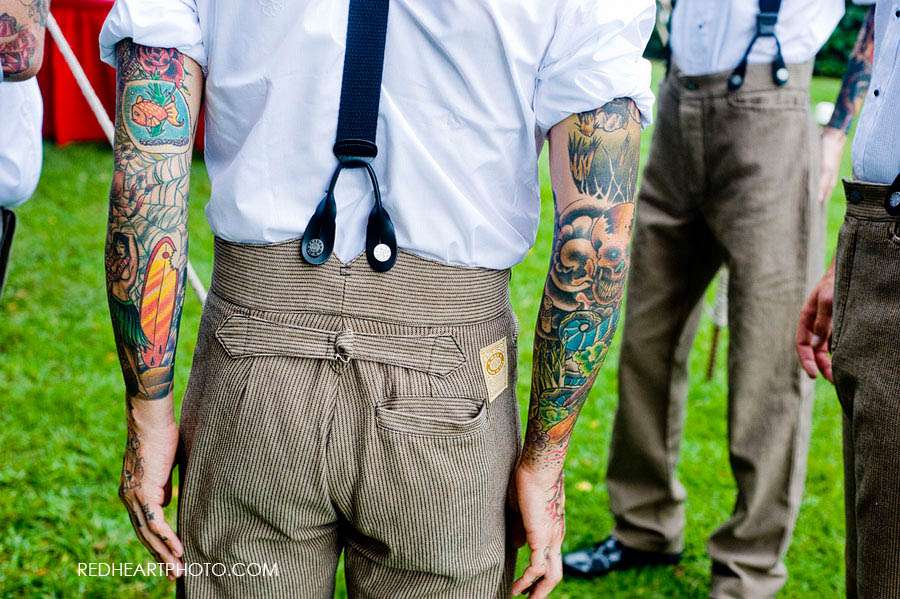 Photography Credit: Red Heart Photography (you can see this full wedding here!)
Hi Kat,
I've followed your blog since I got engaged in October and after a week of commiserating on the subject, I have to reach out for help. I am making my gown and all my bridesmaid's gowns, but we are in a dilemma when it comes to my fiance.
The wedding is at a summer camp (very bohemian) and there is to be no hint of tuxedo attire let alone renting anything, and at (skinny) 6′, 145lbs, tattooed, long haired, we are really coming up short with finding anything his size, style, and not 'traditional' that he would actually be interested in looking at.
Do you know of any unique suit shops or websites (not Urban Outfitters) that could help point us in the right direction? Or should we just start scouring thrift shops? Our wedding is in 8 months.
Thank you so much for any help you can give!
Rebeka & Alan
www.alanandbeka.com
For this reader dilemma I called upon the expertise of Staggered – a wedding blog for boys! I knew they'd have the answer. Rebeka & Alan I hope these ideas can help you out!
♥  ♥  ♥
Congratulations on the upcoming wedding from all at www.iamstaggered.com – we thought a few of us would take a crack at this to give you a bit more of a view.
♥ First up Hannah Claire Litman the www.iamstaggered.com/usa style expert…
Hi Rebeka,
First of all a big congrats to you on your impending nuptials. Your bohemian plans sound fabulous—please send pictures! I wish you had included a picture of your dress (and your groom!) but as you allude to a "gown" I am going to assume it is floor-length and bridal so with that said, though you are veto-ing the tux, I would guess that your betrothed would happily don a suit (of sorts) for his trip down to the aisle and into your happy-ever-after.
Though a bit on the pricey side, Paul Smith (www.paulsmith.co.uk) serves up some fabulous mens' looks. Tailored to perfection, your fiancé can throw in a touch of boho whimsy thanks to Smith's fabulous prints on shirts, ties and socks. We love them all, from his quintessential stripe to the fantastic florals. It takes a rockstar in the making to be able to rock some of the more outlandish prints but it sounds like Alan might be up to the challenge.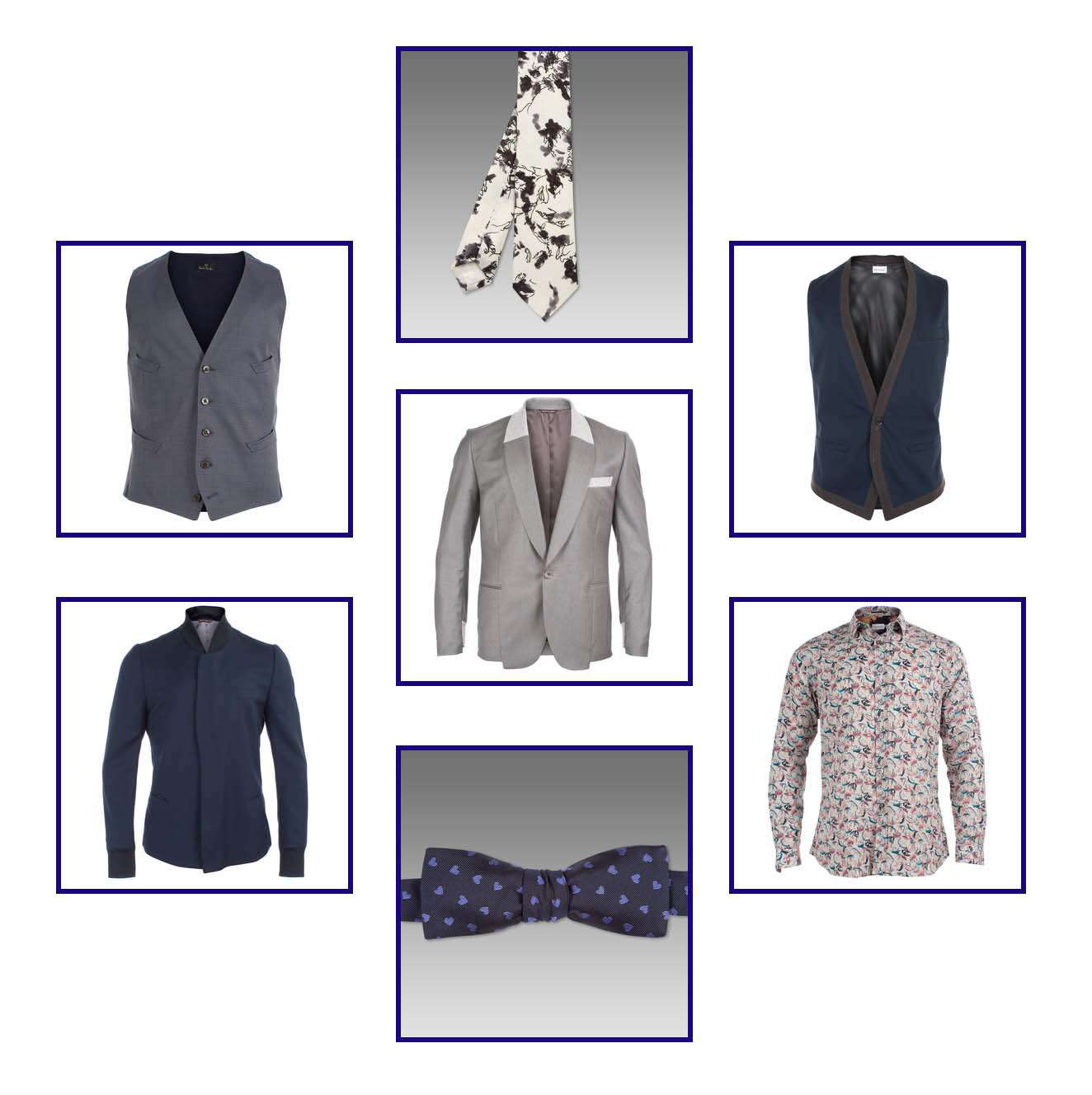 All items available from www.paulsmith.co.uk
Another nice twist might be to opt away from a jacket and instead go with a vest. If above your budget, why not take Smith's looks as inspiration… Or maybe even splurge on a Paul Smith shirt and tie to pair with a more affordable suit. Just remember to keep the jacket and pants neutral and have fun with the rest of it!
If I were you, I would opt to play up your soon-to-be-husband's skinny, "I'm in the band" look and keep tailored pieces slim-fitting. If you opt for a thrift store find or an off-the-rack suit, be sure to take it to a tailor who can fit it to his shape (though it sounds like this might be something you could do for him yourself) and give the illusion of bespoke threads.
And lastly, I would opt for tying his long hair back for the ceremony and perhaps pair with a "too-cool-for-school" fedora to play up his unique vibe.
ENJOY! And Smile.
♥ Next up…Brenda Della Casa, editor of www.iamstaggered.com/usa
Hi Rebeka,
Having attended a Summer Camp wedding as a guest, I can assure you that your friends and family are in for tons of fun! From smore-laden bonfires and tennis to splashing in the sun, the possibilities are endless when it comes to outdoors-y nuptials.
Now, let's figure out what to wear. You're actually not as limited as you think you may be when it comes to attire. Though you might scowl at the mere mention of Banana Republic (www.bananarepublic.com) as thoughts of preppy khaki ensembles dance in your head, the truth is the retailer is moving closer to the original brand with more safari-style spring and summer wear that might prove perfect for your big day.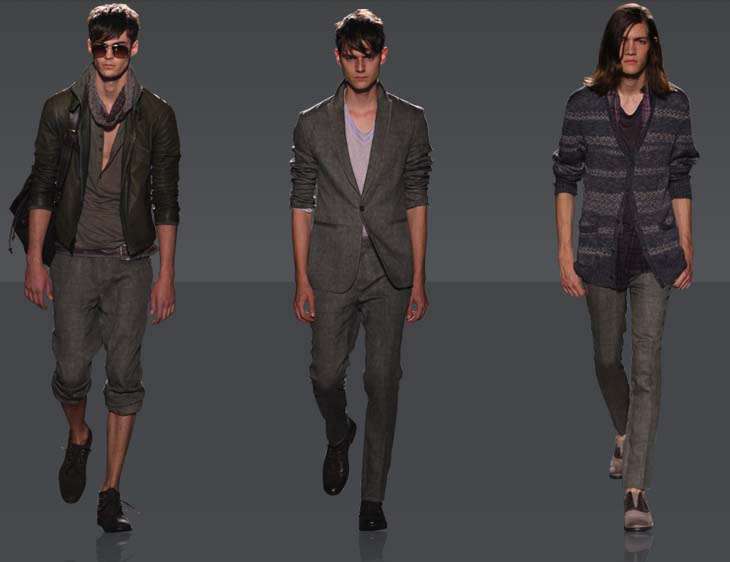 All items available from www.johnvarvatos.com
John Varvatos (www.johnvarvatos.com) is another great option. The store is a favorite of super-skinny and equally edgy Russell Brand. The store offers chic, lightweight T's, slacks and shorts perfect for skinny Rock Star legs.
If you're looking for something more "edgy" why not create a theme such has having the groom and groomsmen all wear logo T's and shorts one day and jeans another? Or check out the Fender Store (www.fenderusa.com) for ideas.
♥ And finally me, Andrew Shanahan, editor of www.iamstaggered.com
Hello,
Another bout of congrats from me Rebeka and Alan, sounds like an amazing wedding but curses on Brenda for beating me to mention Russell Brand as the go-to option for stylish and skinny, but then I remembered an alternative, one of the most beautifully-dressed men in modern culture: Jarvis Cocker.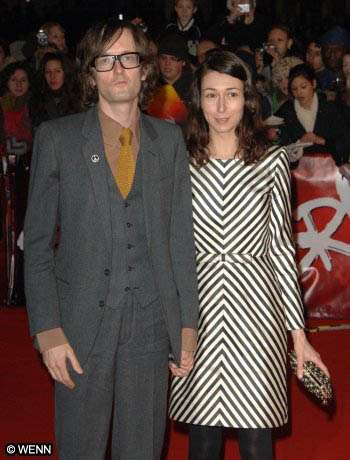 Image credit: Superior Pics
Take a look at this ensemble. Cocker frequently matches a shirt and suit jacket with less formal trousers to great effect, but here he's gone all the way with a three piece suit. It's riding up at the sleeves on this picture but it's fitted beautifully to his body – it doesn't figure hug, but it doesn't apologise for being skinny either.
As mentioned by Hannah it's the waistcoat (or vest) that really works for thinner men as it adds more detail to the body and gives you an option for an outdoors feel simply by removing the jacket. You could go one step further and remove the shirt and tie and wear the suit with a t-shirt, or just a short sleeve shirt open at the neck. As for where you'd buy this sort of thing I'd say go second-hand shopping and then take it to an experienced tailor. What you save on the suit you can invest on making sure if fits like a dream.
Cheers, Andrew.
Hope that helps!