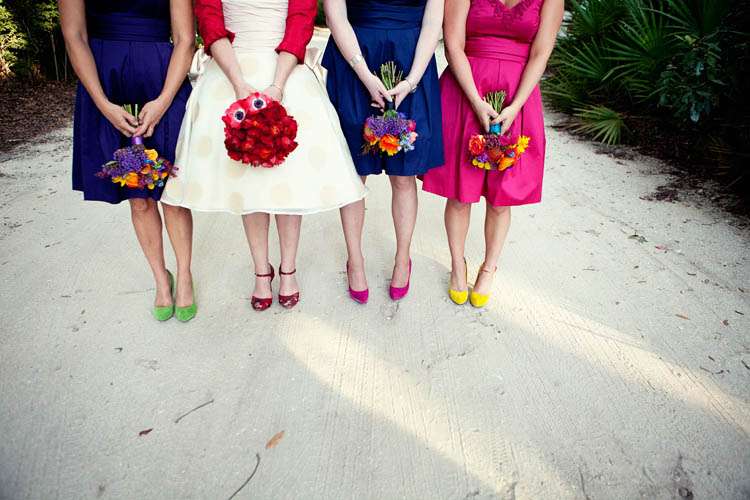 Carroll & Dan were married in October at Walker's Landing in the Amelia Island Plantation. The day was a celebration of their love for each other as well as their family and friends…and of course it goes without saying that the whole thing was styled to awesome perfection. Their day of the dead theme works SO WELL. I love it!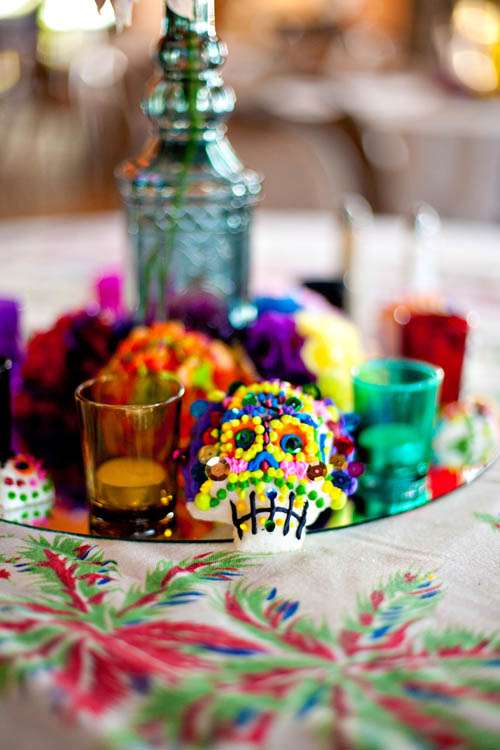 Bride Carroll told me all about their fabulous day "When we decided to get married, my husband and I knew it would be hard to plan a wedding that would be fun for all of the different types of people in our lives.  Our guests were amazingly diverse – many nationalities and ages – scientists, doctors, lawyers, military officers, government officials, corporate executives, athletes, bikers, artists, punk rockers, musicians, and construction workers.  It was important to try to make all our guests feel included by mixing traditional wedding elements with our own personal flair.  Although we wanted to have a wedding that was unique to us, we also wanted to have a wedding that respected the traditions and beliefs of both of our very different families.  We chose the Day of the Dead theme for a few reasons.  I was born in Mexico and, growing up, our house was filled with images of the holiday.  Also, we wanted to remember and honor our friends and family who have passed away.  For me, it was a particularly fitting way to pay homage to my father who passed away when I was young and to make sure that his memory was a significant part of our celebration.  Also, we got to put skulls on everything, which made us happy."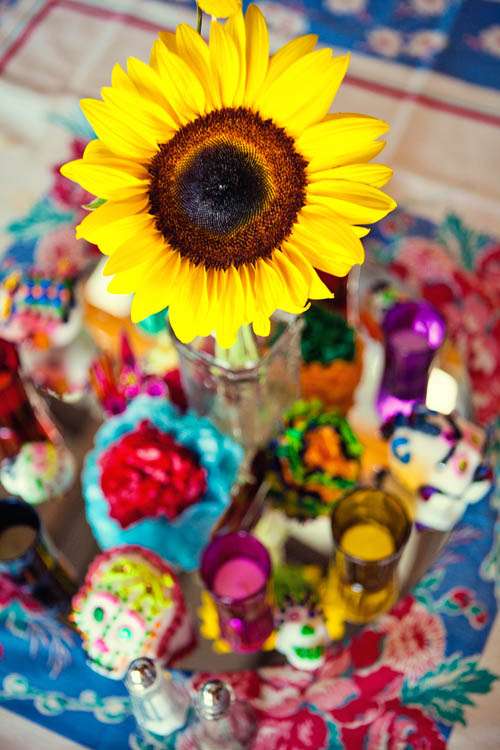 "A lot of what we did was DIY and involved help from our friends.  A good friend did the artwork for our invitations.  I made most of the paper flowers with some help from another good friend and a bottle of wine.  My mom, some other dear friends and I also made the sugar skulls ourselves, which was a lot of fun.  We had temporary tattoos made to match the groom's cake.  Also, my mom and step-dad bought some amazing Day of the Dead artwork in Santa Fe that we now have as decorations in our home.  In the reception area, there was a large fireplace that my mom and god-mother converted into a sort of shrine where we placed pictures of our loved ones who are no longer with us.  It was a beautiful way to include their memories in our wedding day.  They also helped put together the centerpieces.  My mom also hand-stamped the programs with a rubber stamp that she bought in Santa Fe.  Three of our friends volunteered to be the DJs, and with no experience at all, they did a fantastic job – way better than any professional could ever have done.   It was so important to us to have friends and family involved in each aspect of the wedding."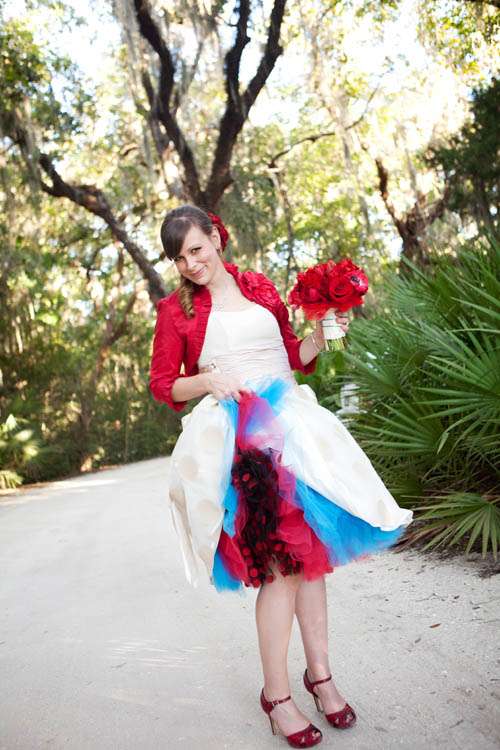 "Even when we brought in outside help, we tried to keep things personal and unique to us.  Joi Mahon of Dress Forms Design Studio made the dress and bolero jacket.  I cannot say enough good things about her.  Although we never met in person, the dress fit perfectly and was everything that I had hoped for.  She listened to all of my wishes and made the dress of my dreams.  She is unbelievable and such a pleasure to work with."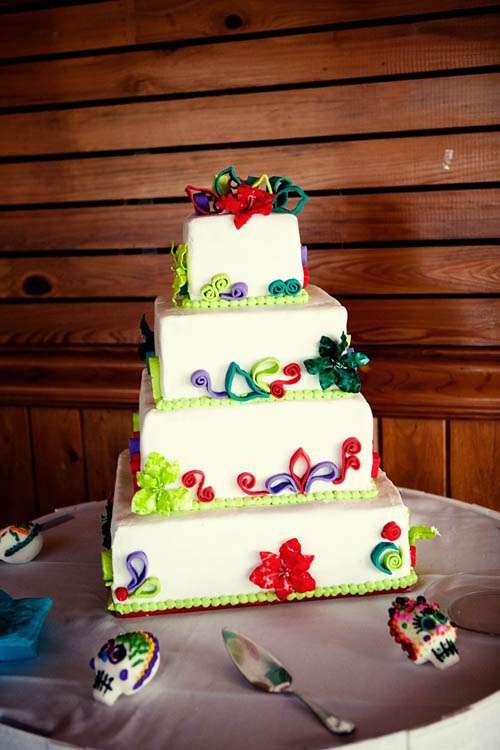 "We had Dottie at Chez Lezan Bakery make our cake.  We have been huge fans of hers for years and it was wonderful to have her involved in our wedding.  The cake was perfect. Brooke Raulerson of Artistic Florist did some unbelievable flower arrangements.  We pretty much gave her free reign and she exceeded all of our high hopes.  The flowers arrangements were totally breathtaking.  The bouquets were amazing too.
And, above all out photographers were AWESOME.  Ashley and Greg and 
Brooke Images
were the best possible choice.   There were the perfect mix of fun a professional and I would recommend them to anyone! All in all, the day was perfect.  And so is my husband.  I couldn't be happier with how things turned out.  It was worth all of the headaches and stress to have a day that made me feel so loved and grateful."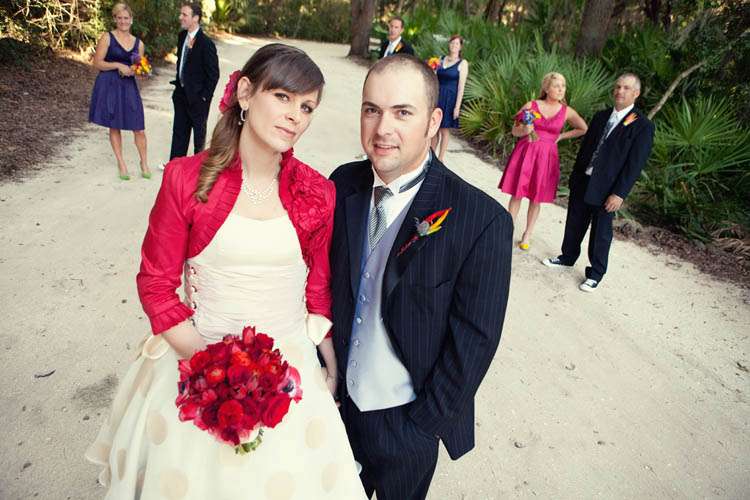 Aww I love them! Be sure to also check out their super cute day after sesh!
Huge love and thanks to Carroll & Dan for sharing their awesome wedding with us today, and to Ashley & Greg for sharing their beautiful images