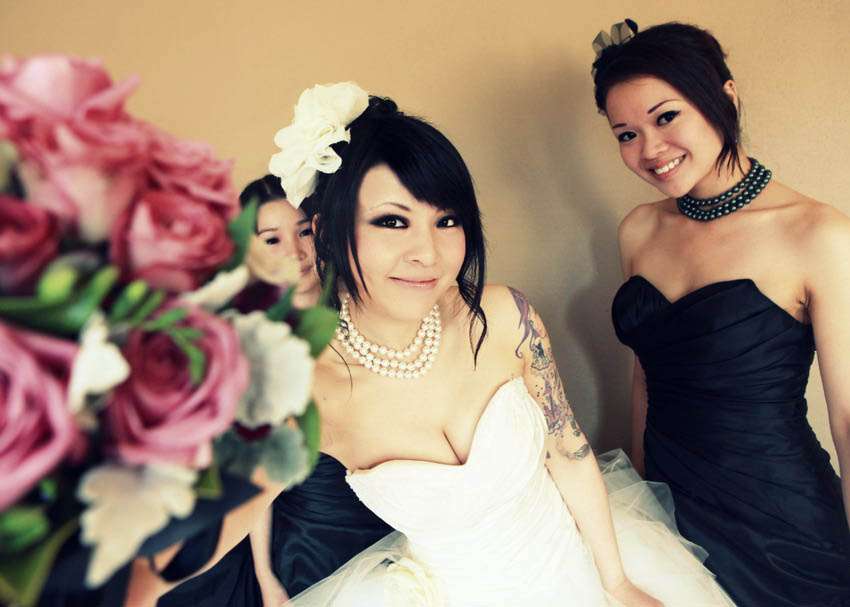 When I laid eyes on Lowina & Philsy's wedding the only thing I could said was "OMG so cute!" Seriously, you get that right? How adorable are they? Adorable in a kick ass Rock n Roll way though you understand…
The couple, who met in 2006 at a fashion trade show in Hong Kong, got married in Philsy's parent's back garden in Victoria, Australia. It was important to the pair to not only plan a gorgeous wedding but to make sure it truly reflected them as individuals as well as their Chinese heritage. They also were certain it had to be unique and fun!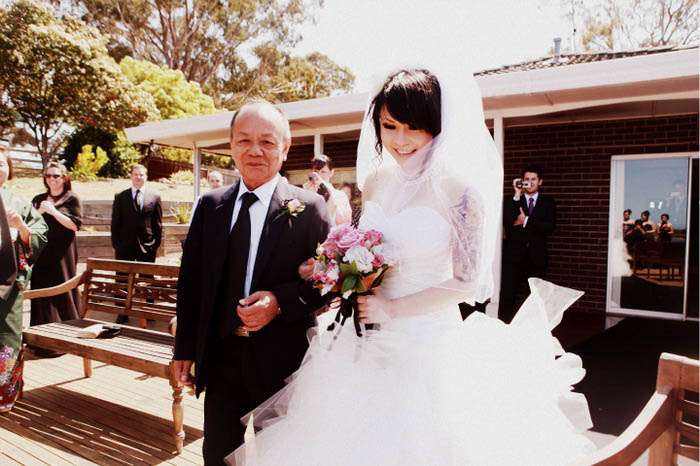 In order to do this, DIY was very important to them. The couple made all their stationary, the guest book, decor and favours. The bride even made pearl earrings as gifts for every female guest and the t-shirts for her and her bridesmaids to wear in the morning! They asked friends and family to help where they could and they made the cupcakes and arranged all the flowers.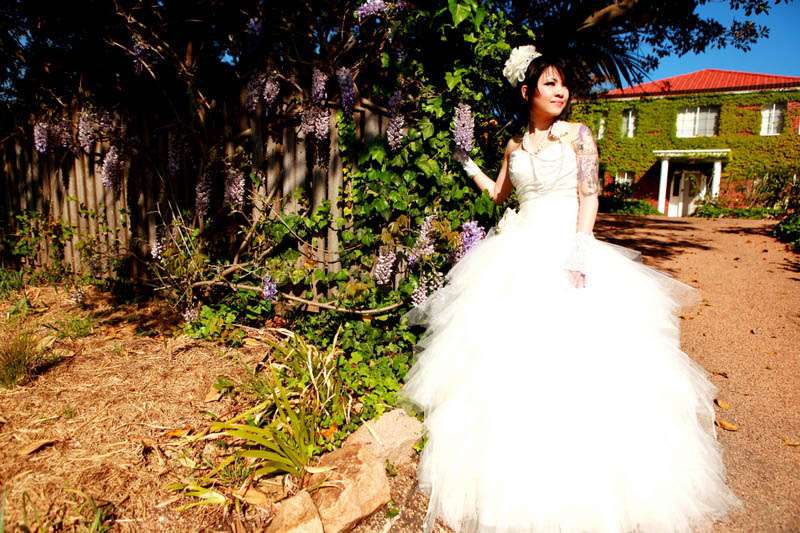 The wedding took place over two occasions and so the bride wore two dresses. The first, the white western dress was designed by the bride herself. She flew back to Hong Kong to have it made. She told me that doing it this was (including the flights!) was still cheaper than most custom dresses in Australia as it only ended up costing her $450! She also made pearl necklaces (she has her own etsy shop) for herself and her bridesmaids. Her fun accessories including the long gloves, the scarf and the long necklaces were from Diva. Her headpiece was also from etsy and her amazing shoes were from a Halloween costume shop!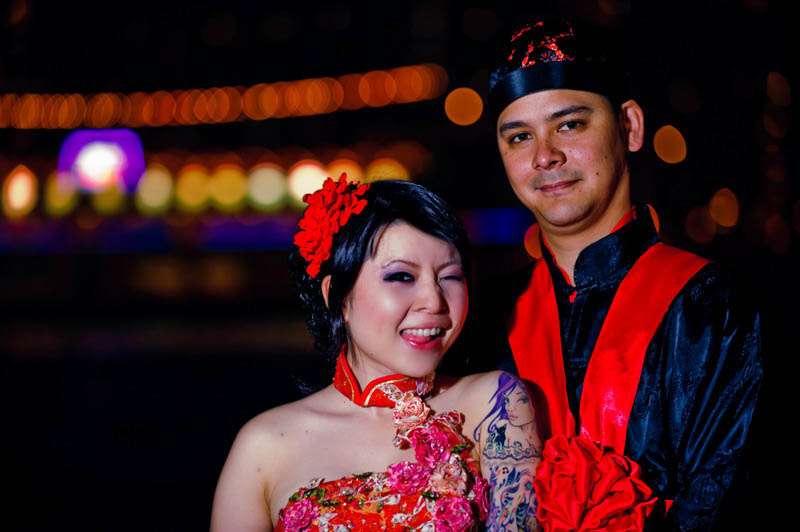 After the wedding in Australia the couple flew to Hong Kong for the (slightly) more traditional Chinese part of the wedding. They had a massive party for all their family in Hong Kong who were unable to fly to Australia for the actual wedding. Chinese tradition says that the bride should wear a red and gold dress in a Chinese style for the main dress plus another 5 or 6 (!) colourful dresses for the evening party. Lowina didn't want to do this so she hired a more modern style red and gold dress to wear which only ended up costing her $120! Plus she wore it with 4″ platform black shoe boots with metal stubs and sparkly black tights!
Rock n Roll!
Massive thanks to the gorgeous Lowina & Philsy for sharing their awesome celebrations with us today
Photography Credit: Dreamlife Photos & Video
Ceremony Venue: Groom's parent's back garden
Reception Venue: The Metung Hotel
Bride's White Dress: DIY
Bride's Red Dress: Hired from a store in Hong Kong
Bride's Pearls: DIY from her own etsy shop 
Bride's Australian Shoes: Halloween costume shop
Bride's Hong Kong Shoes: From a boutique store in Hong Kong
Bride's Hairpiece: Tijusai on etsy
Bride's Gloves, Scarf & Long necklaces: Diva
Bridesmaid's Dresses: Custom Made in Hong Kong
Getting Ready T-Shirts: DIY
Cupcakes: DIY
Cake Topper: Q Dolls
Flowers: DIY
Band: Zephyr Trio
Reception Decor, Stationary, Guestbook: DIY
Wedding Rings: Edward Mirell
Ring Plate: Wise Impressionson etsy