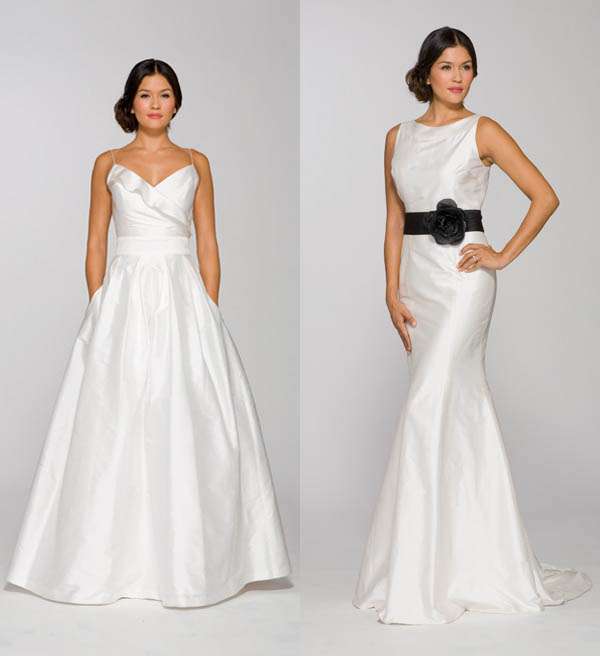 When it comes to looking for your perfect wedding dress, a lot of Rock n Roll Brides are now heading online to see if they can get their dream gown at a fraction of the price. My worry with this has always been that you might end up with a substandard 'knock off' dress that isn't of the quality that you deserve for your big day. You know what they say, "pay cheap, pay twice…"
However I'm excited to say that I've found an exception to this rule! I was contacted by AriaDress a few weeks ago and I have not only been blown away but the quality of work and design that goes into every one of their bespoke gowns, but at prices significantly less than you'd expect! Can you believe you can get a dress as gorgeous as these for under $500!?
I got chatting to designer Tak Hau last week about his passion, his inspiration and his love of creating simply stunning gowns for brides and bridesmaids. I hope you enjoy reading all about it. He really is a wonderfully talented man and I'm so thrilled to be showcasing his brand new Spring 2011 collection on Rock n Roll Bride.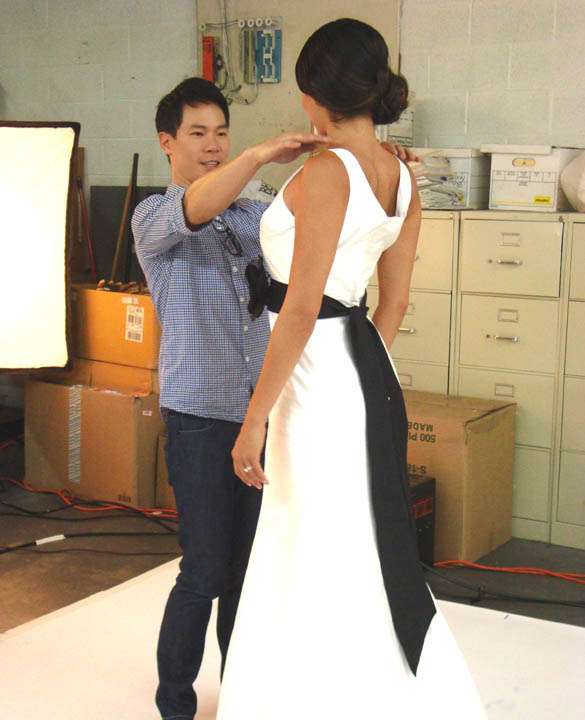 Who are you and what do you do?
I am Tak Hau, the designer and creative director of AriaDress, a company I started nine years ago to bring style and sophistication where it was really needed – in the bridesmaid dress category. Now, we also do wedding gowns. I started out designing cocktail dresses in the 1980s, under my own label and others, which were sold in boutiques and the top department stores in the USA.
What made you want to get into Bridal fashion?
Being a designer in the dress business for a long time, I began to think of a category that I could build into a new and viable business. I started to be more aware of bridal fashions, and noticed there was a lack of modern bridesmaid dresses that were affordable, or that didn't look like the truly awful bridesmaid dress Melanie Griffith wore in the film, Working Girl. Remember that, with all the powder blue chiffon? It didn't seem much had progressed since then.
Before I started AriaDress, you either had to pay a lot of money for bridesmaid dresses or they were that ugly! So I discovered this niche that needed modern, affordable, high quality dresses – there were none 10 years ago – and we took off almost as soon as we were on the web.
Someone who is asked to be a bridesmaid can dread the experience because of the dress. I decided to make AriaDress as close-to-custom as possible, so each bridesmaid could choose what fits her best and the dresses could be made all in one color. It's really very easy to switch a bodice with a skirt, for all different sizes, and make a bridesmaid feel really great to appear in the dress.
That was my goal. We just introduced wedding gowns this year, for Spring 2010, and use the same concept of allowing our brides to choose any neckline to go with any skirt silhouette, using the same designs from the bridesmaid's collection. In pure silk, fully lined, with the quality of made in the USA construction, a bride with more style than cash can have a really pretty gown for under $500 – and use the thousands of dollars that seem be the cost of a one-day wedding gown, towards a house, or a honeymoon, or sometimes, a baby.
I'm happy to make that possible!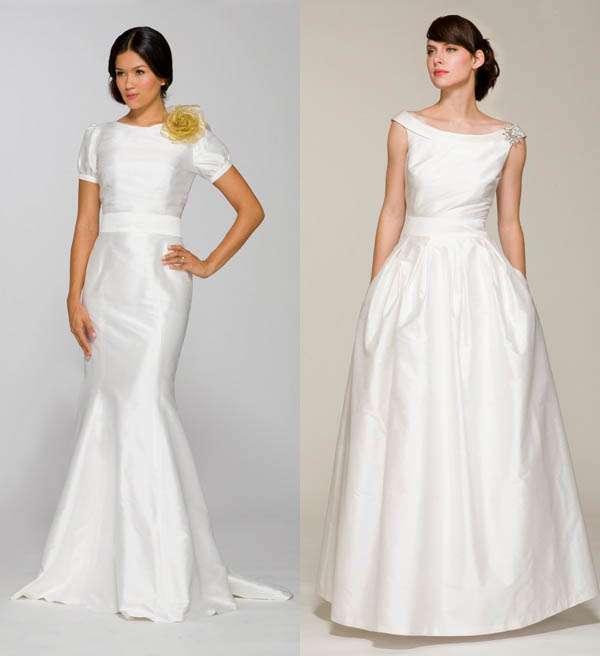 What are your influences?
Audrey Hepburn is my muse – she's a classic. I've never seen her in an outfit that looks bad or silly at any point in time. You can see her in the 70s, the 80s and she always looks right.
That's what dresses from AriaDress are all about. I want my dresses to never look silly at any point in time.
I get a lot of ideas from watching old movies. Movies from the '20s and '30s give me many ideas, and put me in a world where I start conceptualizing a design. I was watching a movie about a woman that was a showgirl, and had this beautiful dress with a fishtail mermaid skirt, all ruffley, very girly and pretty. And it gave me the whole idea for my new designs for Spring.
Our dresses have been very structural, very linear – which was necessary to tone down the overdone styling in these kinds of dresses. But that movie, and the times, made me think of doing something more organic and more flowing for next season, Spring 2011.
For us, it's new. I'm softening up the look to be more feminine, girly, and body conscious. I love using a single ruffle, never overdoing it, to jazz up the dress, and I've brought in a Short Trumpet skirt, which is very flirtatious and works beautifully at knee-length, or even a little longer.
Color, of course, is a big influence. I'm drawn to purples and blues, greens, and the cooler shades this season.
Whose work do you really admire?
Donna Karan. I like her aesthetics and point of view. She's very modern. Her clothes are never trendy. I don't like trendy things. She's a true artist and her clothes reflect that – every piece of clothing she makes is a piece of art.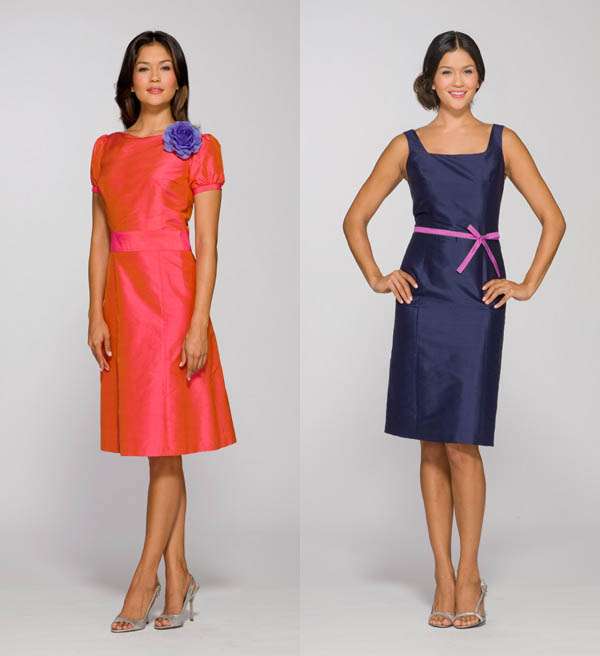 Can you tell me a little bit about the style and design process of your dresses?
I think of shapes in my head – and then I see a woman walking towards me, and then her clothes start to get clearer and clearer in my mind. Then I start sketching. I get many images in my head onto paper, and I start imagining them in my colors, in colors that I feel for the next season – then I start color penciling them in.
Our dresses are made from flat patterns.  I don't drape. I think draping is for people who can't visualize things. I have a good imagination so I'm able to visualize how it will look on a person. I go straight form sketching to flat pattern. I'm very mathematical, and with flat patterns, everything is understandable as to how to make the dress.
Flat patterning requires a lot of math and calculations. On a dress form when you're draping, you get what you see in front of you. I'm obsessed with accuracy, and the flat pattern gives you that.
Do you do custom orders?
We offer so many options that in a way it is customizable. You can switch out skirts and necklines. You're bound to find a combination that you like, and that fits you well.
It's really the closest thing to custom, without going to a dressmaker to start from scratch. Do you mean do we make a dress a customer comes in and shows us? No, that's not AriaDress!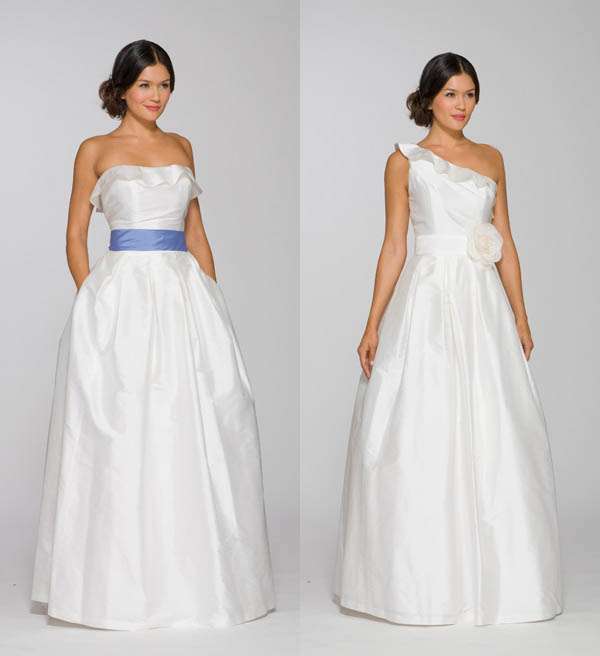 Can you tell us a little about the order process, how it works and if you can you ship worldwide?
We do ship worldwide – to Asia, to Europe, to Canada and around the country. We even ship to Alaska.
The best way to start is to go to our website, start looking at designs, and then request free fabric samples from us, so you can see the actual color, or a selection of colors, and touch the fabric. That should be your first step.
After that, bridesmaids and brides can visit our showrooms to actually try dresses on. We have three showrooms in Los Angeles, where I started, and in Boston and Washington, D.C. If they don't live near any of our locations, they can use our Try-On Program. With that, for $15 per dress, we'll send you the style or styles you're interested in, not in the exact color choice, and you can try it on at home for a week. That's really if you're in the States, doesn't work for Europe, for obvious reasons.
I have to say, these days, girls are so used to shopping online, that 90% of our customers order straight from the website. We show many options at each dress for skirt silhouettes and lengths available – there's something for every bridesmaid. They can print out an order form, and we will produce a dress for them, the way they want it. We try to make the process very simple.
Do you listen to music when you design?
Who do you listen to?
Sure do. I listen to mostly jazz when I'm designing. That's what relaxes me. I like vintage jazz from the '50s and '60s – Ella Fitzgerald is my favorite. And Nina Simone.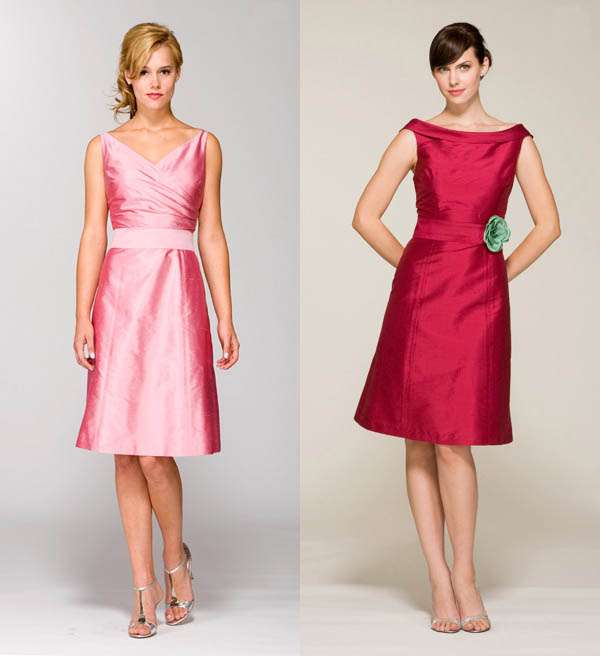 Who are your perfect clients?
Our best customers want to be different from other people's weddings, and not a cookie cutter kind of bride. That's my perfect bridal party.
What is your most popular style for brides and bridemaids?
For bridesmaids, this year our number one favorite dress has our Style 141 (pictured above – left) surplice neckline, on an A-line skirt, which is universally flattering. I like V-neck dresses. I think they look good on everyone.
For brides, it has been our 185 strapless with the full-length ballgown skirt (pictured below – left). Our ballgown is an abbreviated version of the huge ballgowns in the market, and is much easier to wear. It's a clean look, and very pretty in silk shantung, or for a more high end look, in silk satin or taffeta. Girls that don't want heavy or overdone embellishments, which make up a lot of the bridal market, are drawn to us.
Our emphasis is on the quality of the fabric, and the beauty of a silhouette.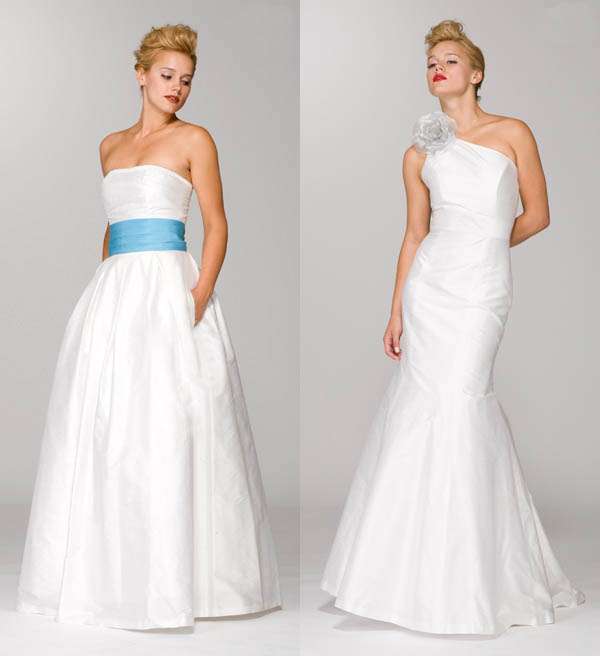 Do you see any new trends emerging for 2011 and what can we expect from AriaDress in the coming year?
We're introducing a very feminine, very girly, very soft collection of dresses that move as you walk. More sensual looks, with a scaled down but flirtatious use of ruffles.
I see ruffles. I see more shapely dresses, closer to the body. As a change from a flare A-line, our Short Trumpet Skirt will be hot. It's very new, and I'm really happy with the response to it, so far. People want to show off their bodies, their shape and curves. I'm bringing dresses closer to the body. I say, be proud of your shape, show it off the best way you can, whatever your size!
What do you love about weddings?
It's a happy occasion. What's not to love about weddings? All your friends and family are gathered in one place. I'm so glad to be in this business dealing with people at the happiest time of their lives.  I feel lucky.
You deal with happy people all the time, and that's important to me.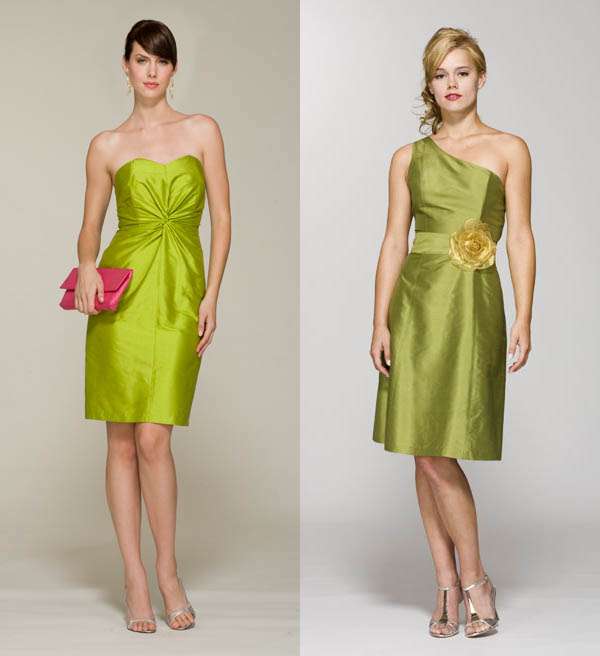 Why do you feel your bridal and bridesmaid dresses are perfect for a Rock n Roll wedding?
A Rock n Roll Bride is someone who doesn't follow trends and doesn't want to be like everyone else and has a unique style. At AriaDress, with all our options in styles and colors and fabrics, she can find something that is nothing like anyone's dresses. She can have a black wedding gown made if she wanted to.
For someone who rebels against tradition, and doesn't want what people are trying to sell them, and wants what she wants, AriaDress is perfect. We are geared for the individual. She'll get what she wants here.
What would you say your greatest achievement has been to date?
I'm very proud of my collection. It gives me pride to come to work every day. AriaDress is my greatest achievement.
What are your price ranges and how can people get in touch with you?
Our wedding dress prices range from just $160.00 to $465.00 and it all depends on the fabrics and the lengths. For example, we offer dresses at $160 in various cotton fabrics, and a full length ballgown in silk taffeta, fully lined and beautifully constructed, would be $455.00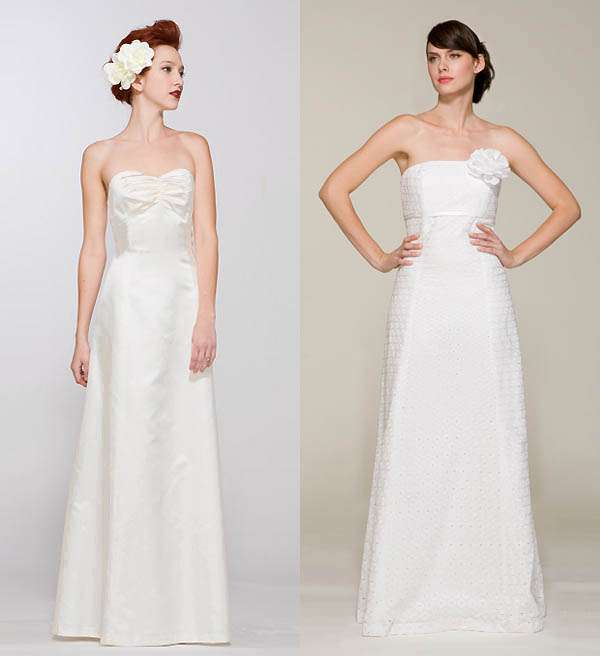 For bridesmaids, our general price point is at $195 for a silk shantung knee-length style. We also offer a group discount to six or more bridesmaids buying the same style, same color, at 10% off, which brings the price down to $175.50.
Our website is the best way to get in touch with us. You can send an email to us at inquiry@ariadress.com. But if you're shopping, the best thing is to really look at all the styles and options on the website, then order your free swatches in a range of colors you are planning for the wedding.
You can also go to the contact page and get our phone numbers to make appointments at any of our showrooms in Los Angeles, Boston or Washington, D.C. And, of course, you can friend us at Facebook, follow us on Twitter, and subscribe to our blog.
Also, we recommend that you check out our Real Weddings section on the web. That's how you can see how great it's all going to look – for your own modern wedding.
Huge thanks to Tak and all the guys at the amazing AriaDress for working so hard with me to put this feature together. I utterly adore their dresses and if you do go for any of their designs for your own dress or bridesmaid dresses, please send me the photographs afterwards – I'd love to see!
http://www.facebook.com/AriaDress
http://www.twitter.com/AriaDress
http://www.ariadress.com/blog
*Sponsored Post