Anthony & Shealyn were actually not engaged at the time the session took place. However, just a week after the shoot they realized that they just could not live without each other and got engaged!  I am so smitten with this session – the purple and yellow look oh so fabulous together and the couple are too damn funky for words. Photographer Sheri told me all about the day:
Other than specifying that they'd like incorporate purple balloons (which Anthony brought to Shealyn on their first date) we were left to our own creative devices. I was inspired by their edgy style and chose backdrops that would make them pop. I like the contrast of their hard, black style against the softness of the beach and the lightheartedness of the balloons.
We walked back to their apartment and they suggested hopping into the pool… mind you this was early January and cold even by San Diego standards.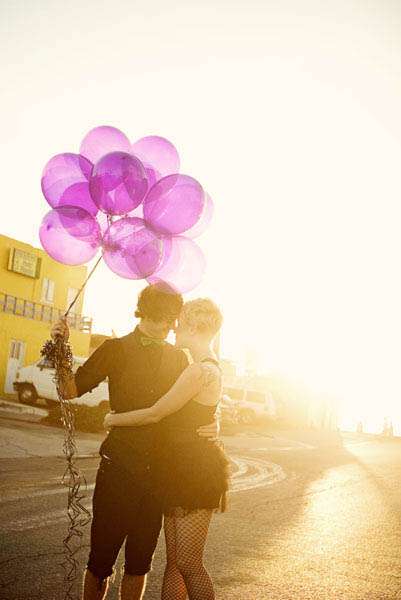 Thanks to Sheri for sharing these shoot with us…and I have to say I totally love Shealyn's dress which actually came from the Miley Cyrus/Max Azria for Wal-Mart! Rock n Roll indeedy.
Credit: Tangerine Tree Photography