Unable to shoot her cousin's wedding, Lauri of Zoom Photography decided to give Kaya & Jon a day after shoot to remember!
Kaya and Jon are a true meeting of the minds. She works in advertising and he in finance, living in their Chicago loft, mostly run by their pug Chloe and bulldog Sebastian. Jon's passionate love of music is apparent from the moment you meet him, his inspired word choice, verbose nature and unsurpassed loyalty also make an immediate impression. Kaya's extroverted and vivacious qualities, coupled with her caring and generous nature make her noticeably standout in a room full of loud and boisterous people.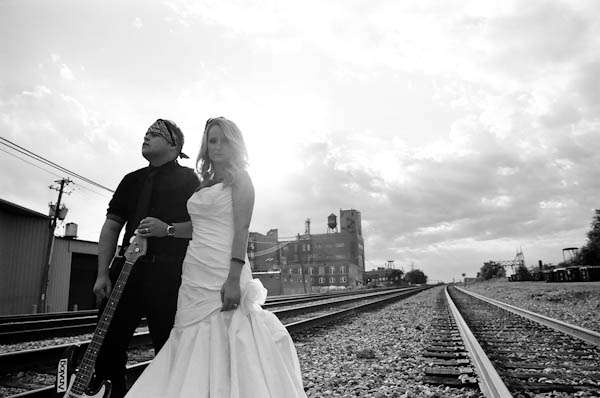 Just four years ago, there was Jon making another brilliant decision before the blaring juke box at Pint, a Chicago bar. But, instead of steering to his old faithful albums in peace, his decision was abruptly challenged. A sassy, slightly rude girl leaned up against him as she uttered "don't play anything BAD". Little did she know, Jon's musical choices were never bad, but he did enjoy a challenge. Three years later they travelled through Europe, and Jon proposed in Poland, where Kaya was born. Pledging his life to her on the very soil where her life had begun, Jon asked that she spend spend the rest of her life with him.
On September 26th, standing before all of their friends and family, they were married overlooking Lake Michigan, at the John G. Shedd Aquarium, downtown Chicago. In true family style, Kaya walked down the aisle with her great grandmother's necklace, her grandfather's WWII patch sewn into her dress, and her new mother-in law's sapphire ring, for a touch of something blue! The wedding colors were inspired by the aquarium, cool celadon greens, and dark emeralds; centerpieces accented with coral and branches borrowed from nature.
The bride and groom chose to pass on wedding favors, in order to make a donation to their furry friends at the Anti-Cruelty Society of Chicago.
Credit: Zoom Photography
Make up: Aga
Hair: Nicole Passolano