I am very excited to bring you another fantastic vendor for your wedding planning loving…If you haven't heard of Michael Antonia and The Flashdance, well my dear where have you been? Not only has Michael been making waves all over the place, but he only went a DJ'ed bloody Speidi's wedding!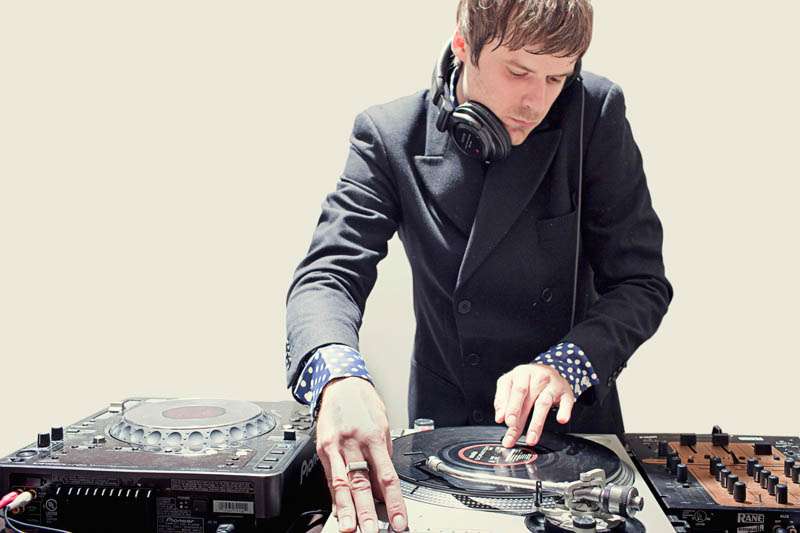 Credit: Jesse Chamberlin/Our Labour of Love
Michael has also mixed an exclusive and very fabulous set (and recorded to video woo!) especially for Rock n Roll Bride..how exciting is that? I am hooked. This is totally my music style, I will definitely be saving the longer (and if possible even better) mp3 version to listen to in my car! If you too would like to groove like an idiot whilst driving down the highway then drop me an email to kat@rocknrollbride.com and I'll be happy to email it to you too!
rock & roll bride exclusive mix from Michael Antonia on Vimeo.
 A 'lil disclaimer from the ever polite Michael:
This mix might be a bit abrasive for the office environment! This video contains music that I wouldn't play at a typical wedding, but you aren't a typical reader now are you?! I also play stuff that is waaaaay easier to dance to and not quite as angry, but hey, this is rock & roll bride, I thought i'd get loose! -MA 
But it doesn't stop there, oh no! I also got to interview Michael… don't say I never give you anything!
Who are you and what do you do?
Michael Antonia / The Flashdance DJ 
I run www.theflashdance.com & I dj events, weddings, and parties of every kind, all the time, everywhere. I am based in Los Angeles. I also have a really rad family and I collect old cars and cactus. 
What/who are your influences? What music do you love?
My biggest influences? Bob Dylan, Nina Simone, John Lennon, Elvis, Dr. Dre, Jack White, Salvador Dali and anyone who has ever made me laugh.

What do you love about weddings?
I love to see people who love each other get really dressed up, get really drunk, and dance their faces off! Ask anyone who knows me and they will say that is my favorite thing to do. I enjoy seeing people blissed out in love, but the crazy, drunken, dance moves in a great suit or a beautiful dress trumps all!
What do you hate about weddings?!
They are usually very unorganized…  

What do you think makes a good/bad wedding DJ?
GOOD = timing, and the ability to read what music is communicating well and to predict what will work 20 minutes later. Being a good (wedding) dj is the same skill set as being a good improv musician, you need to be able to change tempo, style, and key at a moments notice, miss a cue and you are in real trouble! 
BAD = (let's skip the obvious hokey pokey / powder blue tux bit) a big mistake is trying to please everyone… can't be done… a wedding needs mini targeted sets of music from different genres and time periods. It is easier if you can mix and layer new and old music together, but it can be done (though it's a lot harder) by fading songs in and out at the right time. Song selection is only half the battle, observation and execution is the hard part!  
What has been your most monumental moment in your career to date?
I have had the opportunity to play with a ton of my dj heroes.. Grandmaster Flash, Afrika Bambaataa, dj z-tip & dj p, Fatboy Slim, dj Shadow, Cut Chemist, etc I once played for over 10,000 people, that was pretty blown! But mostly mini moments on ordinary dancefloors when everything is working perfectly… there is nothing in the world like looking out and seeing people loosing it, cheering, sweaty as hell. The most monumental moment is when I can do no wrong.
How (if at all) have blogs played a role in you promoting yourself as a DJ?
Blogs have played a tremendous role in promoting The Flashdance! I'm so blessed that you guys like what I'm doing enough to write about it. 
As for club / festival / fashion show stuff, I have been doing it for so long that work organically comes my way, but a wedding is a one off event that you can't invite a booking agent, or club owner (or even a potential client) to. I rely heavily on blogs to get the word out (I have a few other tricks too!)  
Any advice to someone who might want to get into DJing themselves?
Practice way more than you would ever imagine possible. Get a gig (when you're ready!) in a small place where you can get used to performing in front of people. Don't ever try to play music that you don't like because you think you have to, or because someone else plays it. Make sure you are having fun because it is a ton of work and not nearly as glamorous or cool as most people think it is.
*** sidenote *** if you can't dance you have no right djing. You will never understand what makes people dance if you can't do it yourself, so either figure it out or try something else.
I see you use vinyl and not newer technologies like CD players, software, or IPods. Why is that?
If you want to be taken serious as a dj you need to play vinyl. There are computer programs out there that can mix mp3s together for you and, to me anyway, it sounds like a machine is doing it. Ask a concert pianist why he/she prefers a grand piano to a Casio keyboard you'll get roughly the same answer. When you make an art too easy to create it becomes homogenized and boring. Yes, it is a lot harder to mix records than it is to use some of the newer technologies but if it is done right there is nothing that comes close, and aesthetically there is no contest! Plus, as a bonus…people love it, especially older people which is a great way to connect with parents and grandparents at a wedding before you have even done anything. Most older people think that djs are a cheap substitute for a band, but they see the vinyl come out and become intrigued.
If you are a vendor and are interested in being a part of our new 'Under the Spotlight' feature, please feel free to drop me an email to kat@rocknrollbride.com. I look forward to hearing from you!