Behold…the brand new feature! With 'Under the Spotlight' I aim to showcase some fabulous vendor talent from DJ's to Dance Lessons (if that's your thing!) and from florists to tattooists (hey, we all need tattooists right!?)
First up Ari Rosenfield, a DJ from Boston who I have been lucky enough to interviewed for your audio pleasure. Ari (DJ name Beat Train) has also put together a (wedding-friendly!) mix exclusively for Rock n Roll Bride that won't offend your eardrums. Think indie rock, alternative, new wave and post punk but in a style that will still get your Grannies up and shaking their thing (sorry should that be thang) on the dance floor!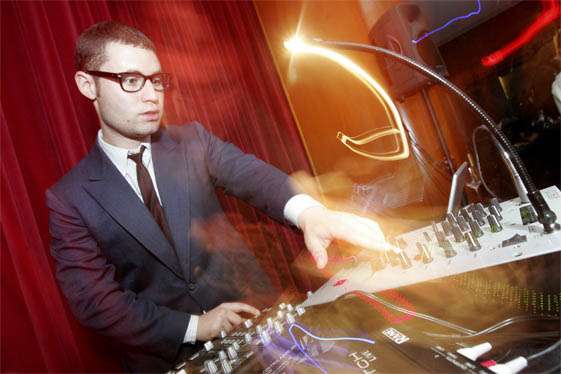 Woop Woop, here we go…
Rock n Roll Bride: Hi Ari! So, who are you and what do you do?
Ari:My name is Ari Rosenfield (my DJ name is Beat Train, but I preferred to be called Ari). I'm a professional DJ/Audio-Visual Geek and owner of Beat Train Productions, which is a boutique DJ firm based in Boston, Massachusetts. The focus of my company is to provide dynamic DJ's who possess skill, versatility, and style (and, it's equally important for us to be reliable, professional, courteous, and humble).
RnR Bride: What/who are your influences? What music do you love? 
Ari: My perspective on DJ'ing is heavily influenced by my background in filmmaking. In film and TV, the music is one of the key tools to help convey a mood, create an ambiance, and ultimately will greatly influence the audience's perception of the movie or television show. For me, one of the most interesting parts of being a DJ, is the opportunity to cast a spell over a group of people and to use my music as a tool to create a lively atmosphere.
Of course the other thing I love about DJ'ing is the music. I've always been obsessed with music, and have somewhat diverse musical taste. I'm into everything from punk rock to jazz to downtempo to soul to funk to pop to hip hop to psychedelic to folk. A few of my current favorite songs are "Microphone Fiend" by Eric B and Rakim, Superfly by Curtis Mayfield, E.V.A. by Jean-Jacques Perrey, "Black Betty" by Ram Jam, "Empty Bed Blues" by Bessie Smith, "Ponta de Lanca Africano " by Jorge Ben, "Rudi, A Message To You" by the Specials, "Sunshine of Your Love" by Ella Fitzgerald, and "We've Got A Groovy Thing Goin'" by Simon & Garfunkel.
I guess I should note that part of being a good DJ is being able to separate my own subjective opinion about what I like with my professional objective opinion about what people will actually respond positively too. While I might find a good opportunity to play "Black Betty by Ram Jam on a semi-regular basis, I would rarely, put Simon & Garfunkel or Bessie Smith into my DJ sets.
RnR Bride: What is your passion?
Ari: At the moment, what I'm most passionate about is DJ'ing and working hard to build up a great reputation for my DJ company. Otherwise I'm passionate about cinema and filmmaking (but I am on hiatus from that for a few years to focus on DJ'ing). Otherwise I guess you could say that it's a big ambition of mine to try to be an honorable person (and to run an honorable business).
 RnR Bride: What do you love about weddings?
Ari: I meet nice people. They are usually generous enough to feed me (delicious) food. People usually show up with their dancing shoes on and are ready to have fun.
RnR Bride: What do you hate about weddings?!
Ari: Hate is a strong word. Occasionally there have been mean drunk people that I've met that have unfortunately been less pleasant than some friendly drunk people I've met. But anyways, that's part of the job, and I don't let it bother me.
RnR Bride: What do you think makes a good/bad wedding DJ?
Ari: Ultimately, in the end, if everyone's dancing the whole night and having fun, you've probably succeeded as a DJ. If that's the case, the DJ probably came prepared with a wide selection of music and successfully read the crowd to see what worked well, and did a nice job mixing the music together. They probably also did a good job not doing anything to alienate themselves from the crowd like many DJ's do (like playing line dances, showing up poorly dresses, or being an obnoxious emcee who loves to hear the sound of their own voice).
RnR Bride: Any advice to someone wanting to book a DJ for their wedding?
Ari: It's probably not a wise idea to hire a DJ who wears sparkly vests or leopard skin suits. Besides that….Personally, in my opinion, it's very important for the DJ to meet with the couple prior to the wedding to get an idea of what sort of party they want to create (Many DJ companies, unfortunately, will send someone to DJ a wedding that has not met the couple before). Otherwise, I wrote an article on my blog listing a few important criteria (listening to their music mix, feeling out whether their focus is quality or quantity etc). If you're curious you can check it out on my blog here.
RnR Bride: Why would you say someone should go for a DJ over a band at their wedding?
Ari: Bands are pretty cool (some are at least). Unfortunately, most bands can't offer the musical diversity that a DJ can (how many bands do you know that can play 80's, soul, and old school hip hop?). If you have it in your budget, hiring a band as well as a DJ to switch off every hour or so is really fun and helps keep the evening lively.
RnR Bride: Anything else you'd like to add?/Any questions you have yourself that you'd like to answer?
Ari:Here's a little about the music mix I've recorded for Rock N Roll Bride:
Recently I had a client who wanted to work with me to find a mix of music that took into account their taste in punk rock, alternative, and indie rock. We also wanted to pick music that would be accessible and engaging to those at the wedding reception that had little knowledge of bands like the Shins and the White Stripes. So here's a mix of a few of the songs played at that wedding.

To save this mix to your computer please Click Here
Also if you are curious to hear some of my other mixes you can find them here and here
If you are a vendor and are interested in being a part of our new 'Under the Spotlight' feature, please feel free to drop me an email to kat@rocknrollbride.com. I look forward to hearing from you!