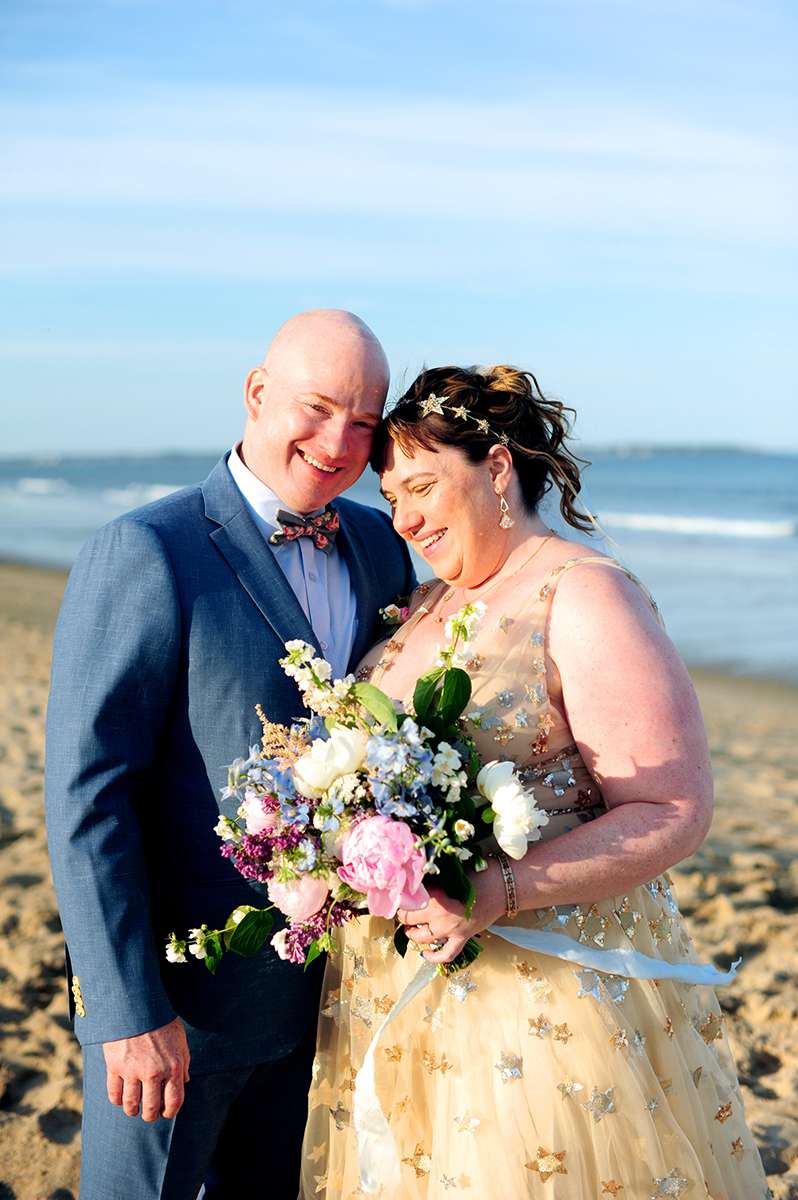 Finding the perfect wedding dress can feel overwhelming, especially if you are in a larger body. Newlywed Emma Jackson-Sanders shares her story and tips for finding a dress you love no matter what your shape or size.
I thought my years of working in the NYC garment industry had given me an insider advantage. I knew the language, the process and how weddings dresses are made, but nothing prepared me for walking into a salon as a plus size bride and being told over and over that there was nothing for me to try on.
I am a US size 16 in street clothes (UK size 20), this puts me on the end of plus size scale that usually has more of a selection. I started to feel like I was not the "right" kind of bride. That I didn't deserve to have that magical dress moment. It was a much longer journey to the perfect dress than I ever imagined, but in the end I did get there.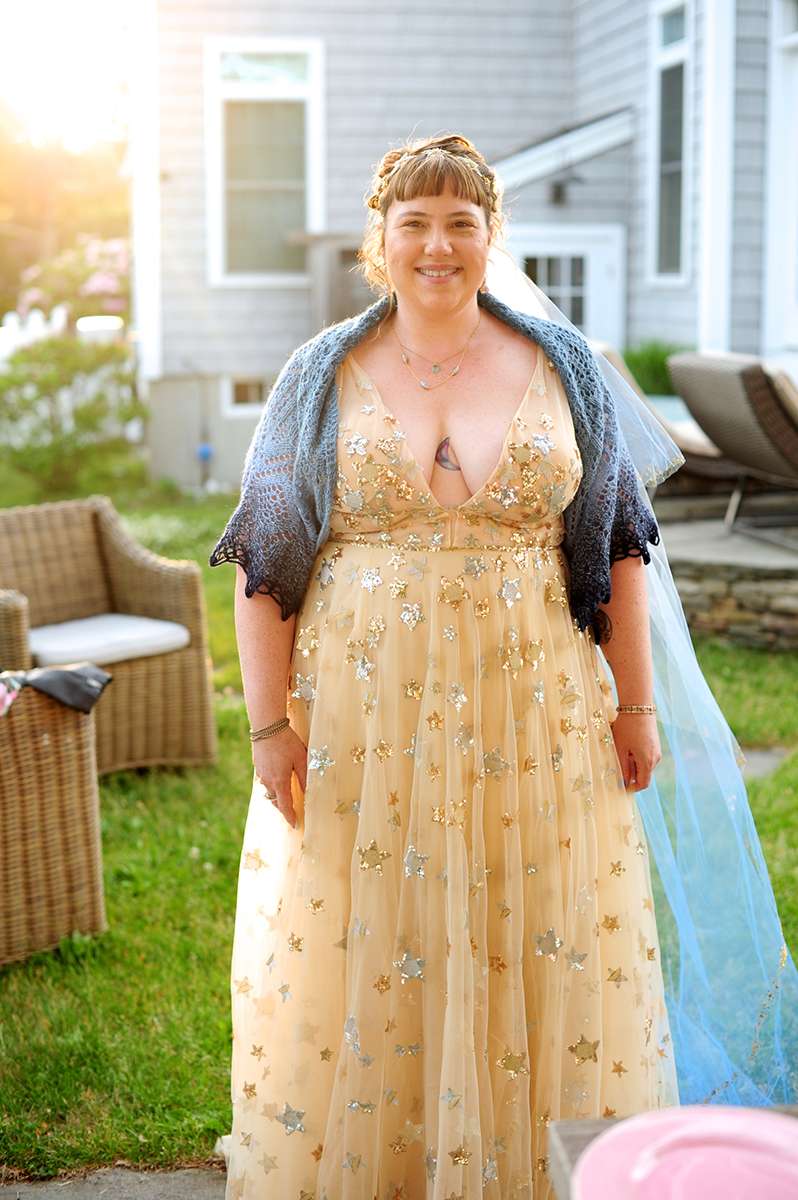 I was expecting the proposal on my 40th birthday in London pub with my family over a Sunday roast. I had already made appointments to visit bridal salons with my mum the day after I returned home. What I didn't expect was the limited number of dresses the consultant showed me, which she justified by saying it was too expensive to make samples in a larger size for all the gowns. I had one I really wanted to see. It was not in my size, and she suggested I put my arms through the straps and imagine how this $5,000 dress would look when it fit me. I wanted to laugh, I wanted to cry. My mum said it looked like I was wearing a peasant dress. I realised if I was going to make it through this, I needed a plan.
The first step was calling salons and asking if they even had plus size samples. Any salons that did not, I crossed off the list. If they didn't want to spend money on plus samples, then I didn't want to give them any. I had one place tell me the location in NYC was the flagship store so it only carried size 2 (UK size 6-8) dresses. Surprisingly, the fashion capital has many salons here with the same attitude. I told consultants I was shocked by the lack of options, and they laughed and said, "Oh don't worry we can get you in any size sample". I learned that meant they would only show me silhouettes like A-line or ball gown that I could get on but not zip up. I had no choices when it came to other dress shapes in the smaller sizes. I searched out salons that advertised as plus size friendly, but in many cases that still meant smaller than what would really fit me.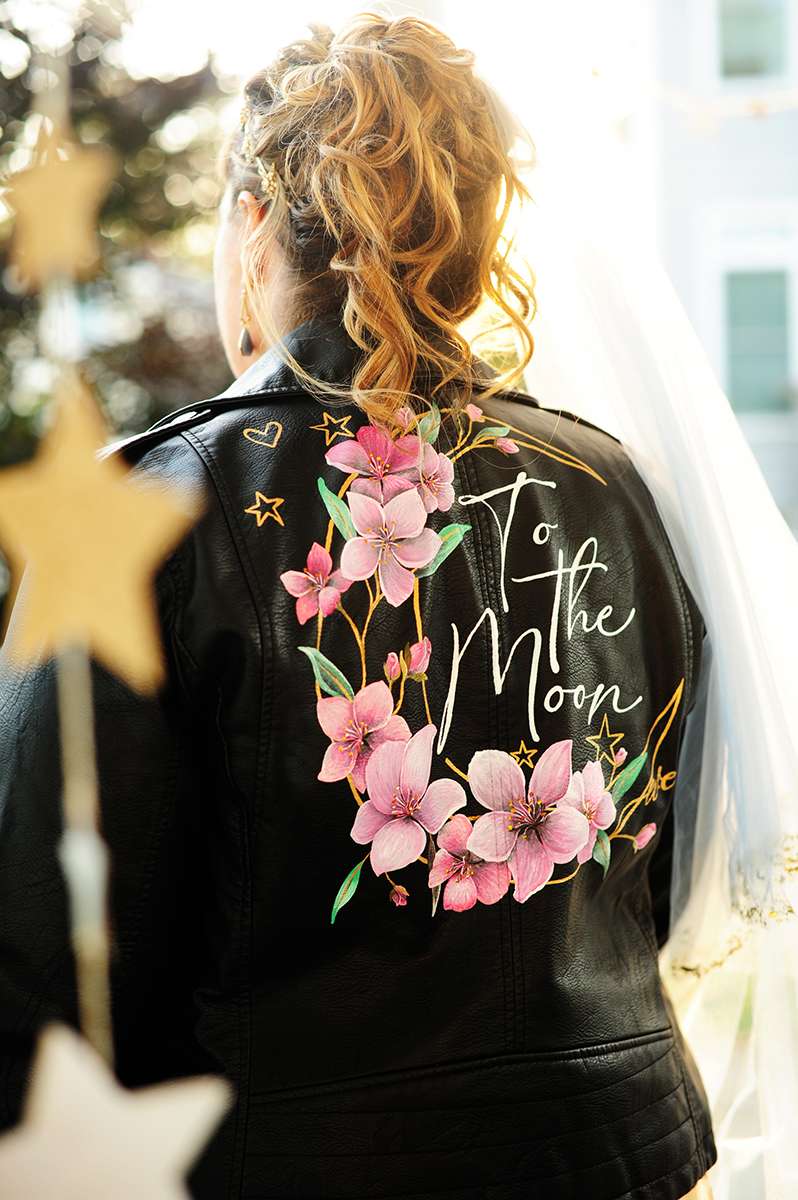 I set up a lot of appointments and I took one good friend with me. It was hard and embarrassing, I wanted to apologise for not fitting into the dresses and I was terrified of getting stuck in one. That finally happened and they had to cut the dress to get me out. No matter what I said, nothing stopped people from trying to shove me into tiny dresses.
Then one Saturday morning when I was about at a breaking point, I walked into a different kind of bridal shop (which has sadly now closed down). I had almost skipped going to this one because I was so demoralised by my experiences so far. They brought in these lovely dresses for me to try, and the dresses fit, I could zip them up. I started to cry looking at myself and seeing a bride. For the first time I was able to picture how my fiancé would look at me on our wedding. The consultant said, "You look beautiful", and for the first time I actually felt beautiful.
Now that I knew I could look like a bride I clutched on to that hope. I tried to focus on myself in the dress, not stare at the other brides who didn't have to hop to get into a dress or leave it half hanging off. I bought one. It was floaty and light. I was content with my choice.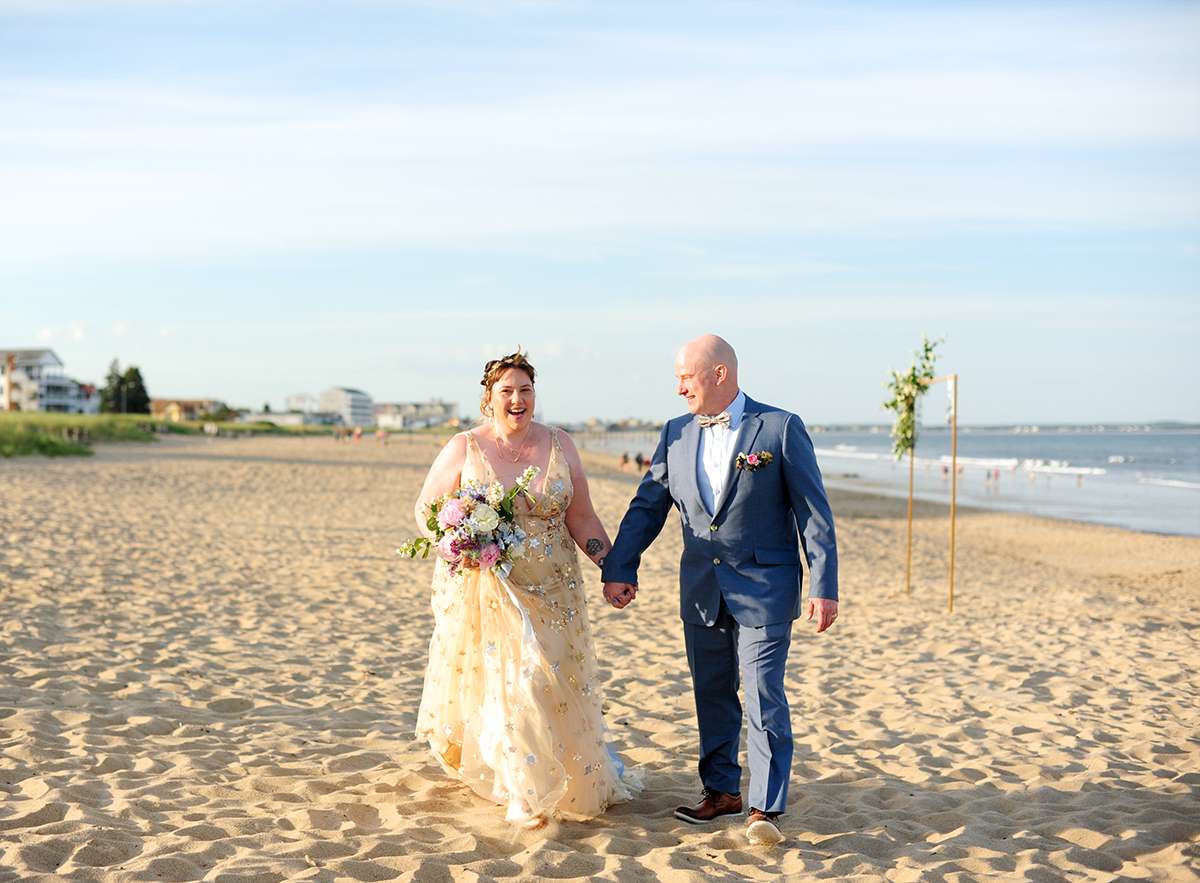 I say content because it was not my dream dress. My dream dress was not available in plus sizes, and no matter how many hours I spent staring at it on online, it was not going to happen. Then the unthinkable happened. It was March 2020; the world was shutting down and suddenly I was not getting married in three months, I was waiting another year. That summer I kept going back to stare at my dream dress online and suddenly, a miracle happened – the designer extended the sizes and I could get it!
I thought everyone would tell me I was crazy. Who buys another dress? Every single person I sent the photo said, "DO IT! This dress was made for you!" Even my practical budgeting app friends told me that there is not enough joy in the world right now and to go for it. I felt worthy of having my dream dress. So, I trekked into an empty city to try on a sample of it. I was the only bride there and I had to wear my mask but it was the one. I sold my first dress online and made another bride happy for her wedding.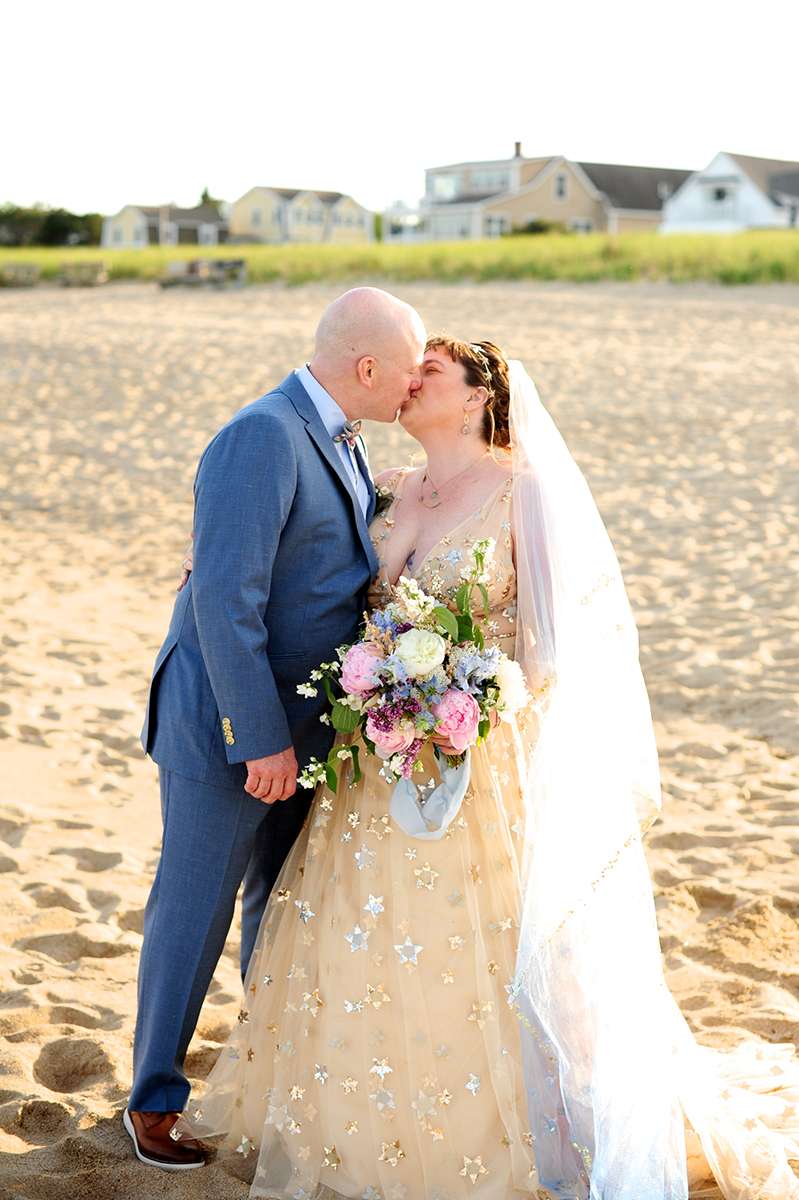 When my dress arrived five months later. I opened the box and I felt like I couldn't breathe. This dress sparkled and shone. It is what a mermaid queen would wear. It was the sunlight on the waves. I put it on in my messy bedroom and I saw myself, I saw myself exactly how I wanted to see me. I didn't just feel like a bride; I felt like a goddess. I couldn't stop smiling. I had waited and searched so hard to find this moment and it exploded into my heart in the middle of longest winter of my life.
Then finally, summer came. It was a warm June day by the ocean. I put on my dress, I had stars in my hair, a gold trimmed veil. I felt stunning. I was surrounded by the people I loved. I walked onto the soft sand barefoot following my sisters, mother and niece and when I saw his face I knew. I knew it was a perfect fit.
SHOPPING TIPS FOR PLUS SIZE BRIDES
? Call ahead to any boutiques you are interested in visiting and ask them what size samples they carry. You may have to travel a bit further to find dresses with larger samples, but it will be worth it!
? Ignore the numbers. Bridal sizing usually comes up small so you may find yourself needing a wedding dress that is two or even three sizes bigger than what you are used to wearing.
? Have an open mind. Try on lots of different shapes of dresses. You may be surprised at what you love when you put it on.
? Consider having your dream dress made instead of going to boutiques. You can then have your own vision made from scratch!
? Avoid buying a dress to slim into. You don't need to change your body to get married or feel beautiful on your day. You also don't need the added stress in the run up. Buy a dress you feel good in now and you can always have it taken in if you do lose some weight.
? Create a body shame free zone. Commit to making this journey free from body bashing and be kind to yourself over everything. If a dress doesn't look right, it's not because your body is wrong.
? Some body positive bridal brands we love are Allure Bridal, Alyce Jayne Bridal, Bexbrides, The Couture Company, Curvy Chic Bridal, David's Bridal, Cult Bridal Studio, Heavenly Bodies Bridal, Lucy Can't Dance, Lamour Curves, Lush Curves Bridal, Maggie Sottero, Rosie Red Couture, Roz la Kelin Bridal, Rolling in Roses, True Bride, Watters, White Rose Bridalwear.
ABOUT EMMA
Emma Jackson-Sanders is a wedding enthusiast who wants to help other brides navigate the process of creating their own uniquely wonderful weddings. She shares her garden apartment in Brooklyn with 3 rescue cats, 2 dogs and her husband. You can find her on Instagram @the.gowanus.mermaid
This article originally appeared in issue 44 of Rock n Roll Bride magazine. You can purchase the latest copy here, or why not subscribe to never miss an issue?