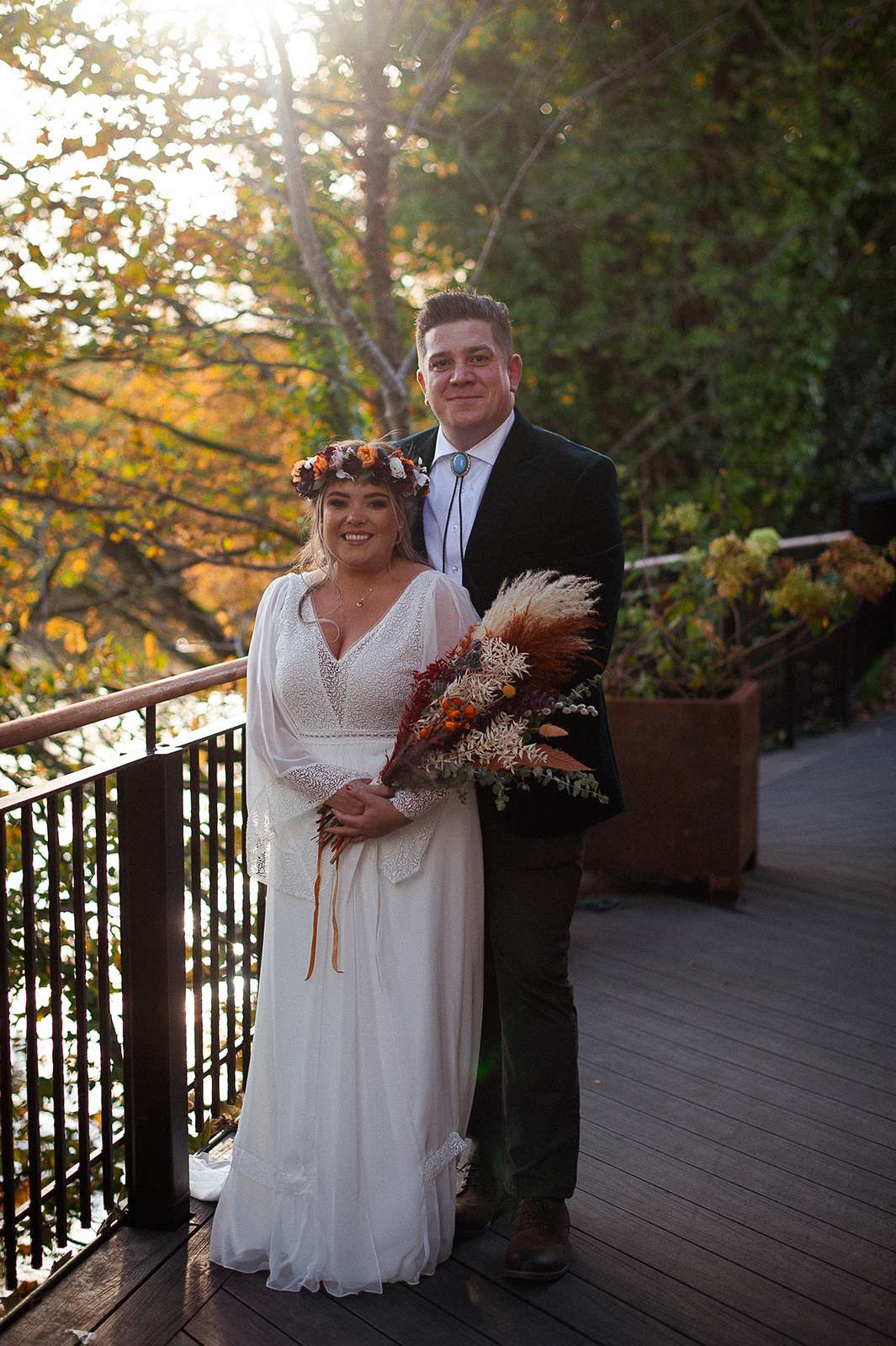 High-jumping over a table to meet Lynsey on a night out, Ben set the tone for a completely individual union, and the couple married five years later. They wanted to share all the things that they love with their friends and family; Lord of the Rings, Bilbo their dog and great food and music. Choosing Halloween as their wedding date inspired a beautiful autumnal palette of orange, brown and red at The Loft at the Rabbit Hotel, Templepatrick in Northern Ireland.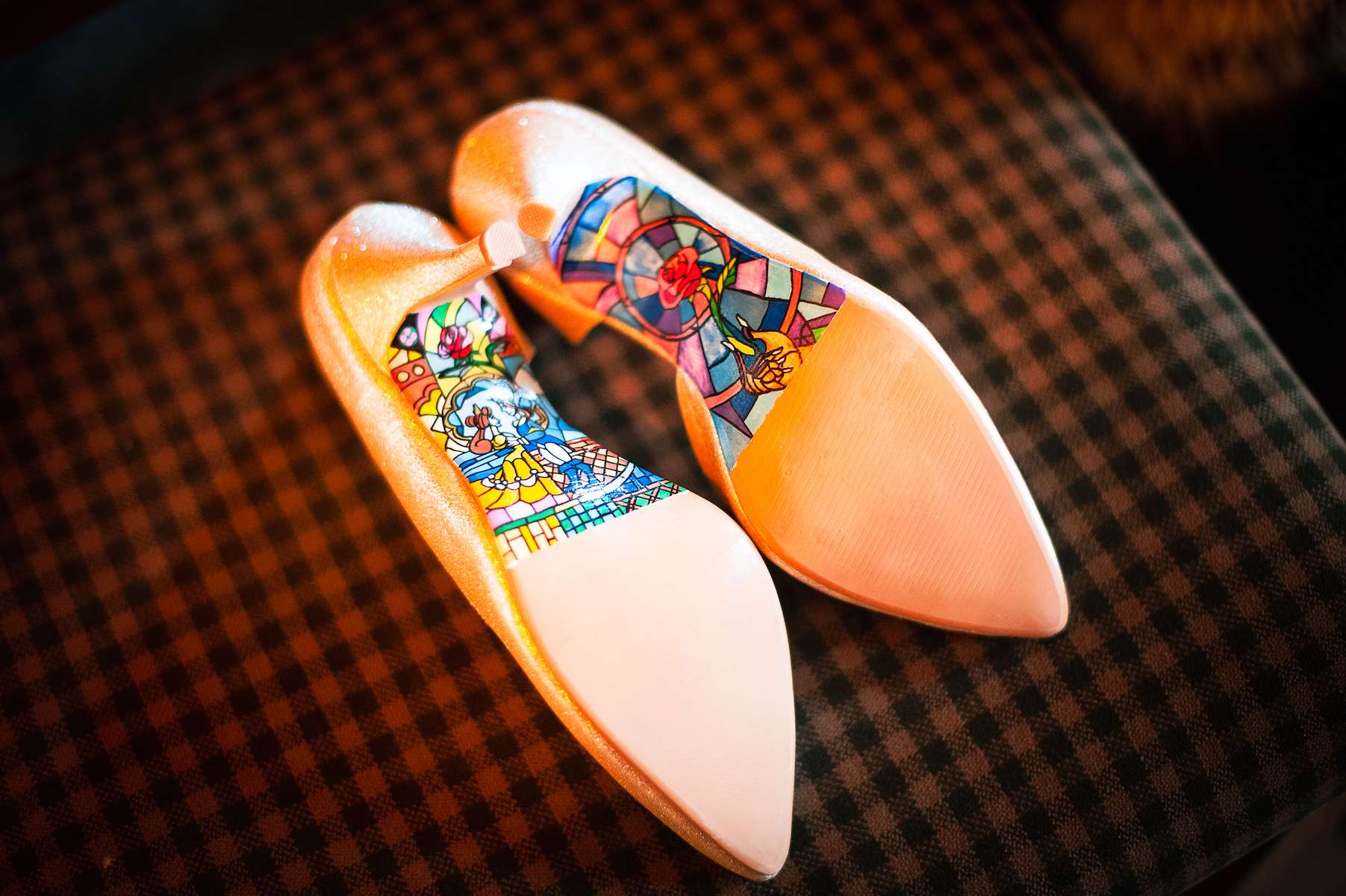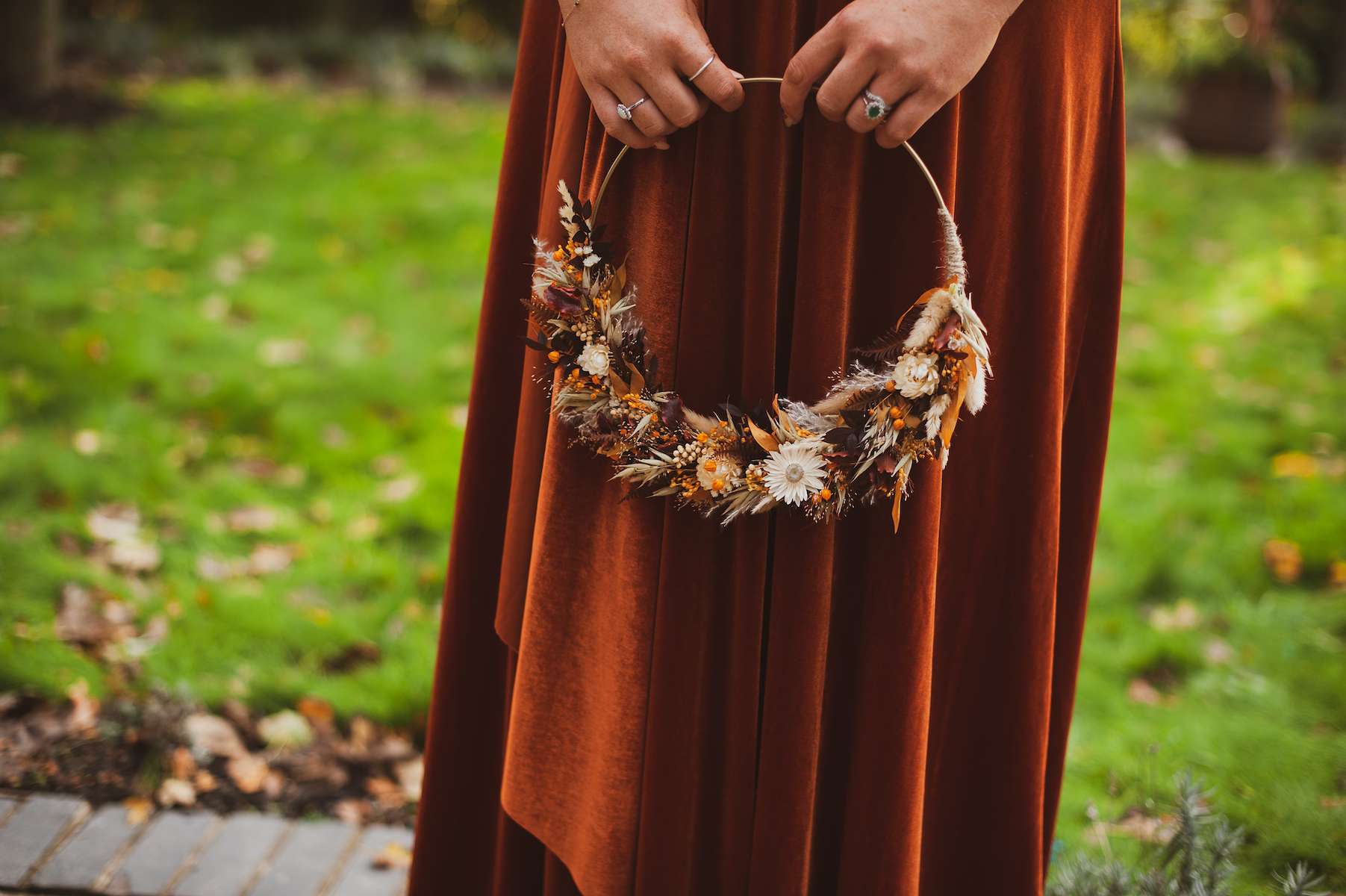 Lynsey and Ben wanted everything about their day to be personal to them, so with 'bridesmates', no maid of honour and Bilbo the dog as ringbearer, their ceremony was unique. Lynsey told us, "I walked down the aisle to String Ninjas playing Dreams by The Cranberries. The vows were amazing! We wrote our own vows and neither of us knew what the other would say. I have a fascination with sharks so I thanked Ben for sitting through Jaws on repeat. When Ben did his vows he referenced Jaws too, so it tied in really well! The most special moment was Bilbo coming down the aisle with the rings to Concerning Hobbits! He came straight to us then sat through the rest of the ceremony as good as gold!"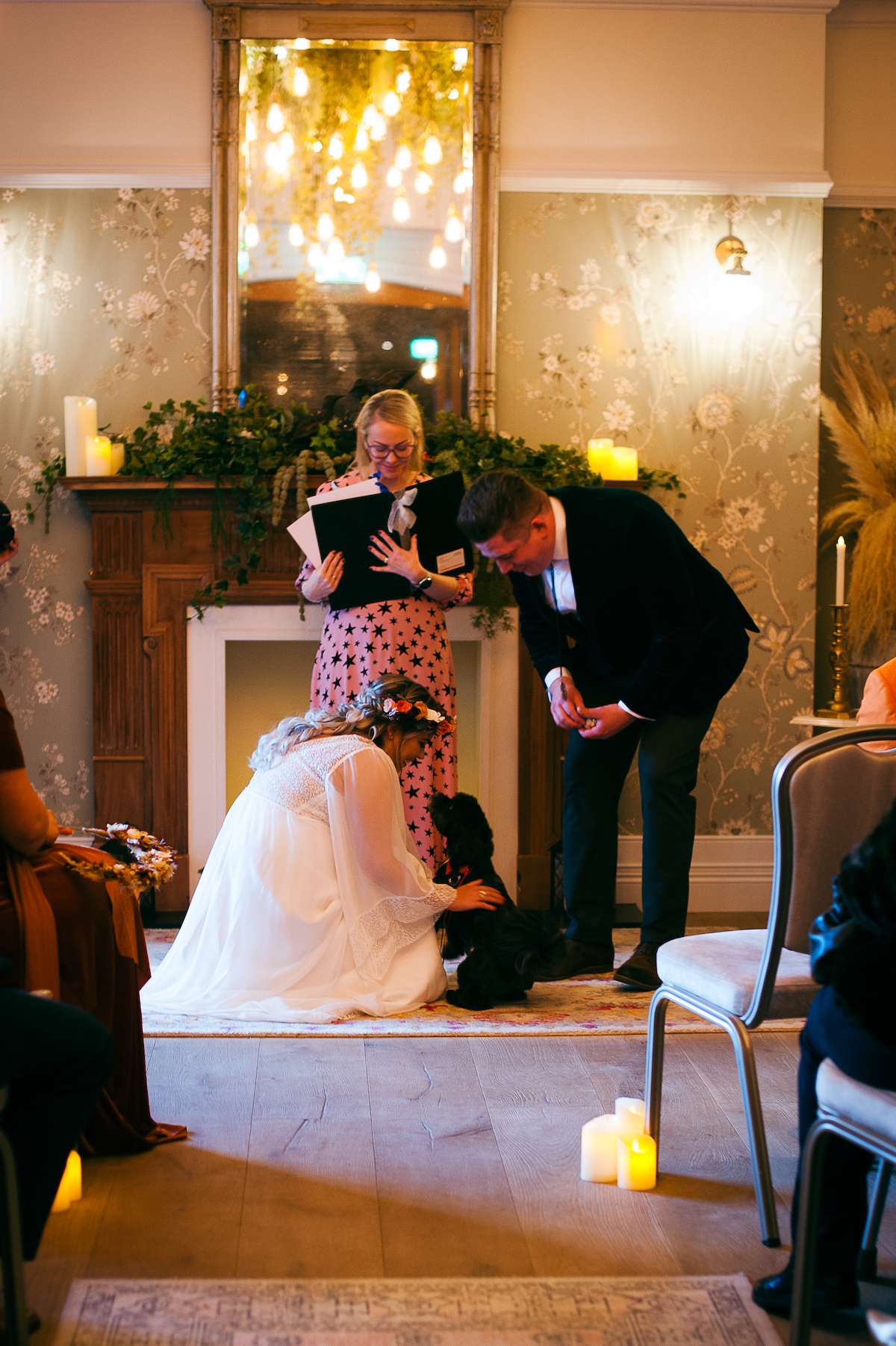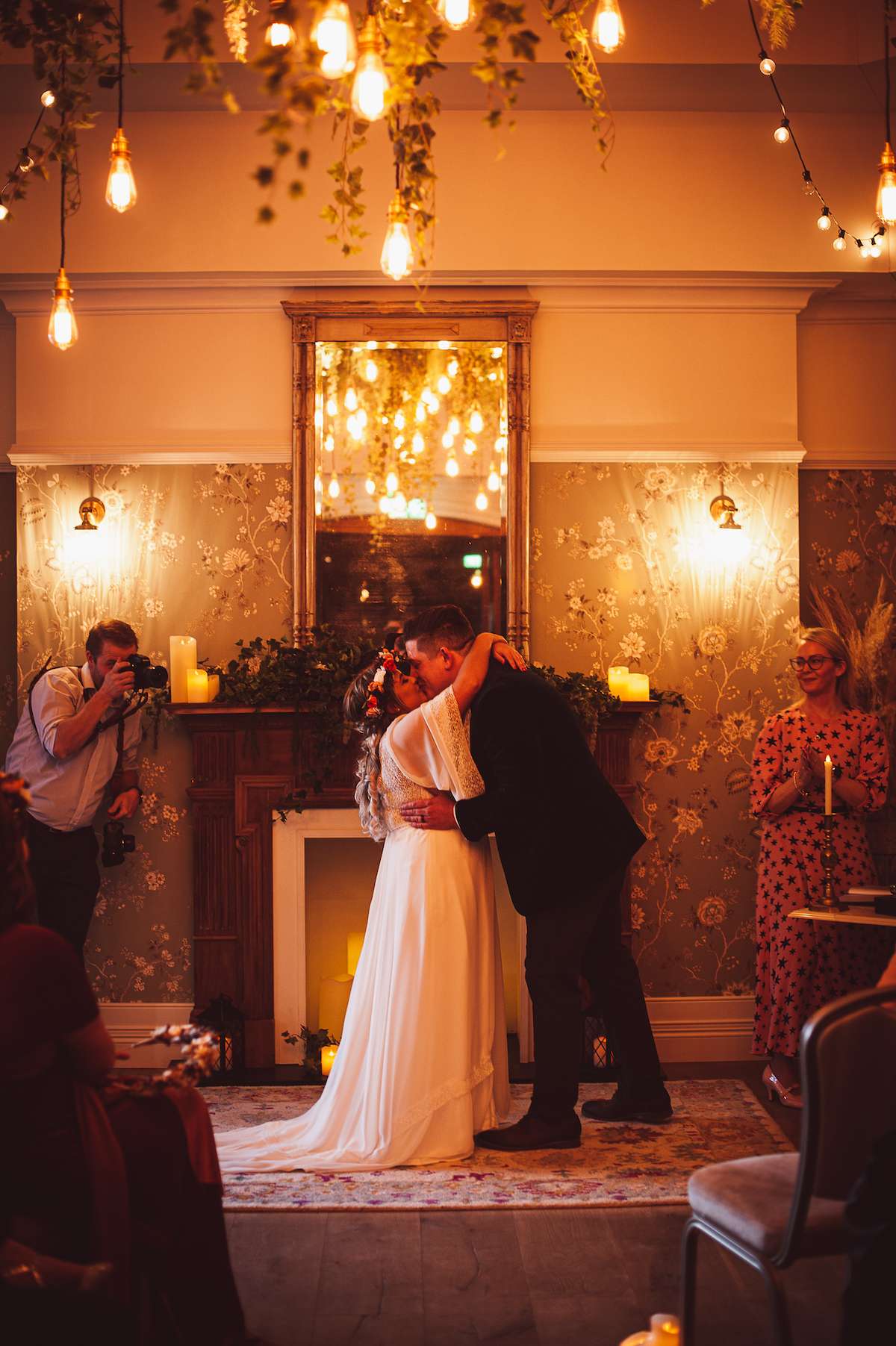 Food was an integral part of their day, as Lynsey explained, "We wanted a different style of food. We went with brisket, buttermilk chicken and mac n cheese and the food was honestly out of this world. We had a kebab shop for the evening meal and a soft serve ice cream station running throughout the evening. We did get a lot of eye rolls from people when we talked about the food being different, we didn't give guests options to choose what they wanted (unless they had dietary requirements). It was buffet style on the night and I think those who might have been nervous about the food were really happy when they saw what was being served!"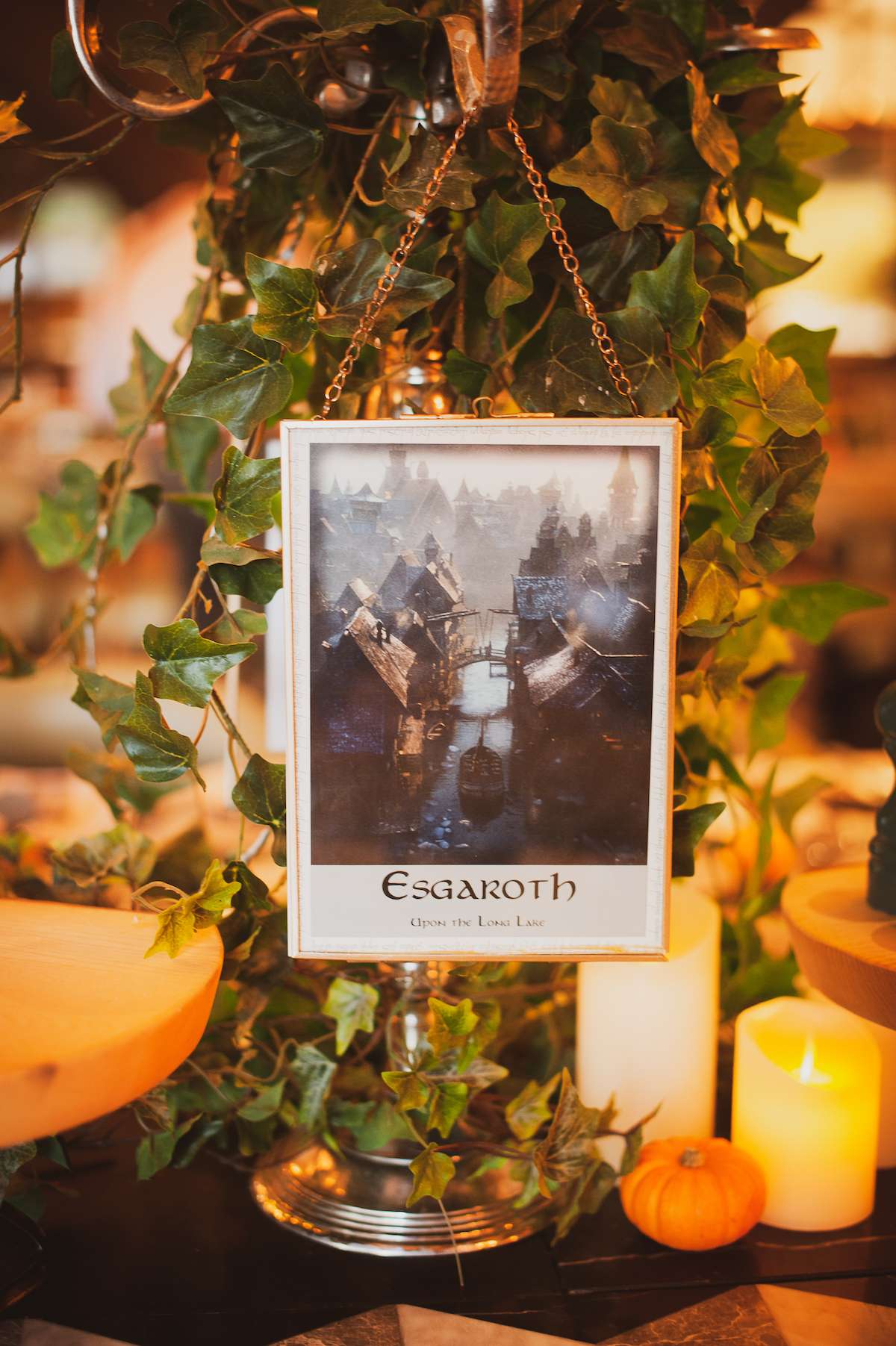 With a £15,000 budget, Lynsey and Ben used a lot of small businesses and Etsy shops, finding little touches that would stamp their mark on the day. They saved money by using dried flowers, instead of real blooms. Lynsey told us, "The rooms at our venue were already dressed and I didn't want real flowers as they would eventually die. I love the dried flower hoops and crowns as it is something we can keep and my bouquet can last forever."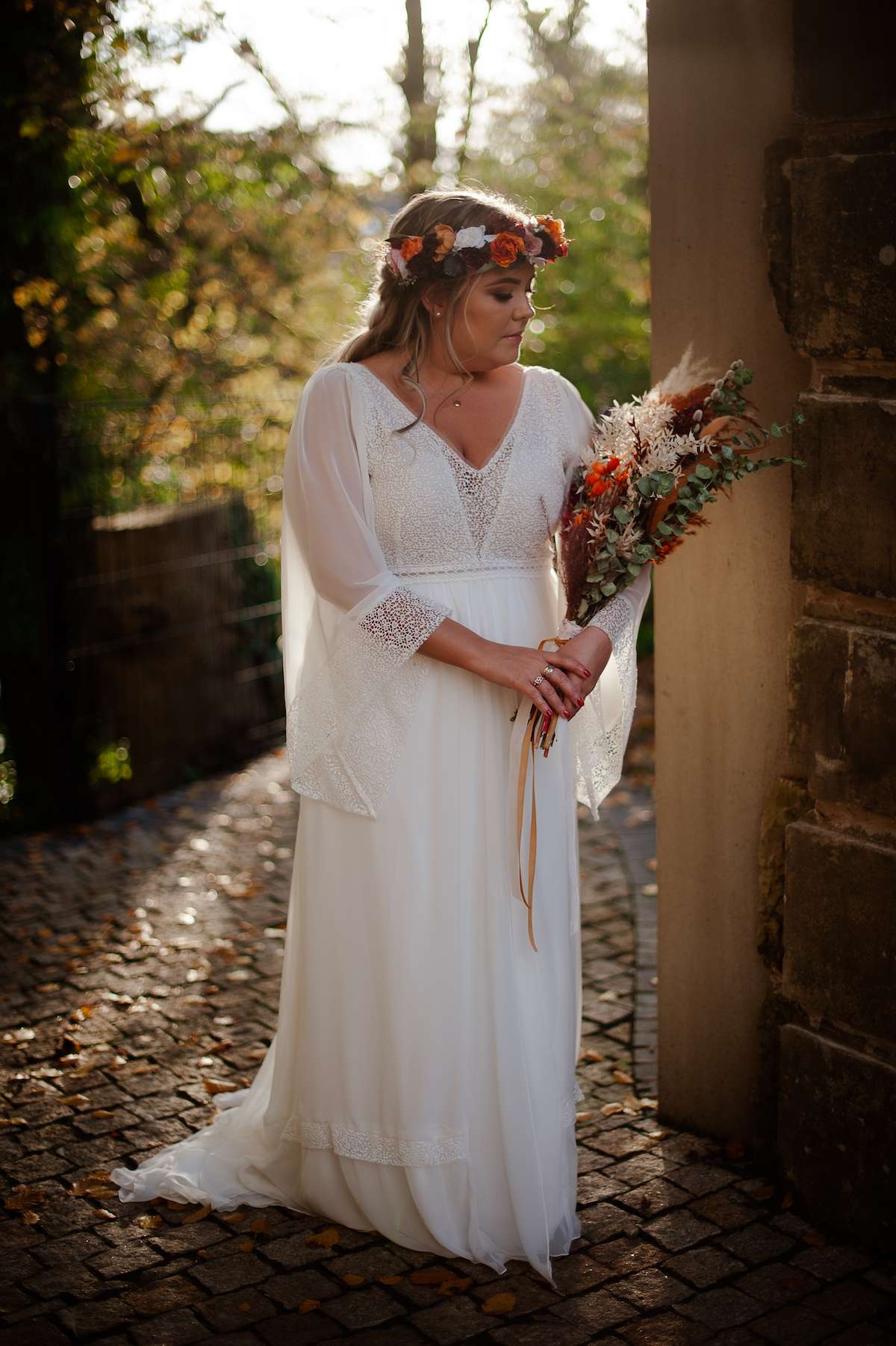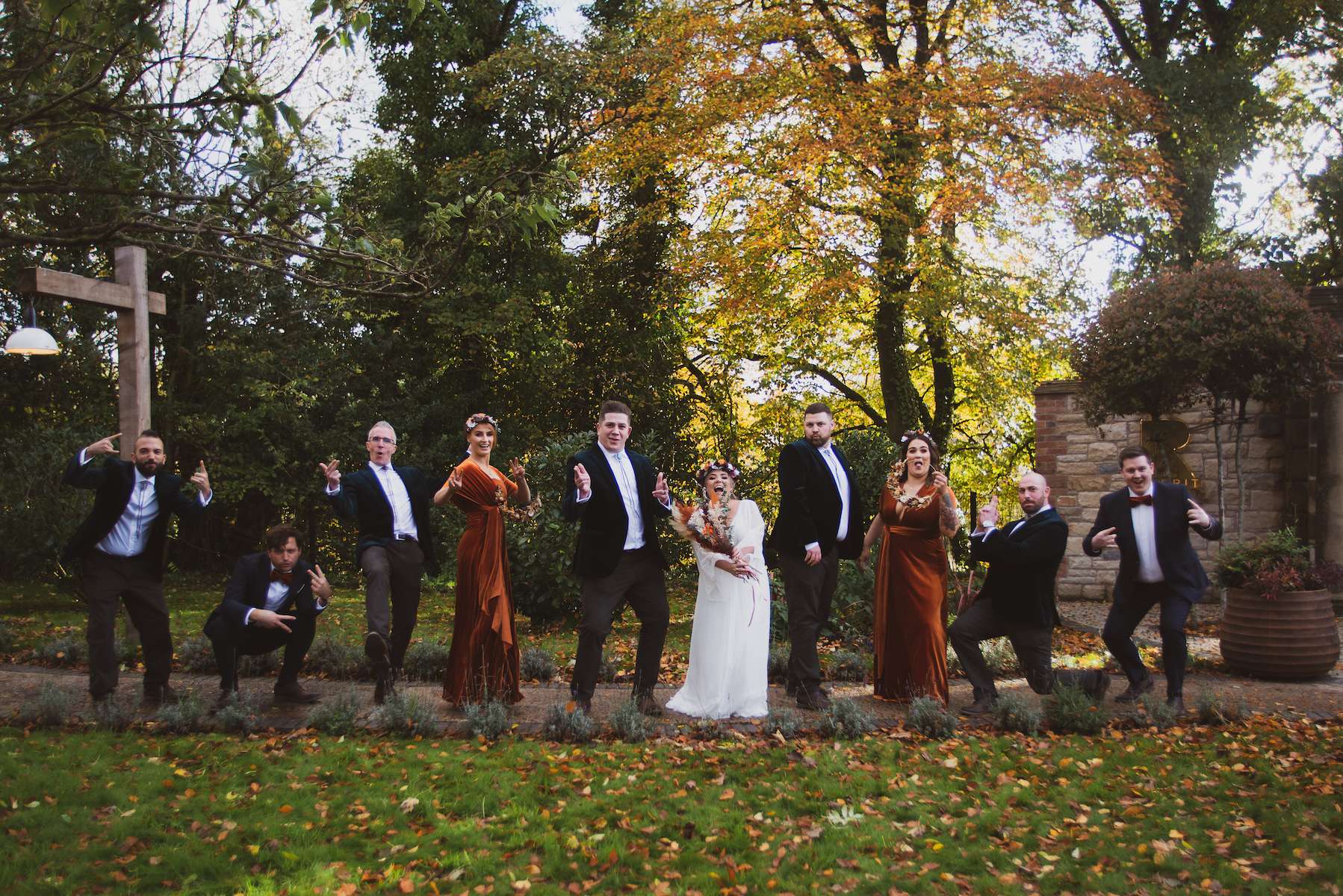 With Covid giving much uncertainty and postponements, the couple stood firm and decided that not compromising on the day they wanted was important. They decided to have vodka and lemonade in their ceremony Quaich – a traditional two handled cup – to seal their bond and share the first drink of their marriage, and a Simpson's cake to personalise their celebration.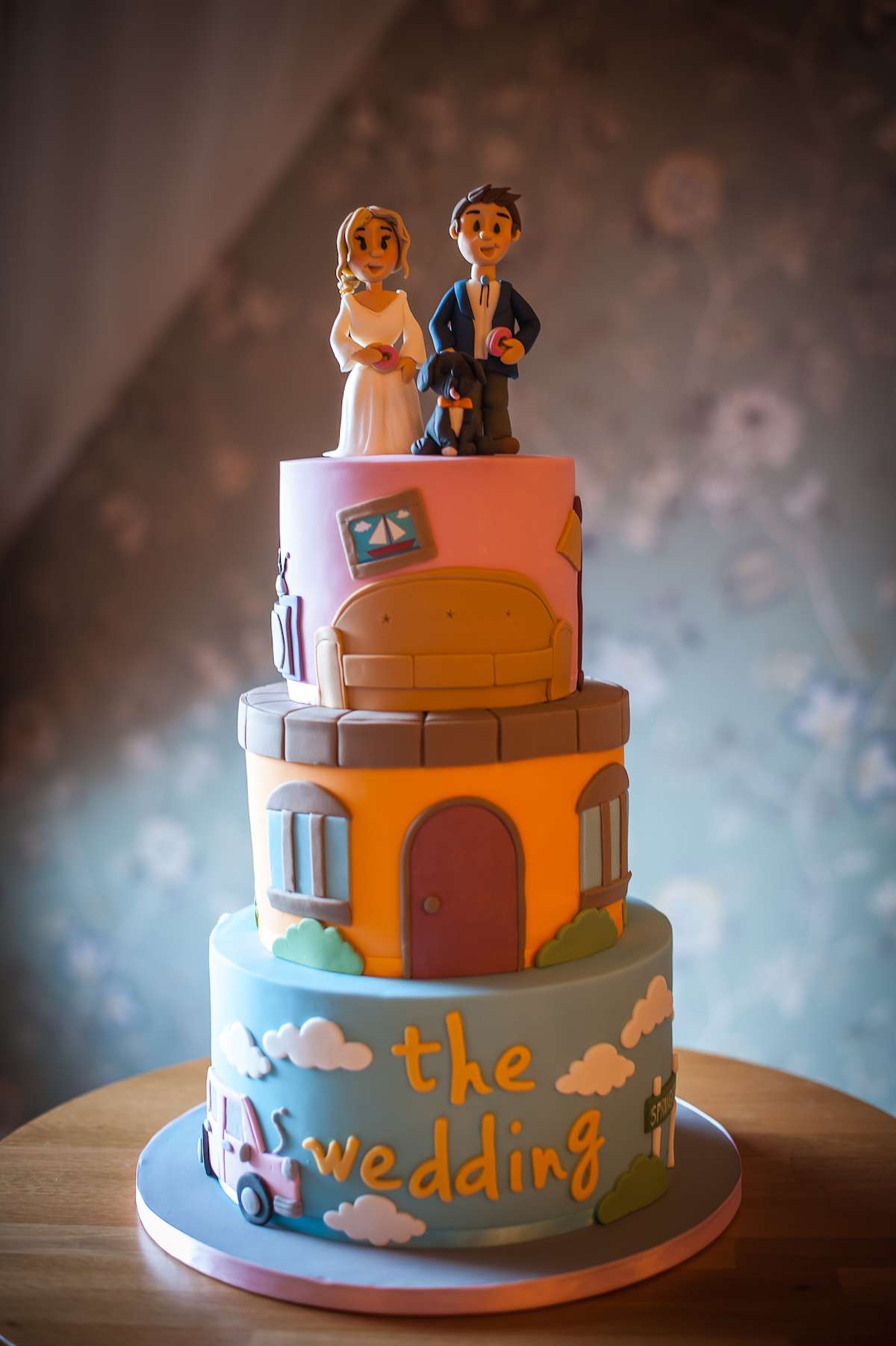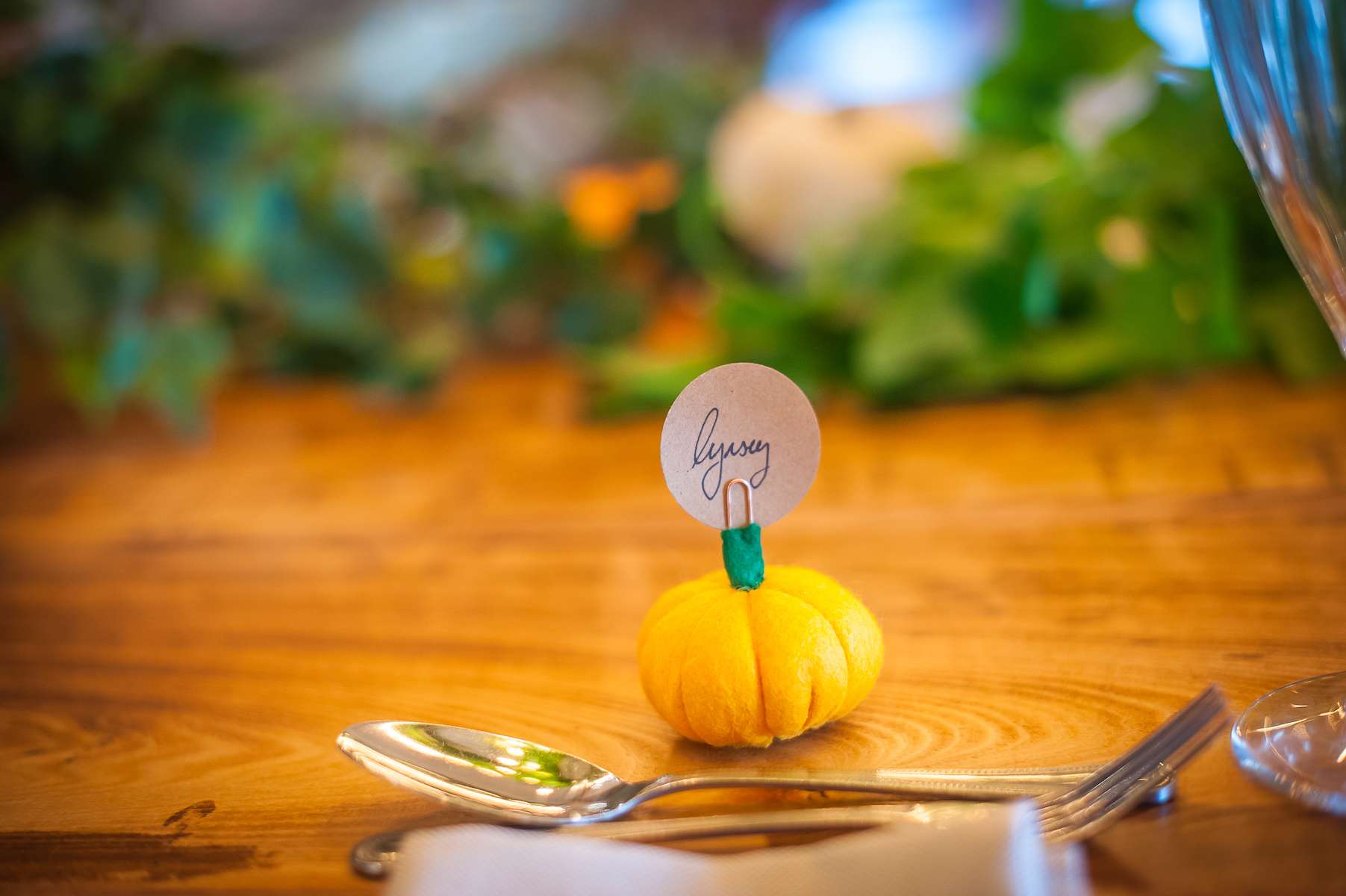 They told us, "The wedding day was perfect, we wouldn't change a thing. Don't be afraid to do things differently. Just because a family member may not 'get it' doesn't mean you shouldn't go for it. Don't feel you need to invite people just to keep family members happy. The day is about having the friends and family there that you both want. And enjoy every moment! You've worked so hard, so sit back and relax, let other people look after you!"