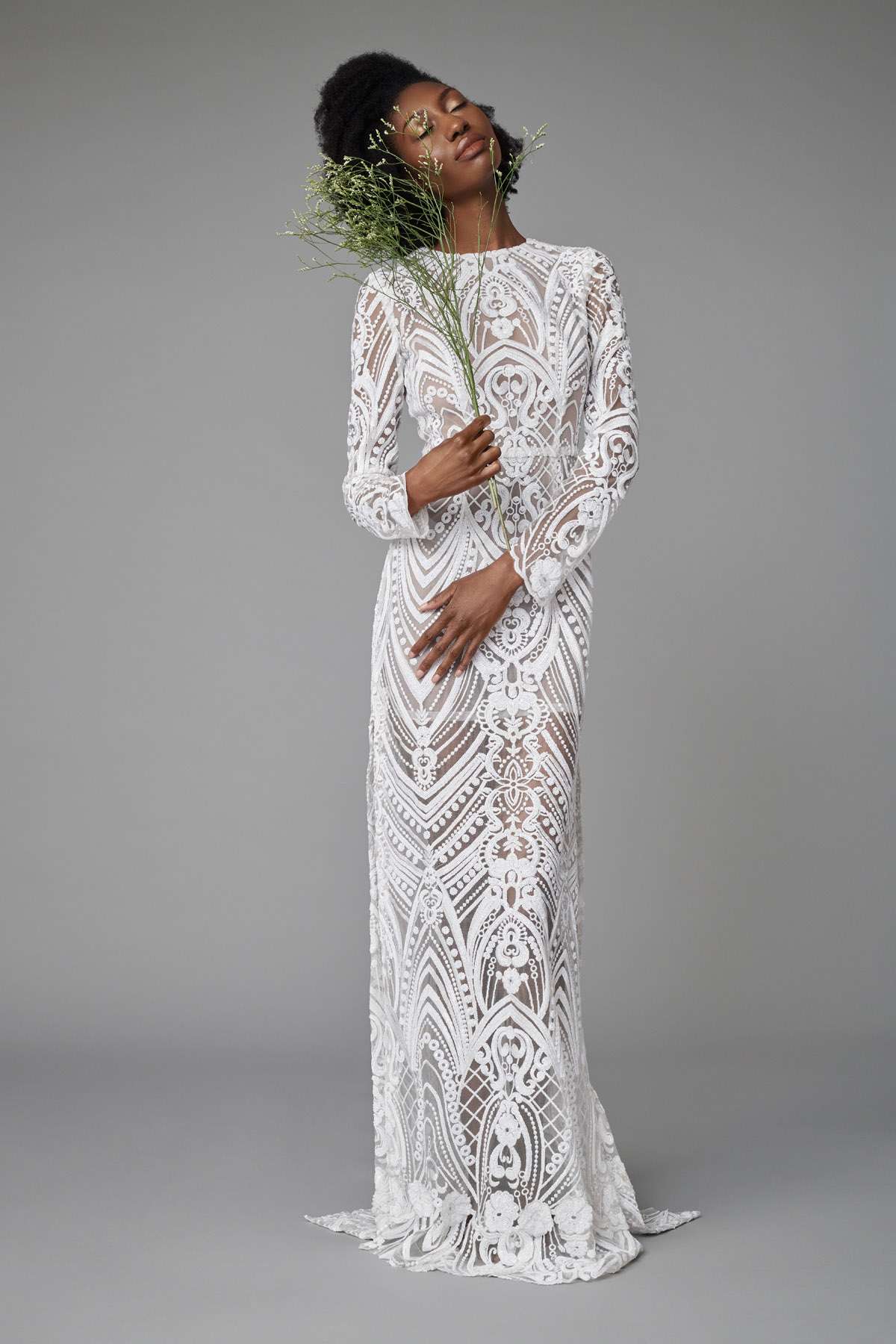 There are so many amazing hairstyles that look great on black women, yet it can be difficult to know where to start. Whether that's with looking for a stylist who is comfortable working with your hair (especially if you live in more rural parts of the UK!) or knowing what products or styles will work best for you.
At Rock n Roll Bride, we believe that ALL marrying couples, deserve to have a wedding day that makes them feel like their most fabulous selves, so we reached out to some hair stylists who are experts at working with textured and afro hair to put this feature together. They are all linked at the bottom of the post so please do check them out and consider hiring them for your own wedding!
Finding a hairdresser who will know how to work with your hair
Picking your suppliers is one of most important things to do when organising your wedding, and when it comes to hair (and makeup), it's really critical that the hire people you hire know what they're doing!
♥ Look at potential stylist's social media feeds and portfolios. Do they have lots of examples of past clients with similar hair texture to yours? Does their style and work reflect the style you want to recreate for your day?
♥ If they don't, then it may be worth reaching out to ask them if they are comfortable working with your hair type and curl pattern. It's much better to find out before you book them, than to get to the day and they have no clue what they're doing!
♥ A good stylist will always ask questions about how you style your hair regularly to find out what is working and what may not be working for you. They'll also have the correct products for your hair texture. If they don't or they ask you to bring your own, run an absolute mile. It is not OK for them to ask you to provide something for their services because of your hair texture that they would not if you were white.
♥ It's a good idea to book a trial with two or three hairdressers to compare them as well as to have the chance to try out a variety of different looks and styles.
♥ Finally, remember that your wedding morning is also one of the most important mornings of your life. You want to feel relaxed and taken care of so make sure that you like the person you choose! You'll be spending a good few hours with them (not to mention if you do trials in the run up too) so liking them as a person is imperative!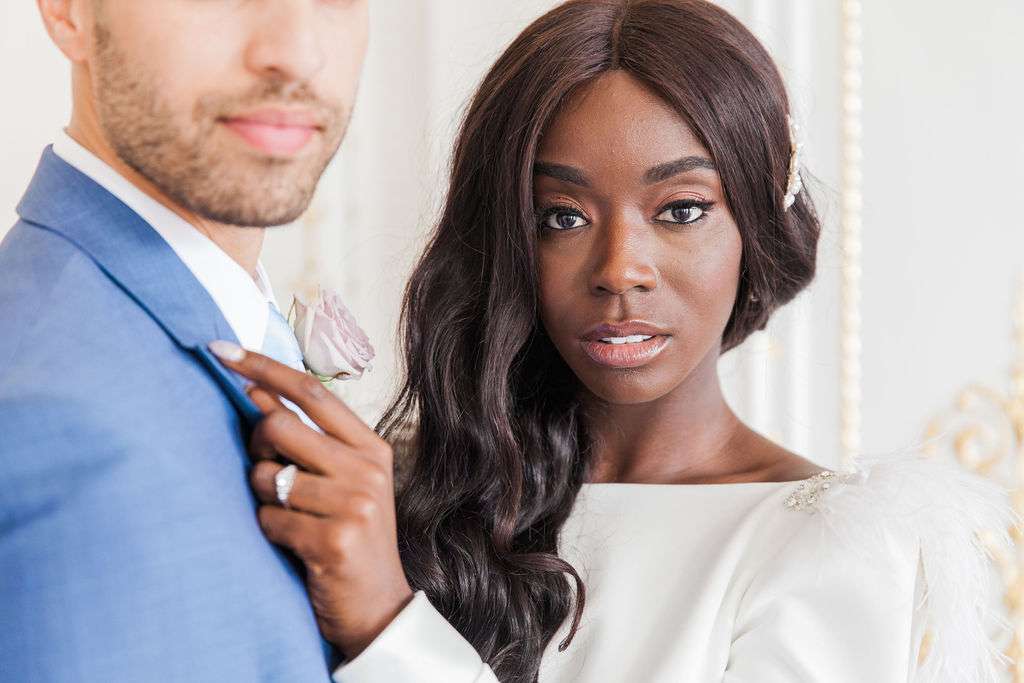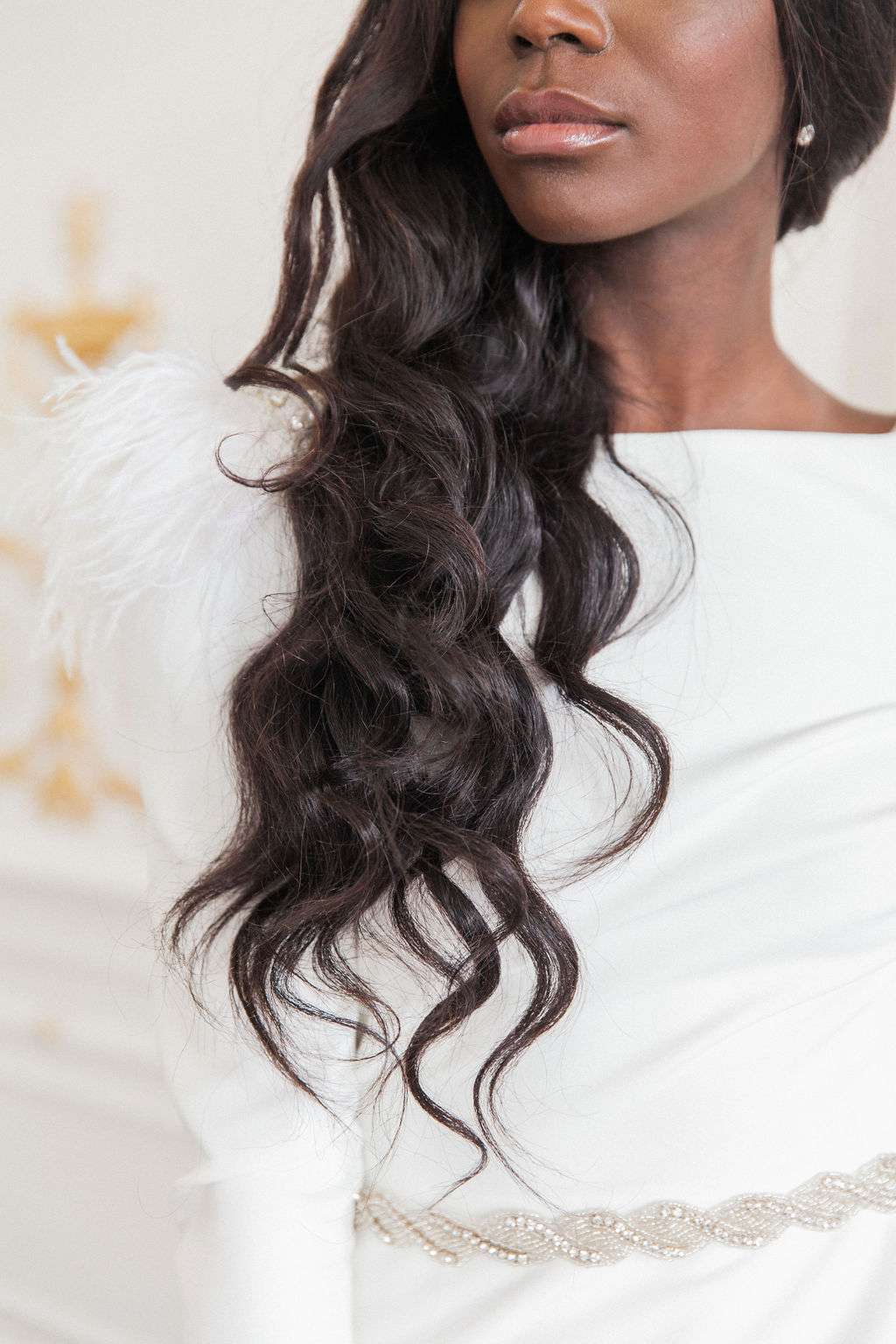 Things to consider when choosing your wedding day hairstyle
Pinterest and Instagram are great place to start when gathering ideas. Check out the #blackbridalhair, #blackbridalhairstyle, #blackbridesuk, #afrobride and #curlyhairbride (these are good for finding stylists too!) hashtags and these boards are packed with ideas.There are a lot of other things to think about too:
♥ If you want to have your hair styled in its natural form on the day then think about what the weather is going to be like, as humidity can change everything! Do you want to keep it in its natural curl pattern, enhance your curl pattern or to add hair extensions? The possibilities are endless but the most important thing to remember is you want to go with what feels most comfortable to you.
♥ It's a good idea, if you want to try something different such as braids, extensions or a wig, that you do so a good few months ahead of time to see if you like it and if it's comfortable. If you always wear your hair down but think you may want it up on the day, try wearing it up a few days a week to see if you feel confident.
♥ The prep in the months leading up to the day is super important for those with curly/textured hair as you want it to be in fab condition! Add in a regular deep conditioning treatment once per week.
Hairstyles to try
A style that looks beautiful on all curl patterns is when one side is swept up off the face and clipped with an accessory. The rest of the hair is left big and natural so it's really simple way to wear but still looks super cool.
Low buns or a loose side braid are also great styles for those with curl patterns that are more 2c- 3c in texture. Having a few curls around the face slightly gives the style more of a relax boho vibe.
If you want a more sleek, sophisticated look, blow dry your hair (with heat protection of course!) and would pull it back into a beautiful low (or high) bun. Soften the edges using edge control gel.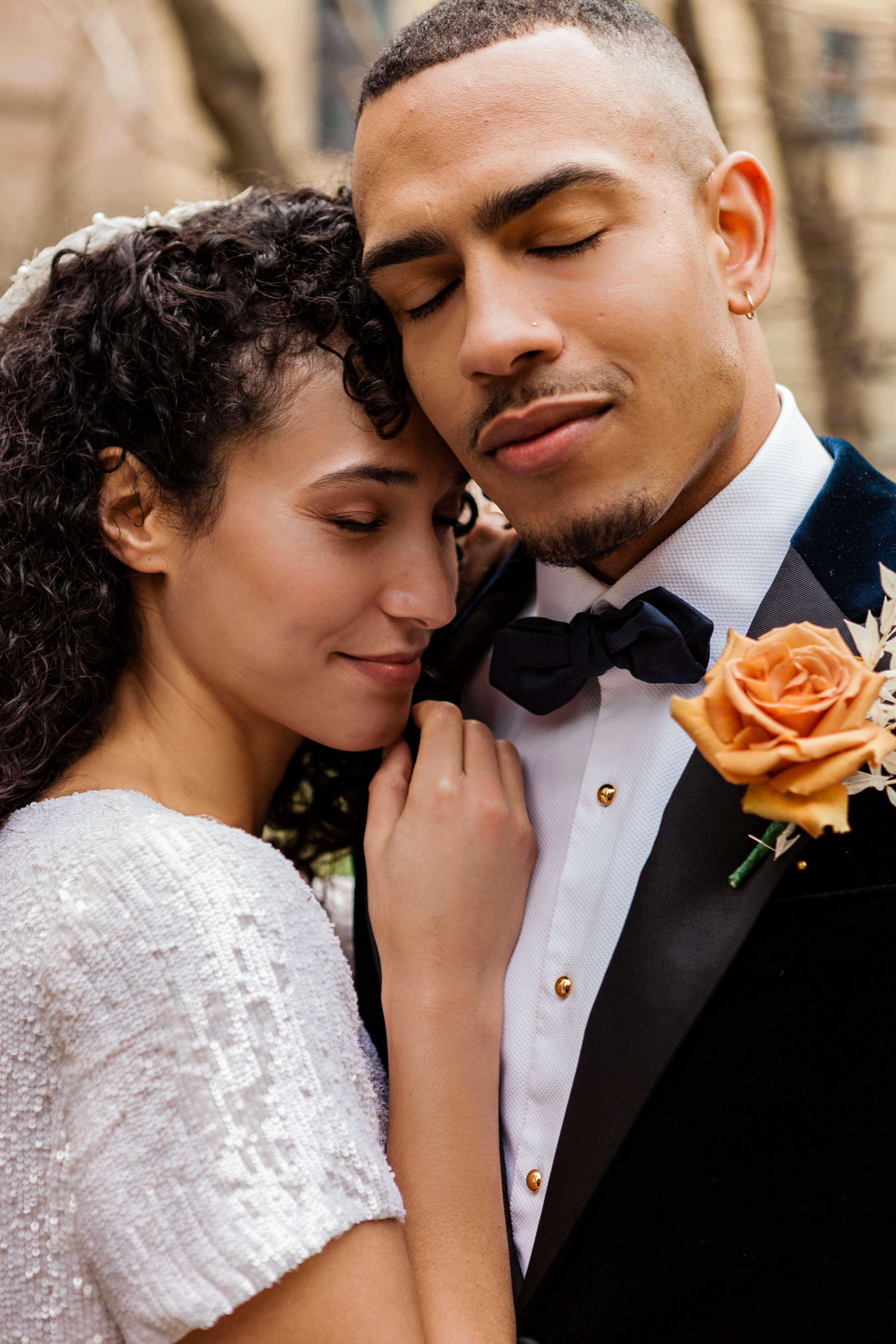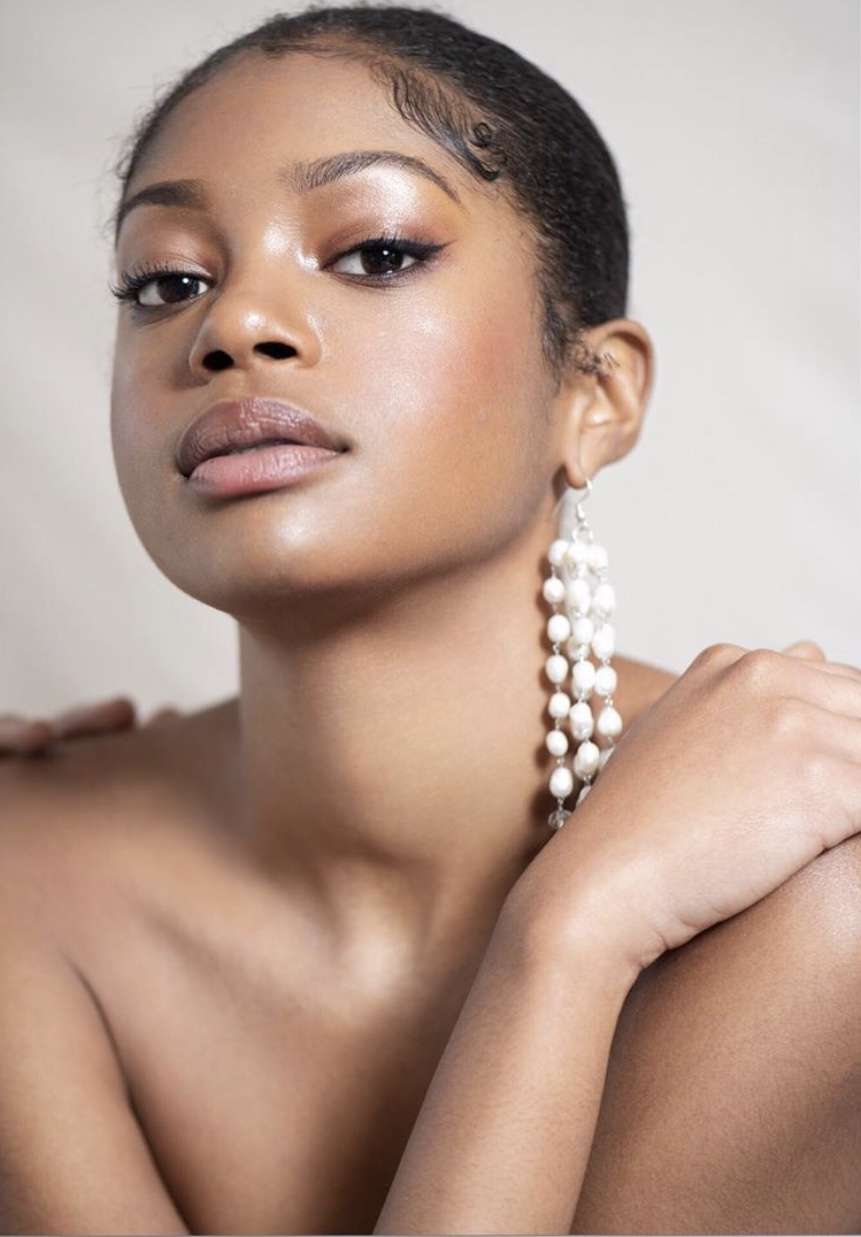 Product recommendations
Cantu: Coconut Curling Cream, Dry Deny Moisture Seal Gel Oil and Edge Stay Gel.
Shea Moisture: Hydrate & Repair collection.
Crème of Nature: Pure Honey Cream collection.
Aveda Brilliant: Emollient Finishing Gloss and Be Curly Curl Enhancer.
Camille Rose: Curl Love Moisture Milk and Aloe Whipped Butter.
Briogeo: Don't Despair, Repair Strength + Moisture Leave-in Mask.
Charlotte Mensah: Menketti Oil.
Recommended stylists
Special thanks to Cimone Cheveux (@cimone__cheveux) Natasha Davies of Something Blue (@sbhm_stylists), Rianna Henry of The Blowdry Artist (@theblowdryartist) and Louise Leaves of Love Hair by Lou (@lovehairbylou) who helped us put together this article! These women really know their stuff and work all over the UK (and beyond).
They also recommended checking out Kevin Fortune, Lisa Farrell, Charlotte Mensah, Errol Douglas, Ego Salon, Chatel Noire, Bridesbyaina.m and Papachichi Style Bridal.