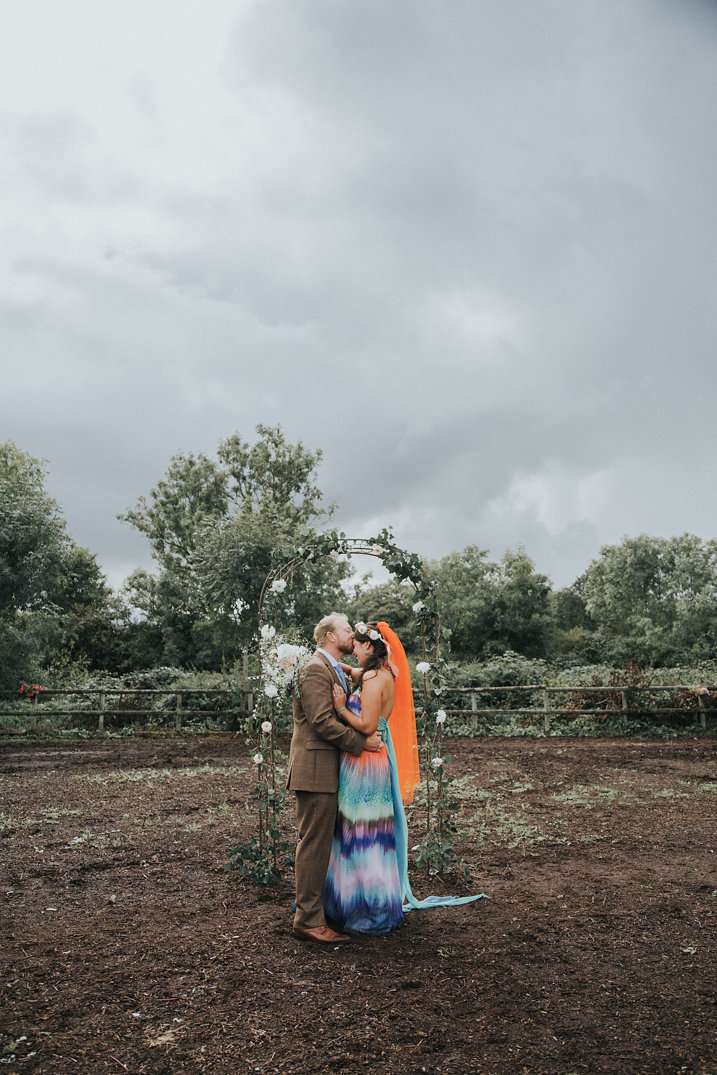 Jess and Sven's weekend long Scandi-boho inspired festival wedding was as laidback as they are, and organised in just FOUR MONTHS! "We work abroad for most of the year, running a sailing boat in the Med," said Jess. "So despite being engaged for well over a year, we hadn't made any effort to even set a date." On a whim in May 2017, they couple decided on that very September, and then planned and organised the whole thing from Mallorca!
The couple had a weekend-long wedding, officially marrying on the Friday at Worcester register office with just close family present. Their humanist ceremony on the Saturday was performed by an officiant (who happened to look like Father Christmas, NBD) and held in a field owned by the family of the bride.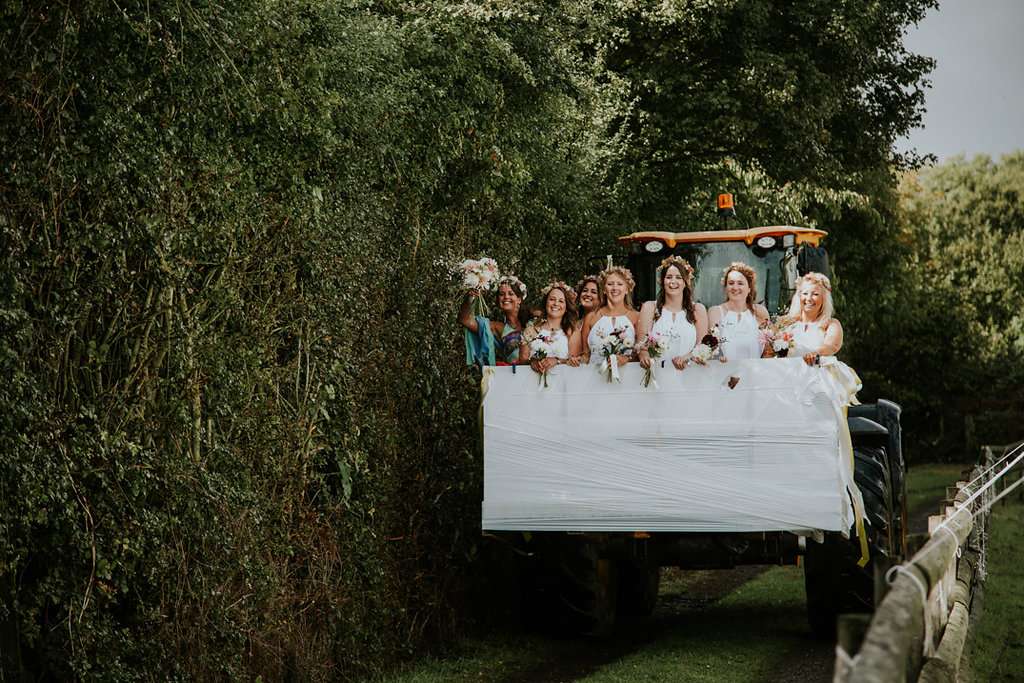 As the wedding was held completely outside in England in September, of course the had the weather to contend with, although thunderstorms didn't dampen their spirits throughout the day, even if the ceremony was very nearly completely delayed due to a massive thunderstorm. "Sven phoned to say all the guests had run inside the tipi to hide, and they were helping themselves to drinks, so they were fine, but I couldn't get there!" After the storm passed, Jess, her bridesmaids and pageboy were transported to the venue in the most unique way – a ribbon decorated JCB digger! Planned by Jess and her Dad as a surprise for everyone else.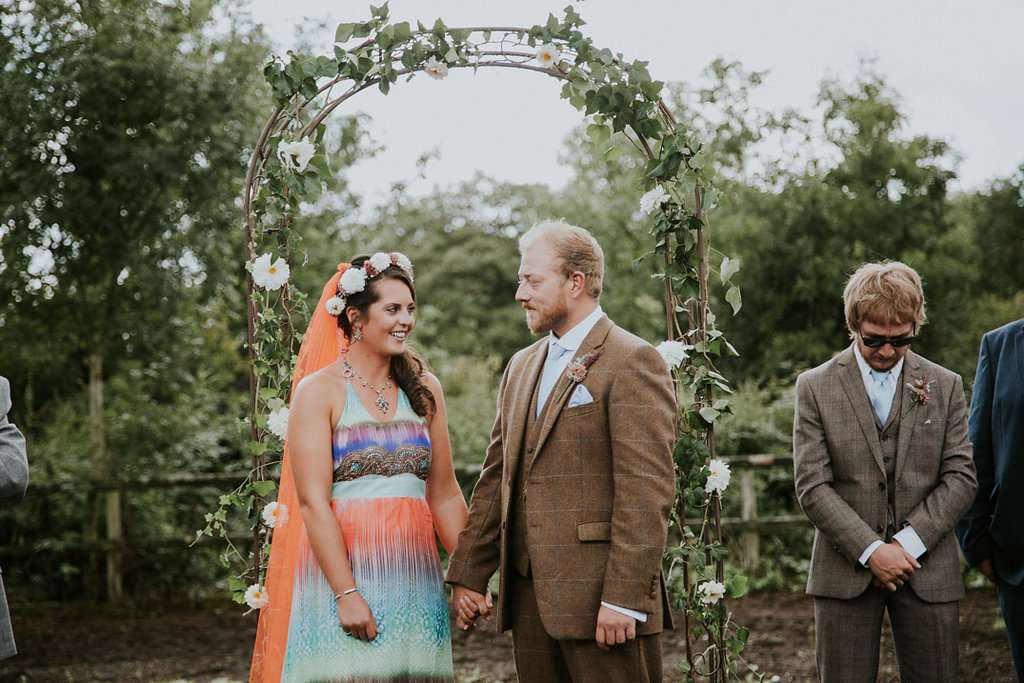 "We spent the mile long journey raised up above the trees, and it was honestly such an exhilarating journey! Apparently the guests (who also had no idea how we were arriving) could just hear laughing and screaming for ages before they saw us! As soon as they saw us, everyone was in fits of laughter.
As we got off the JCB, our processional music began, Send Me On My Way by Rusted Root. Everyone danced and sung along, whilst me and my dad skipped down the aisle. I think it started off the ceremony in a very light-hearted fun way and really set the tone for the rest of the day!"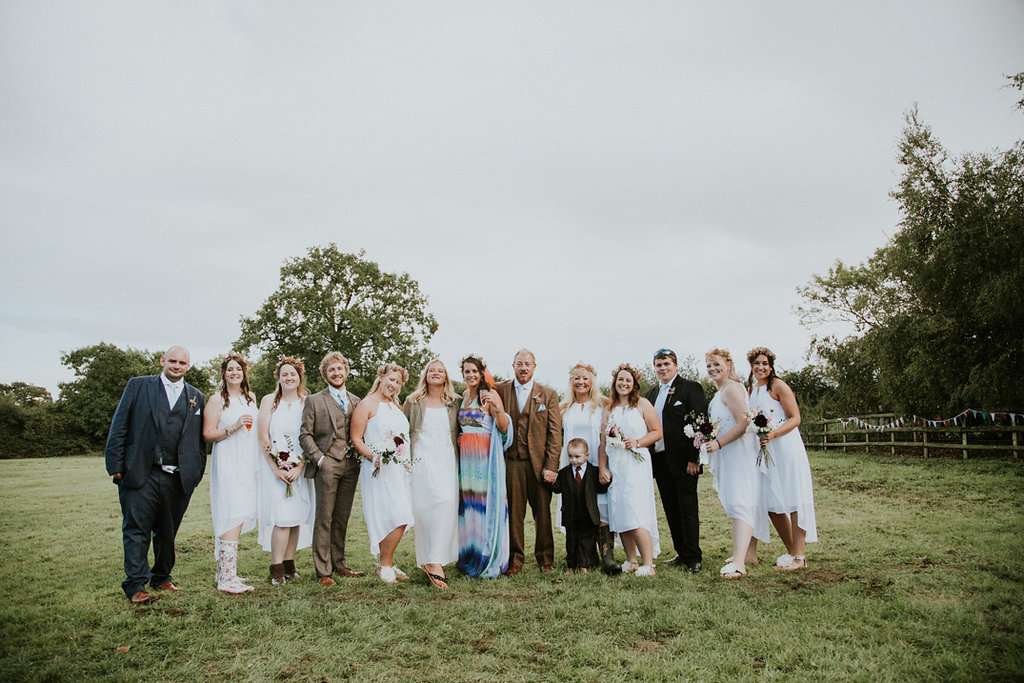 Jess and Sven focused their budget on four areas – tipi + furniture hire, food and drink, photos and flowers. Everywhere else they DIY'd or roped in friends and family to help. As well as the DIY bars and photo booth, their wedding favours were different flavoured jams made by Jess' mum. Sven's cousin (and best man) band performed several sets into the wee small hours, with pre-made DJ sets in-between. Their wedding cake was a gift made by Jess' sister, and Sven's mum made recycling bins out of old plastic barrels.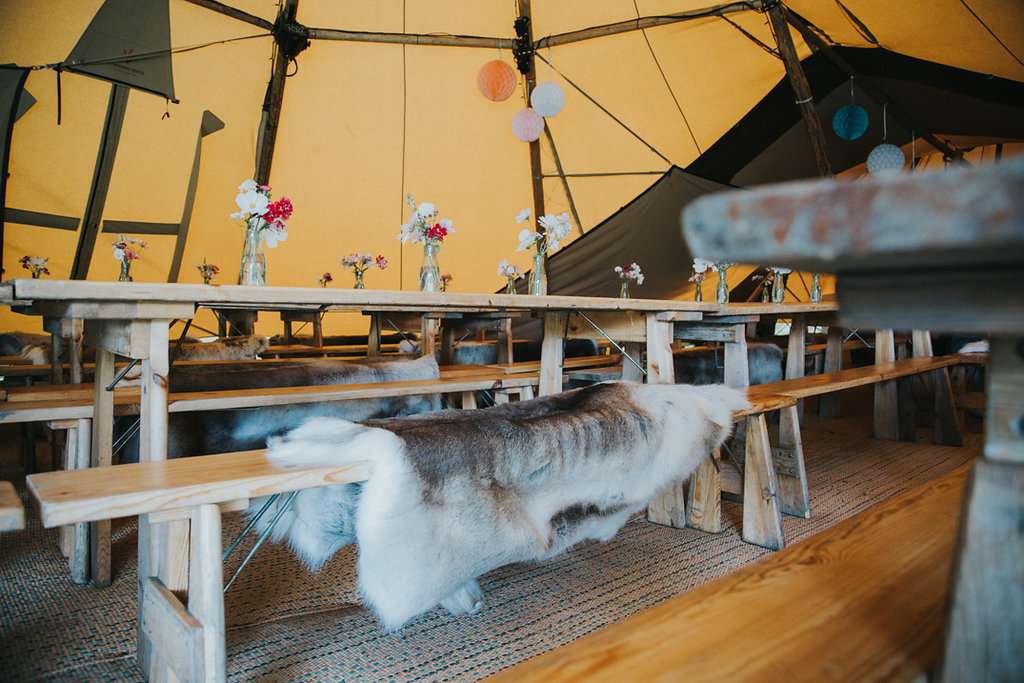 Their theme was a combination of all the things the couple love and enjoy – decorations included flags from the places Jess and Sven had sailed in previous years, as well as mix of Norwegian flags and very British bunting sewn by friends, reindeer skin rugs and antler chandeliers, DIY bars and a photo booth crafted from old potato crates. It made for an eclectic mix of Scandinavian (for Sven's Norwegian heritage) countryside bohemian, and festival inspired decor.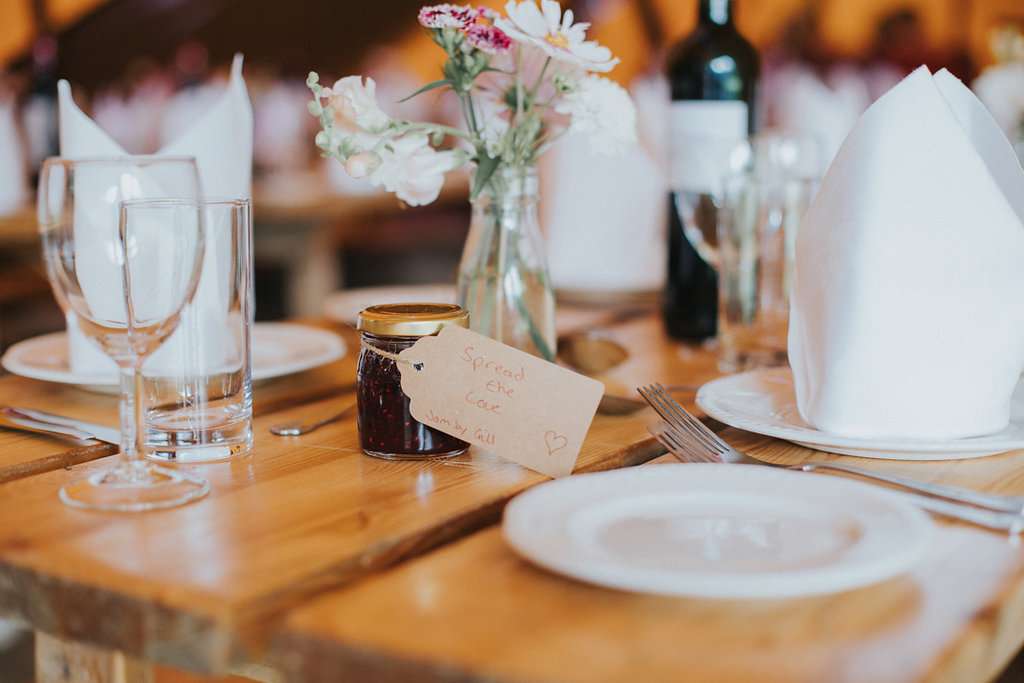 Sustainability and environmentally friendly decisions were also careful considerations throughout the couples' planning. Their wedding rings were custom made from wood by the Eco-Wood Rings Company from trees felled locally in a sustainable way. The bouquets, flower crowns, buttonholes and table decorations were made by The Artisan Flower Co – a completely organic company which uses seasonal homegrown British flowers. The couple forego-ed traditional stationery, instead sending invites via Paperless Post to use as less waste as possible during the wedding planning process.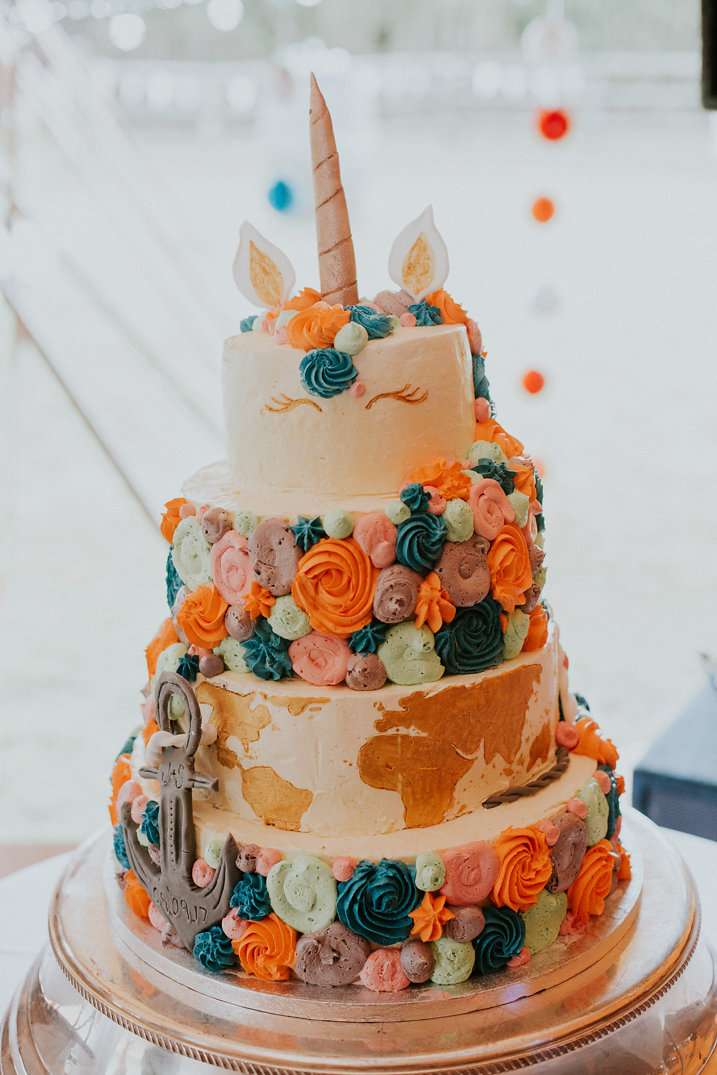 Jess' dress was found on a whim in a small boutique in Mallorca and cost less than £100, with her mum making alterations and her bright orange veil. The bridesmaids dresses were all from ASOS, the groomsmen wore whatever tweed suit they liked and the grooms-woman had a mashup of white dress + tweed jacket. "When we all arrived, it was said that the bridesmaids looked like a cast of angels, with their white floaty dresses and floral hair garlands!"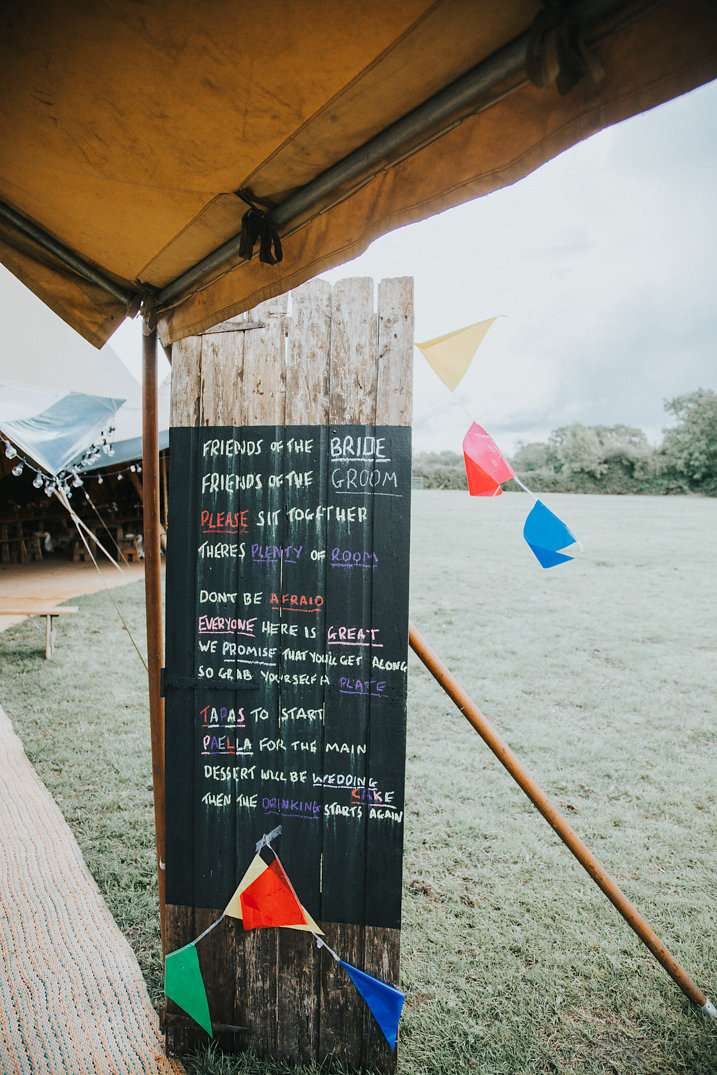 The couple opted out of having a table plan to continue the laid back feel and encourage their guests to mix together. With family-style dining on long Viking tables, their guests enjoyed amazing Spanish food as a nod to where they were when they were planning the wedding, and sharing style platters and paellas helped with the relaxed atmosphere. The free bar probably helped, too – they provided homemade cocktails in mason jars and beers in wheel barrows instead of a traditional licensed bar.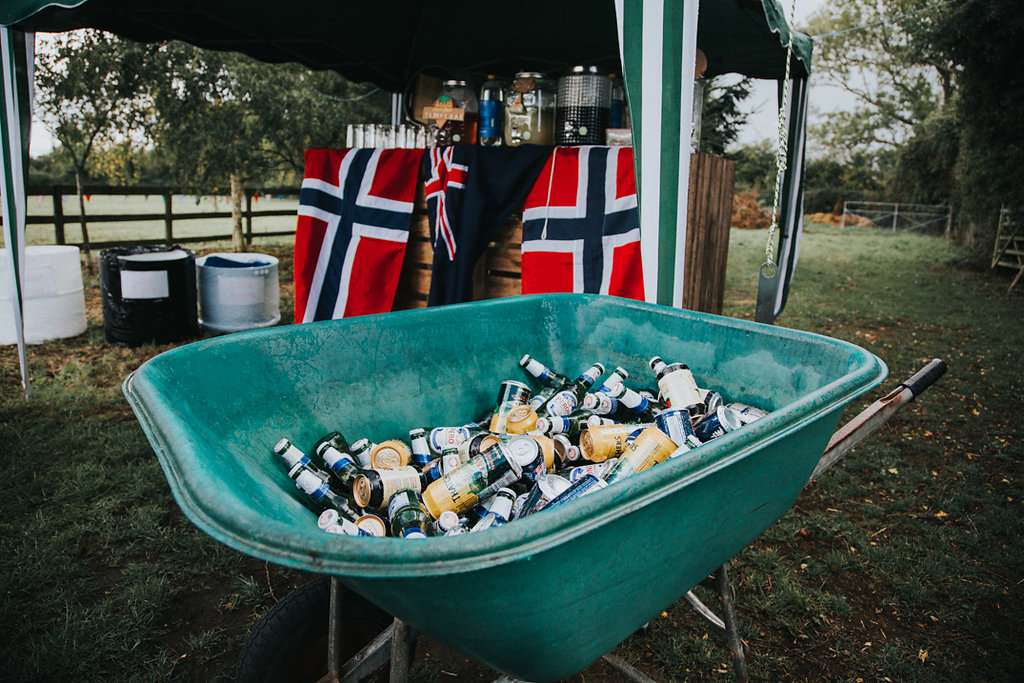 Jess' advice for future brides and grooms would be "Don't be scared of what people will think, if you want to do things in a different way. We were concerned some people might think it was a bit too 'out there', but absolutely everyone loved the fact that the day was entirely ours, and done, how we wanted it."