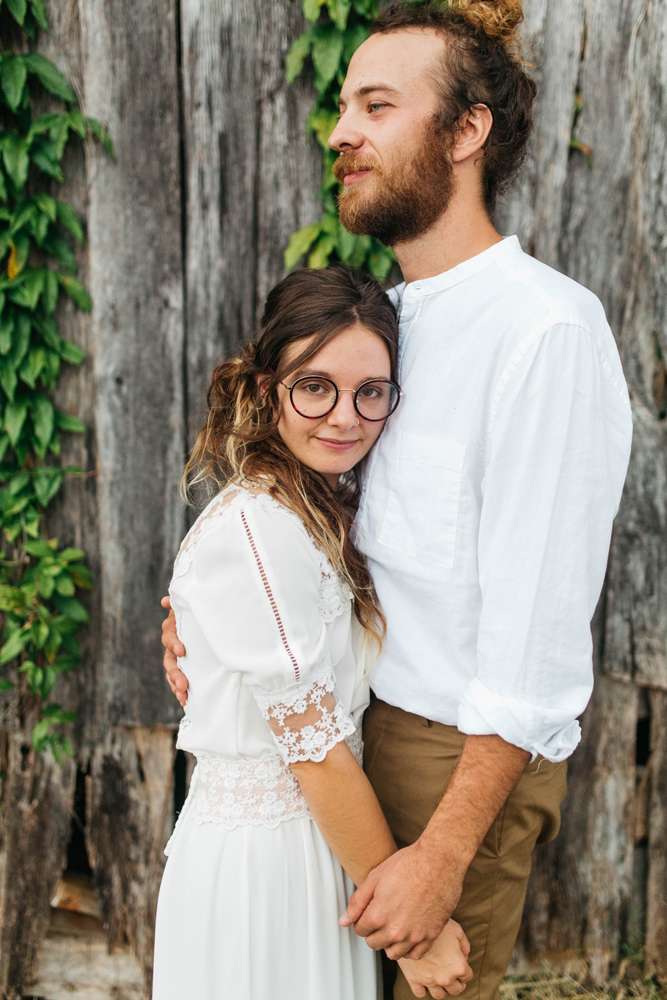 Lovebirds since just after high school, Gabi and Jacob, also known as Stinky and Barnes, married at home on Little Belly Farm in the coolest most laidback ceremony that shows what might happen if an art gallery met a music festival. There was tons of DIY done by their friends – even down to having their guests bring their own food and booze. Because of this generosity, the day only cos the couple $3,000. Their friends loved that it was more like a big party where the couple happened to be getting married rather than a straight-up formal wedding too!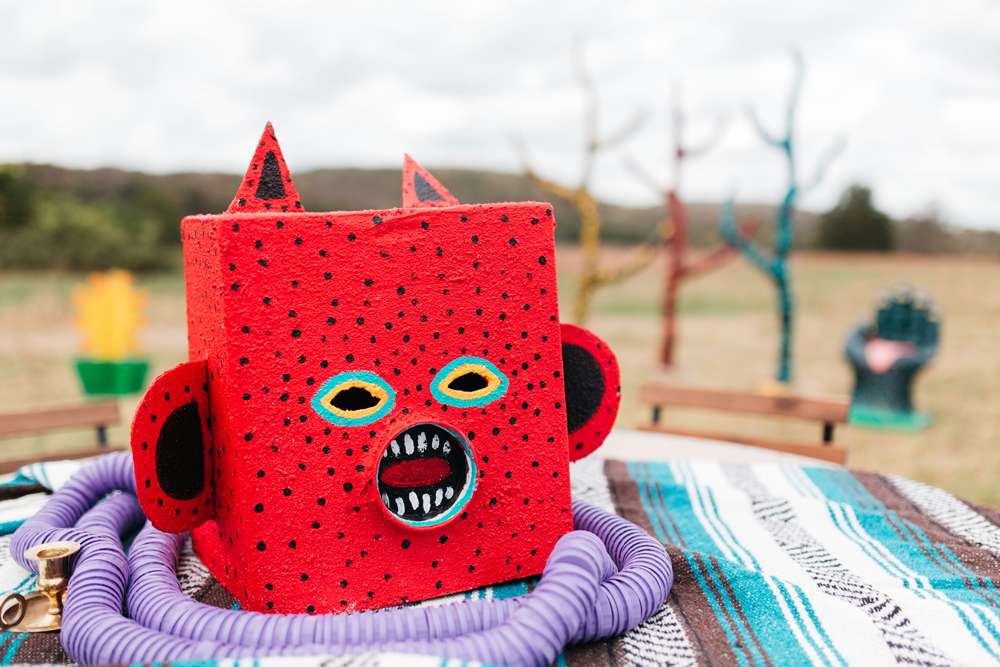 Gabi described their wedding as artistic and bright. "The inspiration was really just our lives and the people we surround ourselves with every day. Always thinking we'd elope, we decided why wouldn't we just throw a party with our closest friends and family? Instead of a typical 'Pinterest' wedding, where nothing really looked like 'us', we wanted it to really reflect us as a couple. We live on a farm, in a refurbished school bus, and I'm a sign painter in Nashville. My studio space is alongside amazingly talented artists I get to call friends, and the wedding wouldn't have been the same without them. And my childhood best friend happens to be an amazing photographer, and she ventured up to capture the evening."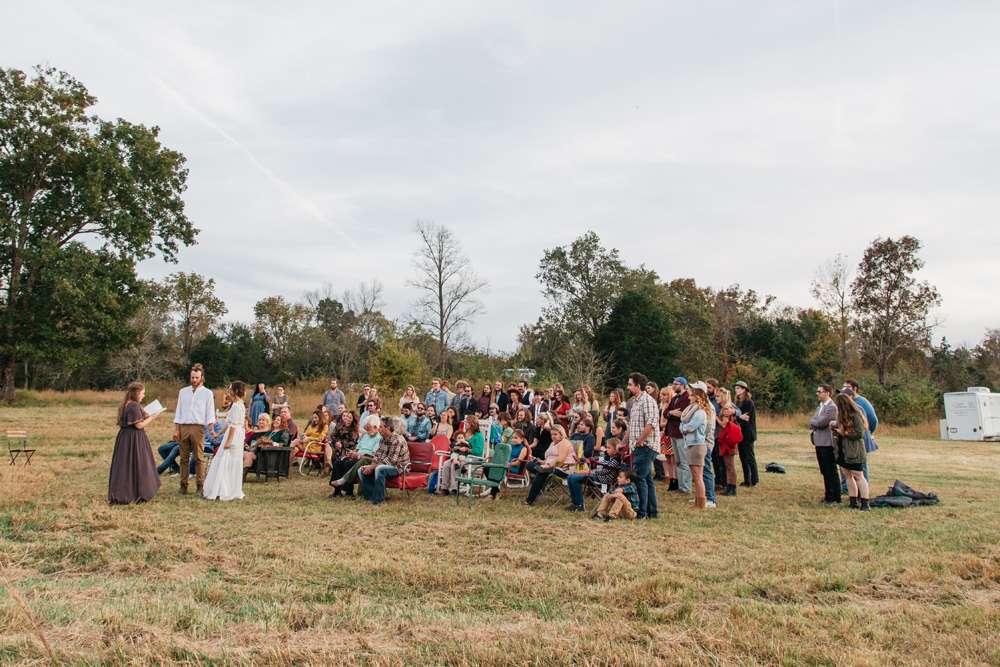 The bride said the ceremony itself was just so special. "My mum is my rock and she walked me down the aisle (sniffling back tears from the get-go!) My very best lifelong best friend, Molly, married us. Jacob was pretty choked up when he went to say his vows and I accidentally slapped a kiss on his cheek right when he finished! I was quickly reprimanded that it wasn't time for that yet!"
"We had our friend Pat play guitar while I walked down the aisle. We'd only asked him to do it the week before. With no rehearsal or us hearing what he prepared or anything, he showed up the hour of the wedding and pulled it off. That's kinda how the whole wedding was – we were pretty laid back. We set up the lights and everything the day before and didn't even have a real rehearsal. Jacob, Molly, and I just stood at the ceremony area the night before and she was like 'All right and here you'll say this and that, and then here you'll say your vows…'"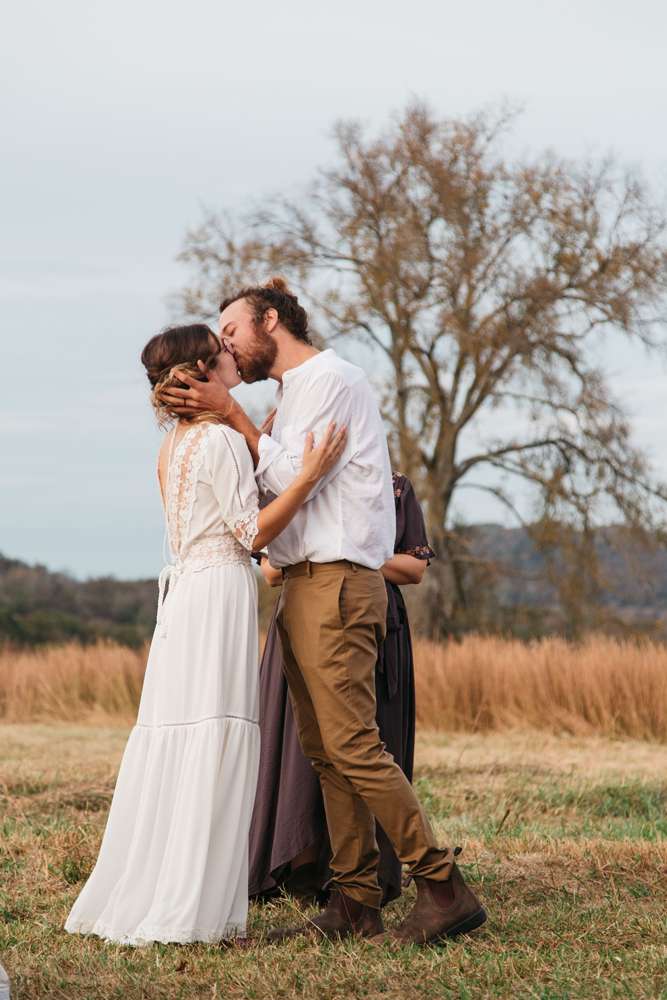 Brett Douglas Hunter, a local artist and friend of the couple's, did most of the décor, which included one-of-a-kind mask centrepieces and sculptural elements in various forms. Gabi said, "I kinda just approached Brett and was like 'Hey, do you want to handle our décor? Make it wild. Do your thing…' and just trusted him!" Additional décor was done by Alex Lockwood, another local artist and friend, who created a huge sculptural chandelier that hung above the dance floor made entirely out of bottle caps, and an elaborate aluminium can trail for the grand exit in the car.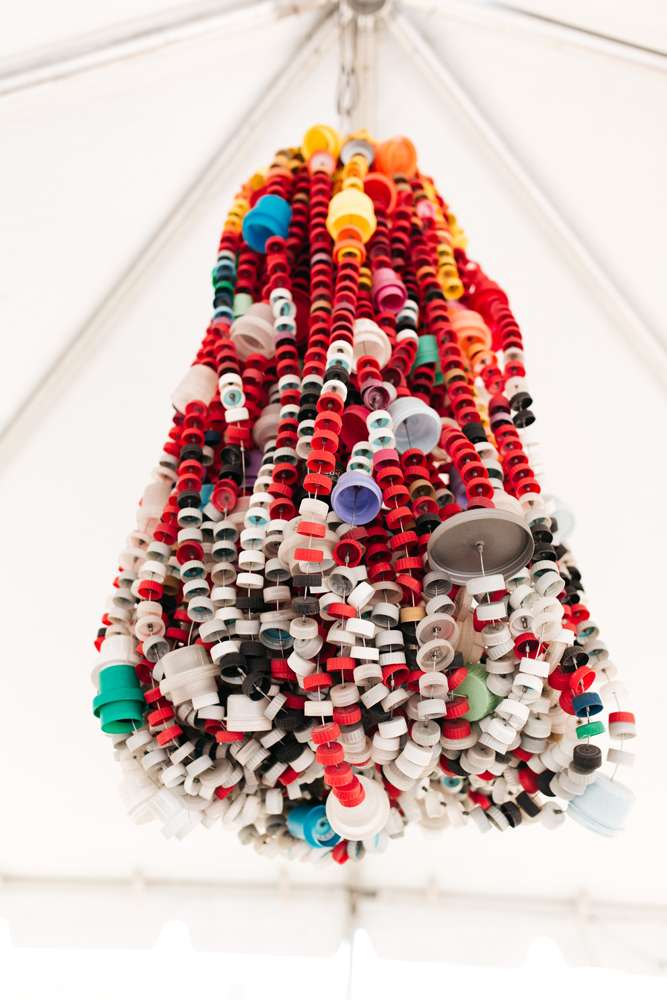 "Last but not least, the colourful hand-painted signage was done by Meghan, my business partner and the founder of I Saw The Sign. For ceremony seating I had my mum bring all of her patio furniture, and we combined it with my few pieces plus bits rented from The 12th Table. There was just enough for the family (or at least for the ones that got there fast enough ha ha!), while the rest of our guests gathered behind them. Having a personal connection to all of the decoration contributors made the day even more special."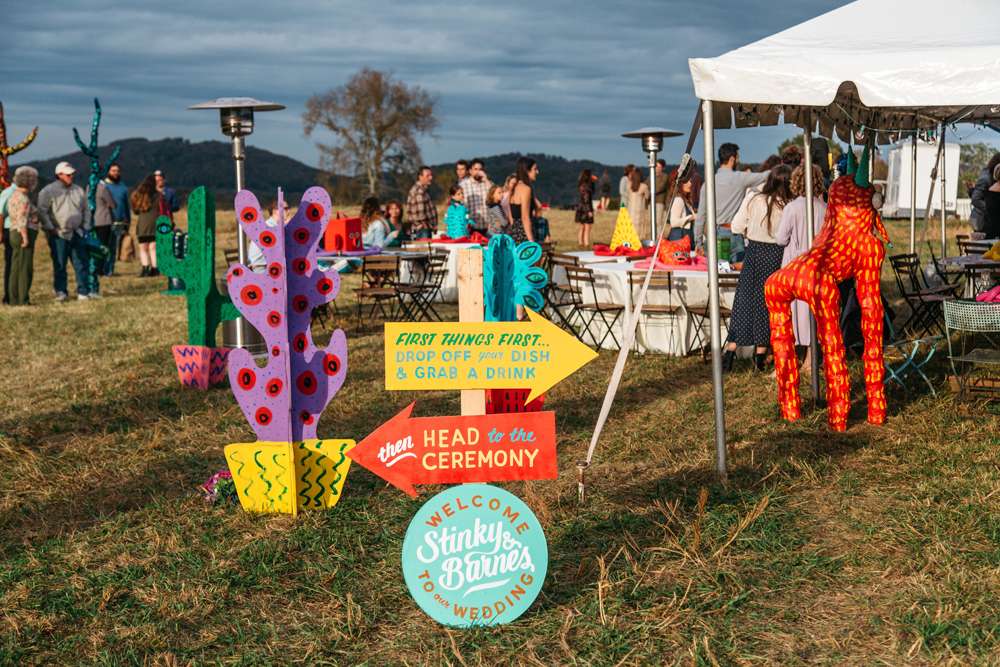 Gabi's bohemian dress was handmade by Ioana at Etsy shop, Anaoiss. which she teamed with colourful Jeffrey Campbell shoes – a gift from Meghan. Jacob's mum, Rhonda, did her hair, and Gabi went fresh-faced with no make-up. Jacob's shirt and trousers were from H&M, which he wore with Blundstone shoes.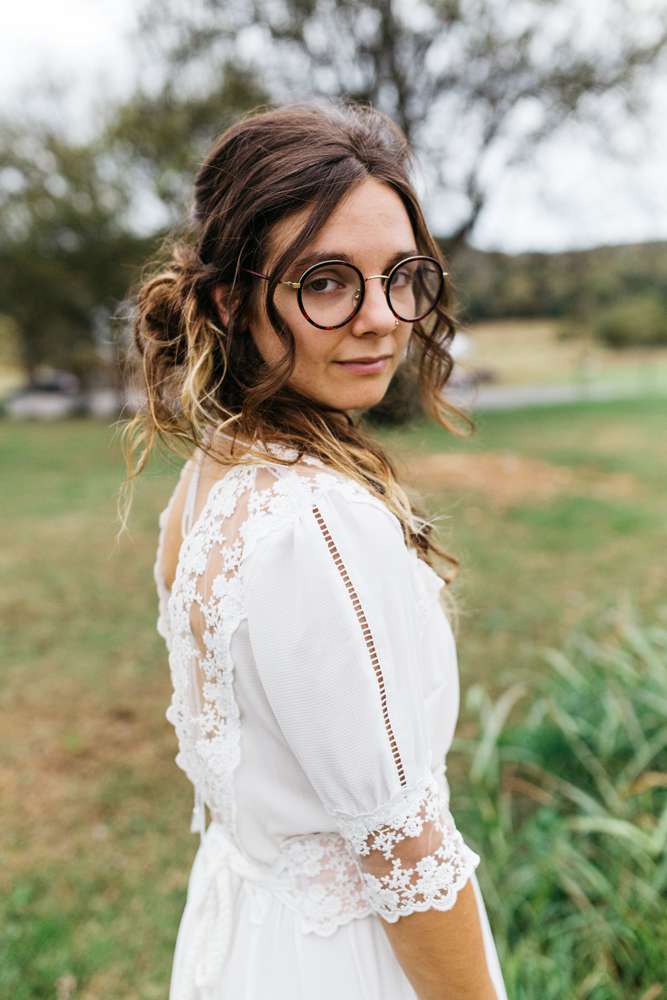 Instead of a cake, the couple did donuts from Krispy Kreme and local bakery Five Daughters Bakery.
"The biggest expense was THE FRIGGIN BATHROOM," said Gabi. "It cost a little over $1,000 to rent a bathroom trailer! The wedding was off-grid and people gotta have a bathroom, so it was necessary! It was also hilarious because people raved about it. They were like 'THERE WERE BATHROOM MINTS AND ART HANGING ON THE WALL.'"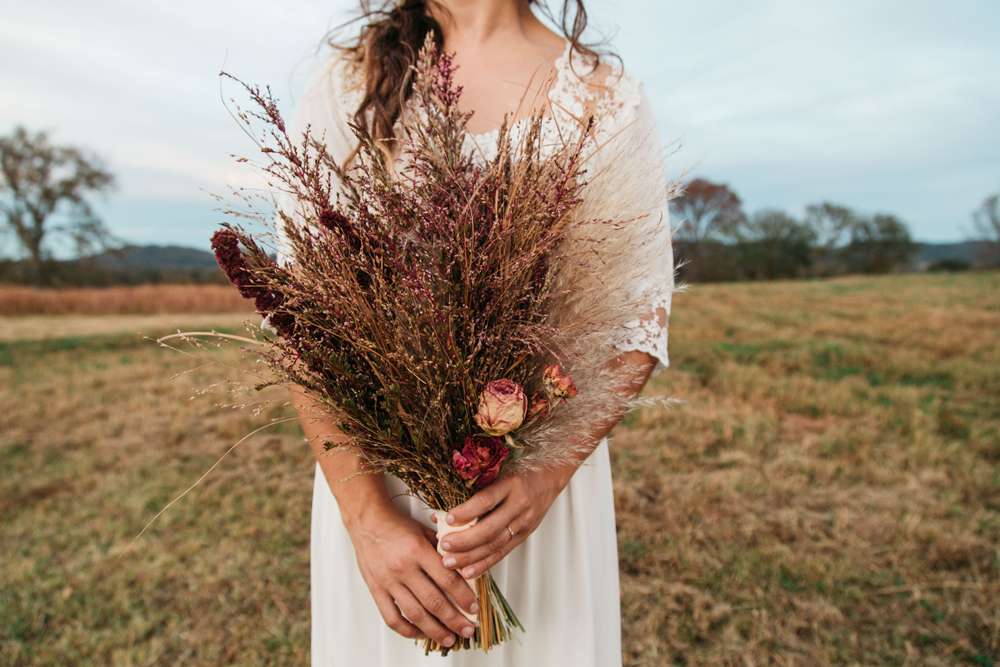 "I think the thing I wish I'd known before I started planning was that people are going to have fun when it feels authentic", she said. "I was a little nervous people would be like 'ugh this is such a drag! They want us to bring food AND booze!?' But so many people told us after the wedding that they loved it. I think one of the best things I heard was a friend say that so many weddings seem like an elaborate event put on by the families of the bride and groom, but that ours felt genuine and authentic and a thing of 'oh, we're all here because these people are seriously in love and want to share it with us.' So the low budget thing worked out. It felt so homey. But also the time of our lives because ya don't run out of booze when everybody brings a bit!"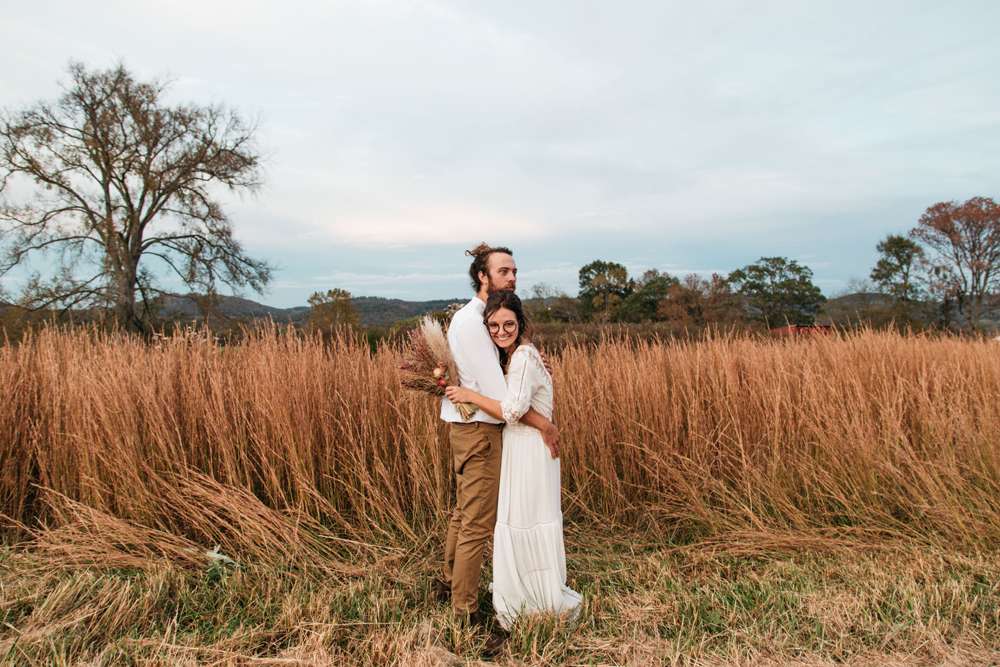 The best thing about planning the wedding, Gabi said, was that "I pulled it off in two months! And I was really low maintenance, I'd like to say. I kinda just went with the flow. If I ever got a little stressed about something Jacob would say 'Do I still get to marry you at the end of the day? Yeah? Then it sounds good to me.' And oddly, that little bit of zoomed-out perspective kept us both really chill."
"The worst thing about planning the wedding was that I only had two months! Haha. Just kidding, kind of. The worst part was probably being like 'Hey fam, we want to do this in two months. Can you chip in?!' and not really giving everyone a ton of notice. But it worked out! And our families helped us out tremendously. We wouldn't have done a thing differently!"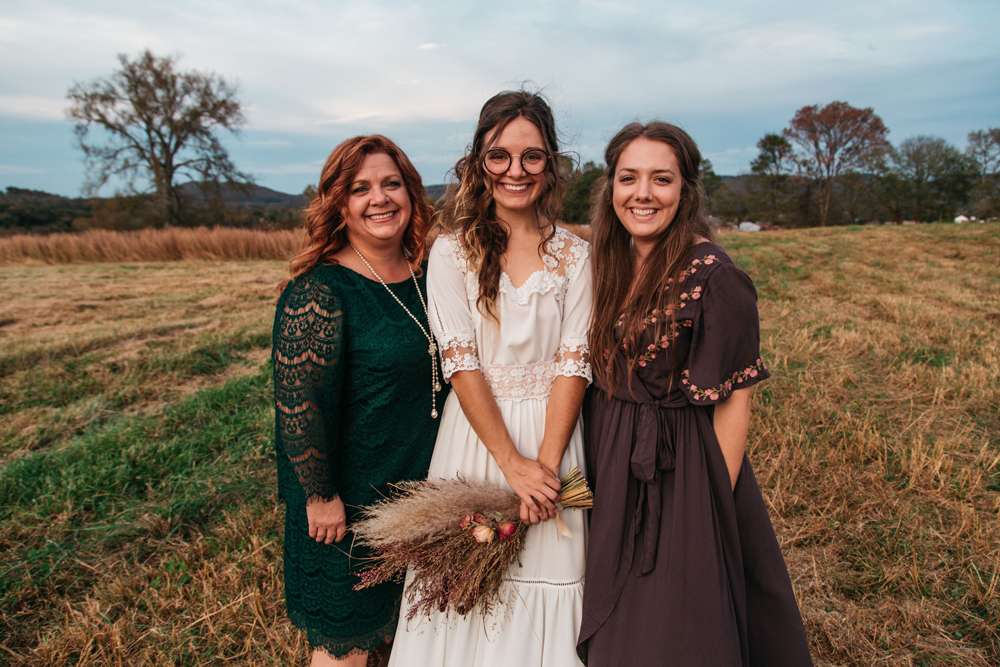 Having loved ones involved in so much of their day, said the bride, made the whole thing feel very intimate and like another hang with friends. "Seeing how many showed up was incredible. Just looking around and feeling so loved I think was my favourite part of the whole process. You know it's good when it's hard to leave your own wedding. And duh, marrying my best friend was a favourite part, as well. And everything Molly said during the ceremony had everyone in tears. It was very personal and reflective of us. Hearing her describe the love between Jacob and me was more special than I could have ever imagined. Oh and the fact we got to have our wedding at Little Belly Farm. The owners graciously asked us to move our converted school bus home out there last June and live there in exchange for a bit of farm help, so it made it extra special to get married at a place we call home."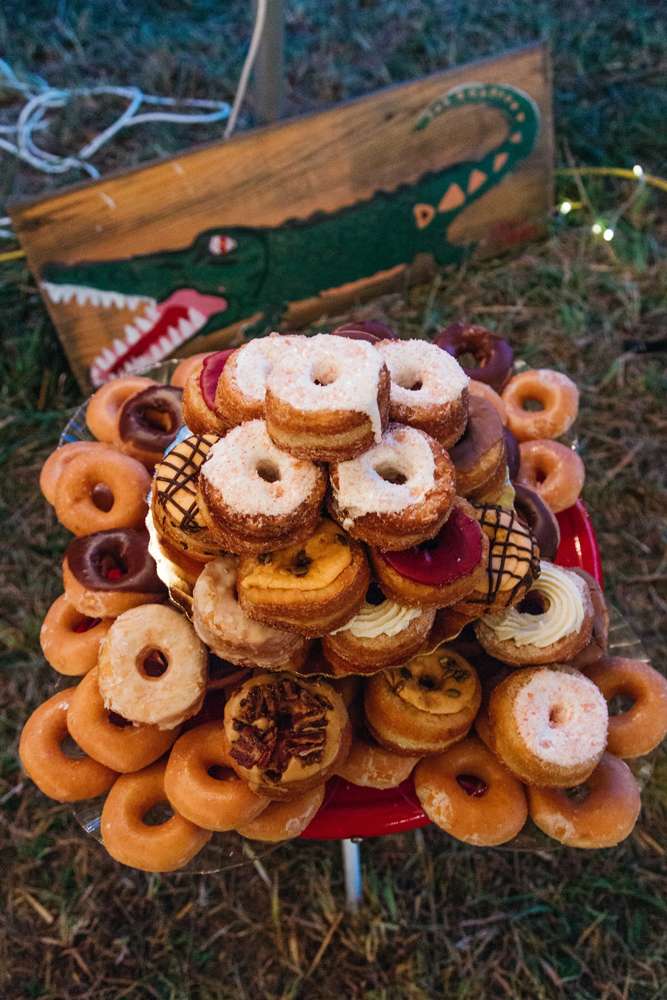 Their advice for all you engaged folks is is to simply "Keep your wedding authentically 'you.'" Always the best advice…