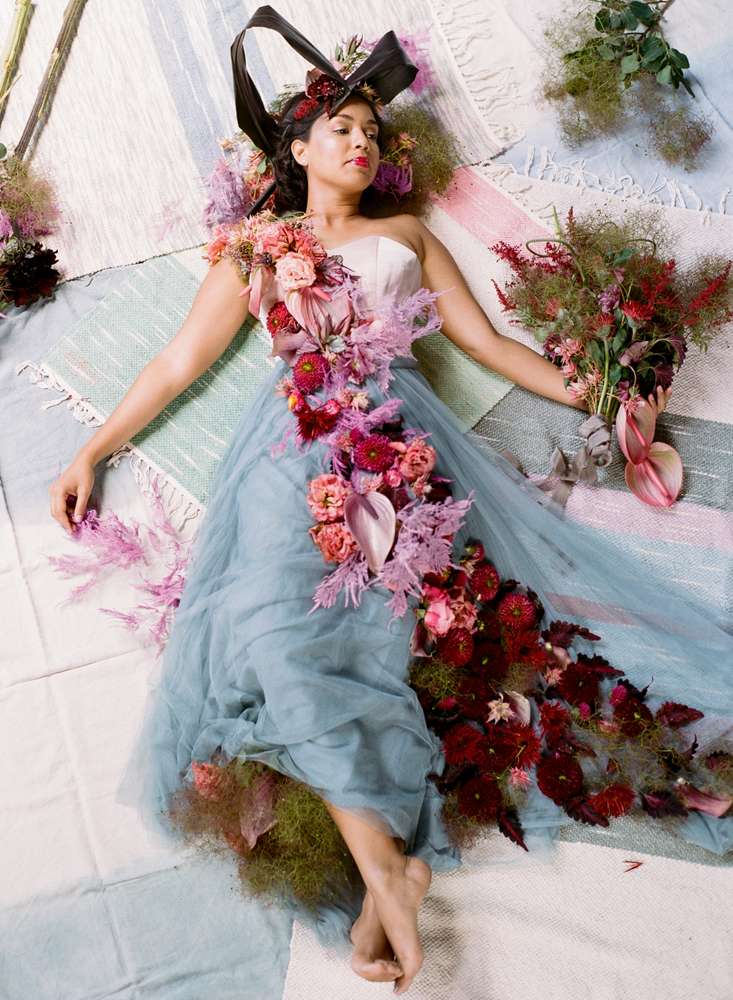 What's really beautiful and original about this shoot is how it has cleverly positioned lots of opposites – the hard textures of the geometric ornaments versus soft textures like velvet, and the earthly rock crystals and smoke next to the heavens and galaxies depicted in the tablecloths. It's created a styling synergy and a very interesting dynamic. Alongside these oppositional details, there are also elements that come together, echo and complement each other, creating yet another line of interest. There's way more here than meets the eye than just pretty styling for its own sake – there are connotations and depth to be experienced and inspired by.
Lydia, a florist from Wyld, came up with the idea for the shoot. She said "All of us wanted to try something we haven't been able to in the past, something a bit out of the ordinary, a little challenging."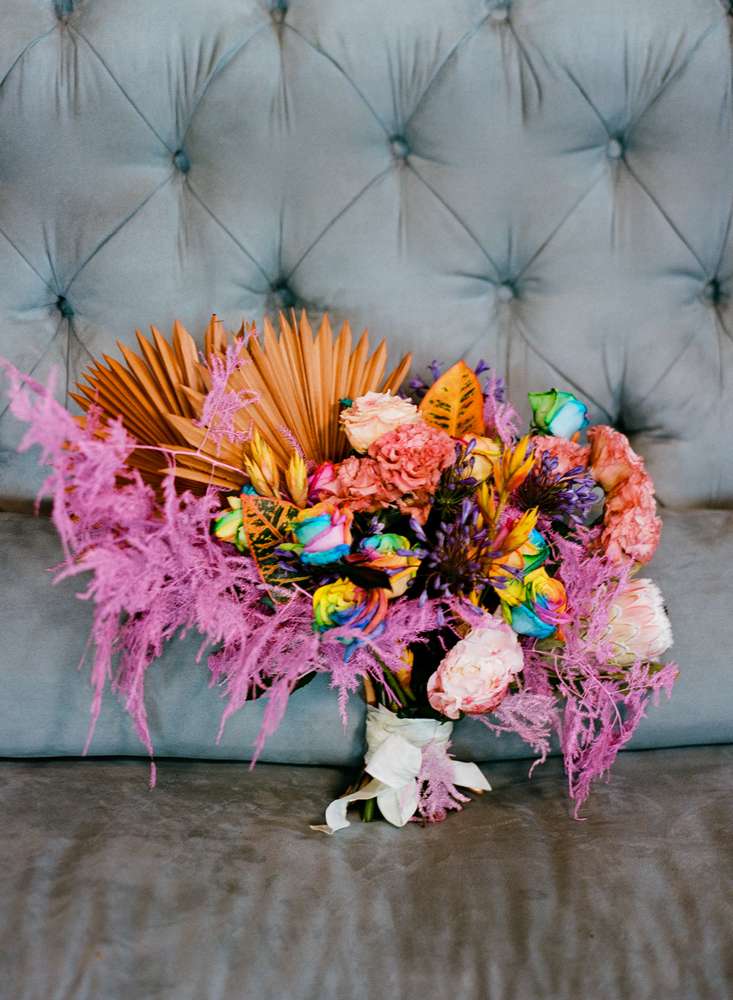 "We worked with new materials and interesting textures to create a 'unicorn feast'. The table was full of delicious desserts and rock candy from Sweet Pistachio; the centrepiece, instead of a typical vessel, had flowers suspended inside a geometric gold sculpture, almost dangling in front of you like a trap that's been set."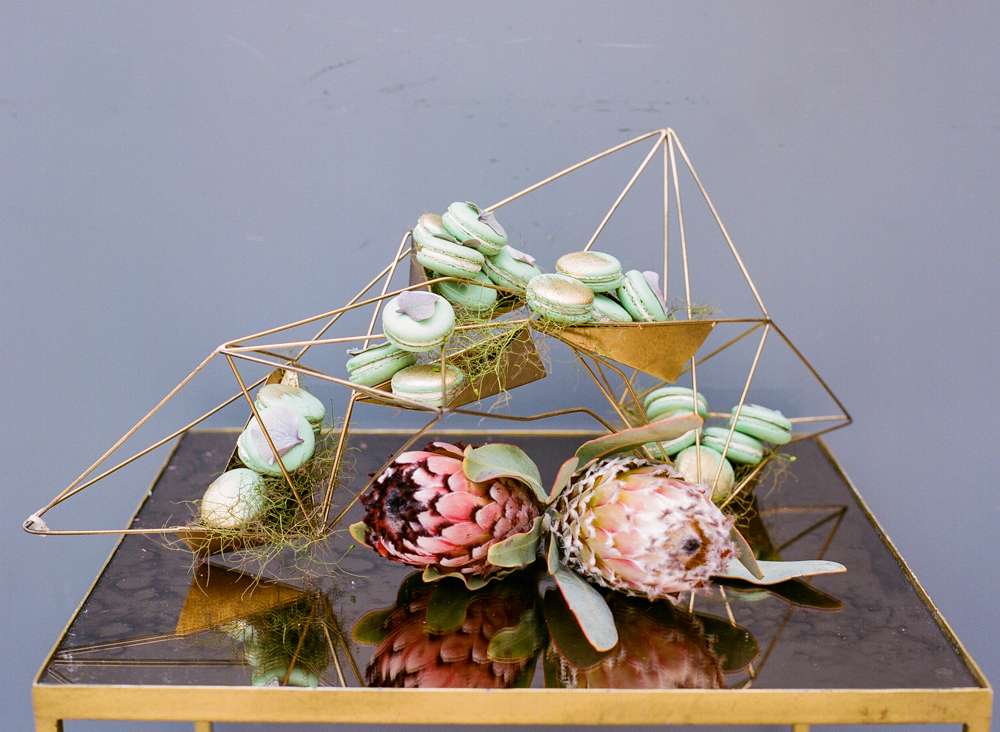 These sculptures are also a nod to the night sky, as they bring to mind the shapes of the constellations, circling back once again to the celestial motifs we see on the fabrics from We Gather that dress the table. These clusters of faraway galaxies are echoed again in the frothy tulles and powdery pastel shades of the dresses, and also the smoke bombs that billow in much the same way.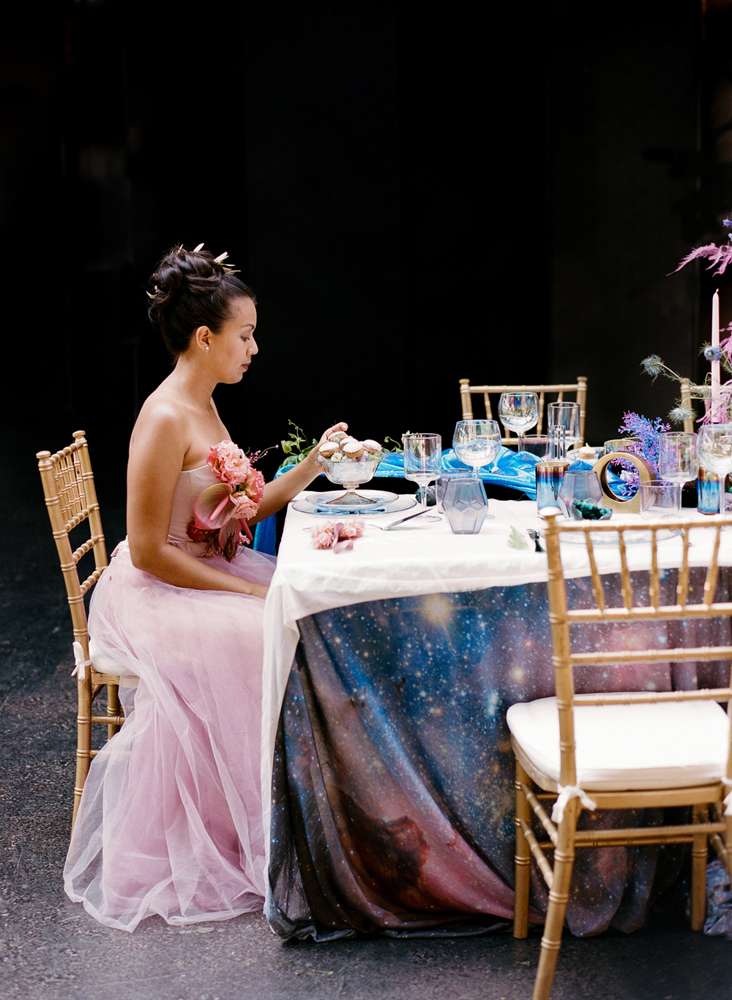 The flowers (from both Wyld and The Dedicated New Yorker) in this shoot are magical, and the palette they've used of bright oranges, rainbows, and the pinky lilacs are almost other-worldly, cementing again the space element. Lydia added, "As a florist, I wanted to play with wearable flowers, like headpieces and flowers adhered to the dress, tricking the eye and playing with the senses. Giving you the chance not just to look at flowers in front of you, but to touch and smell as well. I loved playing with new angles, pulling in smoke, and a bright prism palette."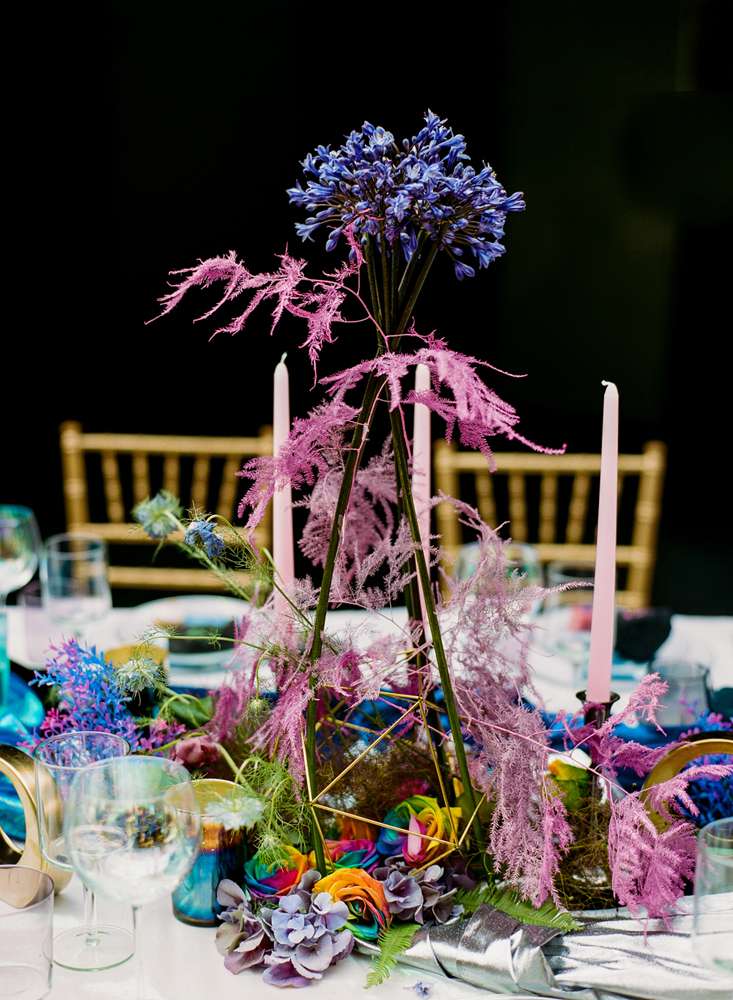 Shoots like this show us what a bit of adventure, bravery and exploratory boundary-pushing can bring to wedding styling. Just because a theme seems a little 'out there', it doesn't mean that it won't produce sophisticated, elegant and achievable results. There's lots at play here in this styling, but the end result is magical and unique. Where will your thoughts take you?