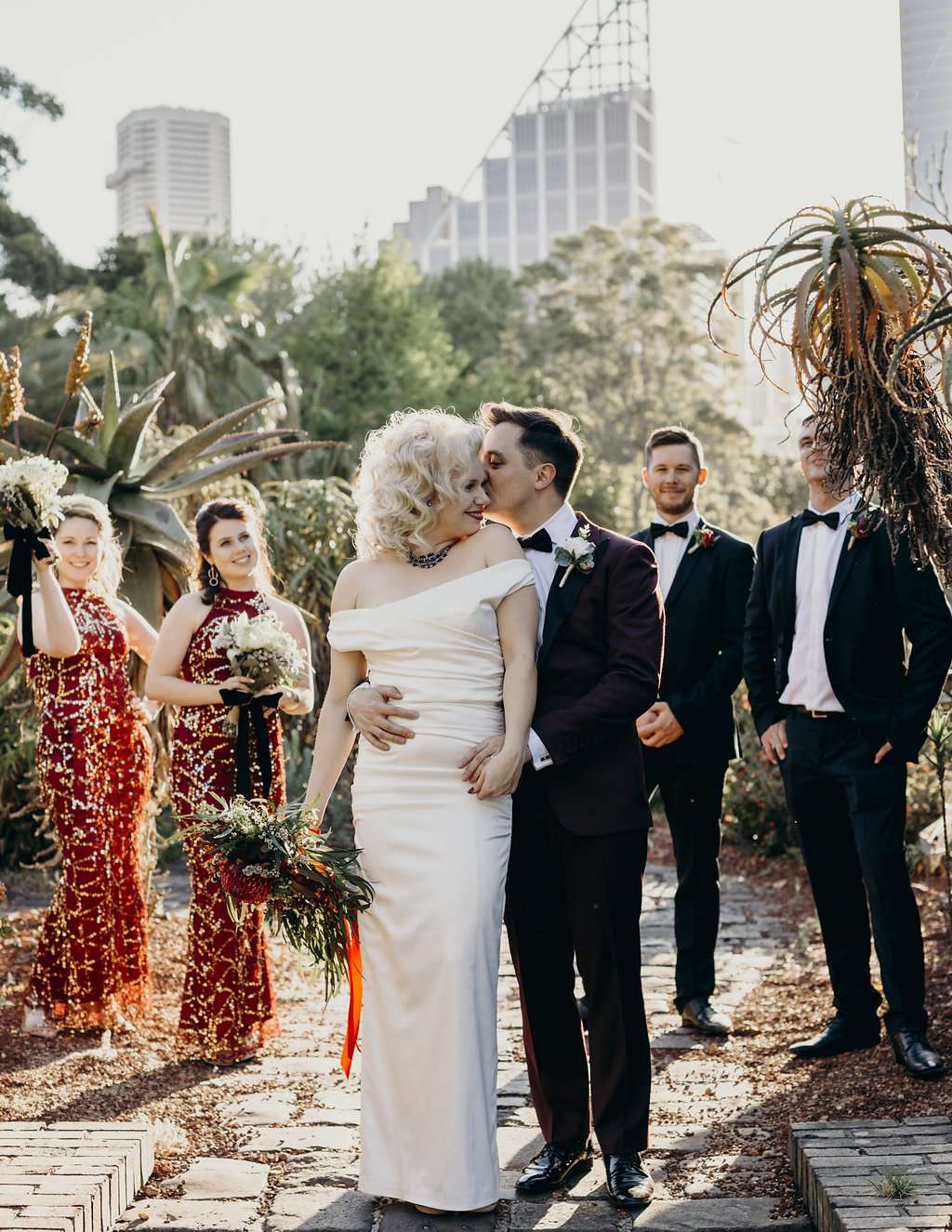 Botanical Gardens are pretty stunning in themselves, and make a real a showstopper of a wedding venue. Add that to a bride and groom channelling all the glamour of old Hollywood and you get a hands-down winner of a day.
Morgaine and Kyle met via a dating app. Kyle was the first person she spoke to – and the last! They said, "It was really easy and we were absolutely perfect for each other… It's quite creepy when we look back at it! We don't really believe in things like fate but maybe there was a bit of that sprinkled into it! After our first date at the pub, it was clear that this wasn't just an ordinary meet and greet – there was a ridiculous amount of humour and affection. We both knew this was unlike any date we'd experienced."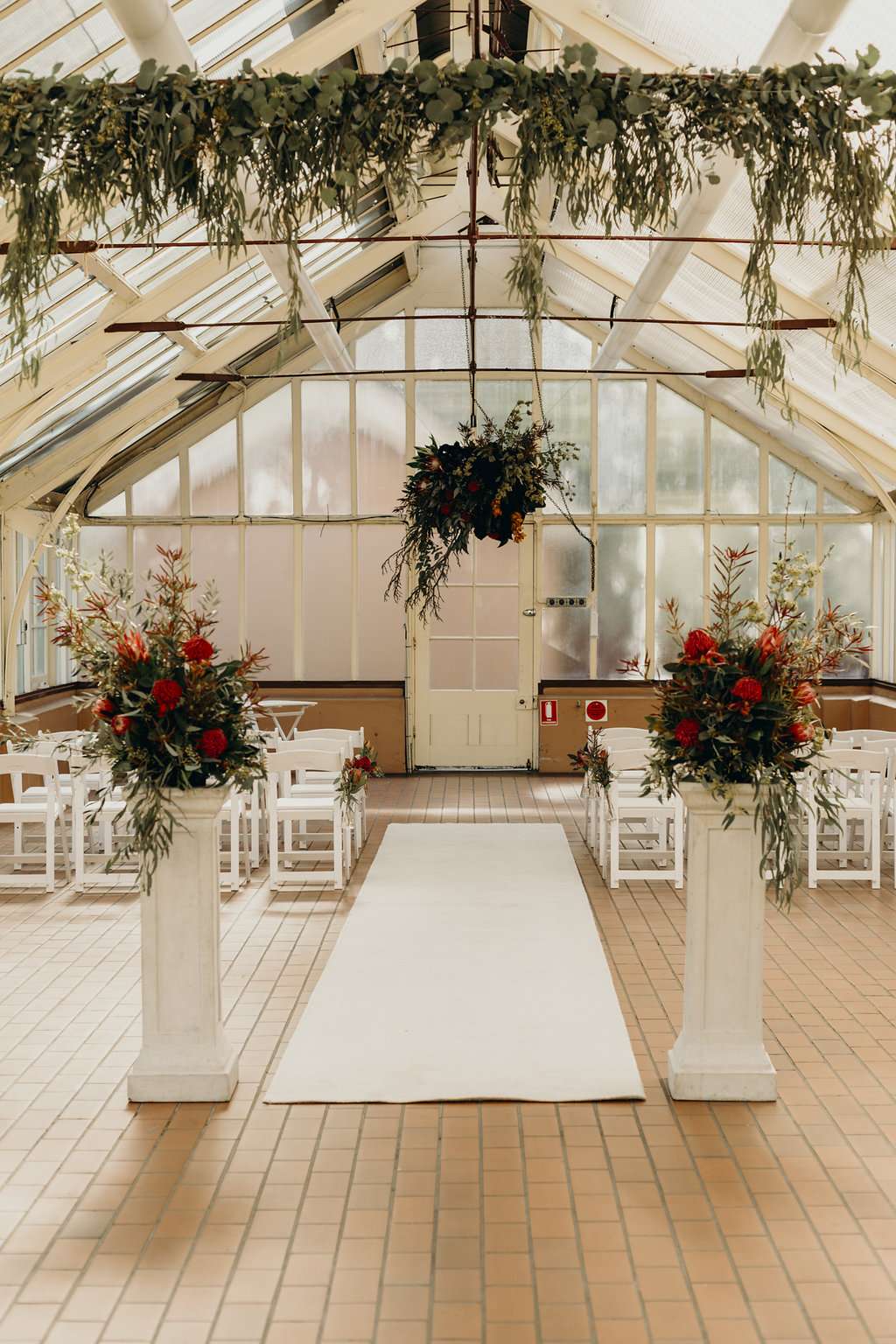 It was actually Morgaine who proposed to Kyle, he explained that "She thought, 'Well, if he can ask, why can't I?' so she bought me some vintage onyx cufflinks from eBay and started planning the proposal. One of our favourite bands, Flowertruck, was due to play just before Christmas 2016, so Morgaine got in touch with them and asked if they would like to be part of the proposal. They were thrilled, and she arranged for them to stop mid-gig to announce that she had a question to ask me. Once they said that she (in the middle of the crowd) dropped to her knee and asked me if I'd marry her. I said yes, and the rest is history! We used this story as part of our celebrant Nathan's intro during the ceremony."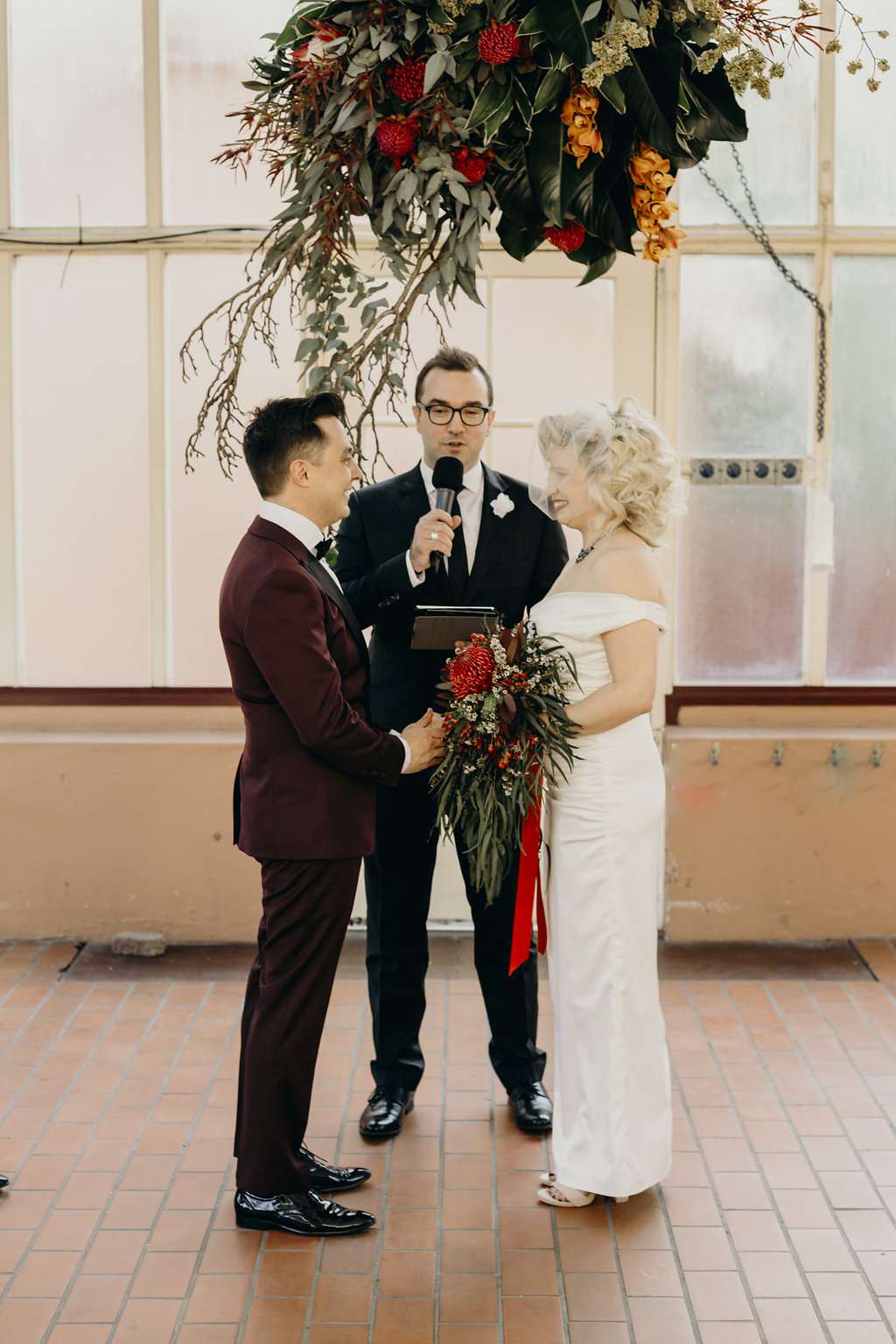 The couple describe their wedding vibe as, 'Classic Hollywood with a splash of botany,' and it was held The Palm House at Sydney Royal Botanic Gardens, with the reception following at The Botanic Gardens Restaurant. Kyle said, "I had a dream one night about an old greenhouse as a wedding venue. So the next day we looked into it, found the Palm House and booked it! From there it was really just about keeping things classy – nice attire, classic music, beautiful flowers and throwing a big bloody party!"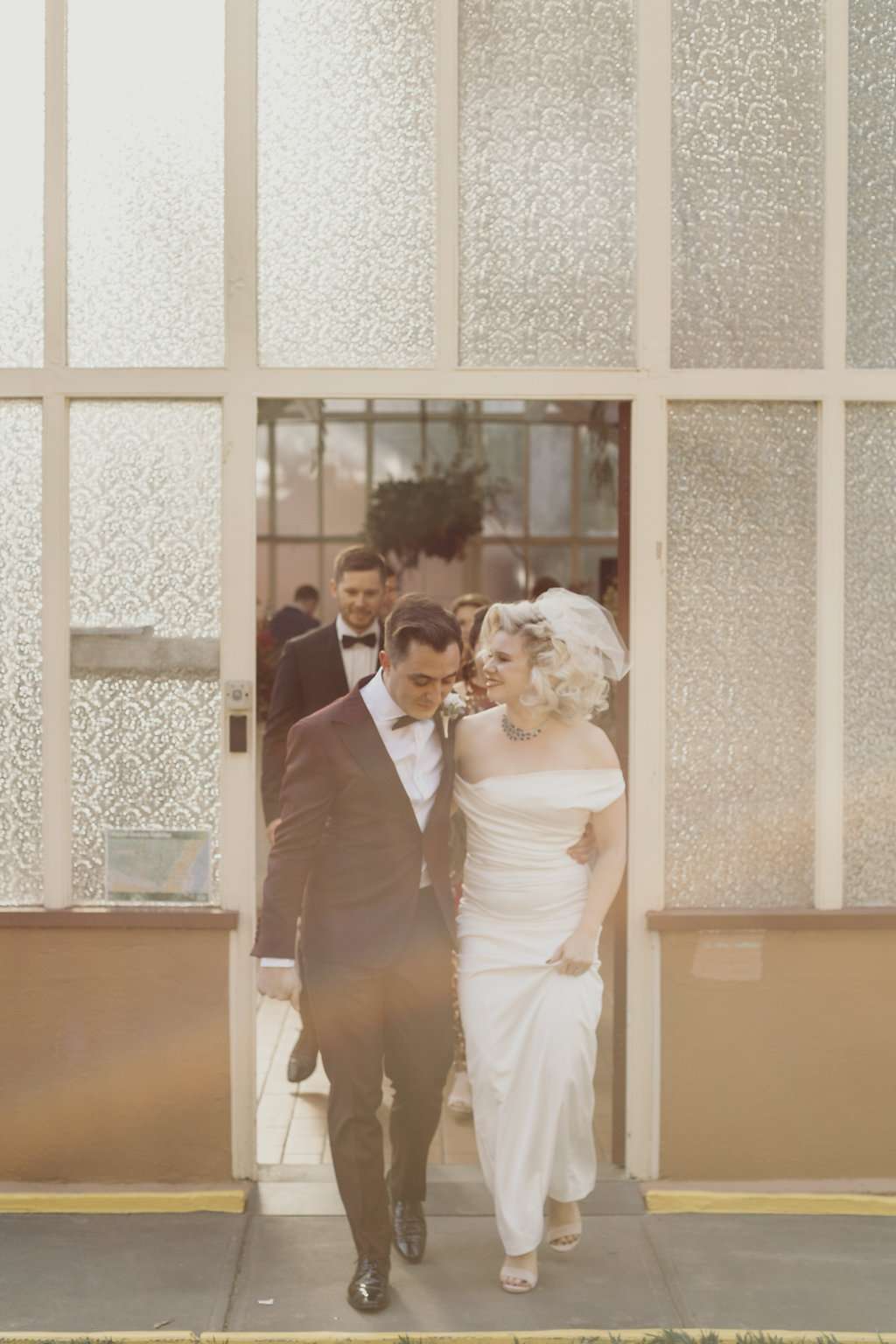 The bride wore the Satin Man Trap dress by Wheels & Dollbaby (the couple laughed as they recalled that the dress was so tight that so she couldn't wear underpants!) with shoes from Boohoo and a veil, rhinestone earrings and necklace from various sellers on Etsy. At the reception, she changed into her dancing outfit which was a Miss Holly dress and silver Gorman shoes.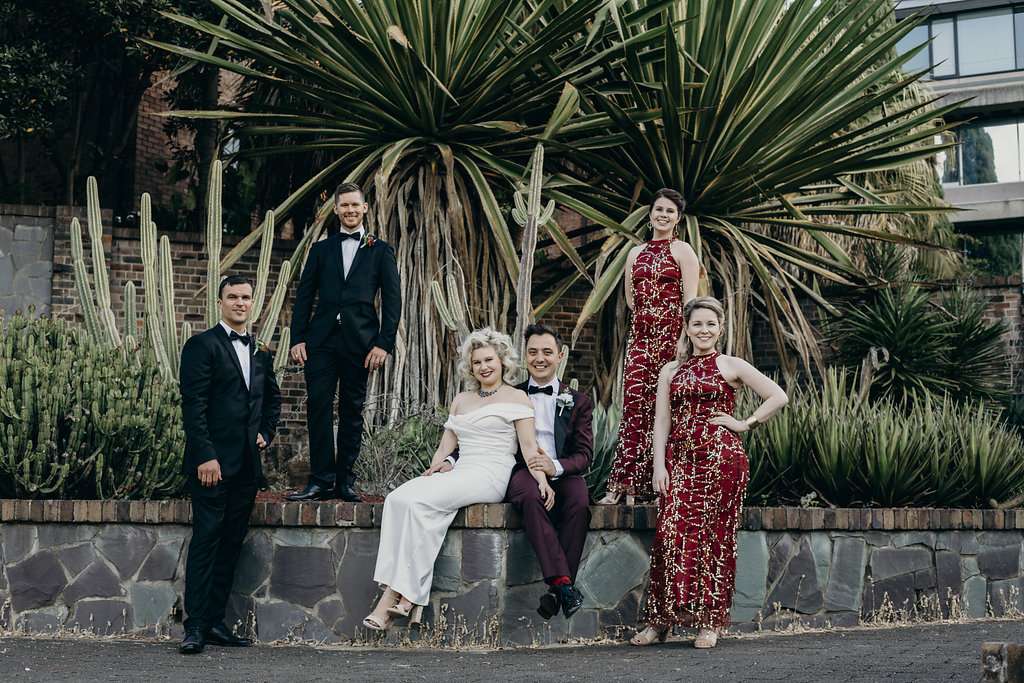 Kyle didn't know what song Morgaine was going to walk down the aisle to, and said that it came as a bit of a surprise! She chose Otis Redding's That's How Strong My Love Is, which is a song that they both love and was enough to trigger a few tears from Kyle! "The ceremony itself was quick", they explained. "We did standard things – wrote our own vows (jokes and embarrassing stories included) and had our mothers step up as witnesses come the signing of the certificate."
"For the reception we brought in four bottles of Medos – a Polish honey vodka. Morgaine wanted to honour her Polish roots by giving everyone a shot of vodka and have her family sing a traditional Polish song (the booze really helped boost confidence!) Once we did that, we got everyone out on the dance floor to dance to a Polish polka. It was hilarious – any excuse for a silly dance!"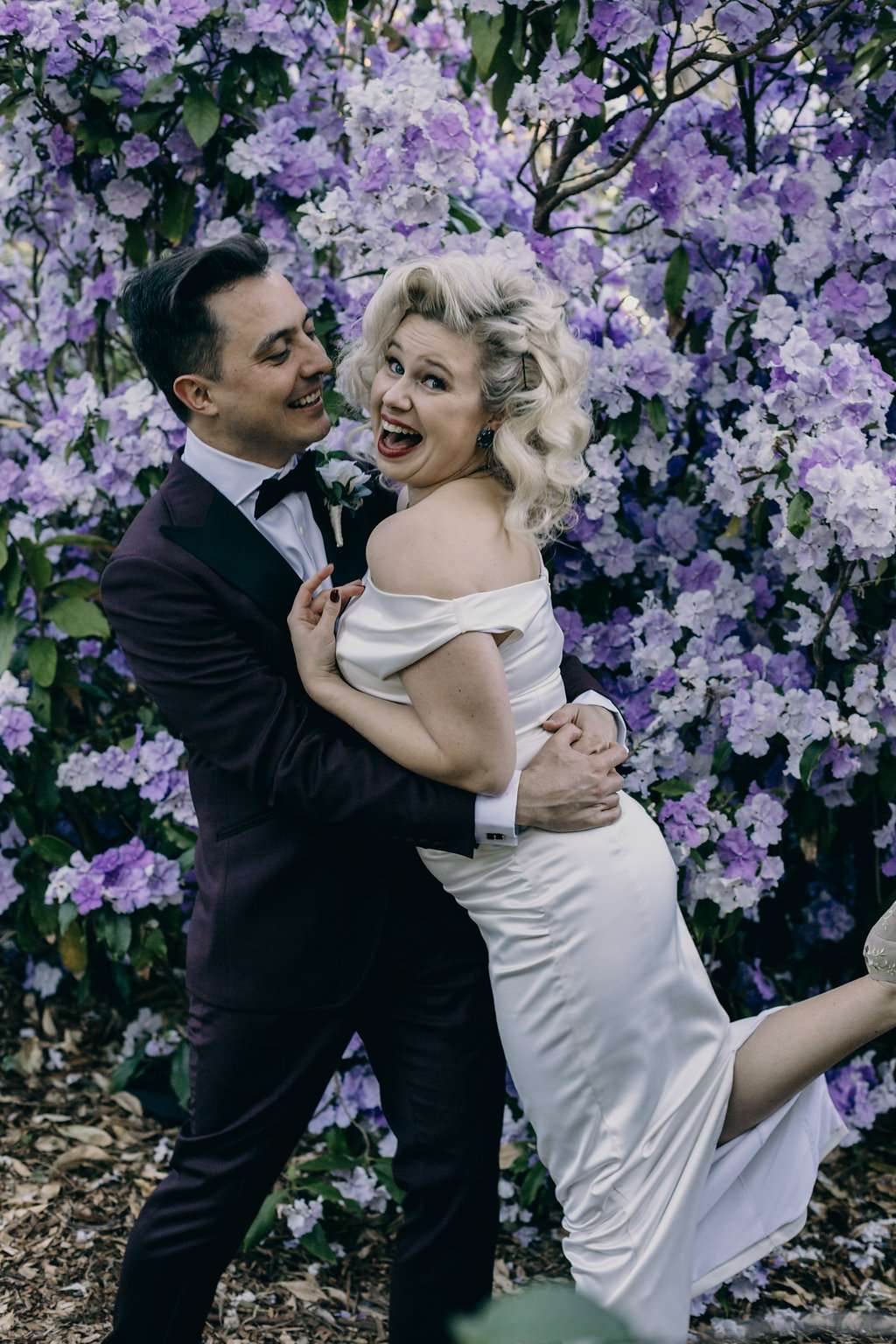 They couple say that planning their beautiful wedding was actually pretty easy, "Once we knew we were getting hitched, we invested a bit of time researching and planning", Kyle said. "It helped that both of us are practical thinkers, and Morgaine is a project manager, so everything was managed really well. When complications arose, we had extra time allocated to stay relaxed and do what was needed to rethink or rectify."
The biggest expense of their $25K budget was the reception venue, but it was one of the most important aspects of their day. Morgaine explains, "It was really hard to find a suitable place in Sydney's central business district that was relatively cheap. We were after somewhere that was value for money, had good food and was close to the ceremony so our guests didn't have to travel far."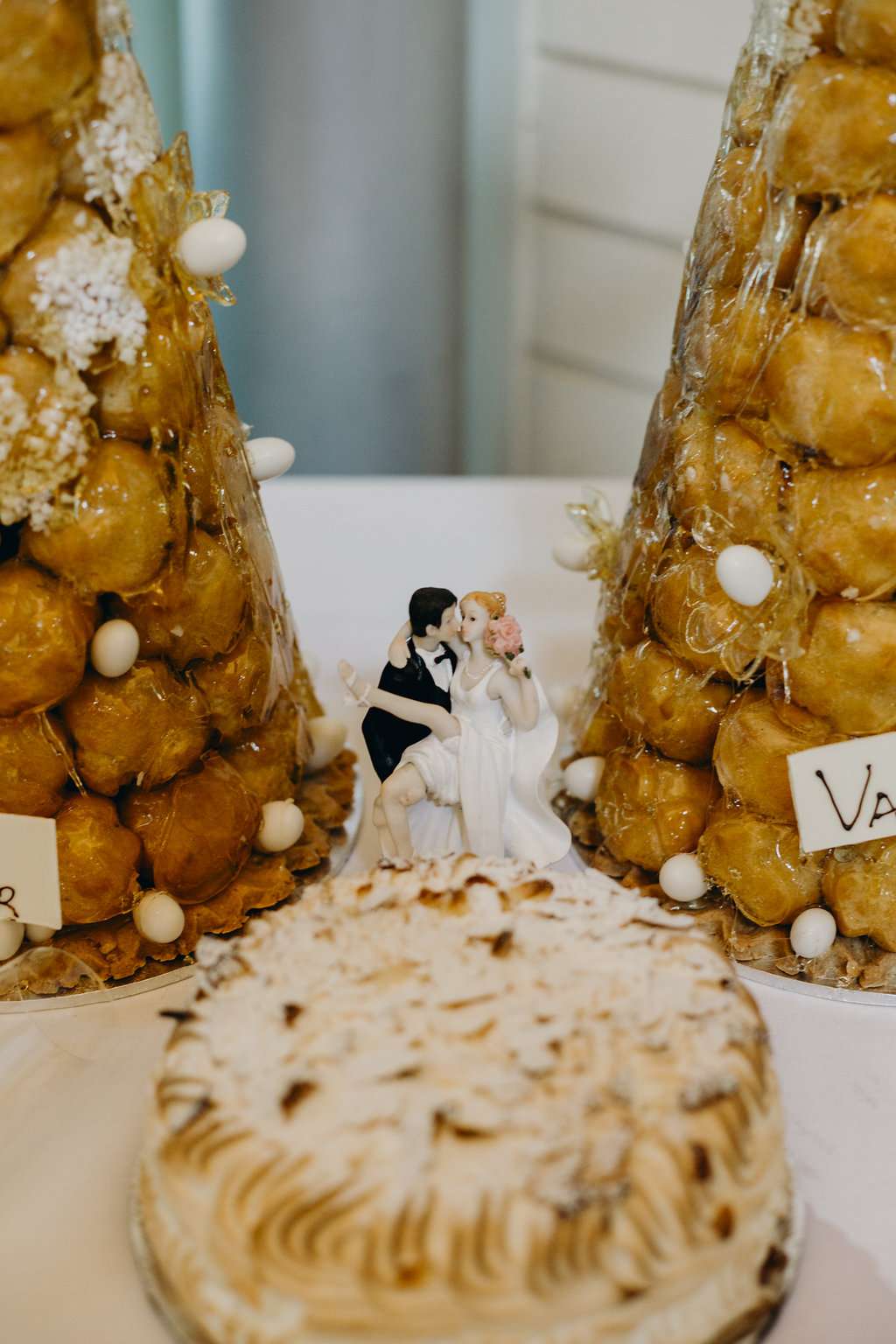 However they didn't have a band or DJ, opting instead for five different Spotify playlists, and the fact that they were able to walk to their venues from their hotel, helped recoup some of that expenditure, as did the DIY projects. "I designed stationery, the guestbook and the bouquets," Morgaine said. "We had so much fun being a little creative with things like our invitations and the guestbook, which we had as an A1 poster. We also arranged for people to take selfies using a Polaroid Instax so we could keep the pictures as extra mementos. We also wanted to find a really cool cake topper, so we took to the Internet and found a store called Milanoo. There are so many cute and kitsch figurines on there, so that was really fun picking one of those out. Doing things ourselves really saved money."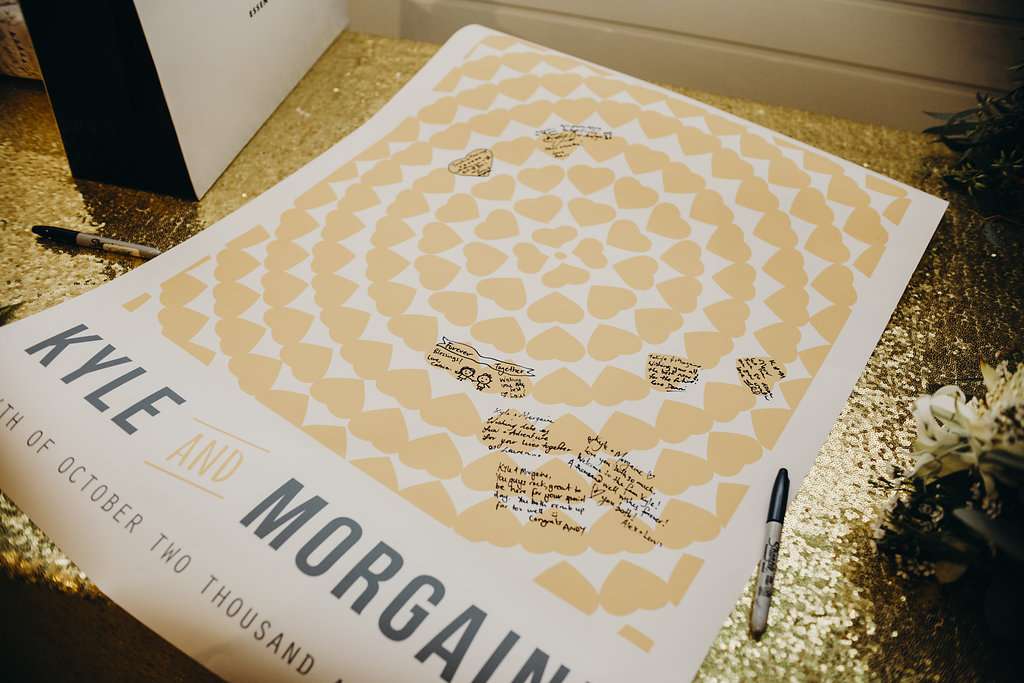 Looking back, the only thing they would have done differently was to, remember to eat! "We had arranged for so much delicious food, but spent too much time talking!!" Kyle laughed. "Morgaine wishes she had spent more time at the cheese and meat boards…!"
The couple's advice for future couples is to, "Choose good suppliers because they make your life really easy on the day. And think laterally when doing your research – we actually found our amazing and talented photographer on Gumtree. It allowed us to filter who came through as candidates, and we had the opportunity to view their portfolios."