Chloë & Josh wanted anything but a standard wedding, so they were married in the woods at the Potager Garden in Cornwall. They didn't want to spend a long time planning it either, so they organised the whole thing in just three months!
"We had to book the venue and the celebrant nine months before, but we did everything else in the three months leading up to the wedding!" began the bride. "We went to the Potager while visiting family in Cornwall in August 2014 and fell in love with the surroundings. The Potager is a garden and café open to the public Friday-Sunday. We asked the manager if we could have our wedding there, he agreed, as long as numbers didn't exceed 60 and it was out of their business hours. We set the date for Monday 8th June 2015. It has a woodland at the bottom of the car park where we had our ceremony, a lawn where we could serve 'jam and toast' (strawberries and fizz) and canapés, and lovely gardens to walk around. We had the meal inside their 100-foot glasshouse."
"Our theme was loosely based on The Teddy Bears' Picnic, Alice in Wonderland and A Midsummer Nights Dream", she continued. "It was all about fun and being relaxed. We wanted our guests to go on a journey, let their imagination be sparked by our props, styling and music. On arrival the guests drank the 'magic' potion that our friend dressed in a top-hat greeted them with before making their way through the woods, following the white rabbits and listening for the music."
The couple's favourite bit of the day was their ceremony. They also had a very special ring bearer – their rabbit, Miss Cotton Fluff Muff! "Most people, including our parents, thought we were mad when we said Miss Cotton Fluff Muff was going to carry the rings. 'Think practically' was what my mum said. I agreed, so I arranged accommodation at the venue for the evening so she wouldn't be too stressed out, it was out of the heat and away from foxes. I briefed my sister on how to keep her still in the basket during the ceremony until she was needed for the rings and I told Fluff Muff everything that was going to happen!"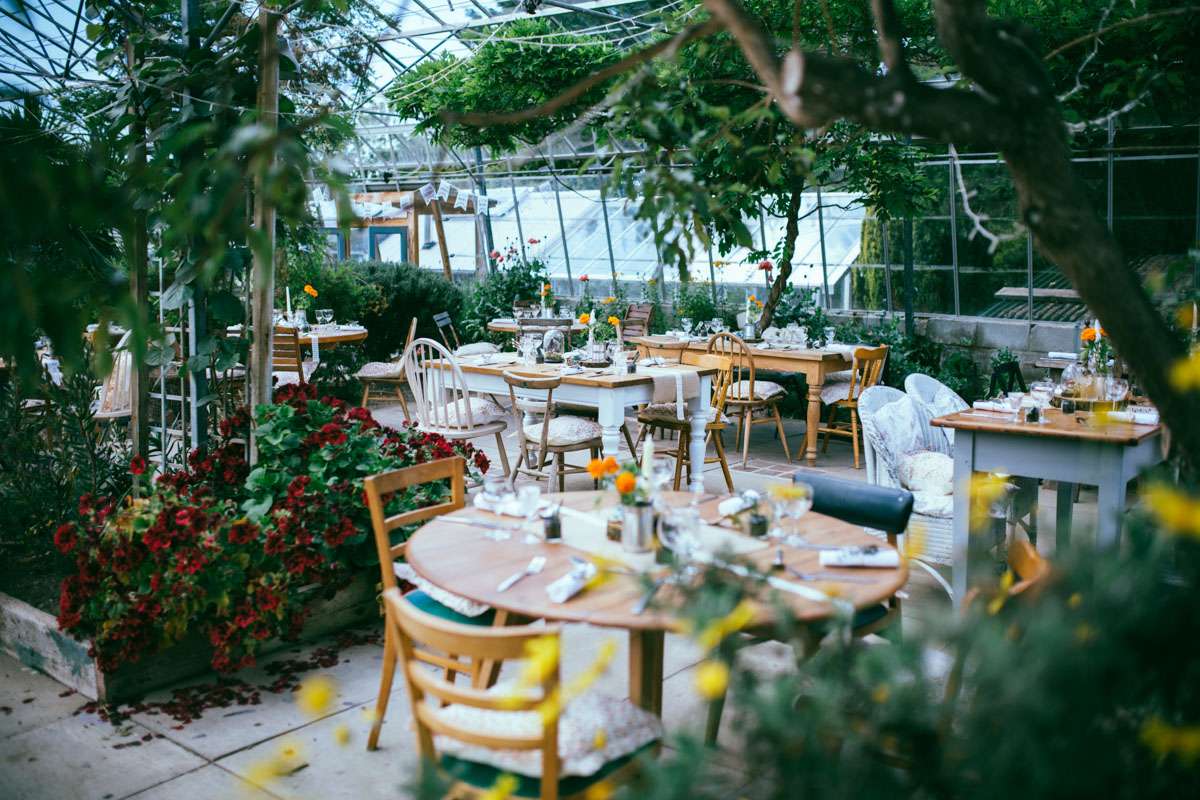 "We have never been to a humanist wedding before, nor had any of our guests, so no one really knew what to expect. I think everyone would agree with us that it was above and beyond anything we had imagined. It was so personal to us and involved our guests. It was emotional, informative and funny all at the right times. Guests have told us it's the best wedding they have ever been to and others have said they would definitely consider a humanist wedding now."
The wedding budget was just £6500 so they saved money with clever choices and lots of DIY. The bride's gorgeous dress was by Pins and Needles. The groom actually found it and bought it for her from the Urban Outfitters sale for – wait for it – £7!! With it she wore a flower crown made from succulents, thistles, marigolds, eucalyptus, rosemary, jip and feathers.
"I know so many brides that have spent over £1000 on a wedding dress, but with that being 1/6th of our budget I had better things to spend that money on. As a couple we are quite thrifty and keep our eyes peeled for treasure in skips, charity shops and bargain basements! Originally I was going to wear my mum's wedding dress which she made herself in 1979. However as the ideas for our wedding unfolded, the style of it didn't quite fit in. I had found another dress in a charity shop for £10 and I was happy with once I had taken a pair of scissors to it. However out of the blue, Josh came home one day with a dress he had found in the sales for £7! I was not superstitious about the him seeing my dress and it was exactly what I had envisioned all along! I just added a M&S slip underneath and it was perfect!"
The couple also had a genius money saving tip was on the alcohol, "Remember, any alcohol that is unopened can be returned to the supermarket afterwards so don't loose your receipts! We returned all of the unopened bottles and we got around £200 back!"
"My mum did the flowers and having pots of plants on the tables was way cheaper than cut flowers. I also designed all the stationery. The guests received a Cornish pasty shaped envelope through their door, which they had to tear off the crust. Out dropped lots of little white paper rabbits, then six back-to-back A6 post cards with every detail of the weekend covered!"
"All the décor was also designed and by us. It ranged from big white rabbits and toadstools hidden in the woods, to light boxes and hand painted slate signs. We spent a lot of time making props, masks, signs, bunting and wedding branding, but it all paid off as so many people noticed and commented on the attention to detail."
"We also collected 60 vintage cut glass champagne flutes, and 60 vintage short glasses for the meal. A combination of shot glasses and sherry glasses were used for the toast of honey rum after the speeches. Teas and coffee were served in mis-match vintage cups and saucers which were all collected from car boot sales and charity shops! We made metres and metres of cream lace bunting to go amongst the vines in the greenhouse. There were prop birds sat on the backs of chairs and in the trees and mirrors placed in the trees."
"In the glasshouse the tables were all different shapes and sizes, some seating 12, some just 4. To decorate them we placed a wide a strip of hessian with a white cotton lace border down the centre. A slice of tree trunk was placed on top and on that sat glass domes filled with moss, toadstools and some with butterflies. We also had candles in vintage cut glassware and a burnt orange marigold planted in a tin cans. As a place setting each guest had a white cotton napkin, tied with twine and a dried piece of eucalyptus and rosemary with their name written on a piece of wood. We then filled the napkins with cut out white rabbits so when they opened them, rabbits went everywhere! As favours each guest got a tiny succulent planted in a glass jar and topped with volcanic rock from Lanzarote (we holiday a lot in Lanzarote and got engaged there!)"
"The only thing we'd do differently is that I wish we had allowed more time to set up", Chloë concluded. "We used all the time we had but there were a few things that got missed. Only Josh and I noticed but we had spent time making thing prior to the wedding and when it came to it we didn't have an hour spare to set the up. Also although we didn't have a paid bar, I wish we would have had a bartender. People enjoyed helping themselves and choosing the size of their measures but some drinks didn't get seen in the fridge and ice and slice wasn't always readily available. We had to rely on our brilliant bridesmaids and best men being incredible as always and helping out with making cocktails and keeping people topped up. No one was complaining though!"