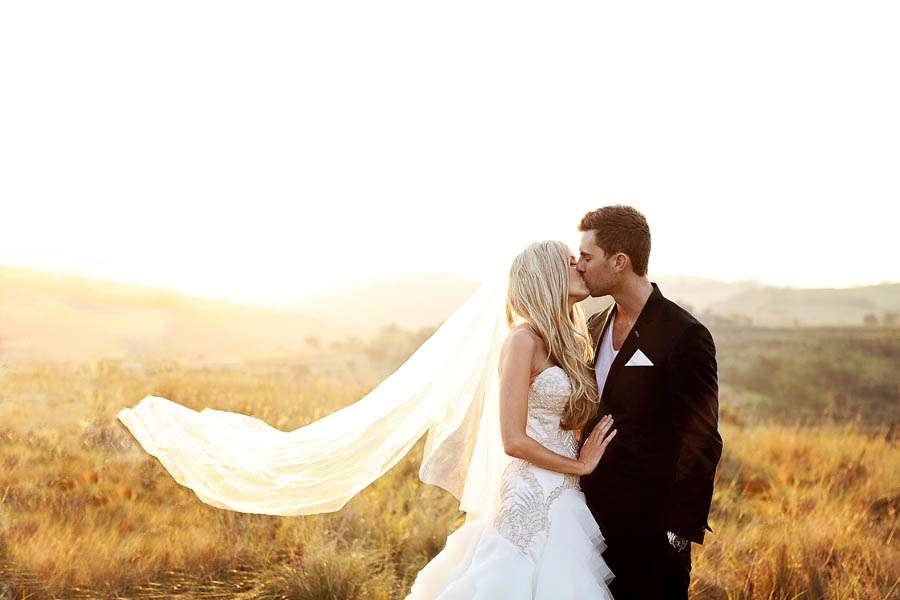 Dear South Africa, you have the most wonderful weddings, Love Kat.
Seriously… seriously… Look at these guys!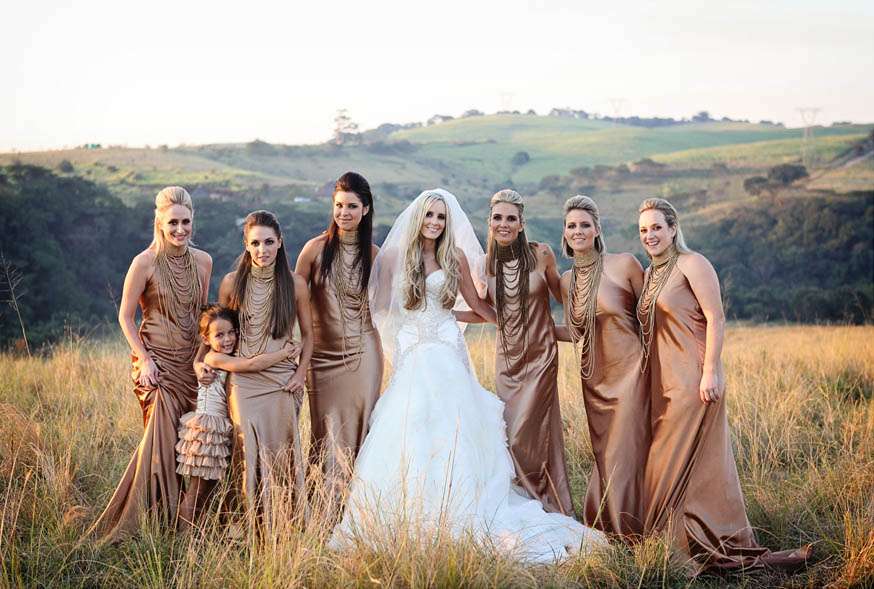 Matt & Sarah were married at Rain Farm Game & Lodge. The ceremony was held by the picturesque infinity pool with the reception inside, in the venue's 'boma', an enclosure traditionally used for livestock. To decorate the space the couple hung a Swarovski crystal chandelier. The table settings were simple and elegant. "We hung a 3 metre long Swarovski crystal chandelier over an elevated central fire", explained Sarah. "Instead of flowers I chose to decorate each table with over 40 pillar candles, some were floating in water, as a contrast to the fire theme. Each candle was set in a unique clear glass vessel.  Some as tall as 40 cm down to small votives. I was inspired by the alter in a cathedral.  I chose fire and candle light to be the focal point of the wedding to create drama and almost a gothic type of feel. This is why I decided to do the bridesmaid's gowns and neck pieces in metallic bronze as it carried the heat and fire and element through. There was no colour, just the warm glow of candles against a white / clear contrast."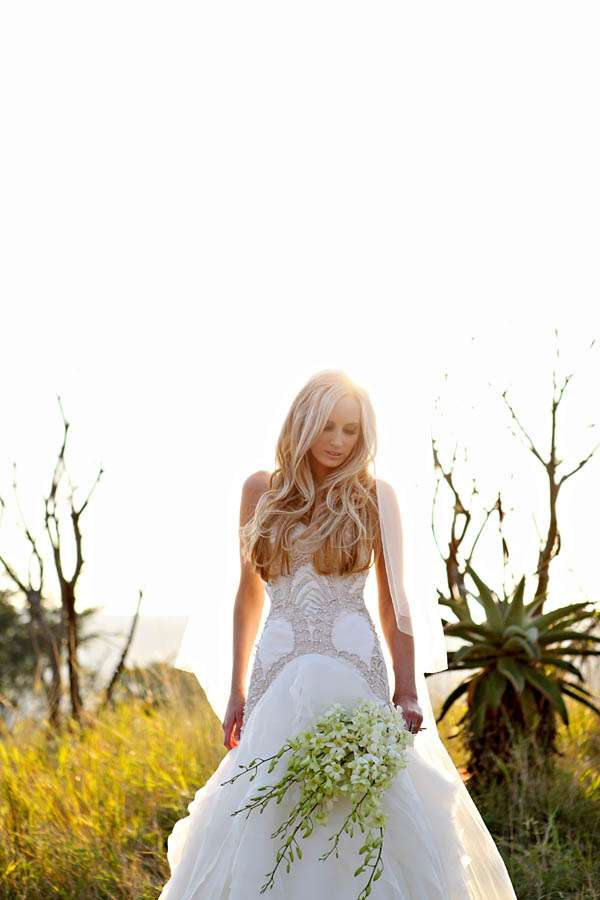 "I was really shy about walking down the aisle. So I loved that we got married on a bridge on the water which were slightly removed from our guests.  We had some of our young friends seated on cushions on the rockery around the edge of the pool which made it nice and relaxed. The beautiful view of the bush and the gorgeous sunny skies made it just perfect."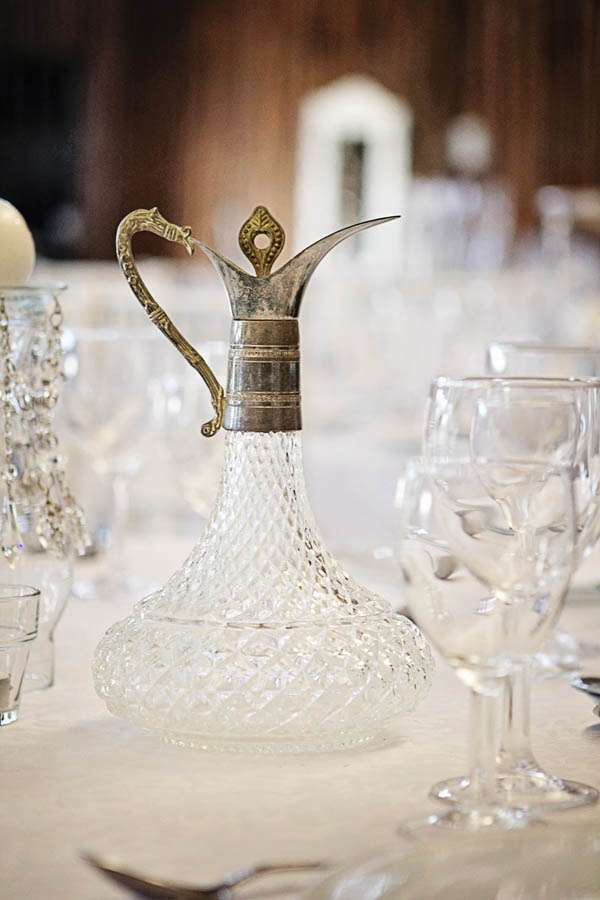 The bridesmaid's look was inspired by Charlize Theron in the Dior 'J'adore' perfume advert. Sarah made their necklaces. The bride wore an elegant wedding gown which she bought online from For You Dresses. "Our theme was based on a fashion shoot", the bride continued. "I didn't want a traditional wedding or any of the cheese that sometimes goes with that so because I am in the fashion industry it just made sense to base it on a fashion shoot. Fashion is what I am most passionate about."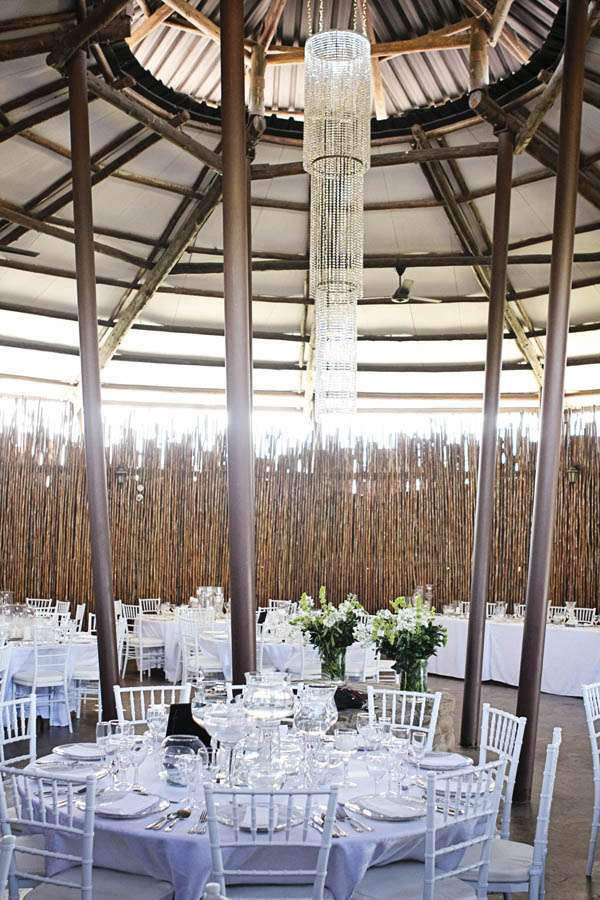 What a gorgeous way to end this week. I feel extra glamorous just looking at these guys… Thank you Matt & Sarah for sharing your wedding with us and to wedding photographer Fiona Clair for sharing her incredible images.
Supporting Cast:
Photography Credit: Fiona Clair Photography
Venue: Rain Farm Game & Lodge, South Africa
Bride's Dress: For You Dresses
Groom's Suit: Carducci 
Hair: Sue Slatter
Make Up: Lisa Bailey
DJ: Kelvin Smith