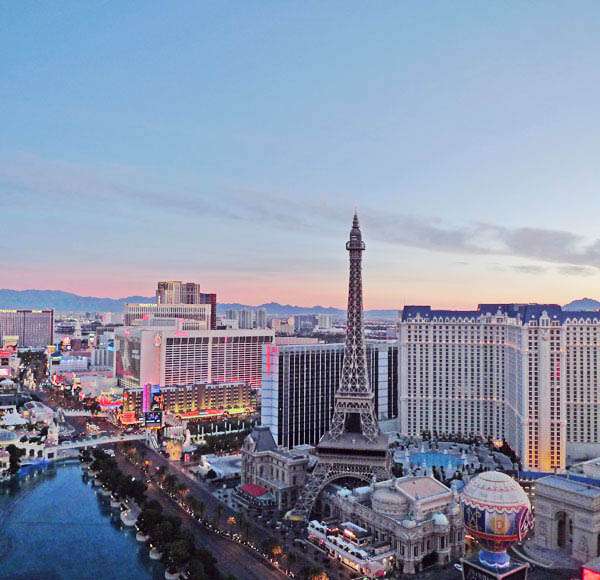 The view from Gala & Nubby's suite at The Cosmpolitan. Not too shabby…
What time is it? What country am I in? How do I form sentences again…?
Greetings. This morning's blog post comes from a head that still hasn't quite got back on UK time. It may have been a week since I landed back at Heathrow, but I'm still finding it hard to get back on track! However waking up at 2pm and going to bed at 4am could work for me I reckon…
Those of you that follow me on Twitter or Facebook will have been lucky (or unlucky, whichever way you look at it!) to have been force-fed regular updates from my Las Vegas adventure over the past few weeks, but today I thought it necessary to put off getting back to work just a little while longer in order to share some of my favourite photos and fun times from Viva Las Vegas.
I'm sure some of you are sick to death of hearing all about it already…sorry about that…but for the rest of you I hope you enjoy this extra epic extra huge post dedicated to one of my new favourite places, the city they call Sin…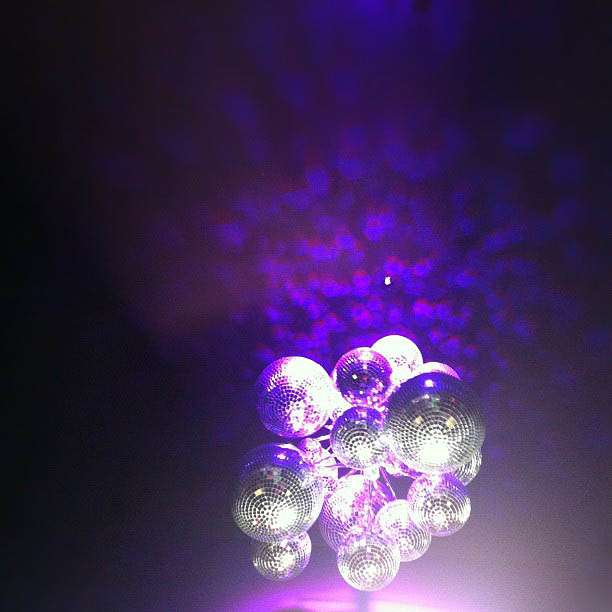 Glitter balls at Gallery Nightclub, Planet Hollywood
I visited Vegas primarily for WPPI with David & Lisa, however I was also lucky enough that my girls Gala & Nubby came into town at the same time so we were able to hang out and do fun girly things all week! Soooo what started as just another work trip was transformed into a magical holiday packed with full on adventure, sequins and giggles (oh so many giggles!)
Warning this is a really long and very image heavy post! I suggest a cup of tea and a hobnob or two while you have a nosy through…
Day 1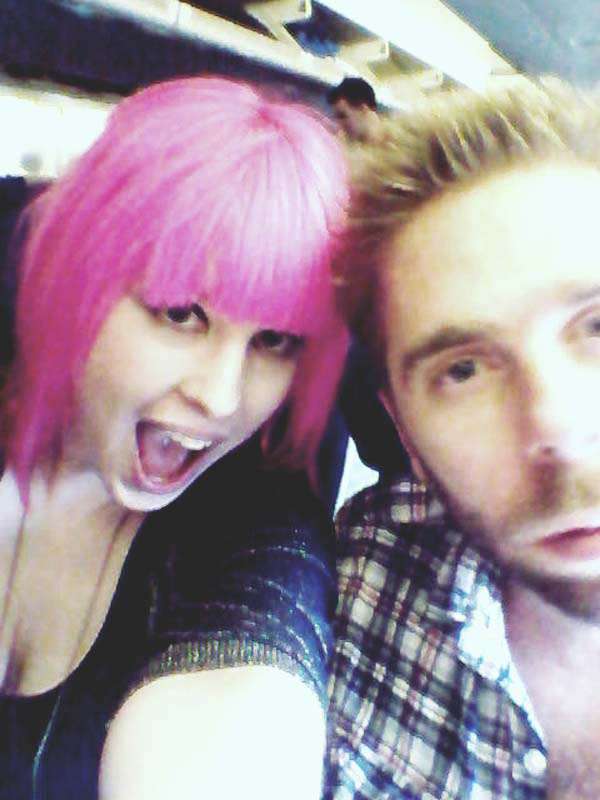 Excited on the plane (please excuse crappy front-facing camera phone photo!)
David & I arrived early evening on Thursday. Feeling a little worse for wear jet-lag wise we kept our first night simple. We went for a wonder down The Strip from our hotel, The Stratosphere, and ended the night with a few drinks in the hotel bar. I'll be straight up honest with you, I wasn't too sure about our hotel before we got there. It pretty far up Las Vegas Boulevard, right at the north end and just before you hit the downtown area, and wasn't anything like the fancy smancy themed ones that everyone else we knew seemed to be staying in! However it was way cheaper than a lot of the other hotels, since we hired a car it was easy to get into the hub of Vegas, just 5-10 minutes… plus parking in all the hotels is FREE. Amazing! Hiring a car was the best thing we did as although cabs are not too expensive (about $15 + tip from one end of The Strip to the other) they certainly do add up!
Day 2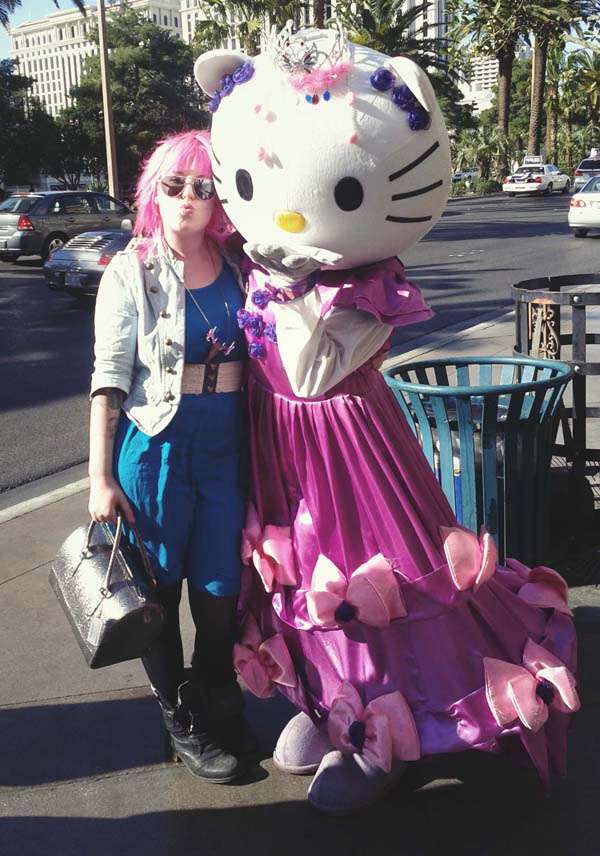 Oh, Hello there Kitty!
What happens in Vegas stays in Vegas right?! After a day of wondering around and getting our bearings (and posing with the locals see above…) David & I decided a proper night out was in order. We started off by meeting Erin of Knot Couture who I've chatted to a lot online, before heading to see…The Chippendale's!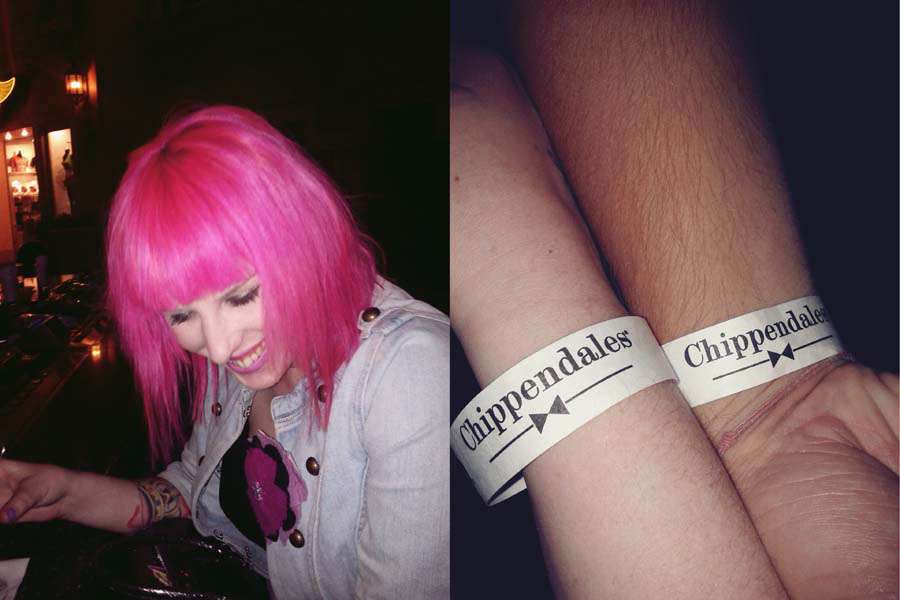 It wasn't grown up, clever or classy but oh boy was it funny! The girls who were called up on stage to do 'tasks' with them were seriously brave (or just very drunk!) If you're in Vegas with some like-minded silly friends I'd totally recommend letting your inhibitions go and seeing them. Perfect for an unclassy hen do!
We ended the night by dancing to the wee hours at a 24 hour nightclub (yes, only in Vegas could a 'day club' be as popular as a night club!) We felt roughidy rough rough rough the next day but it was worth it!
Day 3
Feeling slightly delicate, we took day 3 at a nice slow pace. We tried out the oxygen bar in our hotel which was surprisingly brilliant for our hangovers, followed by an IHOP breakfast.
Then it was time for shopping at the premium outlets (which I didn't really rate…the options were very generic and bleeeugh) as well as mucho posing with silly hats in the tacky gift shops. This was much more up my street!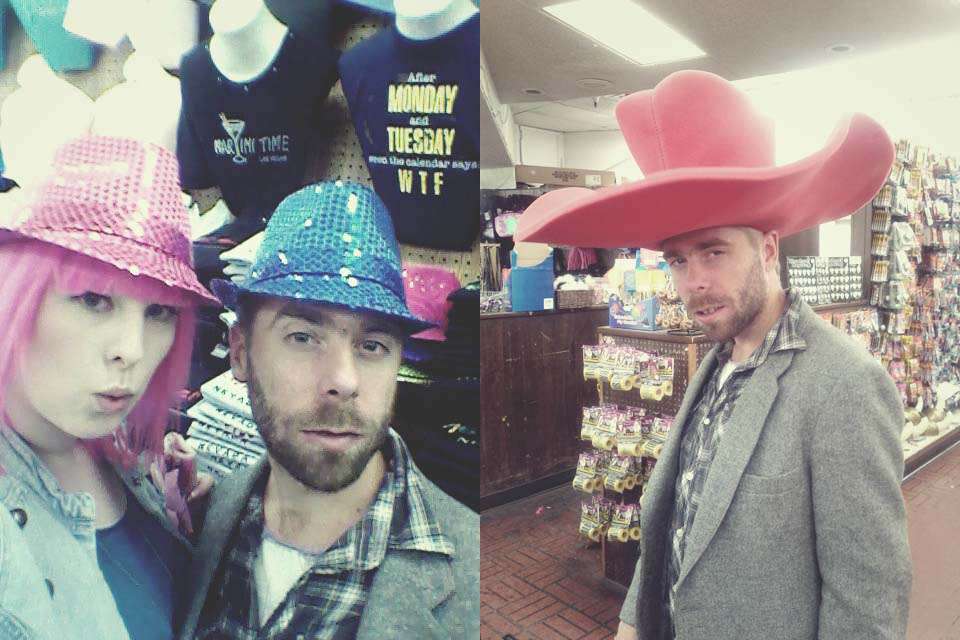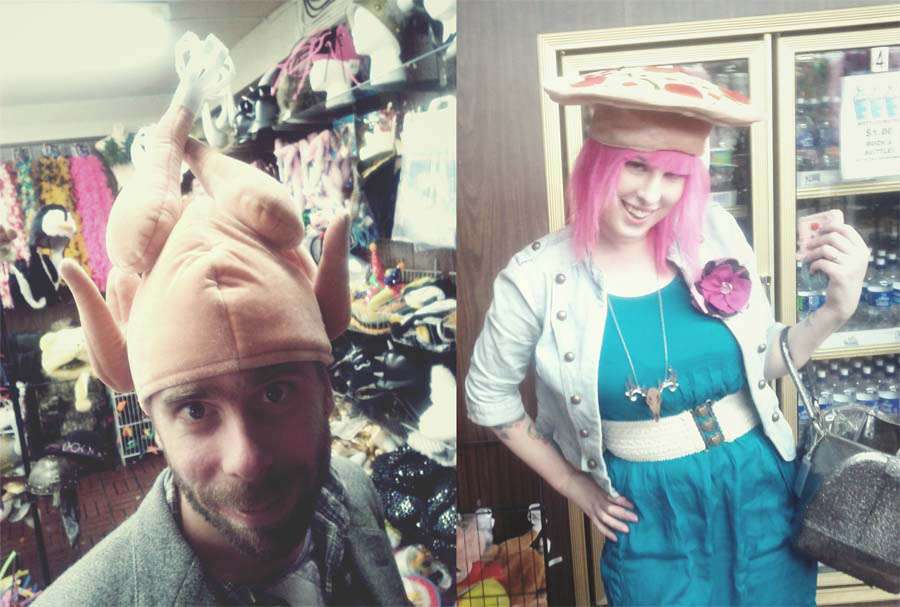 Well who wouldn't want to look like a chicken or a pizza?!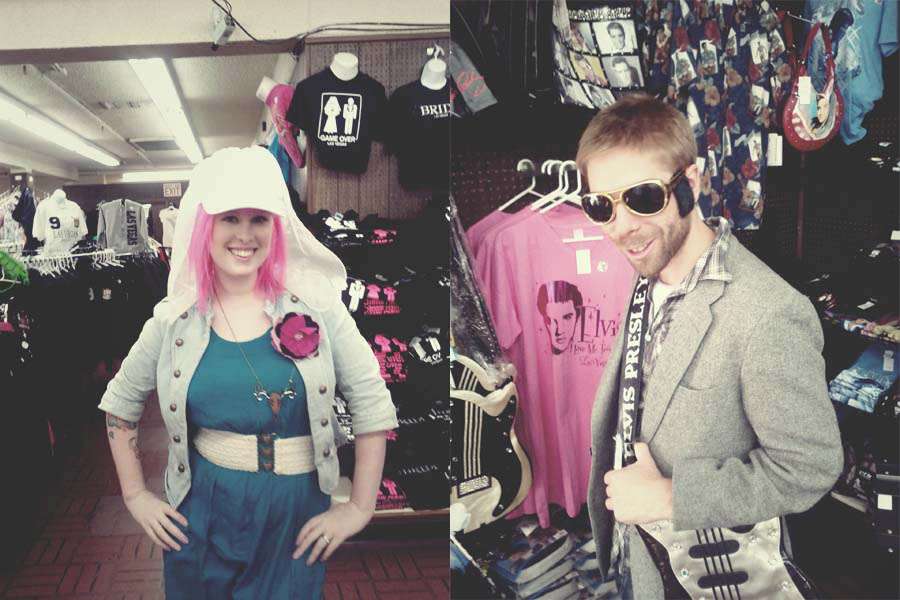 Our friends Lisa & Amy arrived on Saturday night and we had a yummy tapas dinner at Firefly. Although we had to wait over an hour for a table, the Hendricks martinis made it worth the wait!
Day 4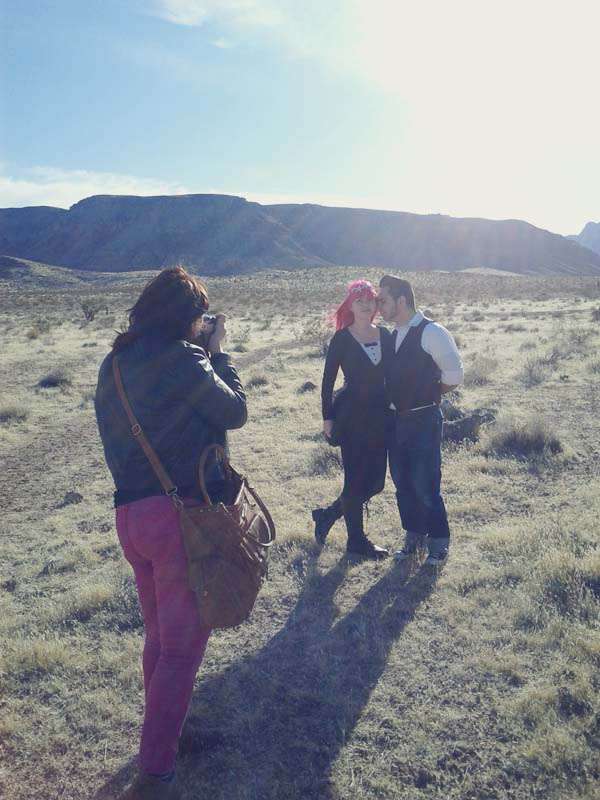 After a few hours at WPPI and the most disgusting Mexican food I've ever eaten (chocolate on chips anyone? I kid you not!) it was time for our first shoot of the trip. Danielle & Jose, who I had met with Gareth in LA last August, were also in Vegas for a holiday (I also featured their gorgeous wedding on these pages back in September 2008!) so we decided to hang out and Lisa offered to do a mini shoot with them in the desert.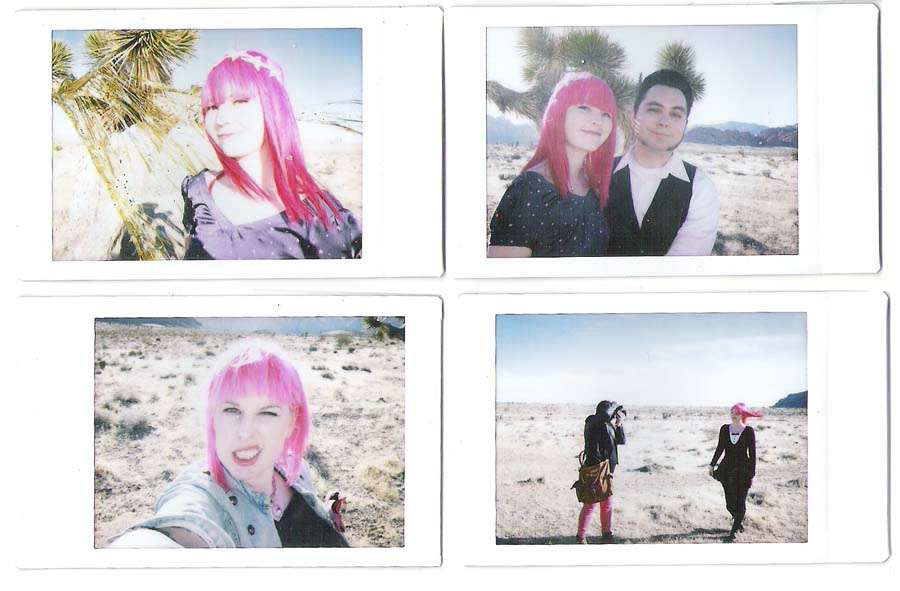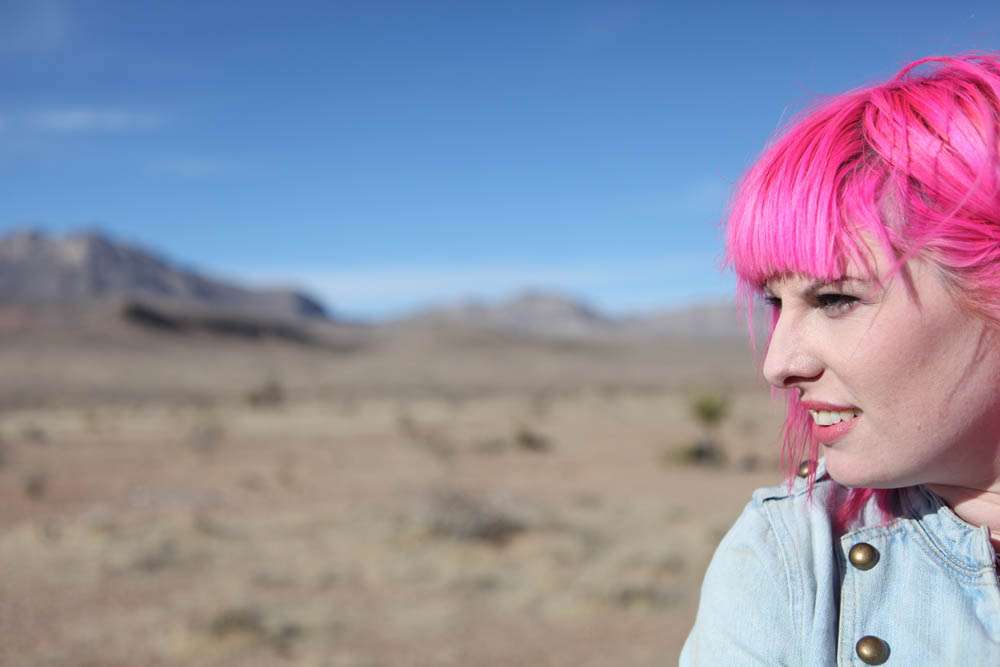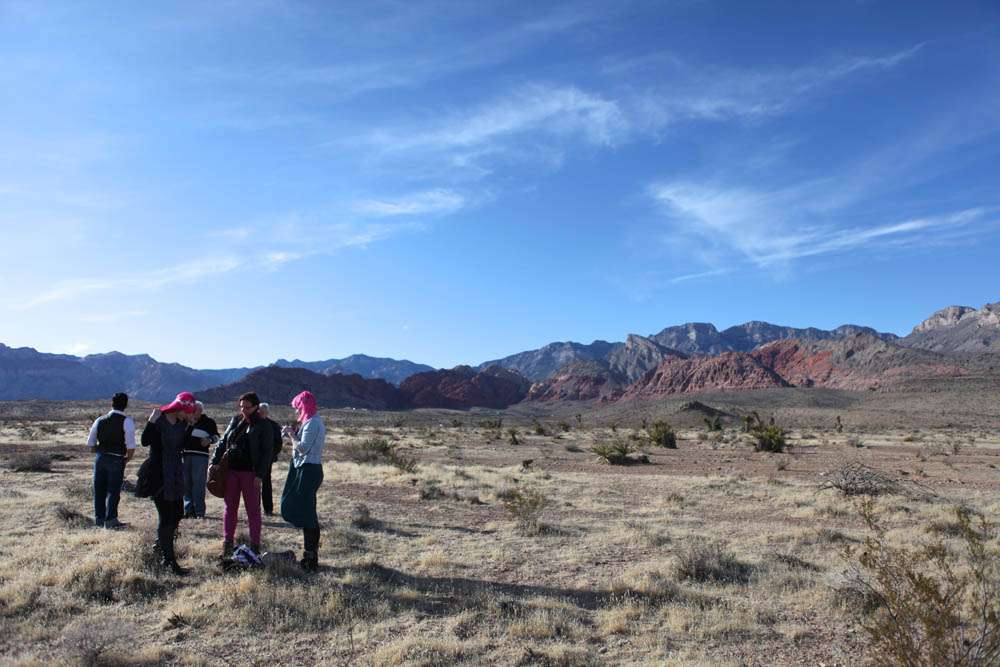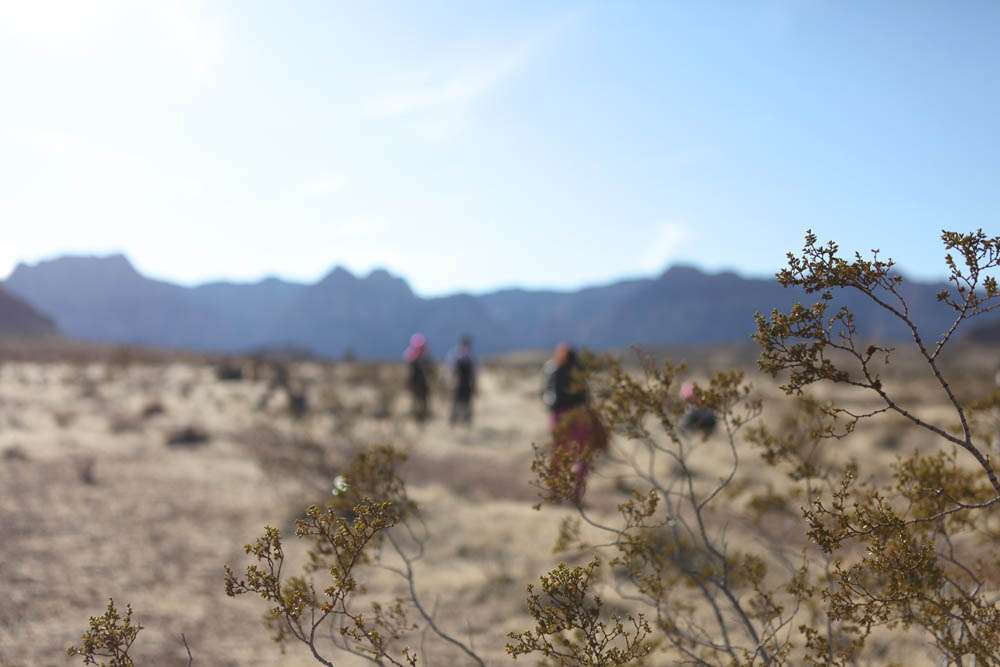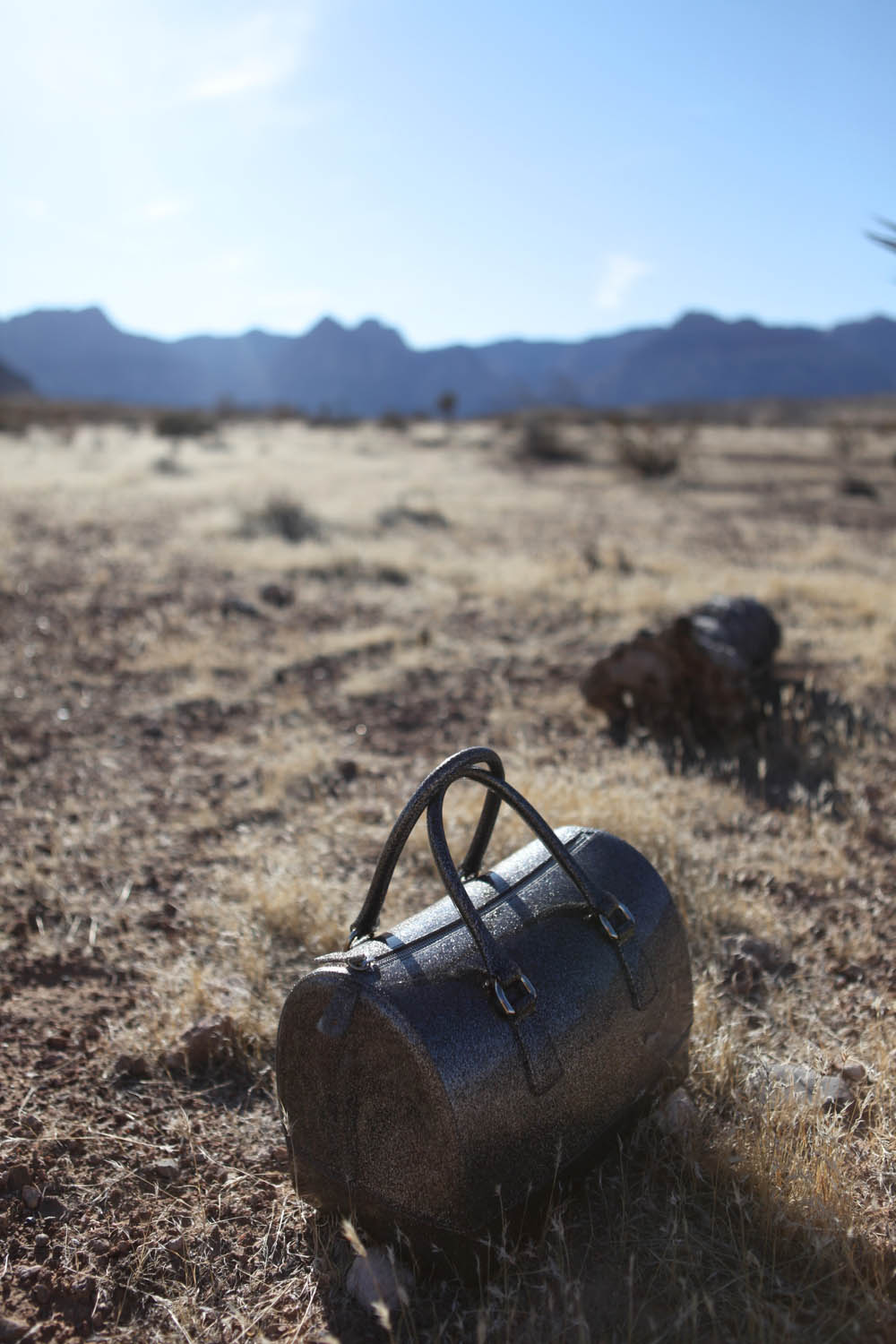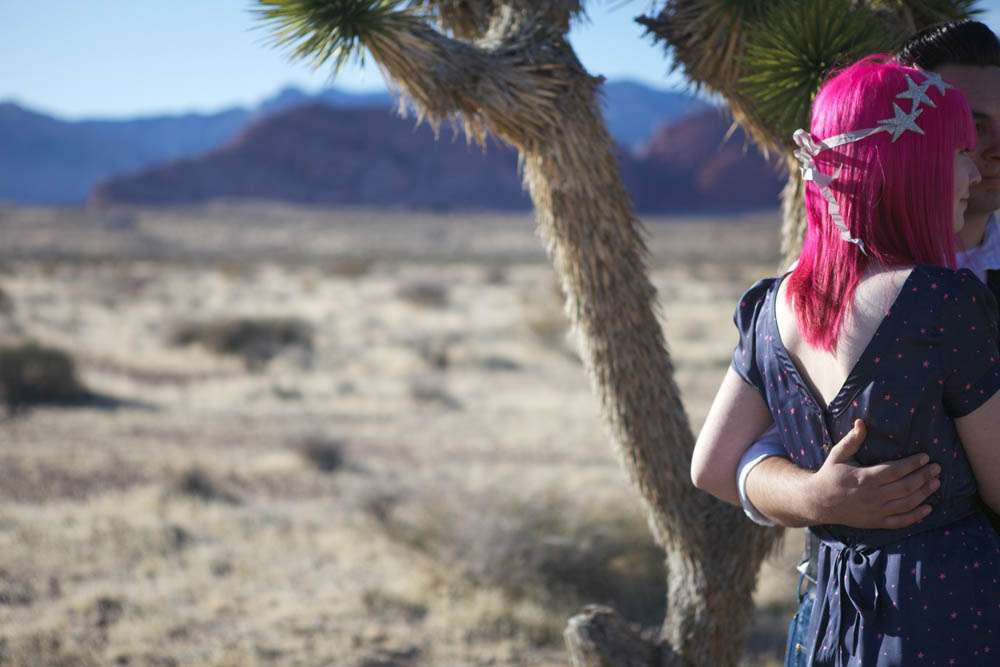 Photography Credit: Amy Bartlam Photography
After getting annoyed (and slightly scared we were going to get murdered) by weird old drunk men in a car, who insisted on not only watching us shoot but trying to help…eek… we wrapped the shoot and headed back to Lisa & Amy's Hotel, The Hard Rock, for cocktails and dinner. I loved their hotel, it has such a cool vibe and all the waitresses were wearing Mötley Crüe tee-shirts!
By the way, how do you like my Disco Tree?!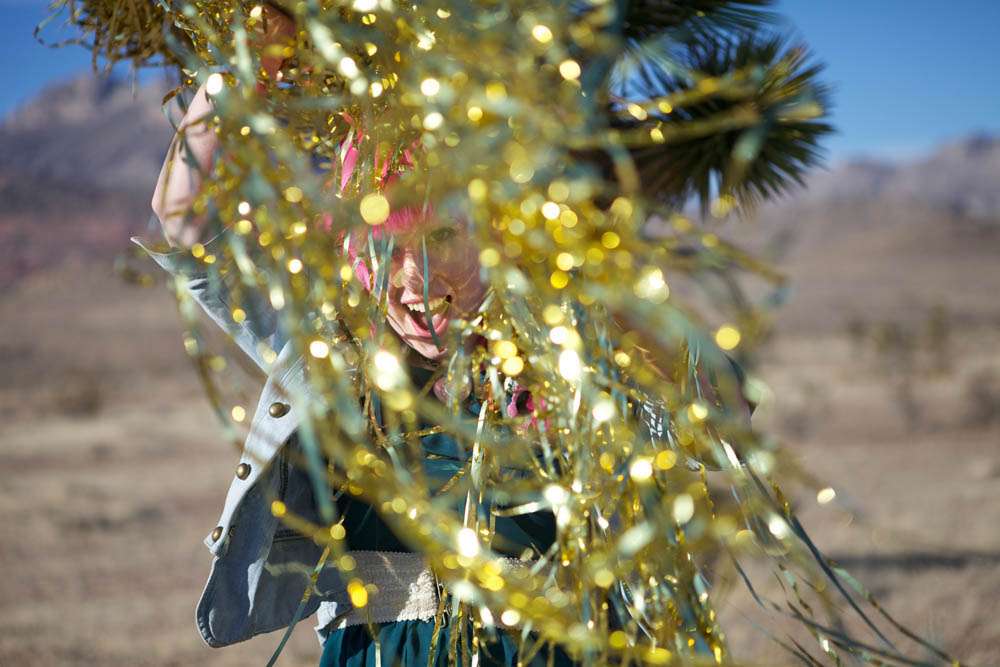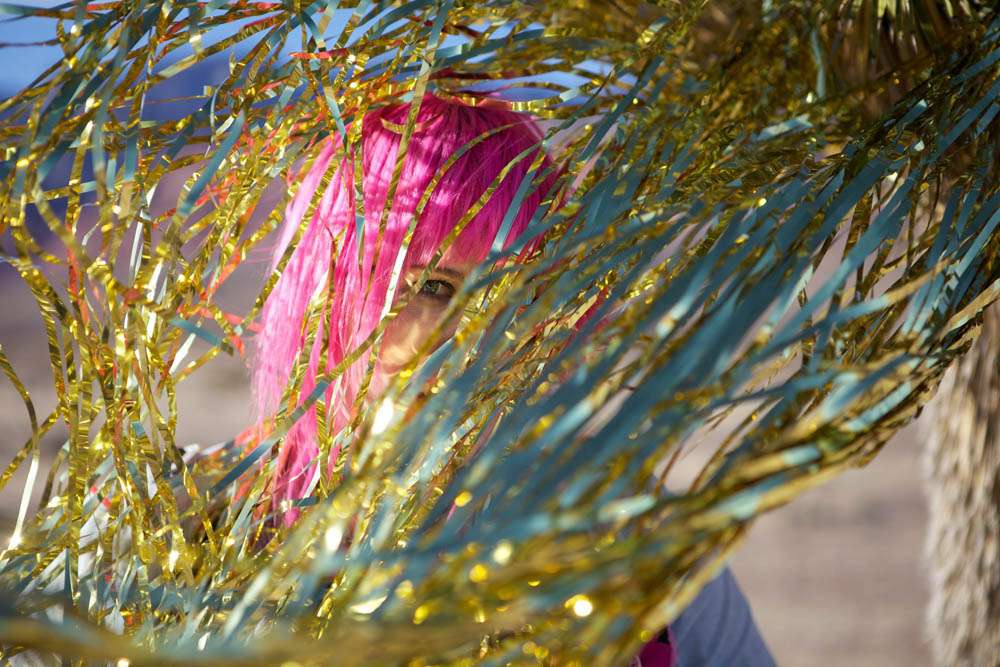 Photography Credit: Amy Bartlam Photography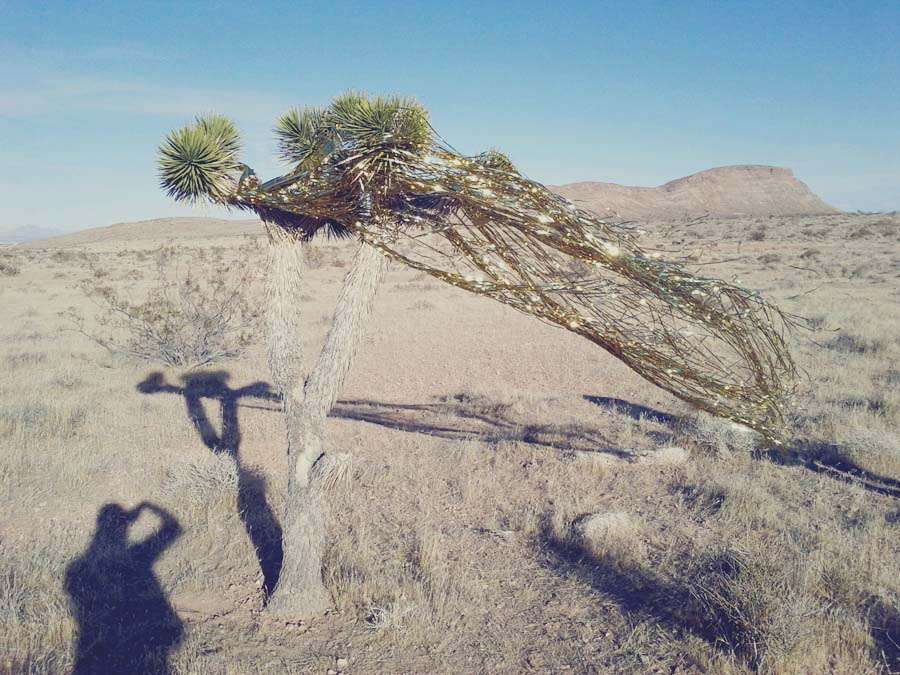 I'll be blogging Danielle & Jose's desert shoot in full soon – I can't wait, these two are seriously cute.
Day 5
Monday was my main day at WPPI as well as the day Gala & Nubby arrived. Walking around the trade fair I met SO MANY of my photography/blogging/internet idols including Jesse from Our Labor of Love, Kelly Moore, Carina & Amanda from Love Me Do Photography, Jesh de Rox, Encarnacion Photography, Justin Lyon, Tab McCausland, Jasmine Star, The Flashdance, Nate & Jaclyn from The Image is Found & from Christy from Junebug Weddings to name a few. I'm not even going to pretend that I kept my cool because I certainly did not!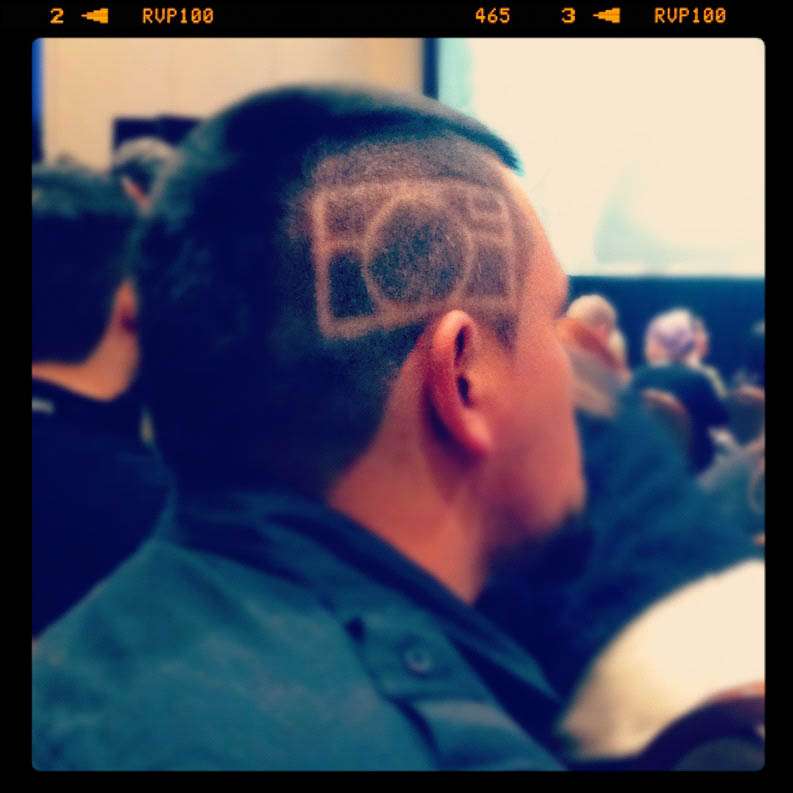 I don't think this even needs a caption does it?
I think I actually squealed at Jesse from Our Labor of Love. Sorry about that Jesse…
I also went to see my girl Jasmine talk. A million cool points to the first person to spot me (easiest game ever!)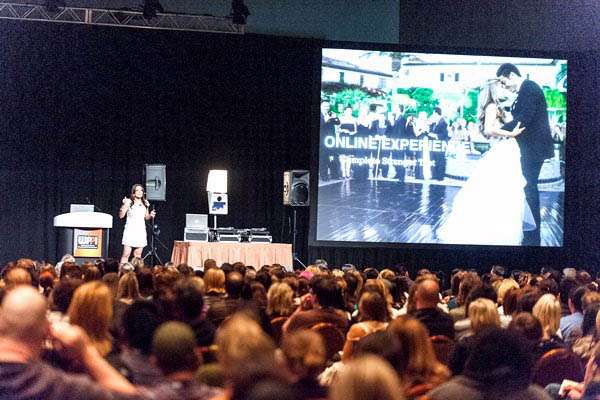 Photography Credit: Art Suwansang via WPPI on facebook
She was amazing as ever and even though I've heard her speak before, I still left the room feeling seriously inspired. She was somewhat mobbed by fans after she'd finished her session so I couldn't get a photo with her, but I couldn't leave without running to the front, pushing in, giving her a massive hug and telling her how fabulous she was. I only wish we could have hung out more but there was so much else going on (for both of us!)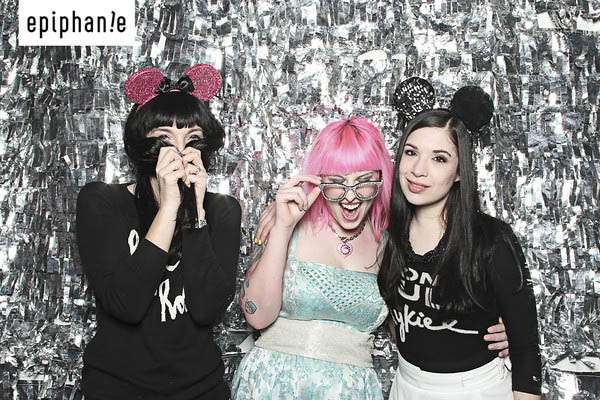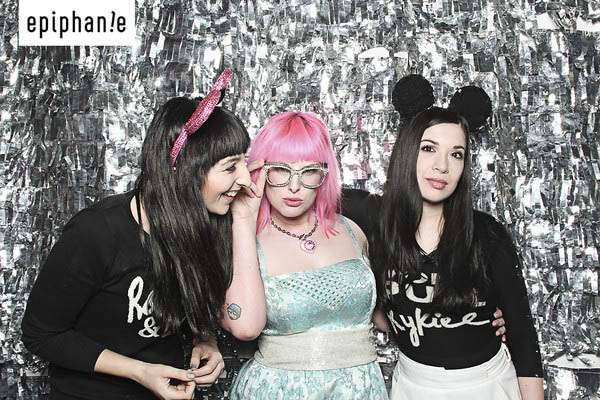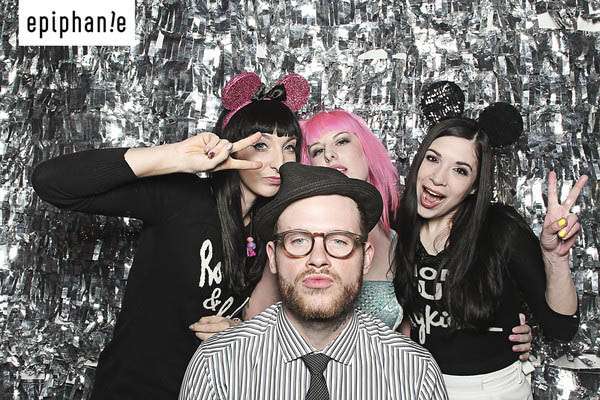 Monday night was the Airplanes and Blazers party hosted by the iconic 'The Flashdance' DJ. I'm not going to lie, I've been wanting to attend this party ever since they launched it two years ago. It was held at Gallery Nightclub in Planet Hollywood and although the drinks were a bit expensive ($18 for a glass of champers or $7.50 for some bottled water anyone?!) David doing karaoke and the Smilebooth made it hella fun (you can see more of us posing here!) After a little while Gala, Nubby and I went in search of adventure…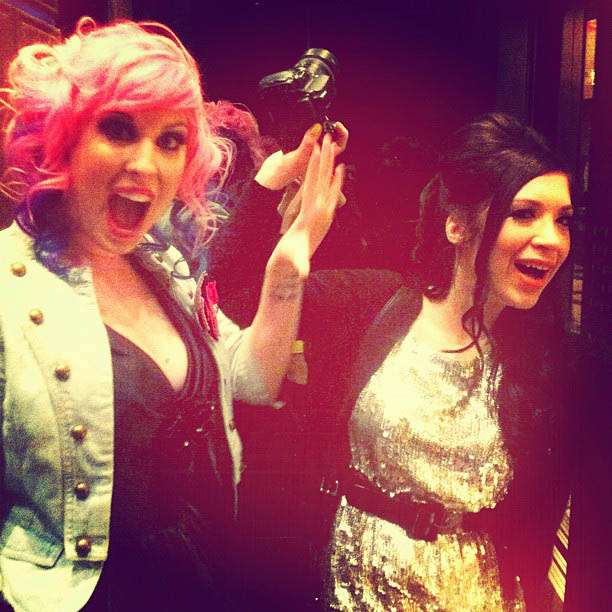 We finished the night with an elevator dance party (which became standard practice whenever we got into one) and ill-advised and over-priced room service. Whoops.
Day 6
Gala, Nubby & I did what we do best…shopped! Our plan was to hit the vintage hot spots and bag some accessories and outfits for our shoot the following day but alas our search was fruitless (whoever said vintage shopping in Vegas was good was lying!) Two expensive cab rides and countless wanders up and down Fremont Street and we still left empty handed…in fact we didn't find one decent vintage shop!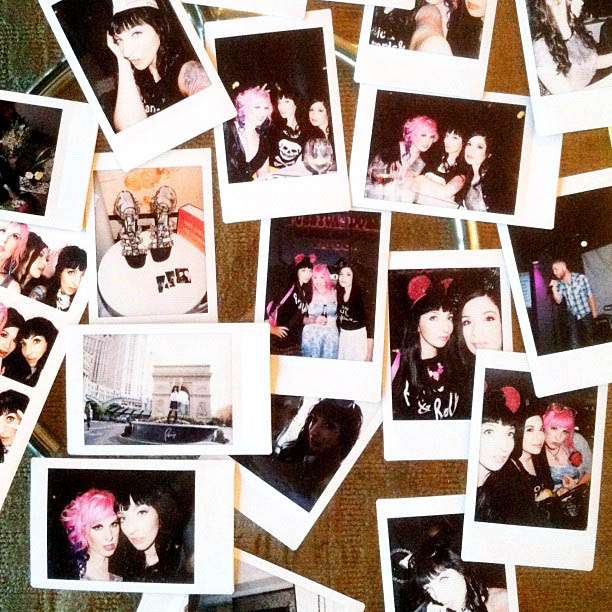 The trip wasn't a complete bust however as we did get free Krispy Kreme doughnuts (we still can't work out why the guy wouldn't let us pay!), had scarily accurate fortunes told and took a lot of silly photos!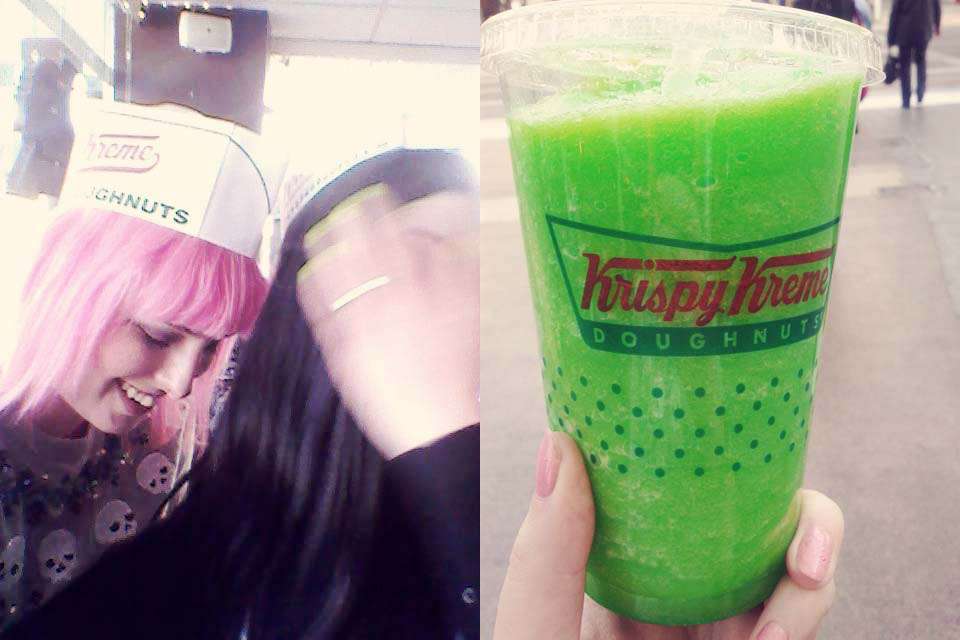 Day 7: Shoot Day!
We all know I love a good pose and Gala & Nubby aren't immune to this vice either, so it was only right that we would do a photo shoot to document our trip together.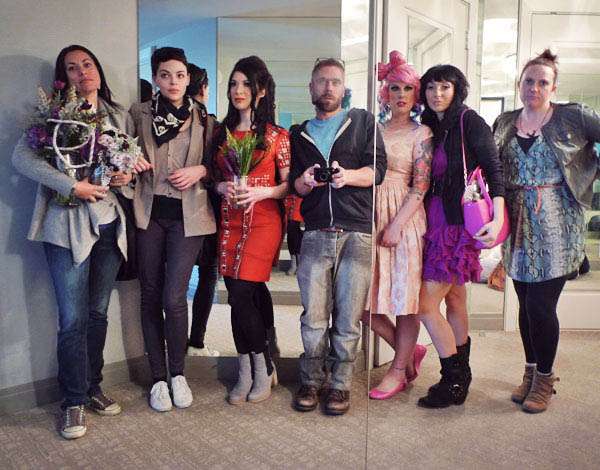 A quick snap before the shoot
I'll be writing more about what we did, who helped us, what we wore etc when I publish David & Lisa's official photos (next week!), but let me just assure you that it was AMAZING. Trailer parks, air streams and the most freakin' awesome ghost town made for something truly magical.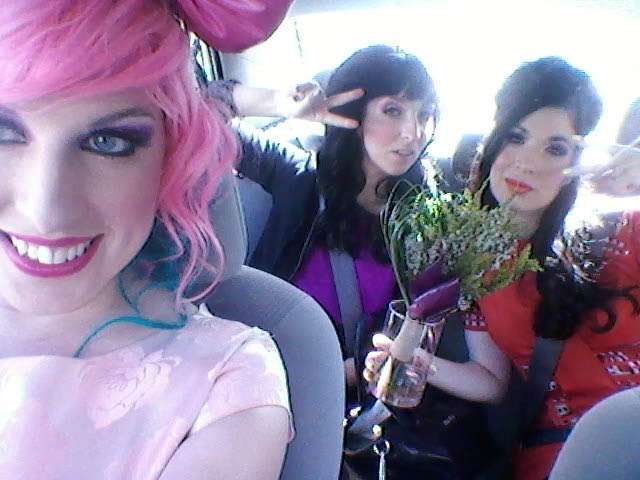 Pre-shoot excitement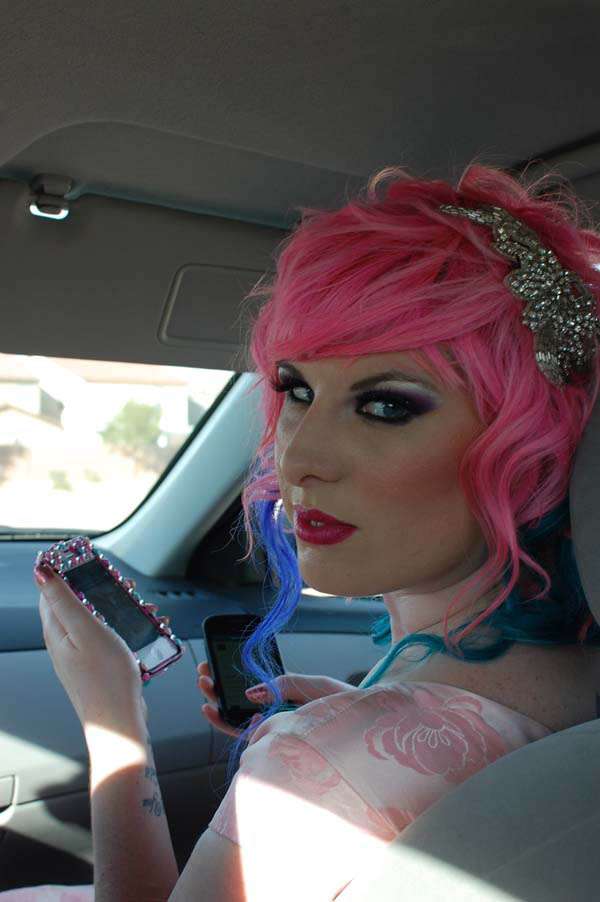 A blogger's work is never done…
Some behind the scenes shots. Are you excited yet? Are ya?…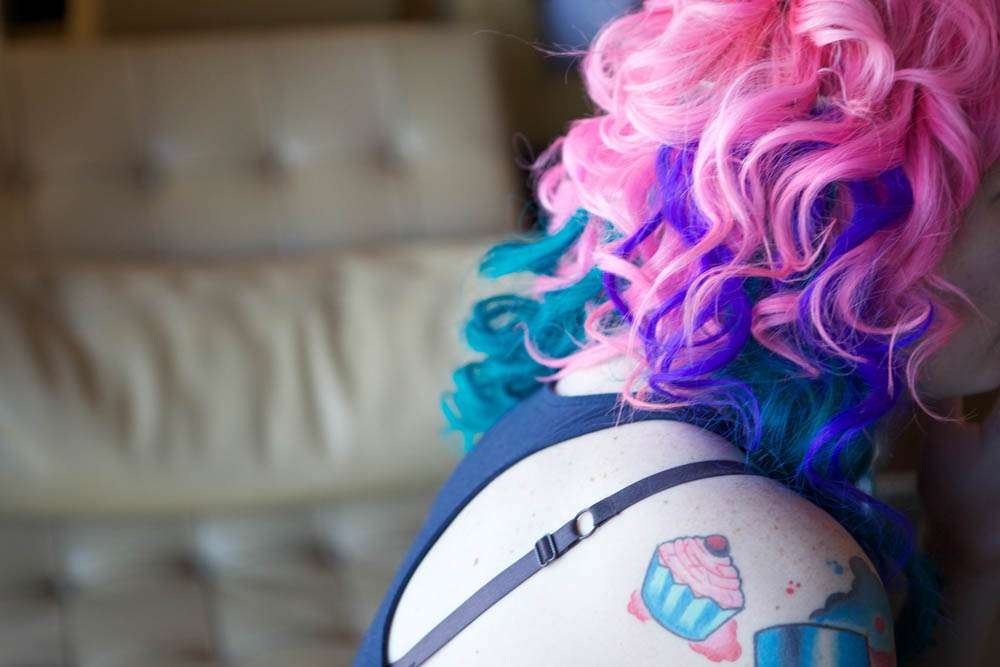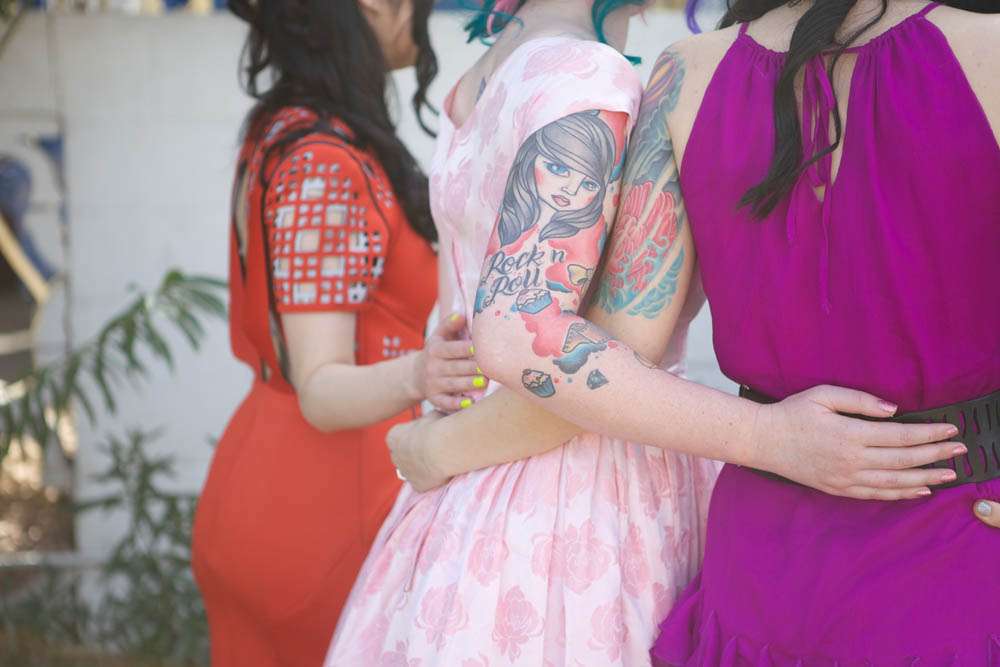 Your Beauty Call who did our hair & make up seriously killed it.
Photography Credit: Amy Bartlam Photography
It was quite different for me to not be in a wedding dress for once although my beautiful black number was made for me by Charlotte Balbier. I am head over heels in love with it.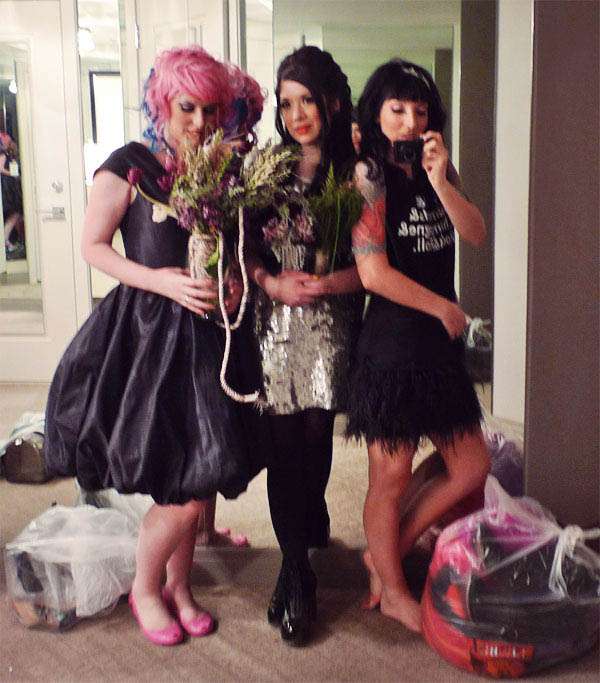 The aftermath of the shoot – big bags full of clothes, wilted flower and looking a lot less chipper…
We somehow managed to drag outselves out for dinner and I even ran into some Rock n Roll Bride readers who has just got married that day!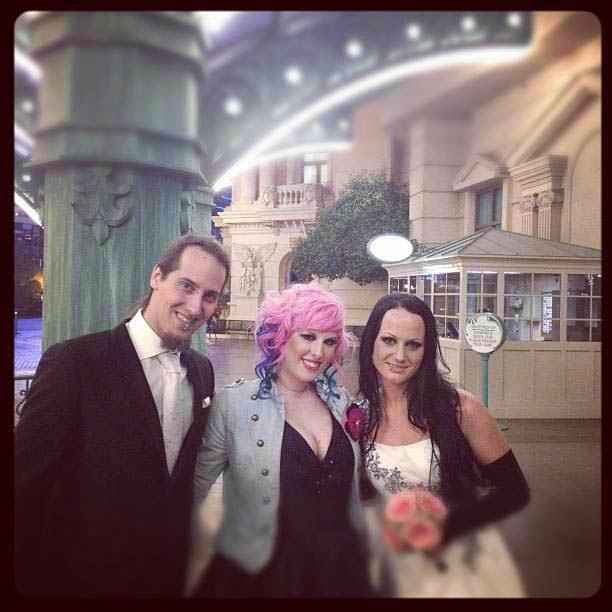 Day 8
Today basically consisted of hanging out…shopping…giggling…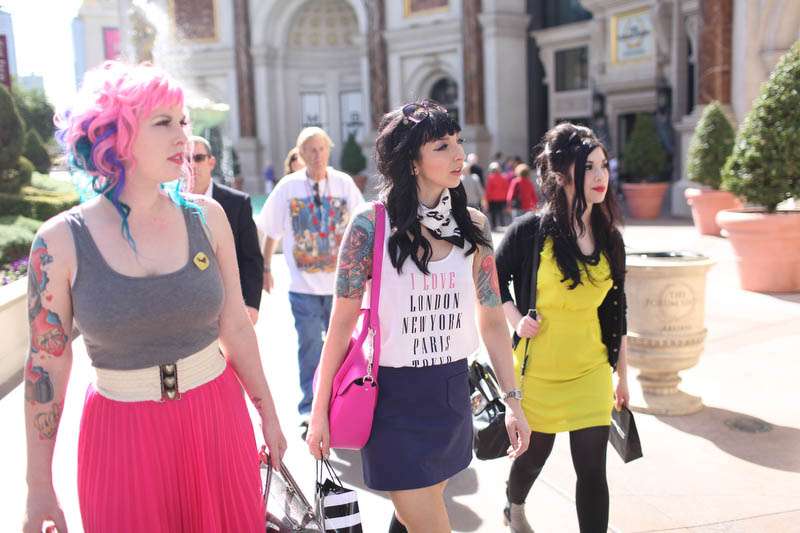 'In' jokes…long walks up and down The Strip…glitter…Sephora…MAC sprees…Pizza parties…photo booths…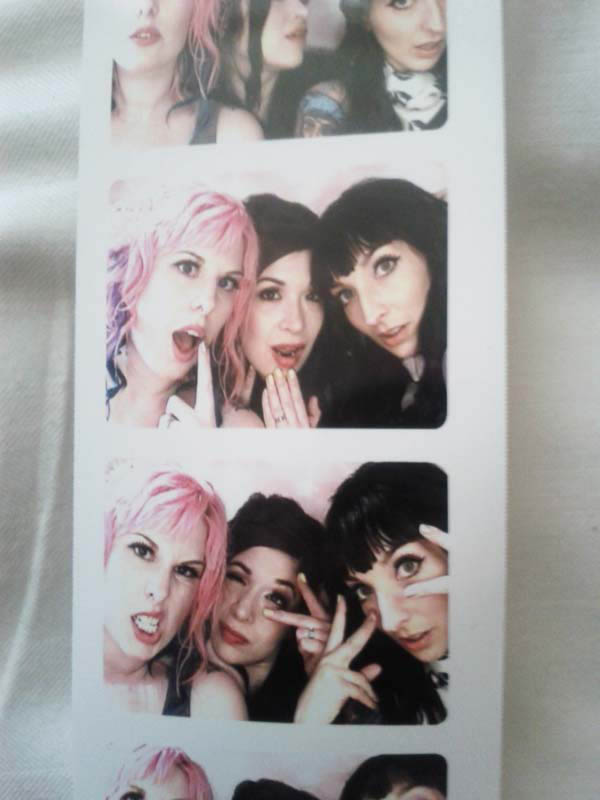 Ben & Jerry's whilst watching a Michael Jackson impersonator (who started out being funny but ended up just being creepy – there were way too many crotch thrusts for our liking!)…getting dressed up for one last dinner…delicious boozy milkshakes…posing with chains in The Cosmopolitan Hotel…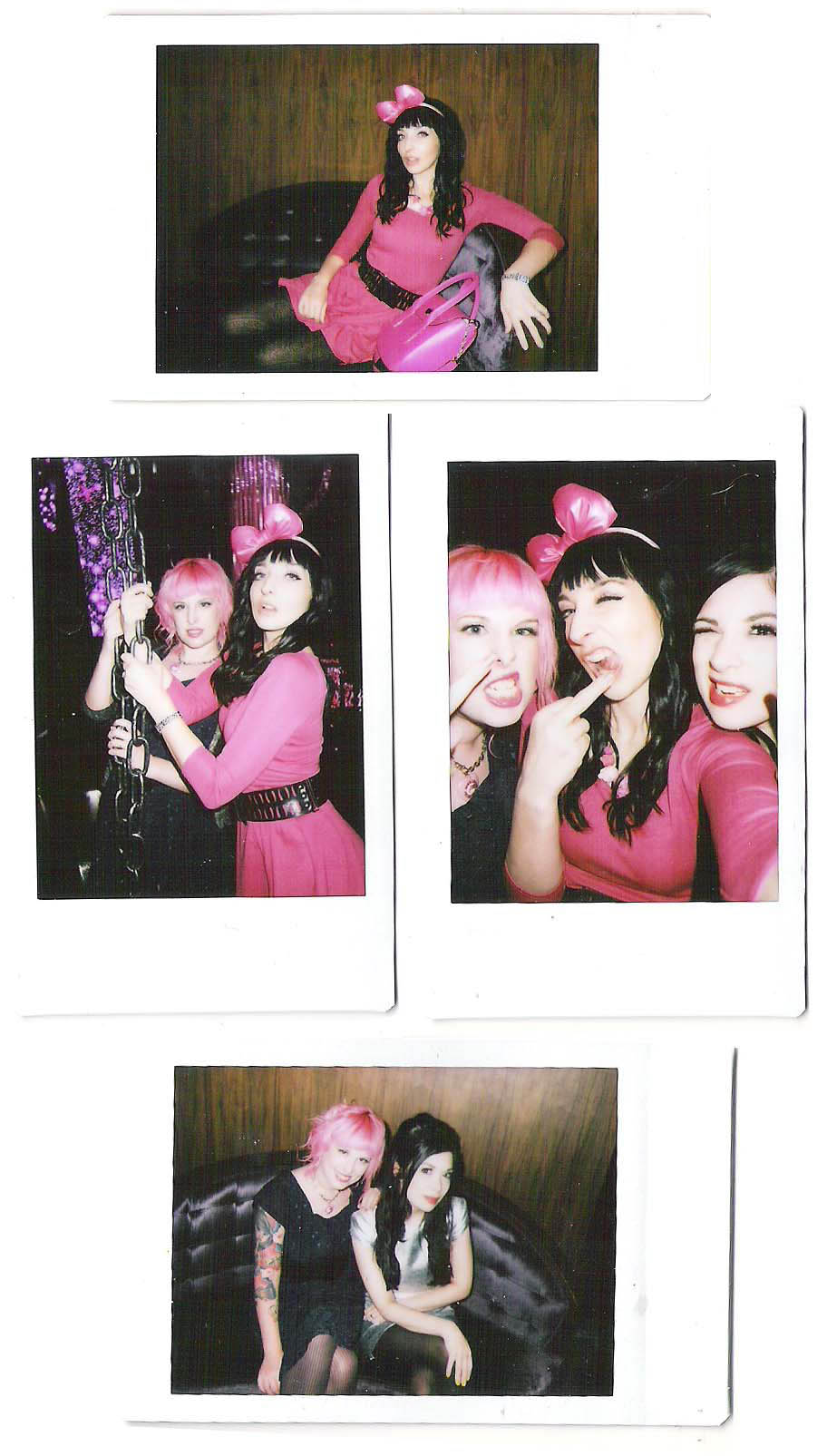 Indoor outdoor shopping in Caesars Palace (so weird!)…finding fabulous backdrops for portraits…posing with cabaret girls…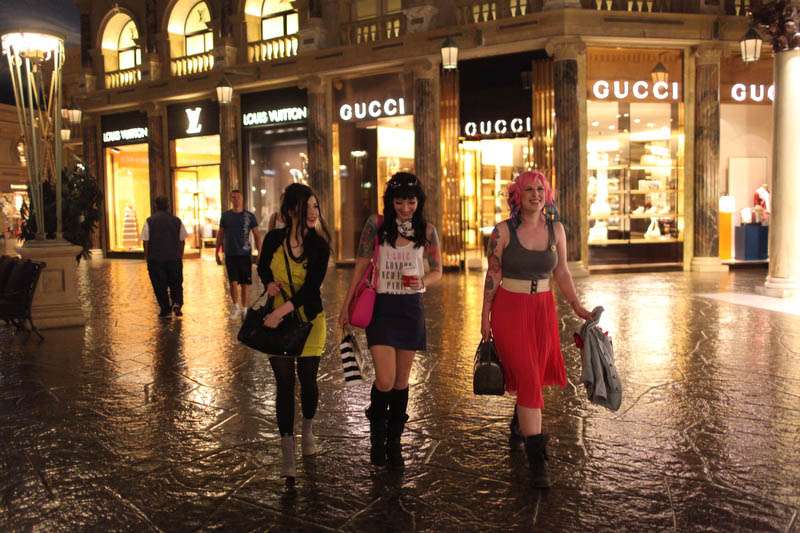 Nubby & I both fell in love with some $1000 rhinestone trainers…as you do. One day we'll be able to afford them!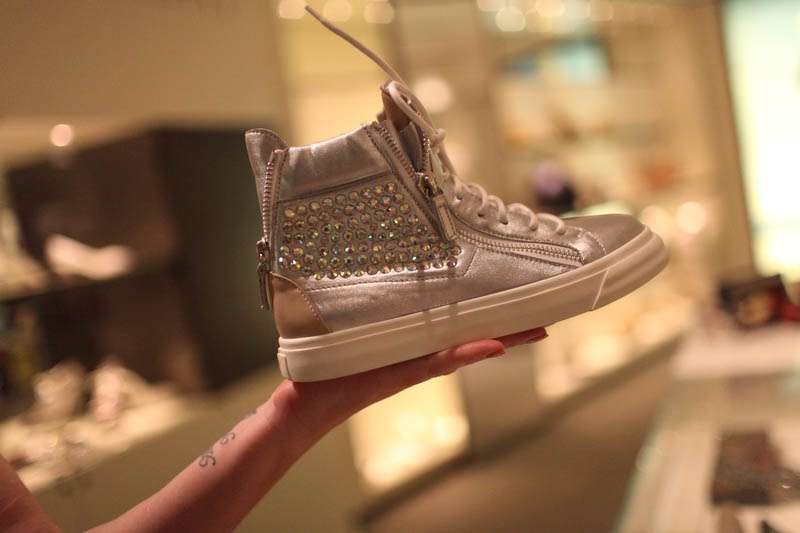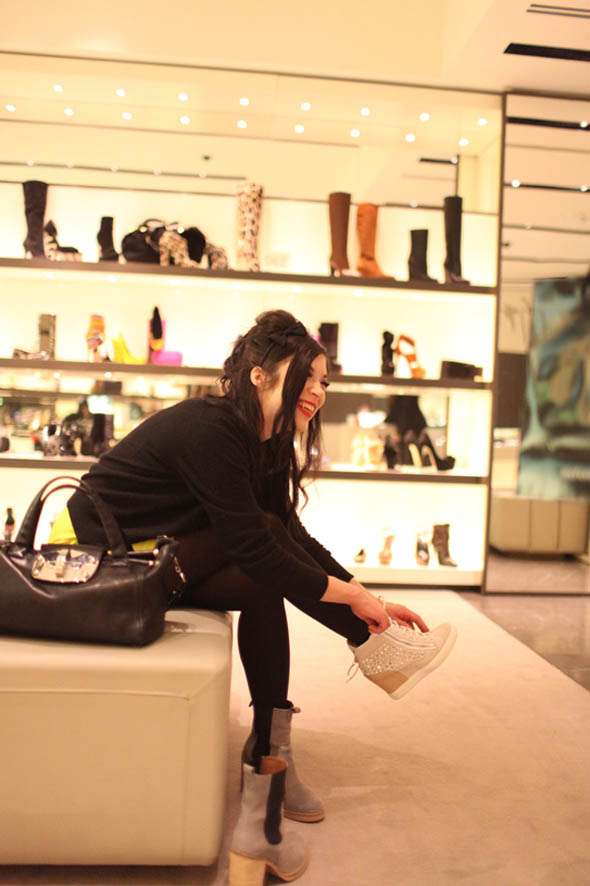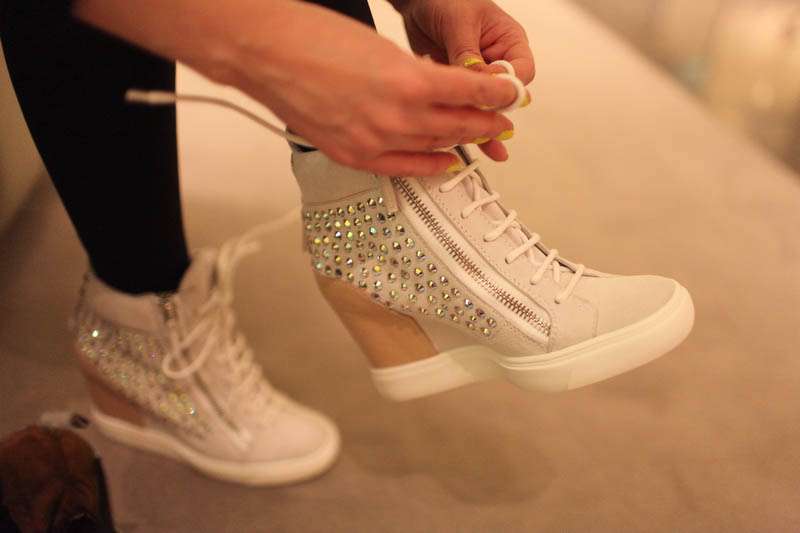 We also all went a little nuts in MAC. The packaging of the new line is so amazing!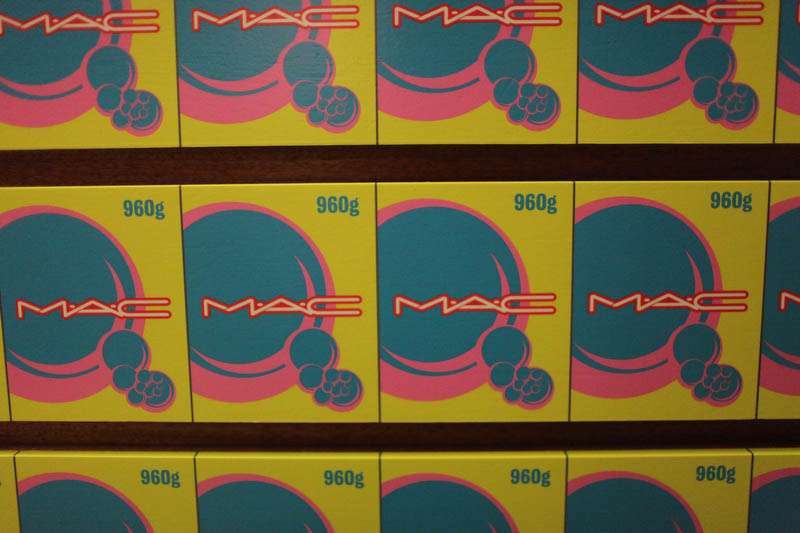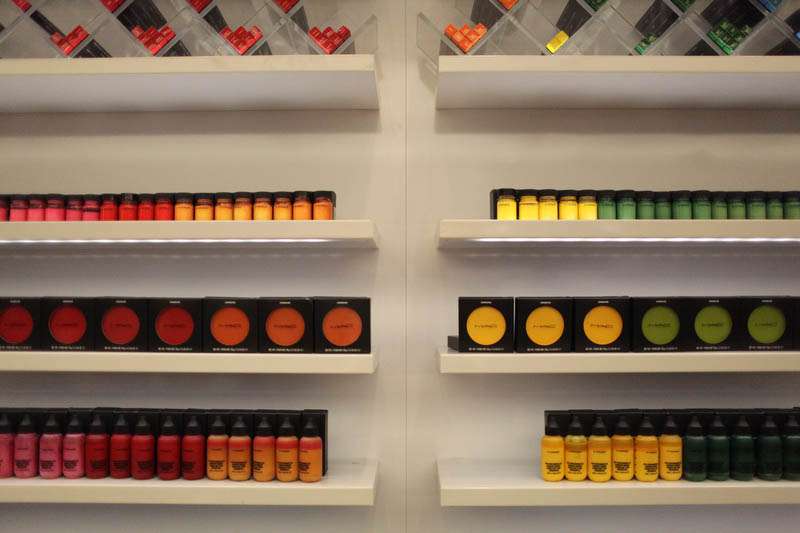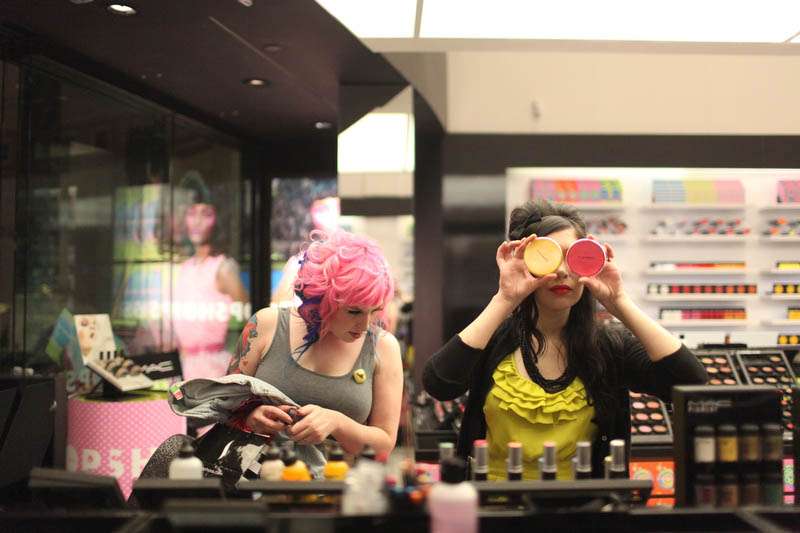 There is sparkle everywhere in Vegas, hence why I love it!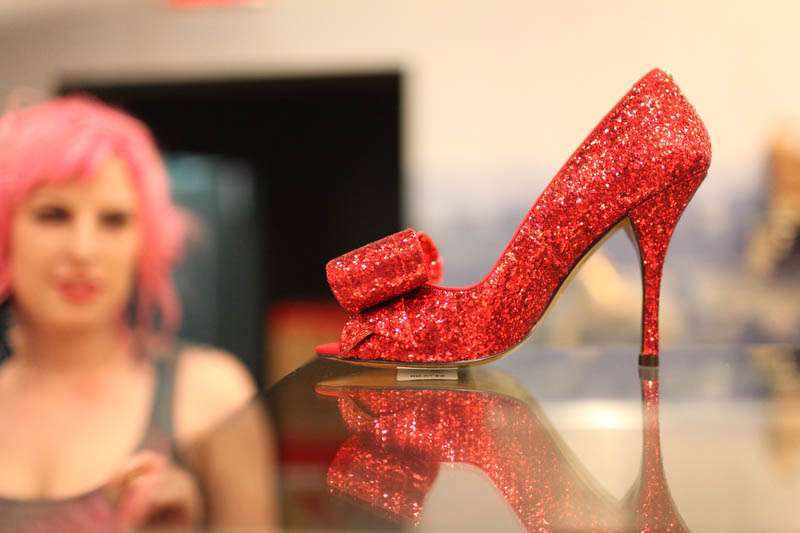 Even the women are sparkly…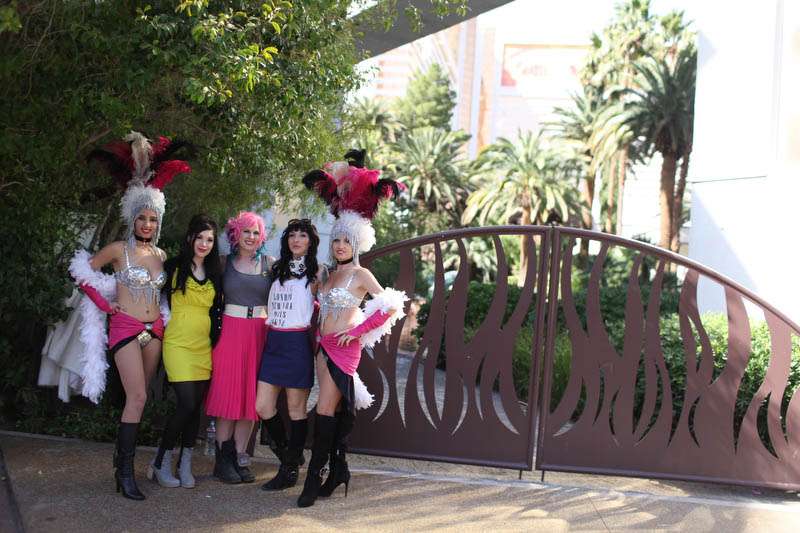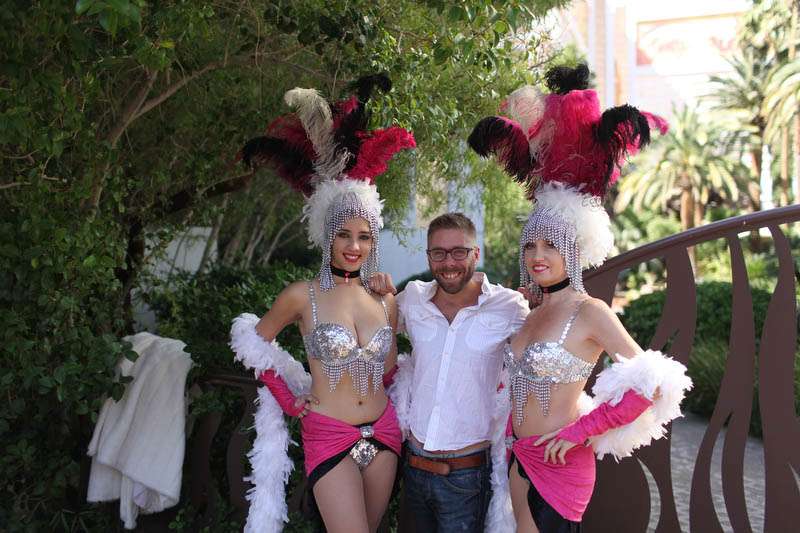 There's a Kate Spade store opening in Caesars Palace soon and this wall advertising that fact was just begging to be posed in front of…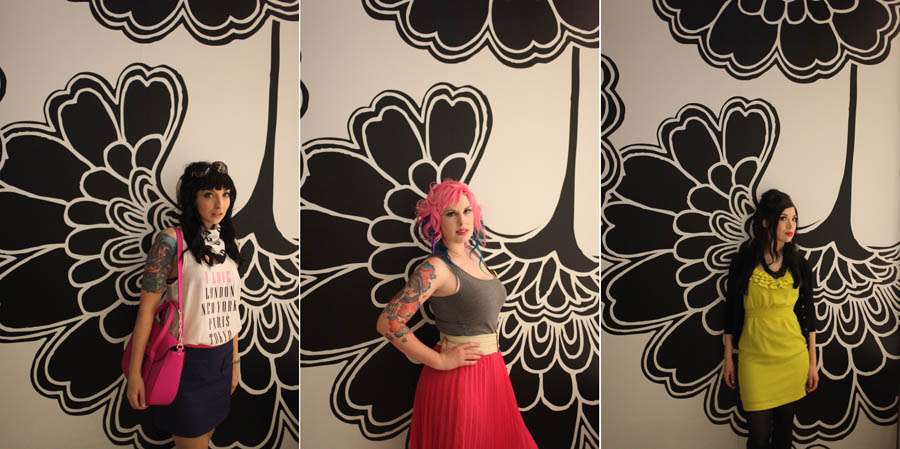 Photography Credit: David McNeil Photography
I saw a LOT of weddings while we were walking around Vegas too, however I think these guys were my favourite!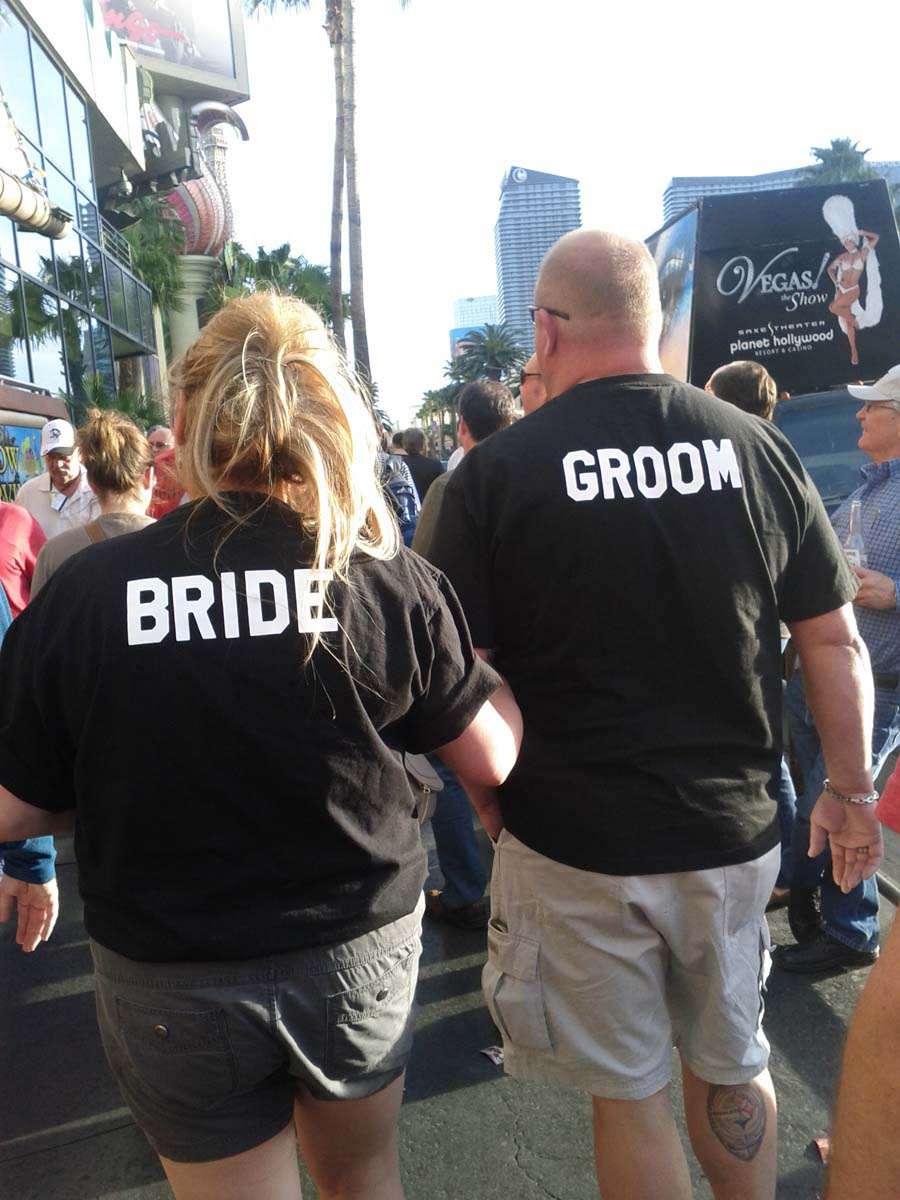 That's some classy stuff right there!
Day 9
Friday rolled around all to quickly and it was time for Gala, Nubby, Lisa & Amy to leave. I had brunch with Lisa & Amy before waving them off to the airport. The view was a bit of alright…
David had popped up to San Francisco for 24 hours the night before to do an engagement shoot so after saying goodbye to my girlfriends I spent the day alone. I thought I'd be nervous and scared being in a city I didn't really know by myself, but after 8 days getting accustomed to it, it was actually pretty fun.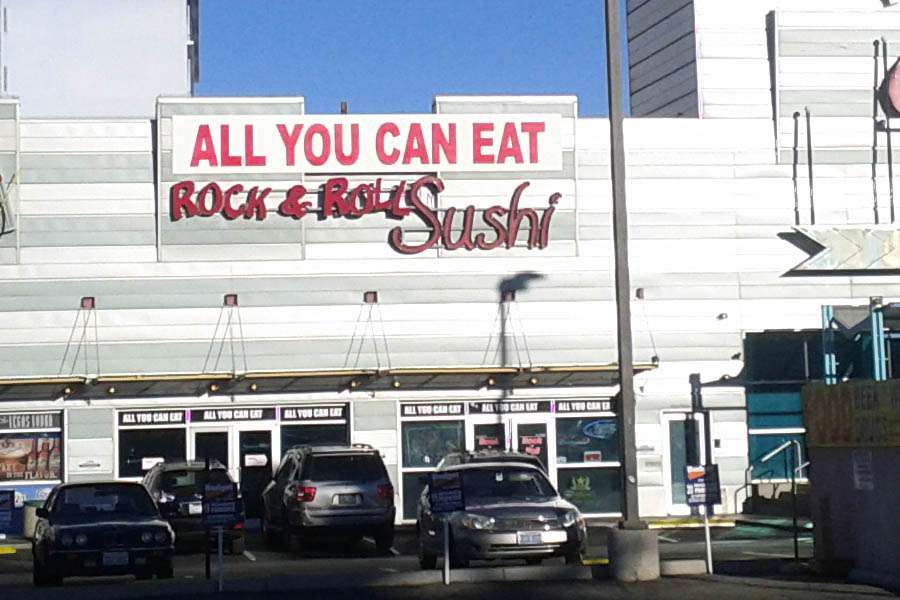 Rock n Roll Sushi? Random but I approve
I bought Kettlecorn (damn you Gala for introducing me to it!) stocked up on Sour Patch Kids (the BEST – the cashier must have thought I was mental, I bought 8 family size bags!) and used the evening to catch up on some emails (ain't that Rock n Roll!?)
David was back by 11pm and we had one last drink at the hotel bar.
Day 10
Our flight wasn't until 8.20pm so we still had a full day to soak up some last minute Vegas. I actually really loved this day as we drove away from The Strip and explored some of the outskirts of the city. We had a really yummy breakfast at Lou's Diner, which we randomly stumbled upon it on the way to Target, but which turned out to be somewhat of a hidden gem with quirky and cute vintage items all over the place…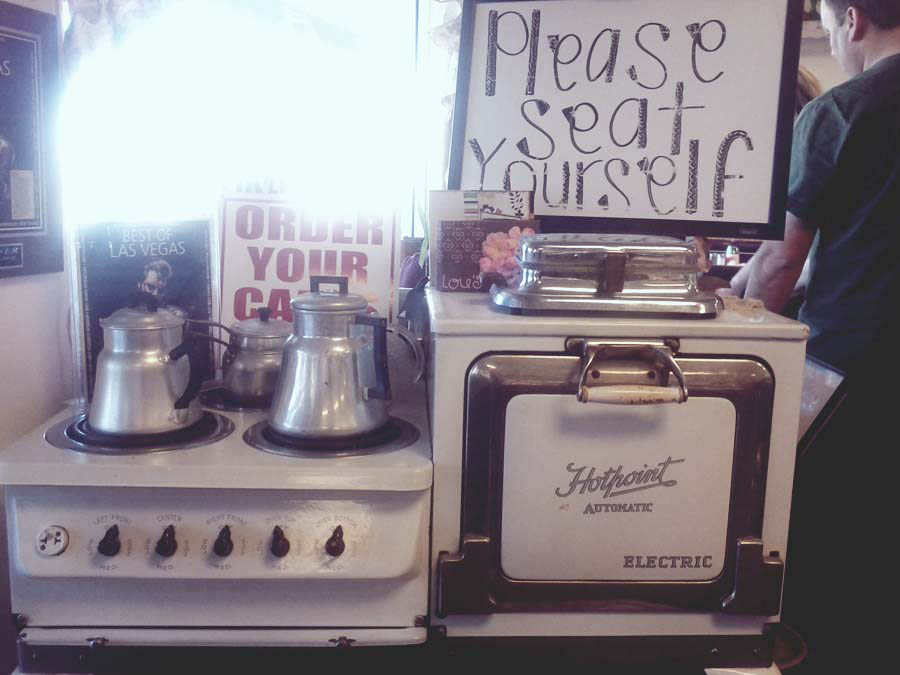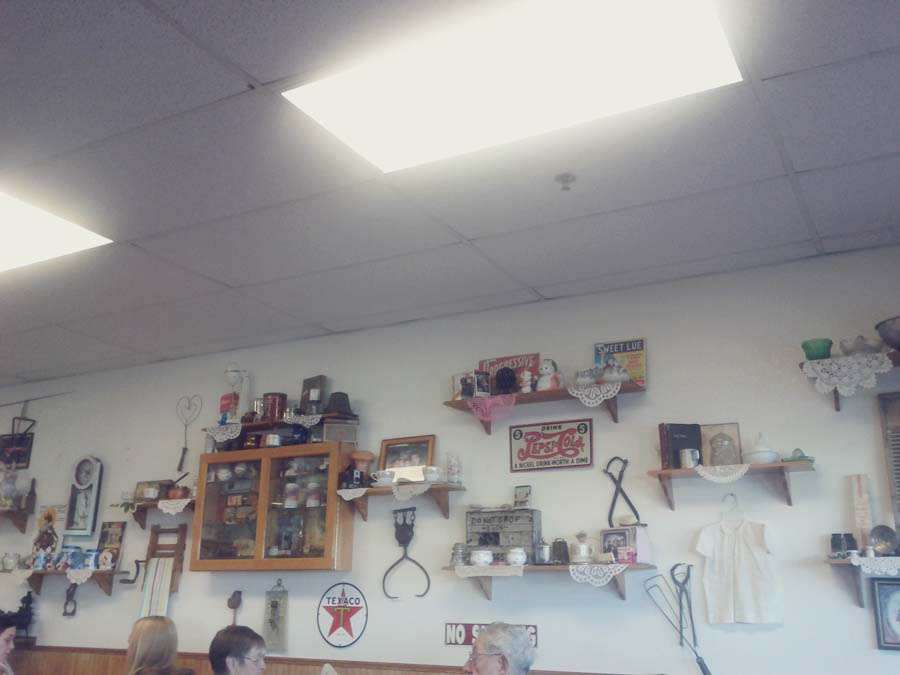 The staff we're amazing too. I'm pretty sure they thought we actually knew William and Kate…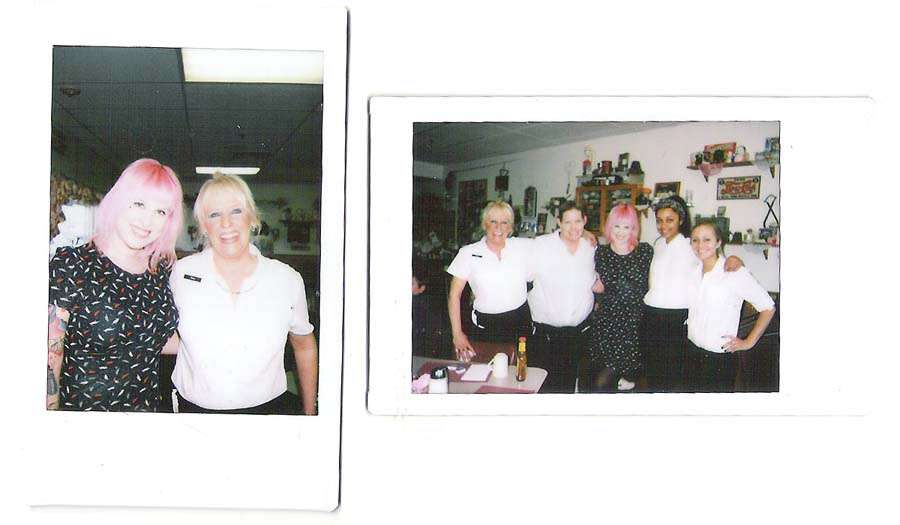 We then drove around to see what we could find. As we drove past a GIANT building that said 'Indoor Swap Meet' on the side so thought "why the hell not…?" This was another hidden gem! It was certainly not a tourist attraction but sometimes I think these are the most fun things to try.
After paying out $1 entry, we were greeted with what I can only describe as a massive hall (kinda set up like a wedding fair would be, with different booths) selling everything and anything you could imagine! David even persuaded me to try on and buy a pink wig…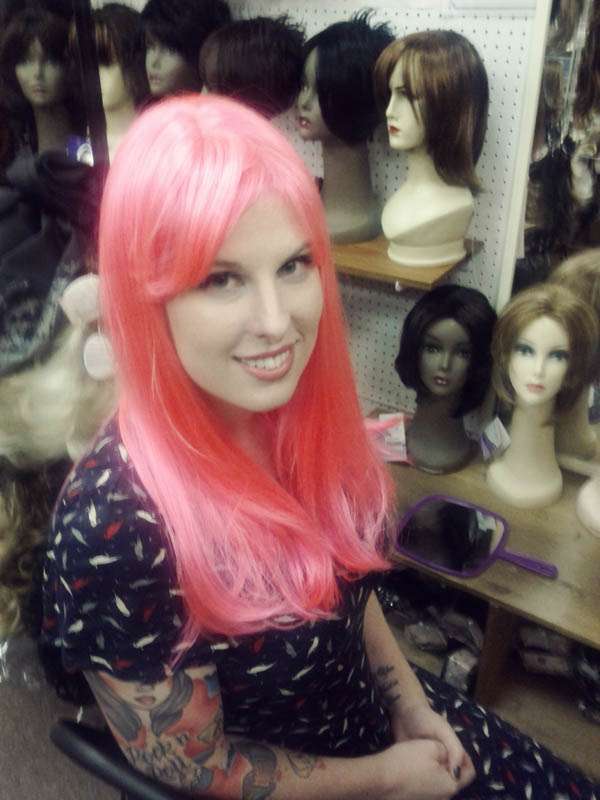 The one I bought isn't pictured (as the woman told us off for taking photos…whoops) but needless to say I'm going to have fun playing around with it. I'm actually taking it on a shoot next week so you can see it in action.
You're probably wondering why on earth I would want a wig in my 'natural' hair colour but my hair is sooo thin and damaged right now from all the beaching that it really doesn't grow at any significant speed. I'm working on getting it healthy again but for now this will be fun to play with!
We concluded the day, and the holiday, with an obligatory trip to In-n-Out Burger and then hauled ourselves to the airport to head home.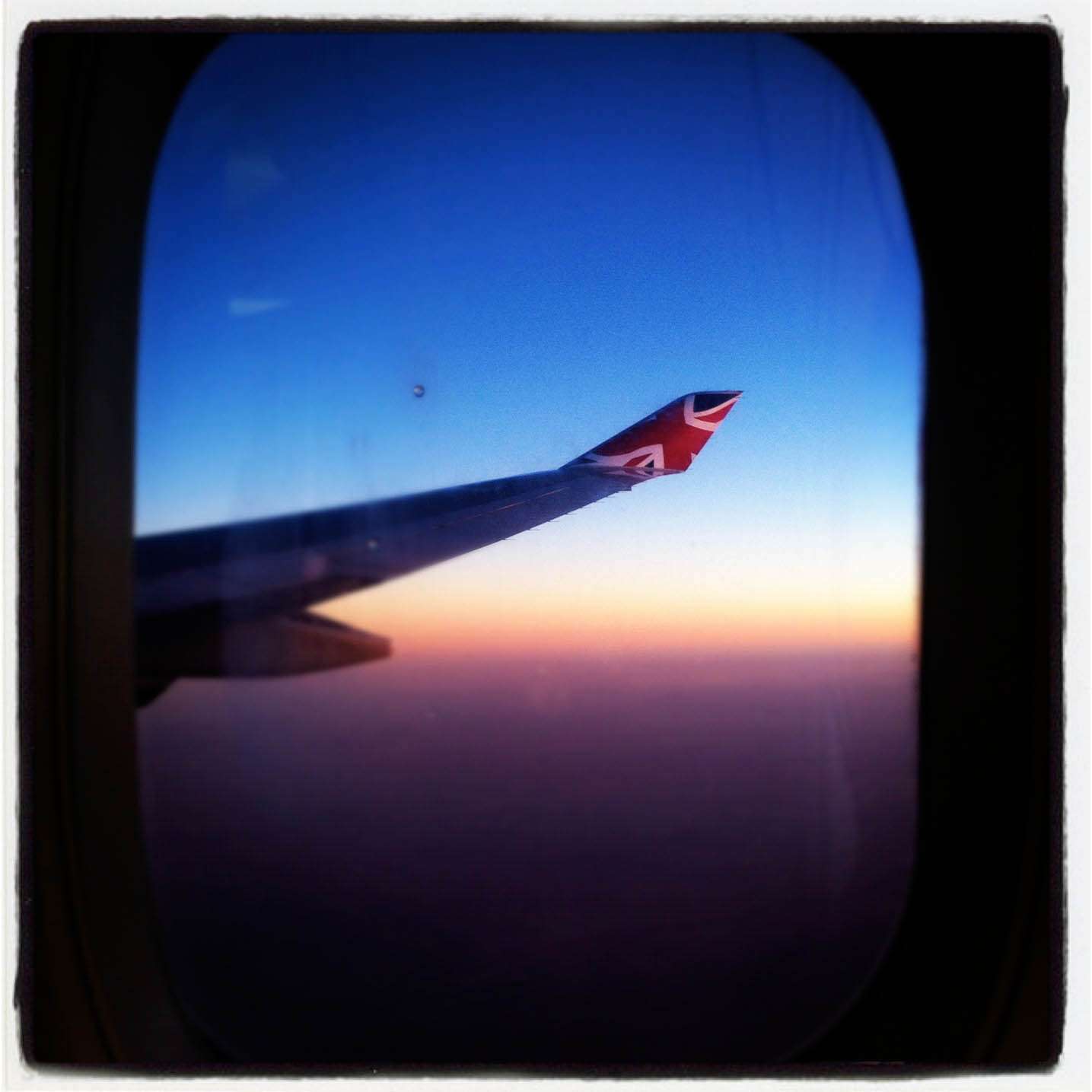 Vegas was everything I hoped for and more. It was epic and crazy in more ways that I could have ever imagined. I'm so grateful to be able to do a job that allows me to do these things. It's really amazing to meet so many incredible and inspiring people and to have a serious amount of fun with my friends along the way!
Thanks to Gareth for working his magic and making a half decent video out of my dodgy efforts at playing videographer (filmed on my Sumsung Q10)
Thank you America for being so wonderful… You really know how to show a gal a good time.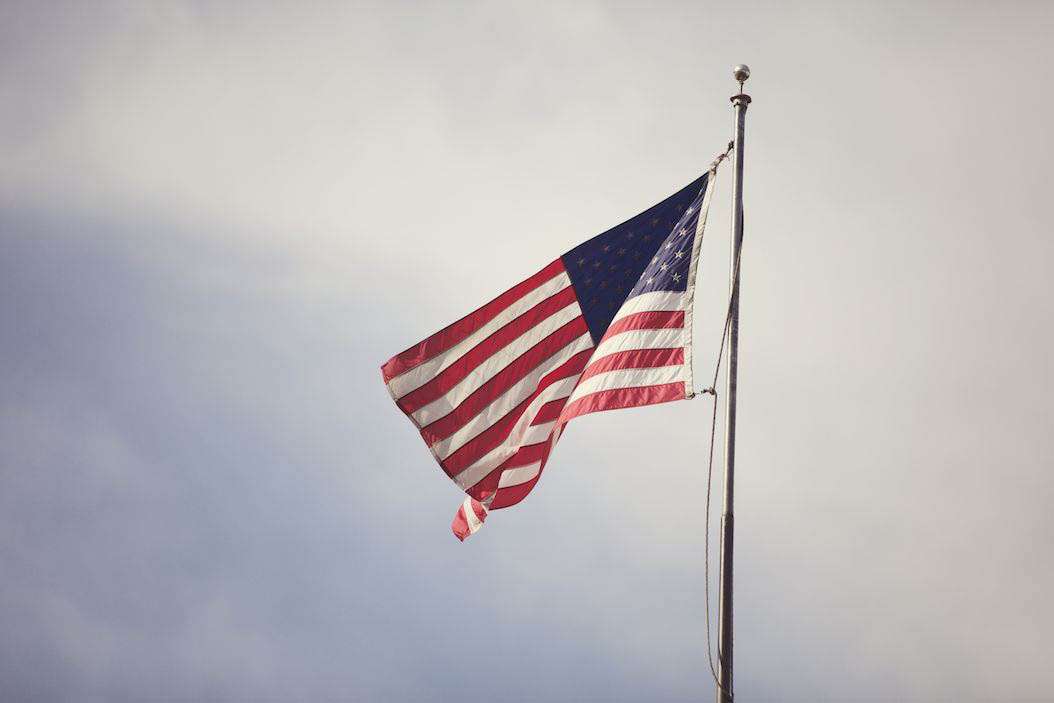 Photography Credit: Devlin Photos
If you want to see even MORE about our Vegas trip you can so on Gala & Nubby's blogs here, here and here! as well as their instagram feeds here and here…and my flickr…oh so many photos!
Be sure to stop by tomorrow for part one of the 'Las Vegas Lovers' shoot with Gala, Nubby & yours truly!