Hi Kat,
My name is Sara and I just found your website. Wow I was so relieved I wasn't the only one who hated the idea of a cookie cutter poofy foofy wedding! Amazing site! I have always dreamed of a 50's style tea length wedding dress. I found one I love on unique vintage thanks to you, but here's my problem. I'm plus sized. Like say a size 26  plus sized.
I've been really ill for the last year and between taking care of my Mom (she had a stroke on my sixteenth birthday) and my illness, weight loss has been on the back burner. I'm set to be married November 5th of this year. I'm on a tight budget, but I just can't stand the idea of not having a wedding dress. Please please help me find one!
Thanks,

Sara, loosing hope in Georgia.
♥  ♥  ♥
I have been alarmed recently by the number of emails like Sara's that I've received from my readers asking for advice on where to look for plus sized wedding dresses. I've had so many in fact that I thought this was certainly a topic worth covering on the blog. I also read this article on Businessweek and was pleasantly surprised that there does seem to be the beginnings of a shift in the 'ideal' bridal look and size. So today I indulged my inner shopaholic and have done some fantasy dress shopping for all you curvacous ladies.
You know this already but I'm going to say it anyway, you do not have to be a size 0 to look like a supermodel on your wedding day. Your fiance is the luckiest man in the world to be marrying you – he knows that and so should you. So don't go feeling rubbish about yourself just because you don't fit into the dress shop sample sizes!
As someone that's be everything from a size 6 to a size 16, I know all too well what it's like to feel pants about the way you look…and to feel like you don't fit in with the rest of the world. But you know what, I'm hear to help and I've found some pretty damn awesome dress suppliers on my travels, all of whom want to make you feel fierce!
OK pep talk over. I spoke to some of my favourite designers to ask what they offered for plus sized brides and I'm pleased to report that I was inundated with responses! OK on with the shopping…
"Here at Vivien of Holloway we are renowned for our 1940's and 50's reproduction ladieswear, but we also a great place to head for Fifties style bridalwear. The Vivien of Holloway sizing is based on original 1950's sizes. Customers are recommended to come along the shop to ensure they get fitted correctly.  If you're ordering from home you're advised to measure yourself before ordering anything! Our sizes range from a 10 (which is about the equivalent of a high street 6-8) to a size 24 (available in circle dresses only)."
"For gorgeous plus-sized brides, we have white or ivory Halterneck Circle Dresses available, either in plain satin or covered in our luxurious lace. These all have a boned bodice with a satin halterneck strap and a full-circular skirt. This style is also available in a fabulous range of florals and polka dots, for the sassy bride in all of us! The dresses look exquisite when worn with one of our fluffy petticoats, giving you a glamorous 50's look!"
"Our largest size is our 24, which measure a 46″ bust, 38″ waist and 50″ hips."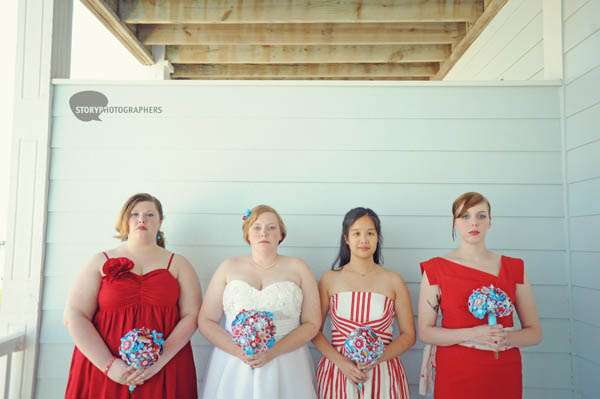 Photography Credit: Story Photographer
"We cater to plus sizes since all of our dresses are made to order! One of our recent brides sent us photos of her wearing the dress and you can see them here. We can make any of our gowns in any size, or we can replicate any style dress to the bride's exact measurements."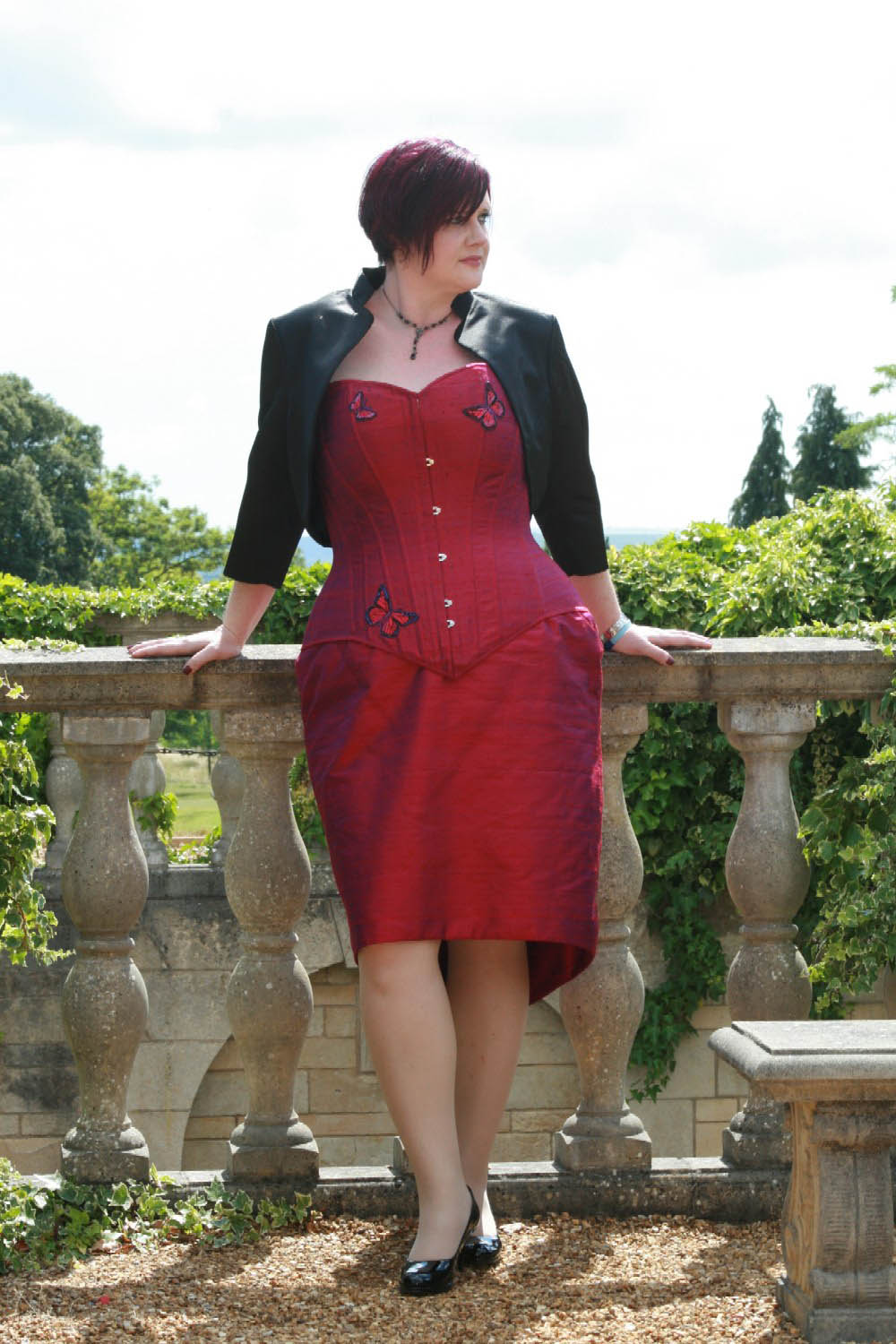 "I cater for all ladies, of any size, no limits, as they are all designed and made to measure, there is no such thing as  standard size here!"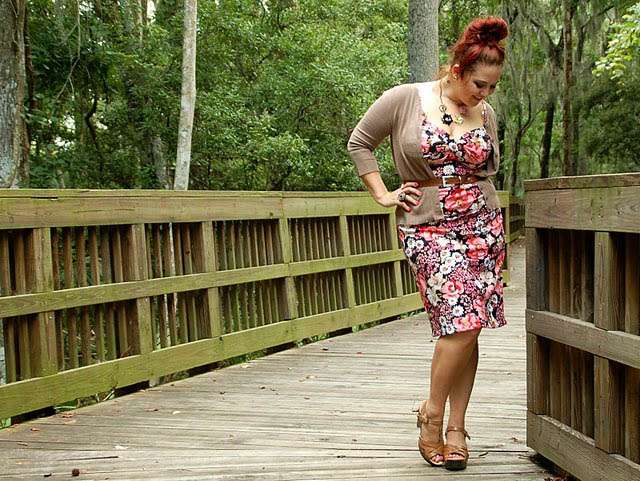 Photography Credit: a reason to be fabulous
"Although our dresses are not considered bridal dresses, we are more cocktail style, our dresses have been used countless times in weddings! Our sizing in house is offered to A US size 18…but we recently got picked up by Torrid so our dresses will soon be available to size 26. We have had such a huge demand for our plus sizes and the fit of our dresses is sooo great on " everybody" that we just continue to be the on demand dress shop! If you go our blog you can see images of just about every size women available. As I said before, our dresses fit "everybody" absolutely amazing… By the way the designer is a US size 12 herself so she knows how to make curvier figures look great!"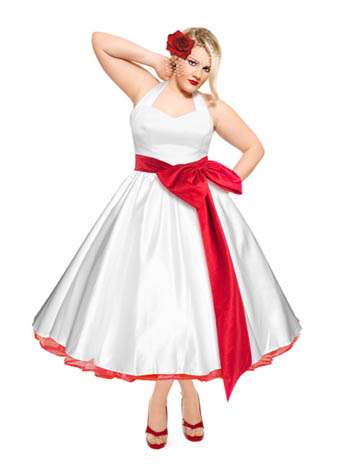 Photography Credit: via Honeypie Boutique The person depicted is a model and used only for illustrative purposes
"Honeypie Boutique is dedicated to providing 50's style wedding dresses and accessories at great prices. We can make our wedding dresses and custom petticoats to any custom size for no extra cost. There is only an extra charge for increasing the length beyond our standard measurement."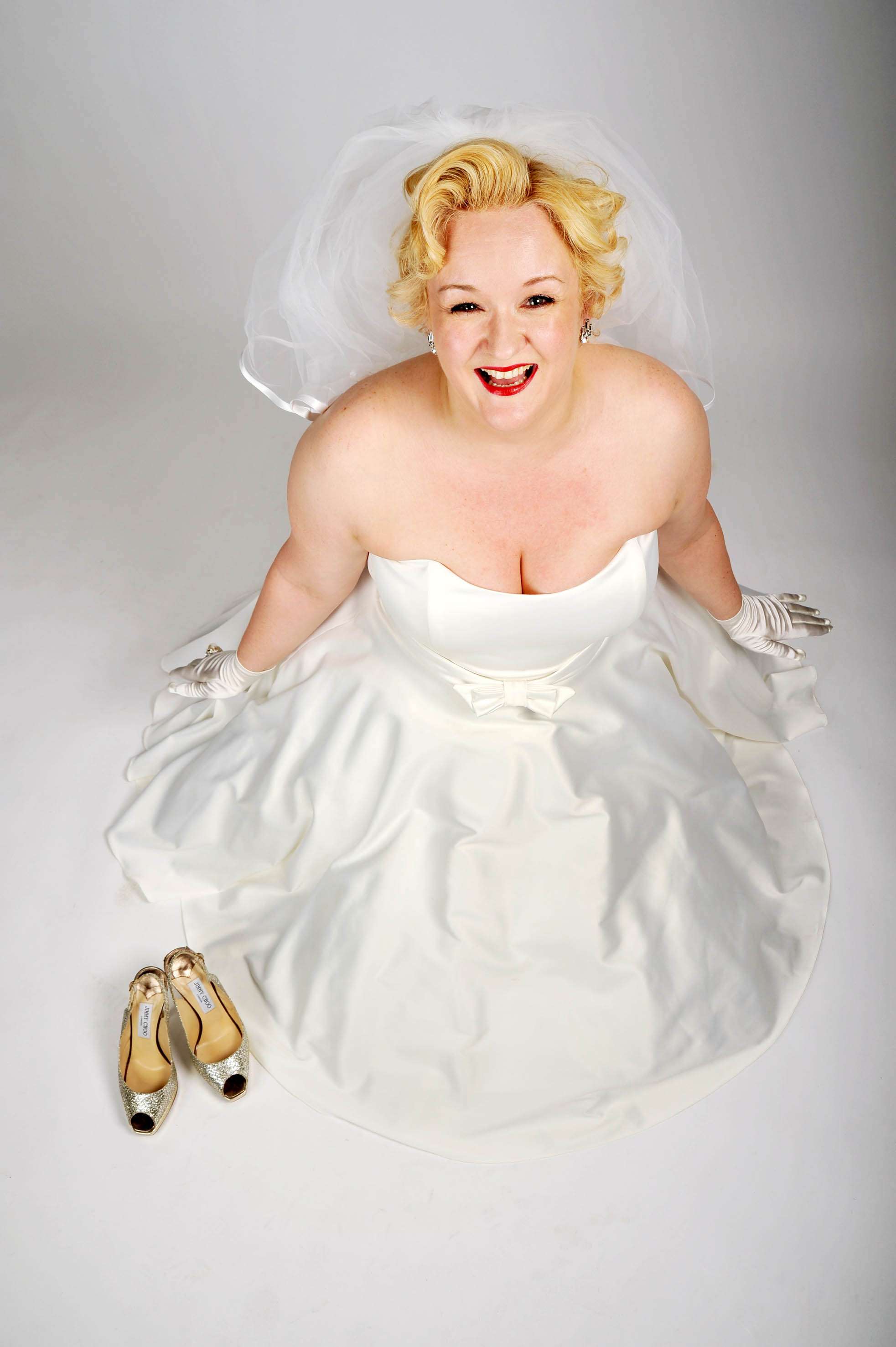 Photography Credit: Steve Ullathorne
"We go up to a UK size 24 in our standard made to order range but if a client wants to go made to measure we go up to infinity. The style we mainly do is great for curvy girls as it automatically creates a nipped in waist and is really comfortable around the hips because the skirts are so full. Our samples instore for ladies to come and try on are in all sizes, so they can get a really good idea of what kind of bodice and dress suit them without having so many pins and bulldog clips holding the back together."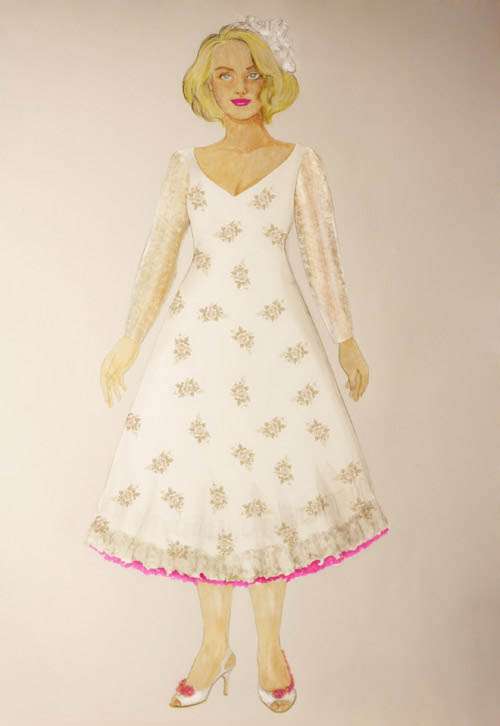 Designer Tobi sketched this design especially for Rock n Roll Bride. How beautiful would this dress be in real life? Someone order it please!
"The mainline collection goes up to a UK Size 18 but through our stores we cater for plus size by simply making the dresses to measure. I haven't had a bespoke plus size bride just yet but I definitely offer the service. I don't treat this any different, same design process, one goal, to make the bride look amazing enough to turn heads. By considering her body shape, I'd create a wedding dress that is not only flattering, but also fashionable and feminine. A store called the Ivory Boutique in Farnham have recently ordered a made to measure Grace dress in a Size 26."
"Many of our brides have the more voluptuous figures and not to sizes 10/12. Esther, one piece from our current Vintage Inspired collection will easily accommodate the fuller figure which is why many of our ladies love it so much. I don't believe that a gown found in high street salons which comes in a 8-18+ would suit everybody in that size range. What would look great on a 10/12 simply would not on an 18+ and I think it's unfair to offer this."
"When we design a gown for a plus size lady, we take into account her body shape and highlight the great points and disguise the not so great. One of our brides actually said we gave her a waist. Something she hadn't seen or realized was there in years!"
"I do get very frustrated with images of plus size brides. Much like bridal magazines who offer gowns on tall, slender models, the plus sizes are much the same. Plus sizes come in 18-30 but most images you will see are of models nearer to the 18 than 30 sizes. Again, many gowns are strapless and if ladies of size 12/14 are struggling with the bits of flesh hanging over at the arm pit, how on earth is a bride to be with the fuller figure expected to carry off a strapless?"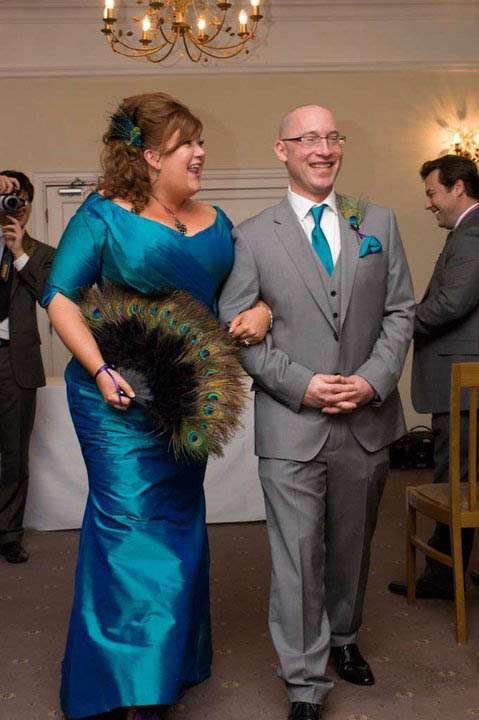 "We offer a design and made to measure service for all our brides, so we get to find out about them and the plans they have for their weddings. As with any bride or girl for that matter, there are things that we don't like about ourselves. Bigger girls tend to hate their arms and tummies,  I know I do (hate mine that is , not thiers..lol) so we work to come up with clever design and fabric tricks and use colours and combinations that are flattering."
"With 1950's style dresses I try to focus on the waistline and neckline, in order to divert attention from big arms and bellies. When doing corseted gowns I focus on the waist and bust line and go for skirt shapes that flatter and accentuate a girl's curves as opposed to trying to hide everything under a mass of fabric.  I am obsessed with Japanese styling and décor and love kimonos, so when I made my own wedding dress I searched and searched for vintage kimonos and couldn't find what I wanted in my size, as the Japanese ladies were so petite. So I came up with something that featured Japanese styling but was in soft drapey fabrics that were easy to wear in Thailand."
"People often think that larger girls shouldn't wear strapless, but I'm here to disagree. I think with the right structure to a gown strapless can work on a bigger girl."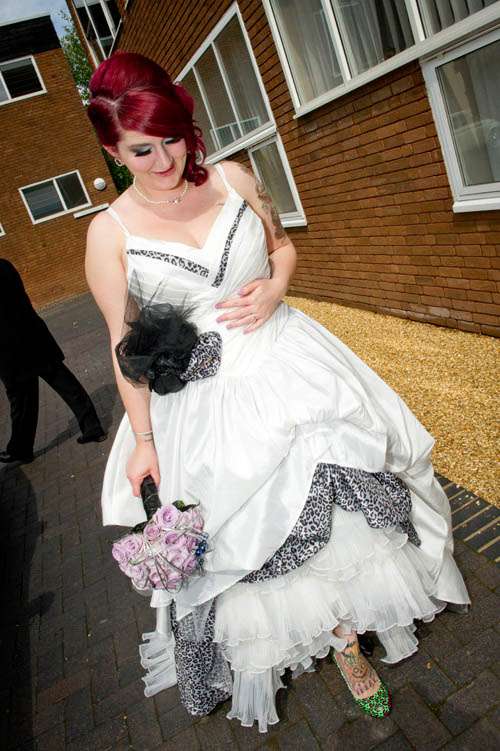 Photography Credit: Daniel Ackerley of Soma Photography
"We design all of our dresses bespoke to our brides. What you see on our website and facebook is a tiny amount of our work. I do not put up any of our dresses onto the website until the bride has had her wedding. So we have around 100 designs on the go for the rest of 2011 and 2012."
"All the dresses are made to measure and when we design a dress we try to take into account a brides figure. Some brides are specific about what parts of their body they want to hide and which they want to enhance. We try to work with all these details to help a bride develop her dream dress. As for size… I wouldn't like to put a size limit on our dresses. We take each brides measurements (about 28 measurements in all) and make the dress from those rather than saying I'm a typical 14 or 16. I'm a size 16 top but a size 12 skirt, so for me a dress no matter how normal and everyday is a trauma!"
"We have had quite a few plus size brides in and also quite a few pregnant ones too! (Holly, who's pictured was pregnant.)  I would like to think these brides feel a lot more comfortable with House of Mooshki as we never discuss specific typical sizes as each person is different and each dress is as unique as each bride."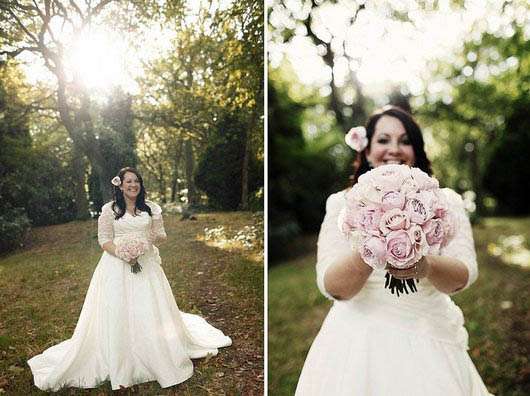 Photography Credit: S6 Photography
"I don't have a plus size range as such but I have many gowns that look amazing on curves and I also always use a size 18 model for these dresses at shows."
"Our model, Nina says 'I have been working with Charlotte Balbier now for over 8 years doing Charlotte's fitting s for the 16+ gowns and also Charlotte's catwalk shows. The Charlotte Balbier gowns make me feel and look amazing, they are so comfortable to wear as well as emphasizing my curves in all the right places'."
"I can make my dresses in any size and unlike some company's I don't charge extra on the more curvy size, I keep the price the same. My Mum is also a wedding dress designer (Amanda Wyatt) and she is currently is working to develop a plus size bridal range but it's not going to be out until next year. Your readers should also take a look at Sonsie from Veromia designed by the very talented and lovely Jason Jennings."