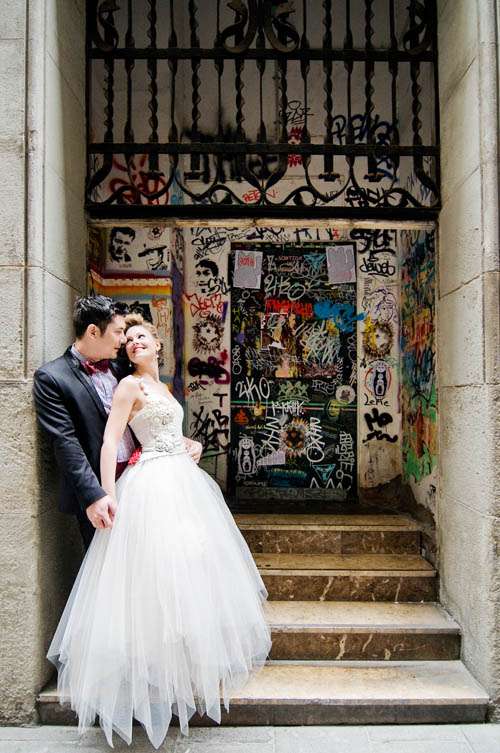 Daniel and Åsa's Barcelona photo shoot was all about the details, "because to me it's the little details that make the huge difference and I wanted to show them those little details" Spanish photographer Inés explained. The original theme and idea for this shoot came from Inés herself to show couples that capturing the personal details and portraits beautifully is what's super important in wedding photography – even if that means dressing up again for a post-wedding shoot – the perfect excuse if you ask me!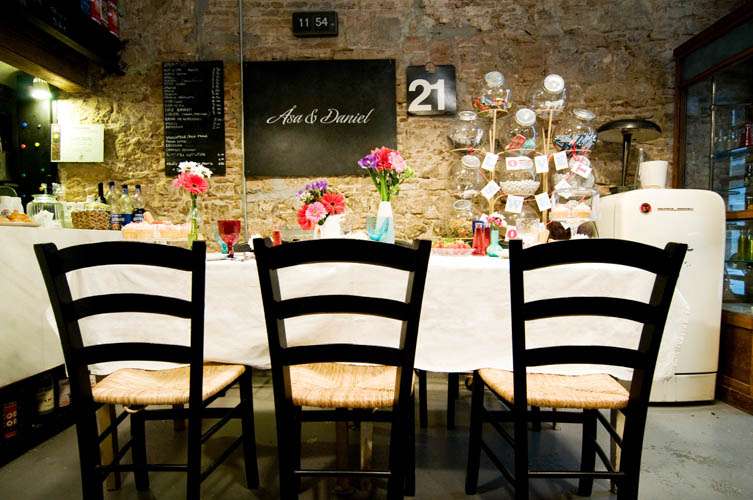 The shoot took place at the picturesque Le Cucine Mandarosso in Barcelona, a super charming Italian restaurant in theheart of the city. "The place is full with vintage finds, from a huge candy stand, through a fab fridge to little ruby red martini bottle," Inés told me. "The tableware is vintage, found in different street markets by the stylist. We tied little bows around the cutlery with ribbon that I kept from some delicious chocolate. But the most special touch on the table are the fantastic cupcakes that Jenny from I love Muffins specially made for our photo shoot and that substitute the classic wedding cake. Vera (the stylist) is completely crazy about them and swears that Jenny's cupcakes are the very best ones she ever tried."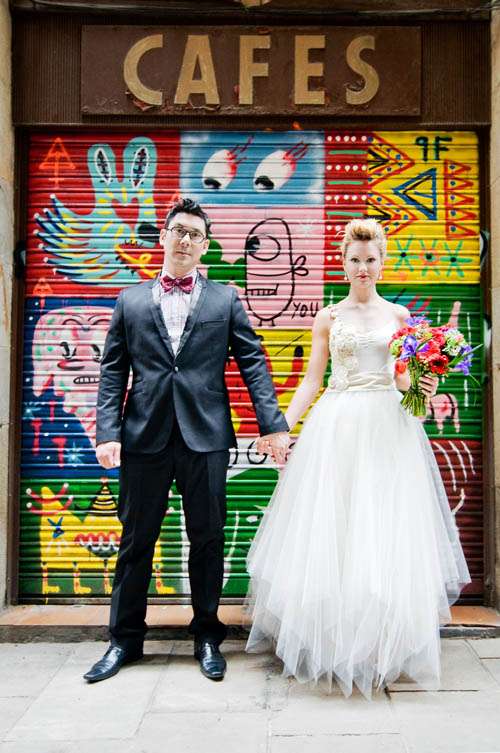 The bride wore a vintage skirt that cost just 80€ from a vintage shop in the city that was closing down and a simple and cheap t-shirt customized with leather handmade flowers by Manón, who also handmade the hair piece and the sash. Her shoes were just 25€ from Stradivarius and her jewellery was from Bijoux.
Huge thanks to photographer Inés and the whole team for sharing this utterly stunning shoot with us today
Photography Credit: Inés Ormazabal, happinés
Venue: Le Cucine Mandarosso
Bride's Dress: Vintage
Bride's Leather Flowers & Accessoires: Manón
Bride's Shoes: Stradivarius
Bride's Jewellery: Bijoux
Groom's Suit: Model's Own
Hair & Make up: Giann Franco Auditore & Pablo Quesada, for Iki Make up Studio
Cupcakes:  I love Muffins
Stylist: Vera Ciria