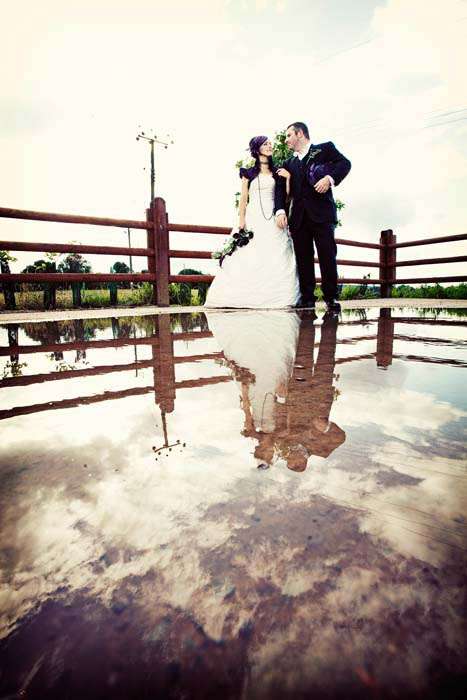 Amanda & Steph's wedding is one of those that as soon as I saw a sneak peek on their photographer's blog I immediately emailed asking (well…demanding!) that I be allowed to blog it! If this isn't a perfect Rock n Roll wedding, well I don't know what is! The couple loosely based their wedding around Lewis Carroll's Wonderland – i.e. Alice in Wonderland and Alice Through the Looking Glass. They loved the almost dark and sinister twist this theme gave their wedding.
"We took the mad-hatter's tea party idea and the magic of the 'eat me' cakes and 'drink me' potions, and linked it to Carroll's poem Jabberwocky," the couple explained. "This nonsensical but menacing poem appeared on our order of the day, and provided the inspiration for our table names. We wanted the wedding to have a fun party atmosphere and not be too 'themed', so we combined a 'bring a hat' dress code with teapot centre-pieces and little bottles of alcoholic shots on the tables labeled 'drink me'. We wanted it to feel darkly comic, fun and quirky, whilst still being an emotional and special day for us."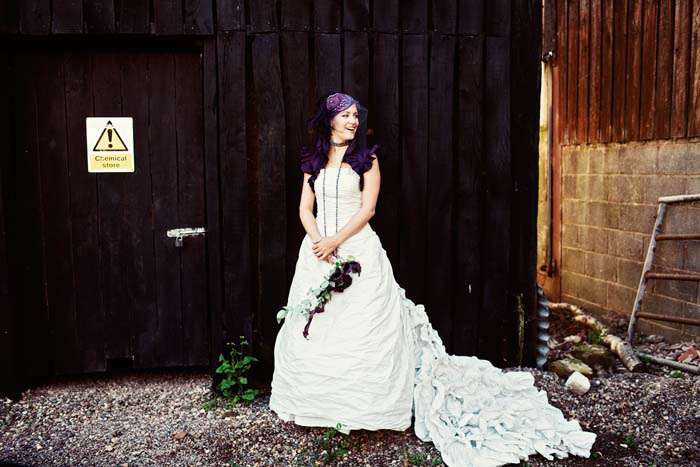 The colour theme that ran throughout the day was a dark purple and the bride wore a stunning Ian Stuart sample dress which was a pale blue/grey silk with a dramatic deep purple bolero which she bought from Bonzie on. To this she added a fabulous hat that she made herself by stitching together various bits and pieces which she had collected – including feathers, fabric, pearl beads and netting. Finally she added purple 'Mini Magic Floral' Irregular Choice shoes which she bought from Schuh. "I bought my dress at a wedding fair in London for £1,400, which was half price . It was far too big, so I had a dress-maker take off about 3 inches either side until it fitted. It was made in a pale blue/grey silk. I was quite pleased to think that because it was a sample it was completely unique and no one else would ever have one like it. The dress wasn't what I thought I'd ever go for at all – quite traditional really with a huge train, but the colour made it unusual, and I accessorized it in quite an unusual way. I love Victoriana, which it reminded me of, and in the end I thought 'when am I going to get the chance to wear something like this again' so I went for it. My accessories were chosen to be in keeping with the Victoriana feel of the dress, and the idea was to make the outfit appear less bridal and more edgy."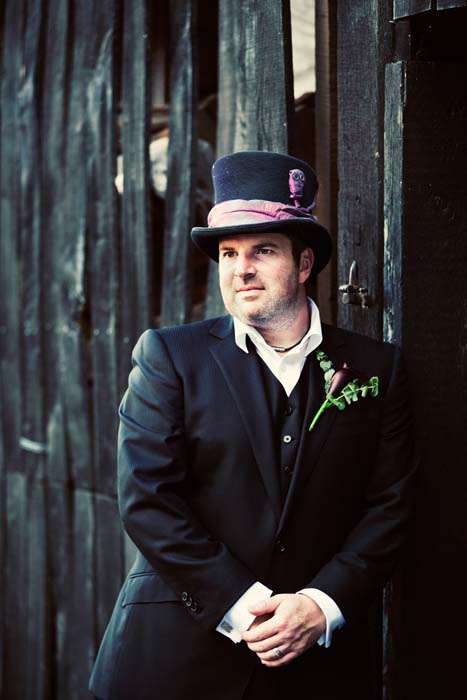 Steph wore a custom made suit that actually ended up costing more than the bride's dress! "He wanted to keep it casual (he's hardly worn a suit in his life being an advertising designer, and usually goes to work in his shorts and a t-shirt), so he decided to go without a tie and just wear a simple white shirt," Amanda explained. "However, having made my own hat, I decided he ought to have some exciting DIY head-gear as well (to fit in with our mad-hatter's tea party, Lewis Carrol theme). I therefore bought a cheap black top hat on ebay (I think it was about £25) and then trimmed it with some purple fabric to match my outfit. As we are big fans of Tim Burton and Steph likes all things dark and scary, I decided to go a stage further and I made a small purple fabric skeleton in the style of 'The Nightmare Before Christmas' with odd buttons for eyes and attached it to the hat with a glue gun. I then used spray paint to make the hat seem a bit more old and battered, and flicked it with purple and blue paint on a tooth brush to give it a more punky look. He was very pleased luckily!"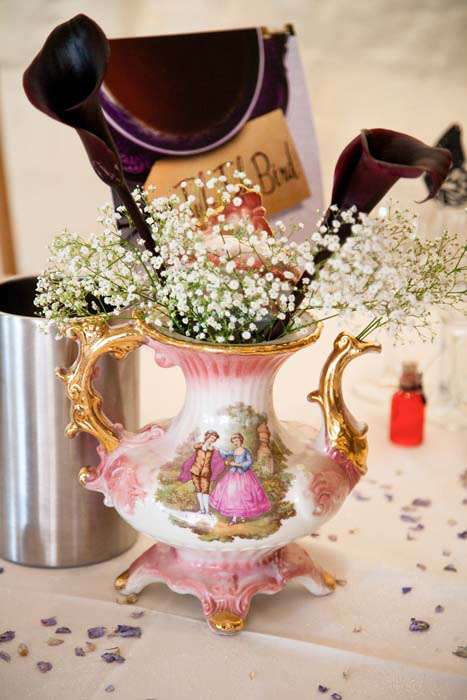 The non-traditional couple didn't want the usual pastels or roses for their decor and flowers so they opted for dramatic dark flowers ('hot chocolate' calla lilies) which they teamed with crazy retro teapots and mis-matched crockery ("the more hideous the better" they said!) that they collected in the run up to the wedding. "My dad's girlfriend Shona Dickinson, who is a florist, kindly agreed to go along with my crazy idea and used baby's breath to create steam coming out of the tea-pots and a couple of calla lilies in each one to continue the theme. These were a hit, as several people pinched the tea-pots at the end of the day."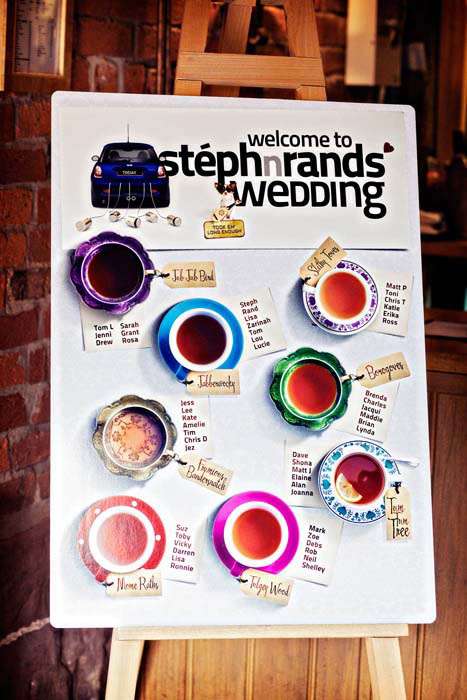 As Steph is an advertising designer, he designed their wedding website which they used instead of traditional invites (http://www.randandstephgetwed.co.uk/). He also designed the order of the day, the table names and the table-plan board in his own unique, quirky style. There was no dresscode for the wedding apart from guests were asked to wear a hat of some kind. "I think this made it really relaxed, as some people dressed up and some came in jeans. All of the hats were amazing, there were several home-made ones, and it gave the whole thing a real party atmosphere."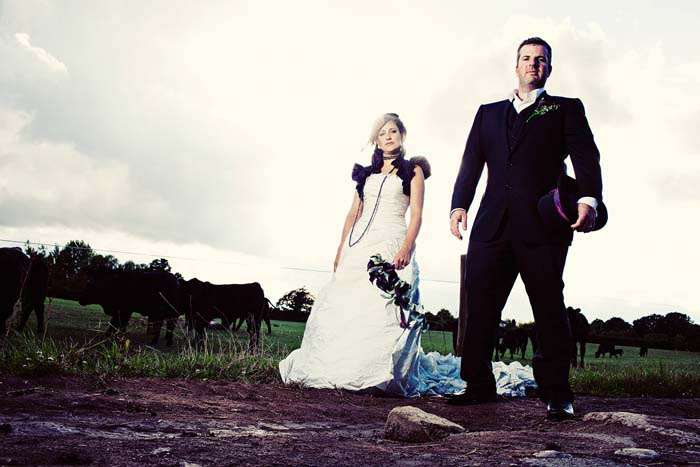 "Our inspiration was to some extent ourselves," the couple concluded."We never wanted a traditional pink roses-type wedding. Steph loves horror movies and I love period dramas, so in the end we tried to go for something that reflected our personalities – I was thinking vaguely of Tim Burton's Alice in Wonderland – slightly macabre. We knew we didn't want anything formal or traditional, and once the band agreed to play, it all started to go really rock and roll.  I liked the fact that the bridesmaids dresses didn't match the colour scheme and it didn't really matter – also, they looked like amazing sexy burlesque dancers which was ace."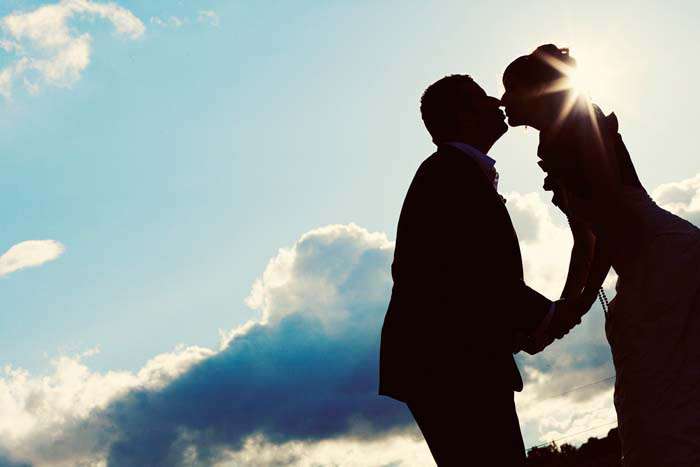 Edit: I had to add the photo below to the main body of this post…erm, can you say "AMAZING" !!??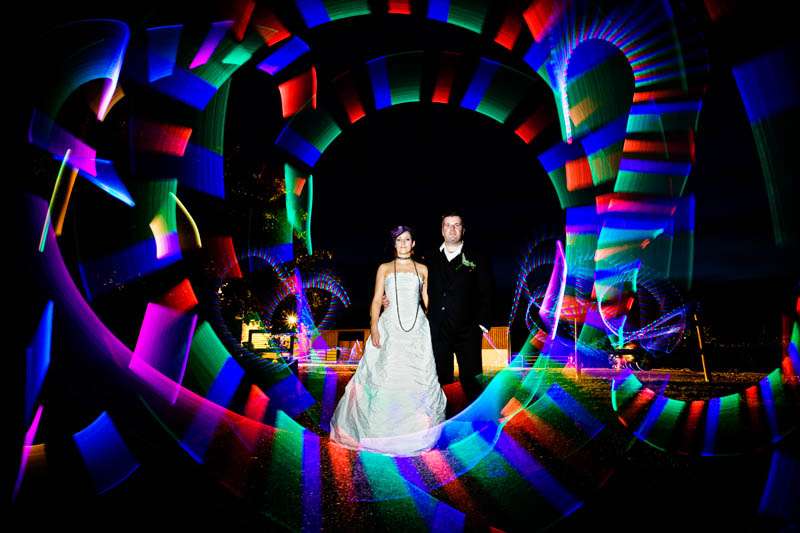 HUGE thanks to Amanda & Steph and their photographer Steve for sharing this wedding with us today
Photography Credit: Steve Gerrard Photography
Venue: Curradine Barns, Shrawley, Worcestershire
Bride's Dress: Ian Stuart
Bride's Bolero: Bonzie on etsy
Bride's Shoes: Irregular Choice
Bride's Hat: DIY
Bride's Pearls: Absolute Pearls
Groom's Suit: Ermenegildo Zegna in Italy
Cakes: Barker Bakes
Flowers: Shona Dickinson
Band: The Space Pirates of Rocquaine (best woman's band)
Bridesmaid Dresses: Coast
Bridesmaid's Hats: Accessorize
Best Woman's Hat: DIY (customised black trilby)
Hair/Make Up: DIY