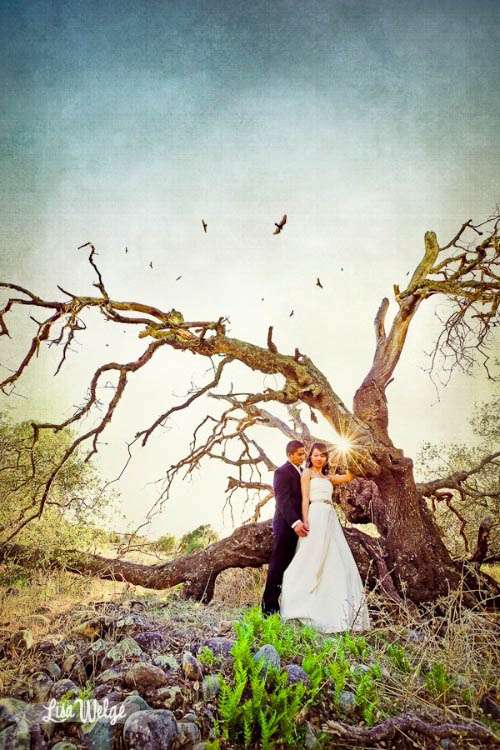 Credit: Lisa Welge Photography & Design  ps thank you to everyone on Twitter, Facebook & the SWPB Flickr group who sent me photos to include in this post. There were over 100 images submitted in the end which made it very difficult to choose the final one! Wish I could have picked more than just one to feature and I will certainly be saving the rest for future posts.
First up, a little sorrrrieeee from me. With the Rock n Roll Bride machine pretty much taking flight over the last few months the 'How to Blog' series appears to have fallen to the wayside. Unfortunately whilst still holding down a full time job (where I work nights!) there are only so many hours in the day to catch up on such things.
Anyway, due to the number of emails and questions I've received asking blogging questions recently, I thought I would try and address as many queries in one hit as possible with a bumper Q&A session.  As always, I love feedback so feel free to comment below or drop me an email if you've got anything to say!  If you still have any burning blogging questions that you need answered then please feel free to drop me an email and I'll try to work it into Part 4.
♥ What motivates you to post so often? From Nessak
Pure, unadulterated obsession! I certainly feel like I have found exactly what I want to do and when you find that it doesn't feel like a chore. I actually wake up in the morning thinking about my blog – I kid you not! I guess it's a kind of compulsion. I literally have to write, blog and share beautiful weddings. I even get a little twitchy if I'm not at my computer for a long period of time. How sad is that?! I often get asked this question from photographers but I would say to all of them that really my only job is to blog and to write so I have all the time in the world to do it – I guess it's different for photographers who's main job is to photograph and edit so the blogging must feel like another chore that needs to be done. Not for me! I can't get enough of looking at gorgeous images all day. I have also been so lucky to have built up a loyal following of photographers who send me a lot of their work for me to feature – my research work has been cut in half! Please don't be shy to send me your submissions. I love to receive them!
——————-
There are three types of wedding bloggers: bride blogs, which are blogs written by brides (and to be fair, there are a handful of groom blogs now); professional wedding blogs where the blog is the full-time business (examples: Weddingbee, Style Me Pretty, Snippet and Ink); and wedding professionals who blog (examples: The Bride's Cafe, Ritzy Bee, Fabuluxe).  Many people look at professional wedding blogs and try to emulate them, but that will not work for your business because they are entirely different business models and have to take certain things into consideration that you do not.  Trying to copy what they do and the way they do it will only frustrate you if the blog is not your full-time job.
Quote Source: Think Splendid
——————-
♥ How do you get your blog 'out n about'? From Heaven
I never set out to make Rock n Roll Bride a full time career. I simply started blogging because I loved to write and to look at pretty pictures so I may not be the best to answer this question! Although certain SEO ideas should be looked at to boost your Google juice (check out the last post I wrote for more info in SEO.) I have to say that I've never been a huge advocate for SEO obsession. Firstly because it's boring. I'd rather be writing or researching wedding gorgeousness than stressing over key words and page ranks. Secondly because the biggest push for me was becoming a part of the wedding and blogging community and with that readers and other wedding professionals (both here and abroad) have found me. Again, I touched upon making connections in my first 'How to Blog' post and I have to say that connections are invaluable. Most of my new traffic comes from word of mouth, from other people blogging me and from making the effort to connect with others in blog land.
 ♥ I would love to read a post on how much time one needs to invest on a blog. Its very time intensive, isn't it? From Christine
Ha ha yes and yes – See my answer to LaKaye's question below! Nothing in life just falls in your lap or comes without a lot of hard work. I would estimate that I spend at least 5 hours a day working on my blog and upwards of 10 hours on my day's off work.That old clichéis right you know – time is money! The more time you put into your work, not only the better you will get at it but the more you will learn how to do it the most effective way. In terms of my blogging, these 5 hours a day is not all literally spent sitting down and writing and posting wedding after wedding. You should allocate specific time to read others blogs, research potential posts, reply and compose emails and yes even spend time on social networking sites. Twitter, Facebook and Flickr have been invaluable tools for me and my business.
♥ I was wondering if you've had any questions about setting up sponsors – like when should you think about it? How to arrange it? How much to charge? Paying taxes… etc From Rianne
I'm going to be honest about this. Taxes, money and 'proper' business stuff is all very alien to me. I'm a writer not an accountant. Luckily for me I have a husband who is much more mathematically minded so all my advert and sponsorship money goes through him, sorts out the taxes and effectively 'pays' me each month! How funny is that?! I do however have a few tips for setting up sponsorships and advertisers.
I have a separate bank account for my Rock n Roll Bride earnings. This is mainly so I can mentally separate it from my normal, boring job and money that has nothing to do with the website. It also has actually made me a lot more careful with the money I'veearned from the site and has helped me (try!) to save better! The money I earn from my 'day job' is for the mortgage, the bills and all that dull stuff – my Rock n Roll Bride money is for Vivienne Westwoodshoes, tattoos (I'm still saving for my sleeve) and Topshop!
——————-
I always like to remind myself of a great Merlin Mann quote when I talk about making money from a blog. Mann said "Starting a blog solely to make money is like learning ventriloquism to meet girls." If you're starting a blog with the sole purpose of making money, stop right now. I feel strongly that blogs should be about discussion and the sharing of one's interests, not finding a way to turn a quick buck. So if that's your number one goal, I'd suggest taking a step back and focusing on creating the best content you can. Traffic, advertising and press always follow great content.
Quote Source – Design Sponge
——————- 
In terms of actually getting sponsors, when I first decided to think about making money from Rock n Roll Bride, I wrote a little email to all my photographer and vendor contacts at the time letting them know I was about to start talking sponsors. I composed a word document of site stats and prices and sent it to them. At this point my traffic was a lot less than what it is now so my prices reflected this. It's important to price according to traffic and therefore how much response a vendor will get from an ad with you. As a ballpark I started taking sponsors when I was getting around 1000 visitors a day and my prices started at £35/$50 for a banner advert. Sponsored posts will always cost a little more, because more people are likely to read and inwardly digest info from a post thanfrom a static advert spot. A lot more information can be given about a company from a sponsored post and text links (which will improve a vendor's own blog in terms of SEO) will be included. I should also point out that I maybe only got 1 or 2 people take out an ad from this initial 'cold calling' approach. However over time and organically my site traffic and therefore sponsorship interest grew.
Nowadays people approach me to ask about sponsorship and I have an updated document including my site stats (number of visitors, where they come from, who they are), quotes from past advertisers and current prices to send them. I also have a page on my site with basic sponsorship info for people to read before they email me. I choose not to publish my stats online.
Design Sponge posted some amazing articles a while back directed towards both bloggers and small business owners all about taking on sponsors, both of which really helped me. Be sure to check them out.
♥ I'm not sure if this would be filed under building relationships, but how exactly do you ask to use a photographer's picture?  Sometimes I run across a photographer's blog and just want 1 picture, but I feel silly asking to use just the one.  The couple of times I have asked, I've only asked to use one set of pictures from a single posting, but does this also give me permission to use their photos regularly?  And again, if I just want to use the 1 photo, do I ask for that or should I just ask to use their pictures in general? From Chocolate Rose
♥ In terms of using other people's images on my blog, should I just credit the site/blog where I have taken them from or should I contact the site/blog owner first or the photographer?  I am totally clueless as to what is correct and certainly don't want to do the wrong thing. From Margaret
Always always always ask if you want to use someone's images on your own site. That is all you should think about! By taking someone else's images without asking, however good your intentions, you are basically stealing. 99% of photographers will be more than happy for you to use their images but asking first is just polite.
It is common knowledge that many blogs do not do this, however quite apart from the legality and especially if you are wanting to make your blog a business as apposed to just a hobby, by taking this extra step you are potentially making another new contact and we all know contacts and connections are what make a good blog! For example, I know photographers who I once emailed asking to use some of their image who now not only know about me and my blog (and thus help spread the word, especially when they are featured) but they now even send me more of their weddings for future posts AND now I have a bunch of fantastic online friends to boot! Makes sense huh?
Basically, when I want to use a series or a set from a photographer's site I drop them an email just saying something along the lines of…
——————-
Hi xxx
I stumbled across your website on one of my many hunts for cool and unique weddings or photographers to feature on my site, www.rocknrollbride.com, and I found your website.  After having a scan I've come to the conclusion that your work is indeed awesome, and I would love to put some of your work on my site.  What do you think?
All my submission info is at www.rocknrollbride.com/submissions and it would be fab you hear from you. Thanks
——————-
If you are only asking for the use of one image then tell them which one and say what it is for (ie to illustrate a post I'm writing about…cakes or whatever!) However just because they have said yes to one image or one series doesn't allow you to use whatever images of theirs you like in the future – unless of course they say so. Some photographers have said to me that I can use whatever I like whenever I like but I will still always ask before I take from them ANYWAY just in case they want to submit a certain wedding to another site or magazine that requests exclusivity with the images they post. Also from my point of view, I don't like featuring weddings that have been posted all over blog land. I like to keep my posts distinctive from every other blog out there and from my perspective I would like to know if the content I want to post is unique.
Also it may sound obvious but always credit your sources. Put a link at the somewhere in each post linking to the photographer's site and if you found the image on another blog too add a 'via' link. Links mean prizes to websites so don't just write 'source' or 'credit' and add the url there. A text link saying for example 'Rock n Roll Bride' with a link to my site is much more valuable to my Google rank than a generic term.
One of my favourite blogs Think Splendid wrote an amazing blog post on just this subject a while back. Go check it out
♥ How can I create a way for visitors to share my blog on Facebook and other social networking websites? From Lottie
These generic buttons can be downloaded from various sources for non WordPress blogs (do a Google search) or directly from WordPress and added to the HTML code of your blog so that a reader can automatically add a your blog post to a number of different places for example Twitter, Facebook, Digg, Stumbleupon, Bebo. The benefit of this is that your readers can then easily and quickly spread the word about a blog post they like (mine are situated at the bottom of every post, after the 'jump.')
Like most simple tasks or blog alterations, with WordPress this can be done with a plugin. In my opinion WordPress is the best blogging platform for the amount of customisation you are able to do with it.  For information about plugin's and how to use them, check out this info from WordPress themselves and this how to guide.
♥ My question for one of your next posts is about scheduling your blogs. When do you find the time to write them? Do you do them the same time everyday ore very week? From LaKaye
Thanks to one of Think Splendid, I have just recently discovered the joys of scheduling posts. Up until about a month ago I would blog things as soon as I laid my hands on them, wanting to get the very best weddings up on my site asap. However to be honest by doing it this was I was literally on my computer all hours of the day and night and it almost became an obsession to feature each wedding I liked before every other wedding blog. Being competitive is good but jeez I was going a bit mad with it! Don't get me wrong, I still spend a looong time blogging everyday but by scheduling my posts throughout the day I have more time to work on other projects.
I have different folders in my email labelled things like 'To Blog', 'Sponsor Requests', 'How to Blog Questions' and 'Thursday Treat Links' plus a little notebook where I write down which blog posts I will post on which day. There is something about having a plan written down on paper that helps me from going insane!It clears my mind because I know it's written down in front of me and there's no way I can forget it. All this helps me to keep my head straight and know what I have to do on each day. It also stops me from blogging too many things in one day! I now usually write my posts the day before they actually appear on the site so in the mornings, which is my post writing time, I upload the pictures, write and schedule the posts for the next day.
As I am in the UK, scheduling also helps me to post my articles when I know most of my readers (especially in America) will be online. I also have a few regular posts for example my Thursday Treats and my Pick of the Week, every Friday on my Facebook fan page. By posting regularly in these themes I have been able to build up an audience for these specific posts and I know for example if I forget to do the Pick of the Week my traffic suffers for that day!
One final point about scheduling is that I use Twitterfeed to automatically update my Twitter status (you can also use it to update your Facebook) when a post goes live. This lets all your followers know there is something new on the site without me having to worry about being online all the time.
Thanks for all your emails and questions. I hope I have made some dents in answering all your questions. If you want more information still, then here are a few of my favourite blogs that address blogging questions, and even some of my favourite posts. Happy blogging!
Sources:
♥ Think Splendid
Tips for using photos on your blog
How to submit your wedding photos to blogs
Getting results from your web ad
How to get brides to read your wedding blog
Page views, unique visitors and online advertising 
Time management
♥ ProBlogger
The number 1 reason my blog grew into a business
5 ways to know if your blog is on the right track
Blogging is rocket science
The power of being personal on your blog
♥ Design sponge
Advertising 101 for bloggers
Advertising 101 for small business owners