I have to say sorry I haven't been as bloggy the past few days. I have been super busy, super tired and trying to sort out some super new plans for brand Rock n Roll Bride.
Firstly I wanted to say that Rock n Roll Bride has been nominated for a Blog Award! I'm pretty excited as it's the first one I've ever been considered for. I don't know who nominated me but if it was you thanks so much! I would super duper appreciate it if you took 2 seconds to click this link and vote for me!
Secondly behold another new series – oh yes. The very gorgeous Hillary from Off White Wedding contacted me a few weeks ago to see if I would be interested in sharing some of her DIY ideas with you all. After seeing her faaabulous snap station and trifle buffet on The Bride's Cafe there was no way I was going to refuse! Hillary has put together a little tutorial to show you how you can make your very own birdcage veil. I hope you enjoy it!
Materials:
♥ 25×15 in piece of tulle in whatever color you wish. Be subtle or be bold! (I got my Tulle at Joanne's but any well stocked fabric store should have it)
♥ Hair comb, plastic or metal (I found mine at Target)
♥ Embellishment flowers of your choice in coordinating color (mine from Joann's)
♥ Needle and matching thread to tulle (contrasting color shown in how-to so you can see it!)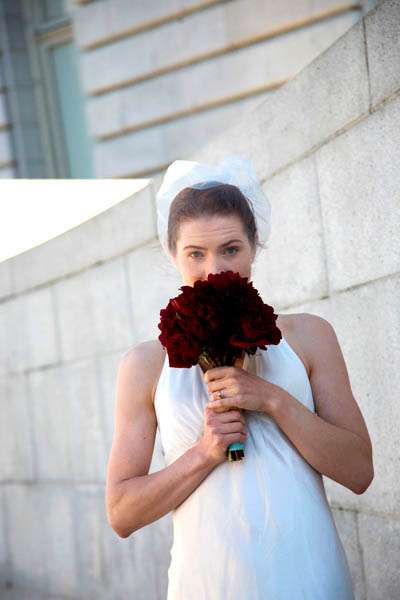 How-To:
♥ Cut an 15×25 piece of tulle. It's pretty much one size fits all, I tried it on five different women and it fit everyone.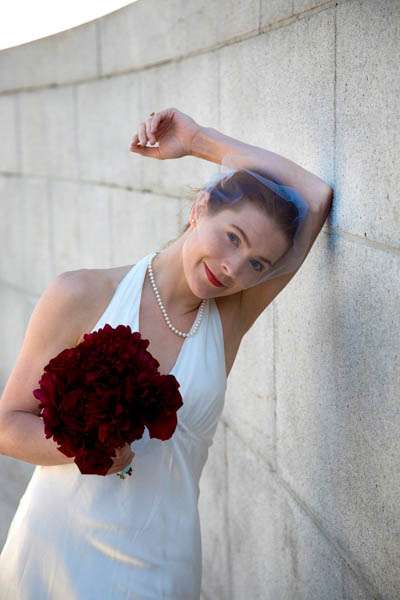 ♥ Accordion fold  the tulle across one of the 15 inch sides (fold like you would if making a paper fan)
♥ Fold the accordion folded edge over ¼ -1/2 inch and secure with a few stitches of thread.  Repeat with other 15 inch side.
♥ Make a running stitch every inch or so (just in and out of the tulle) on the top edge of the tulle on the 25 inch side. 
♥ Pull the thread so the tulle gathers all together snugly at the top and stitch together so it's a small little bunch of tulle. You have essentially gathered the top edge of the tulle and both of the side edges, leaving the bottom edge alone
♥ Sew the bunched up tulle onto the middle of the comb, sewing in and out of the teeth of the comb.
♥ Attach embellishment flowers by sewing them onto the tulle.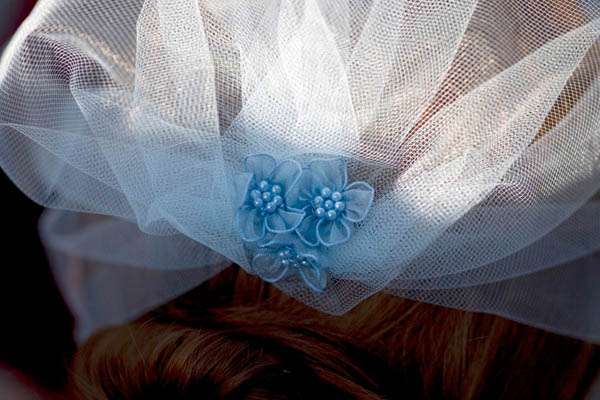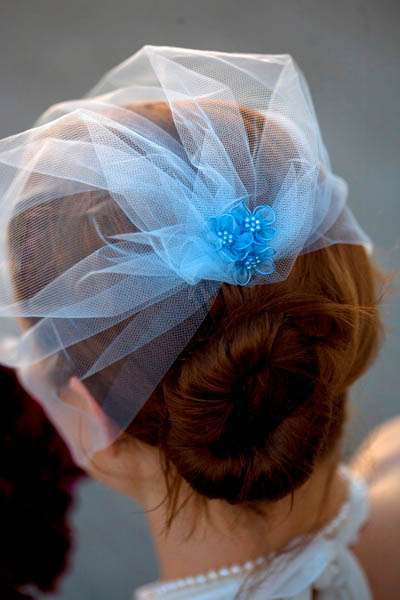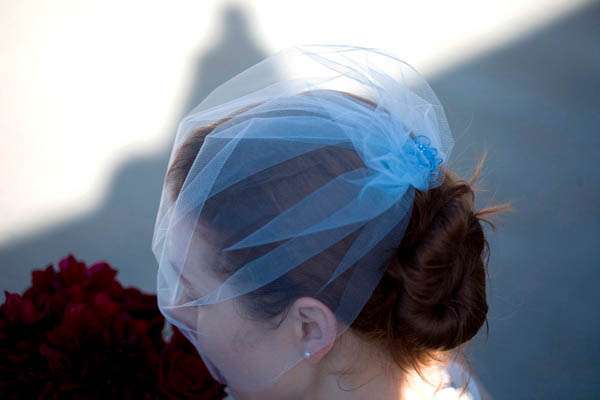 Thanks to much to Hillary for all her hard work on this!
Photo Credit: Jess Epstein
DIY Tutorial by: Off White Wedding
I would love to share more DIY tutorials (with a rock n roll twist of course!) on the blog. If you are interested in contributing, don't be shy – just drop me and email already!