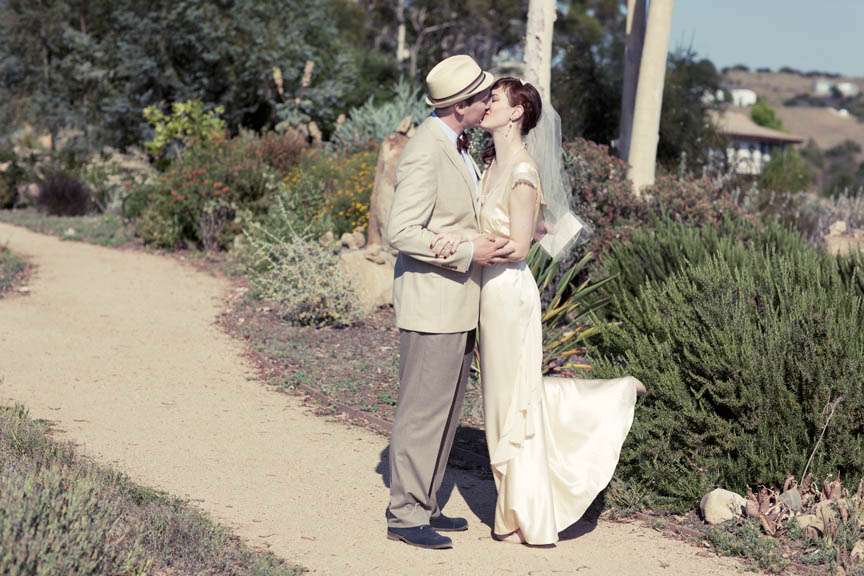 Roxanne & Braxton's beautiful mountain view wedding took place at Meditation Mount, Ojai, CA. Photographer Lydia Hudgens was there to capture the day.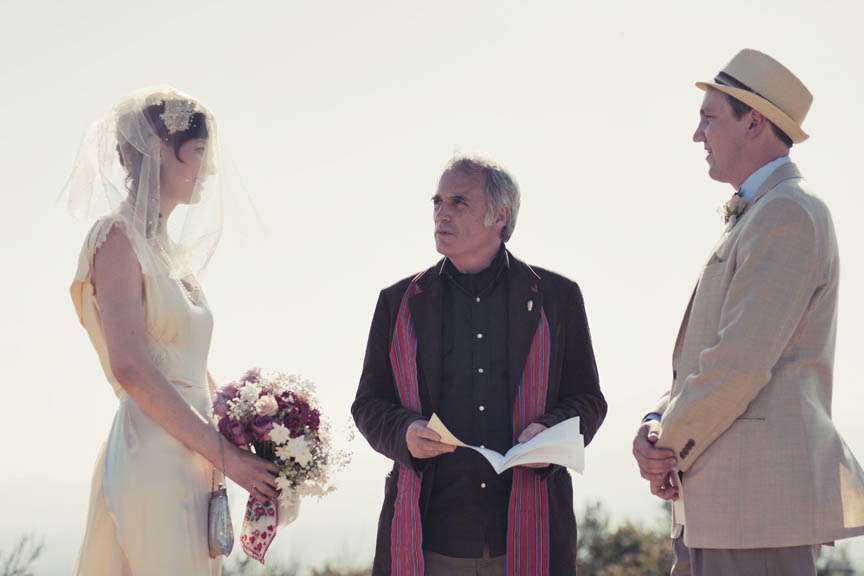 "We wrote the ceremony ourselves and our friend John was our officiant," Roxanne told me. "We had some friends perform readings from favorite writers of ours – Emily Dickinson, Virginia Woolf, Paul Eluard, etc. Another friend, Rob, provided the processional & recessional music on guitar, accompanied by Braxton's cousins Kati and Madi. We walked down the aisle to Joanna Newsom's 'Bridges and Balloons' and finished with Michael Jackson's 'The Way You Make Me Feel.' It was so lovely and just what we wanted; Meditation Mount was an amazing place for a ceremony–the view of the surrounding valley is epic, sublime."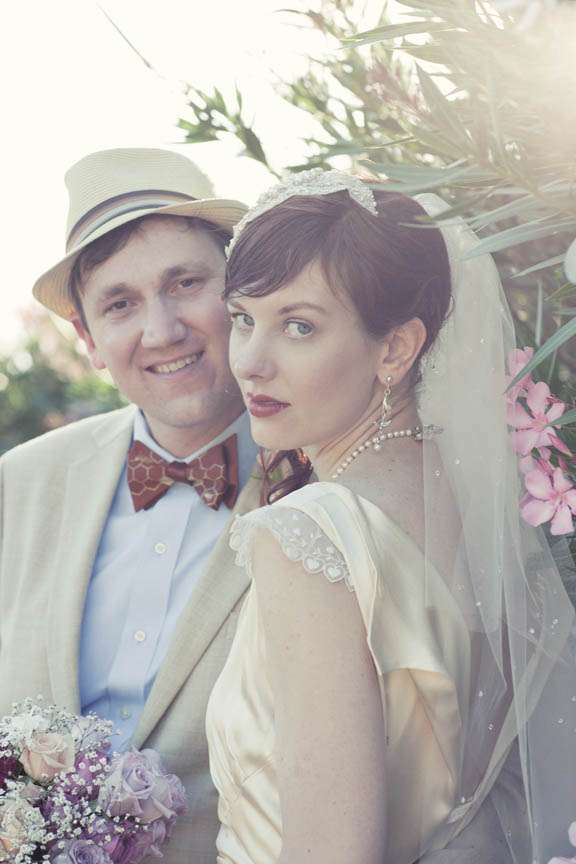 The reception was held at Little House, a community centre in Ojai, CA, and the whole wedding has a real community feel. "For the duration of the wedding weekend we'd rented a ranch down at the end of a remote canyon to stay at with a large number of friends," the bride continued. "It was so relaxing to escape there as the day approached and spend time hiking in the mountains, swimming in the river, and chatting and cooking together. We didn't have a wedding party so this was a way we could spend time with our friends and help them have a bit of a vacation as well."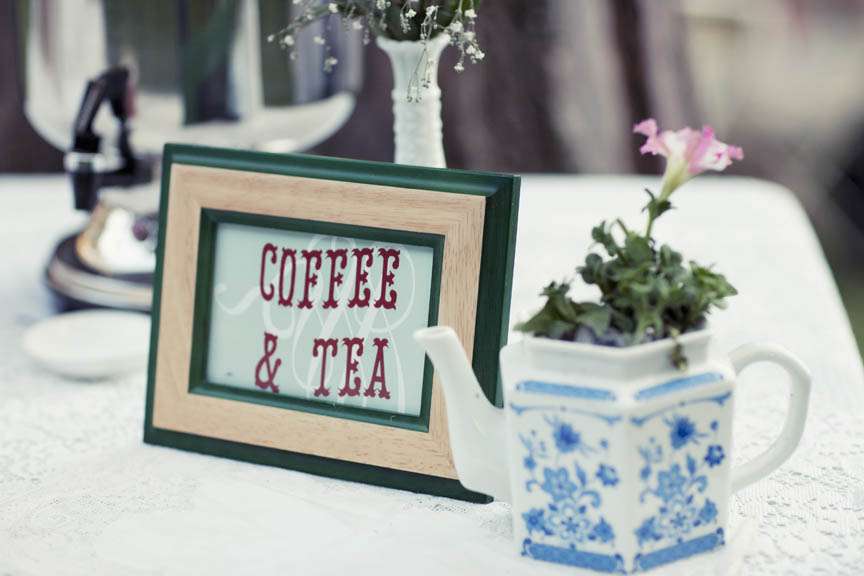 The bride wore a dress made by her Mother from an original 1930's pattern with Melissa shoes and a headpiece from Twigs & Honey. From her outfit, to their decor ideas, the wedding had a subtle vintage theme.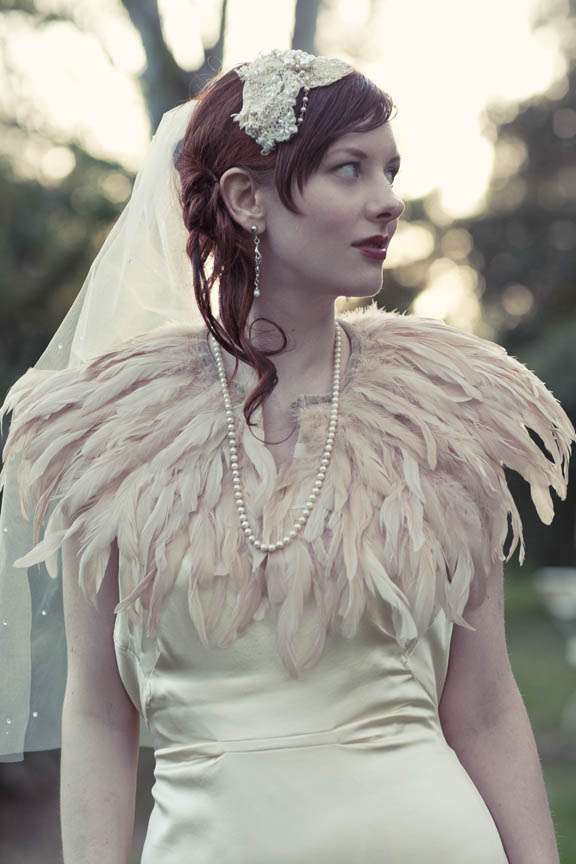 "We didn't have a theme as far as colors, but I did develop a fascination with 1910s, 20s and 30s postcards featuring a fede or gimmel (hands shaking). I collected a number of these and scanned and printed them for guests to write on for our guestbook; we also used some of these images for our website and postcard invitation. This led to a number of other hand themed things – my earrings were tiny silver madras hands holding sparrows holding pearls, and my mother wore a vintage hand brooch on her dress, and we had some hand shaped vases. We also had a shortened version of a hand-fasting as part of our ceremony."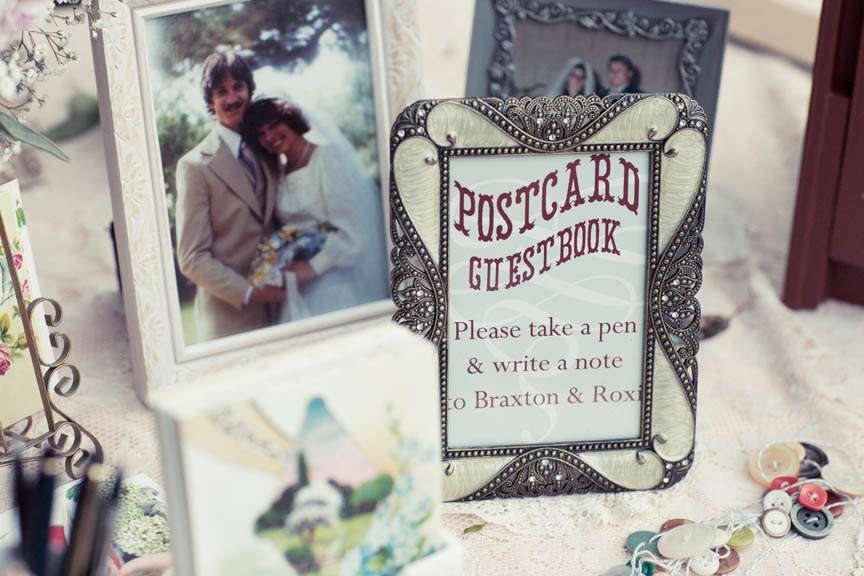 "Anyhow, the rest of the decorations were haphazard and came from what was on hand or easily accesible… I collected vintage tablecloths from family as well as antique and thrift shops, we bought candles at the 99 cent store, we used compostable bamboo plates and flatware in lieu of renting, we purchased parasols and paper lanterns and used live plants for the centerpieces and other floral arrangements. The centerpieces were planted in my Mother's teapot collection. We also asked guests to dress for a 1930s garden party, and many of them did!"
Continue reading