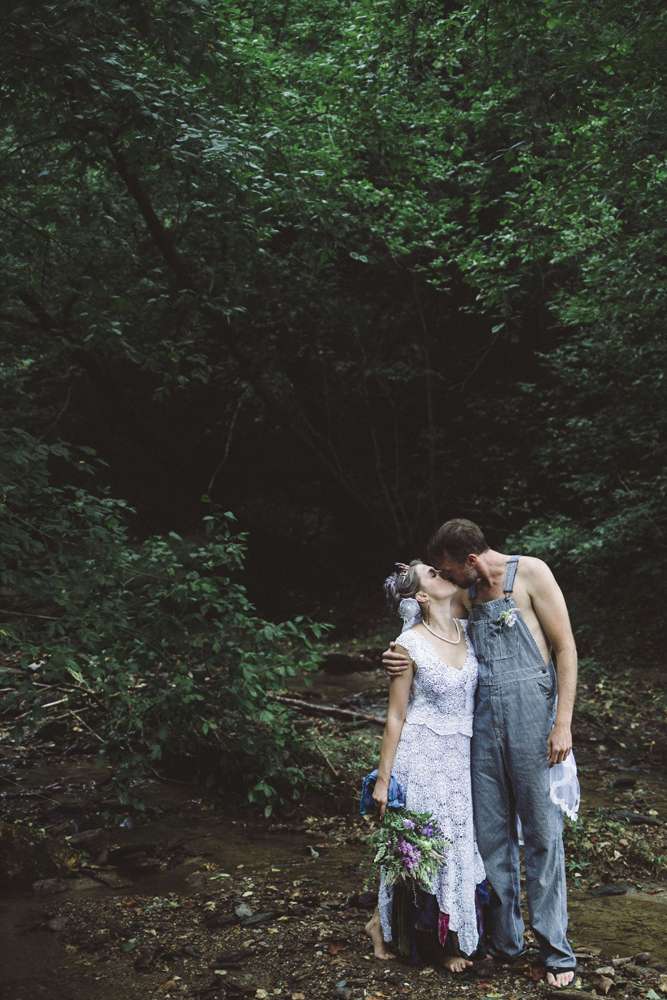 If there's one thing that unifies and defines what makes a wedding a 'Rock n Roll Bride wedding' it's that the couple getting married have a day that perfectly reflects them, their relationship, their families and their love. This is so very true for Tara and Shags who were married at their family's property which sits alongside Muddy Creek in Delta, PA.
The florist bride did all the decor and flower arrangements (the flowers were all handpicked from their own home), they had their guests bring a dish for the meal instead of a gift, and the groom wore dungarees without a shirt underneath as this was the very outfit he was wearing when they first met. Sweet or what!? Even the entertainment was effectively DIY with the band, Bustle & Bump, being made up of their friends.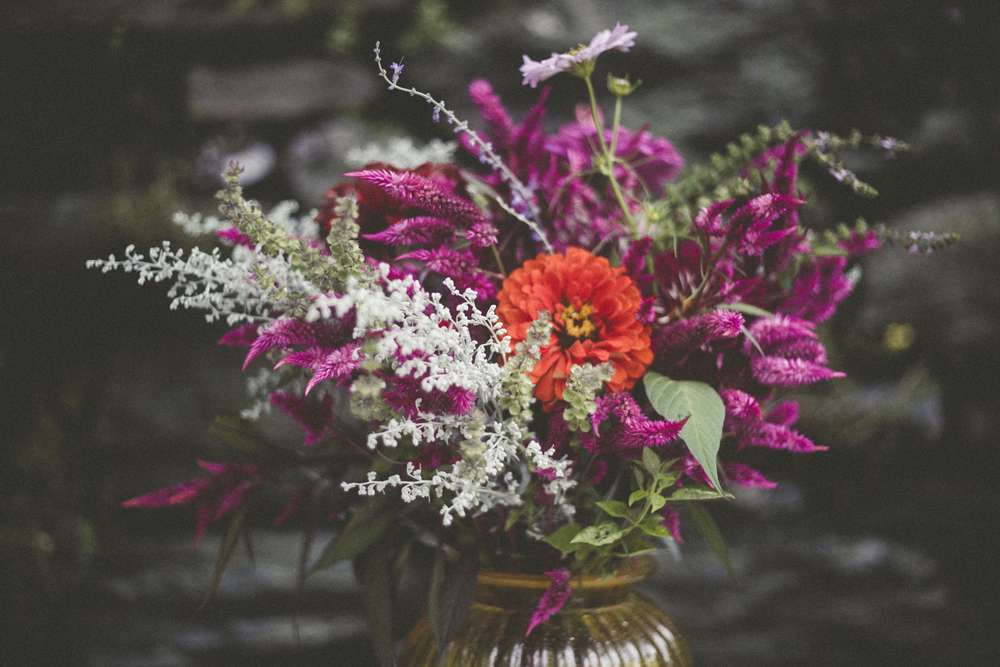 "We met at a friends wedding five years ago", began the bride. "We had known each other for years but exchanged numbers at the wedding. He was shirtless, wearing bib overalls. I asked him what he had going on underneath and he replied, 'boxer briefs'. We have been together ever since."
"Our wedding theme was nature and white lace. I grow up alongside the river and couldn't think of getting married anywhere else. I collected vintage amber glass for over a year in preparation along with yellow or green tablecloths. I wanted the lighting to be mostly natural and wanted to line the tables with candles. My inspiration was the peace and beauty of nature.
"I think the most unique part of the wedding was the location. It's private property and a slice of heaven. I was able to stay at the cabin the week of to prepare and enjoy the sound of the creek and whistle of the train. The magic within the woods is all we could have wished for."
The bride's beautiful, colourful gown was made for her by Melissa Grove of Sweet Melissa's Dream. "I pitched the idea to Melissa and she made my dreams come true! I had been collecting fairy scrap for a decade, attending the Spoutwood Farm Mayday Fairie Festival in Glen Rock, PA. Melissa uses recycled lace and crochet and I requested the bottom of my dress to be filled with colour. When I put the dress on I was in awe of how perfect it was and how well it fit,"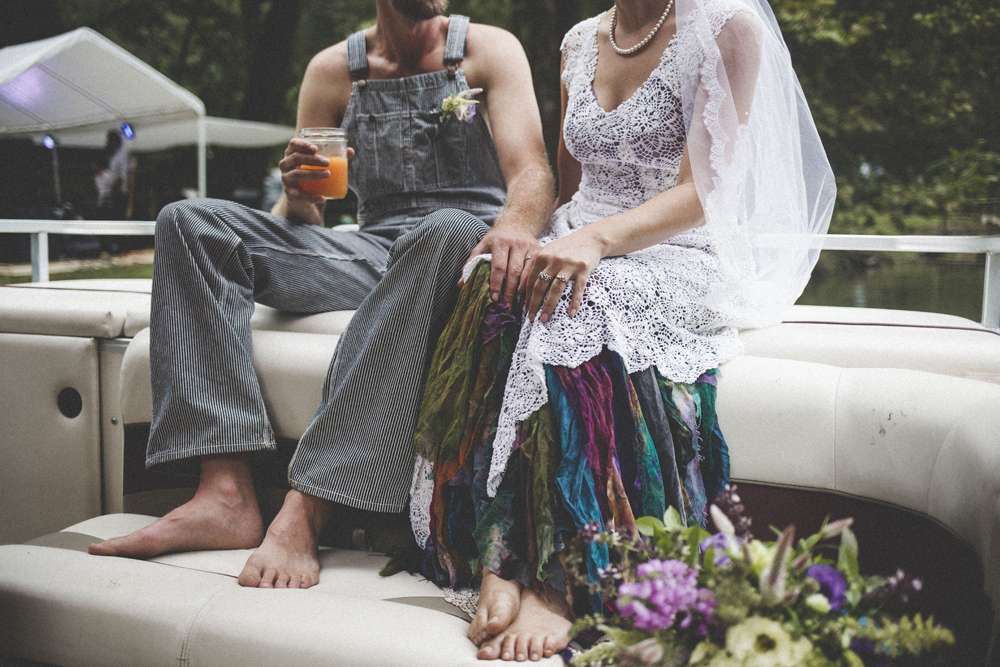 Her crown was custom made by one of her best friend, Sierra Elizabeth Snow of The Wondering Alchemist. "She made my crown dreams reality. I requested amethyst for myself and the bridesmaids. Citrine was used for the boutonniere pins for the groomsmen. As a gift to the bridesmaids, I asked Sierra to make necklaces. Sierra also made my earrings to match my crown. I wore my mother's pearl necklace she wore in her wedding as well as her veil and garter. I wore no shoes, I like being barefoot whenever possible."
The ceremony itself was held outside, on a bridge, surrounded by nature. "We set up straw bails on what was left of a stone bridge that went out in 1933", she continued. "There are two trees towards the end of the bridge that were asking to be married under. I walked down the steps of the cabin to the band playing an instrumental version of Pink Floyd's Dogs. Our ceremony was short, sweet, and to the point – probably under five minutes. We said 'I do' kissed, and kissed some more, then walked down the aisle together to The Cure's Just Like Heaven. We hugged our family and friends then took off on the boat."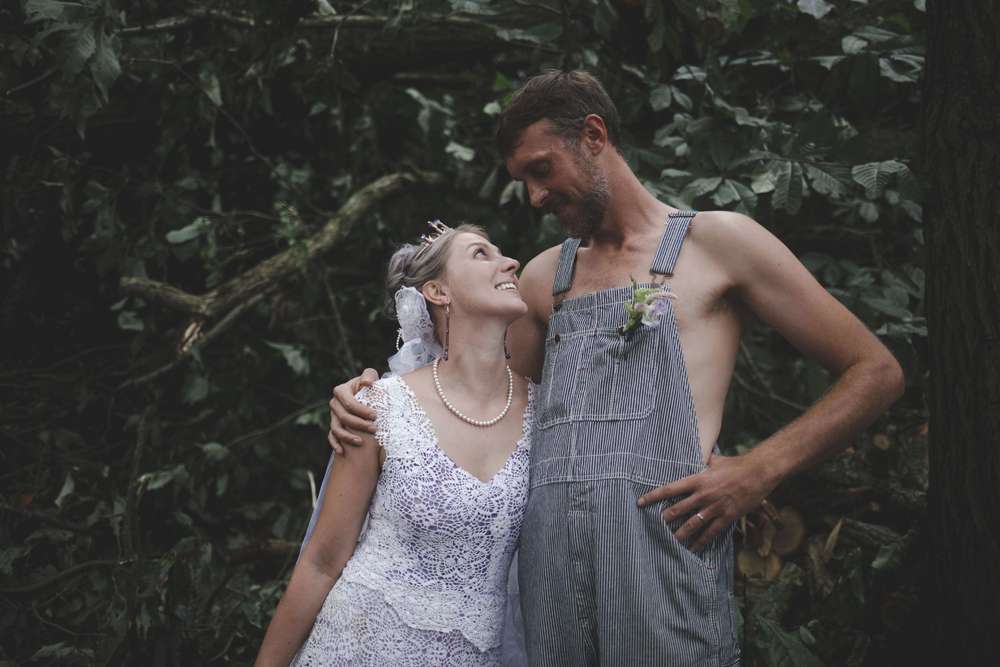 Not everything went totally smoothly, in fact there was a power cut halfway through the day. Bur instead of panicking, they embraced the darkness though, and in the end it only added to the magic of the reception. "When we docked, we went up to the cabin for some photos, then went back down to the yard to eat", Tara explained. "I was standing on the hill, talking with our friends, when we heard a loud crack and we watched sparks fly across the creek. I thought at first someone tried to set off fireworks and it went terribly wrong. Instead, it was a tree that fell and took out the power line on the way down. The band was doing their sound check when this happened. A family friend rushed to get a generator and while we waited our son played the drums for our entertainment. He has been playing since we met in 2013 and was happy to play for everyone. The only lighting was candlelight until the generator provided the band with power. Once the band started playing they lead us dancing into the night, dancing until the grass was mud."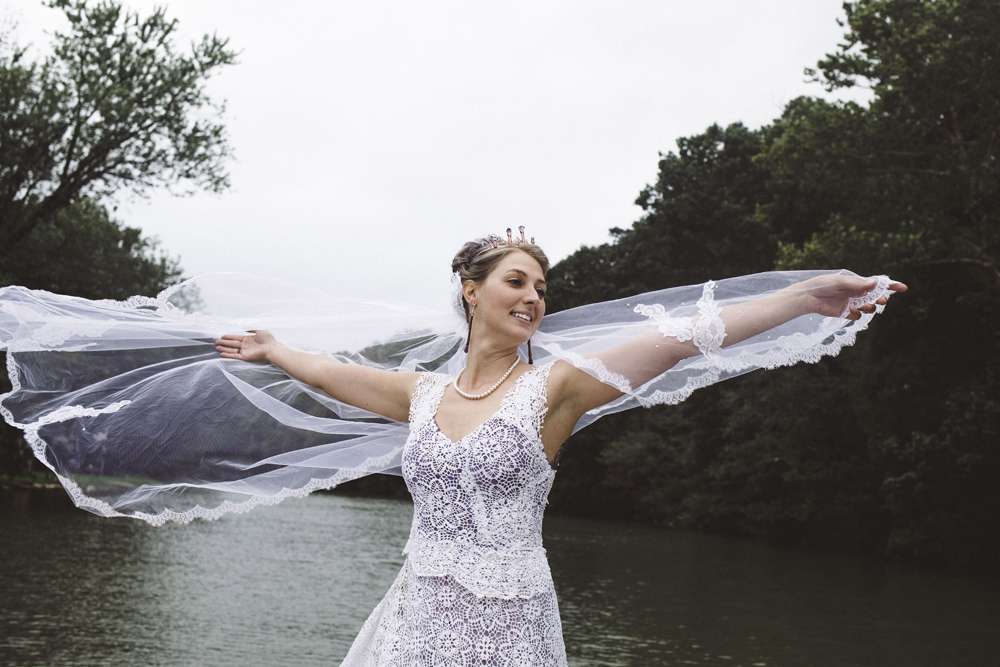 "However my favourite part of the wedding was when we lost power! The fog was rolling up the creek, the only light illuminated from candles, everything stood still for a second, maybe longer. It was the first chance I think I had to look around and take it all in. My grandmother asked when setting up why someone would need so many candles, and we all discovered their purpose. The show went on, regardless of circumstances out of everyone's control. The calm before the storm, the moments of candle light in the darkness, was breathtaking. Once the band was set up and powered by the generator, the true party began!"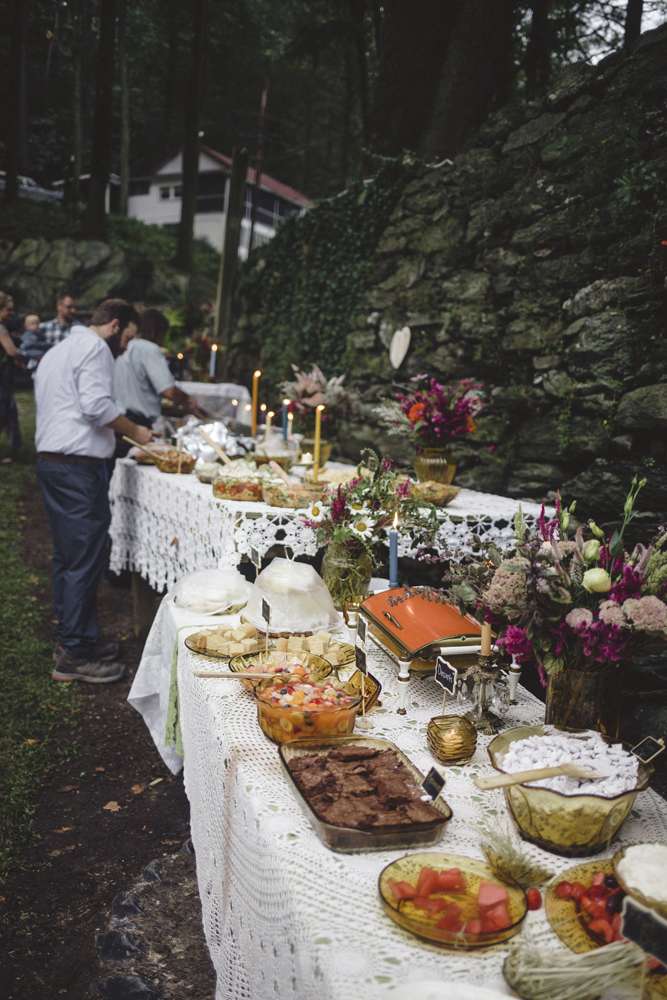 "Most of the wedding was DIY", she concluded. "I planted succulents in-between the stones of the bridge throughout the summer in preparation for the wedding. My bridesmaids provided jewellery, cakes, laughter and support. We arranged the flowers and my family and friends took care of setting up the tables. Everyone came together to create our magical day. We are truly blessed to have some many talented souls in our lives."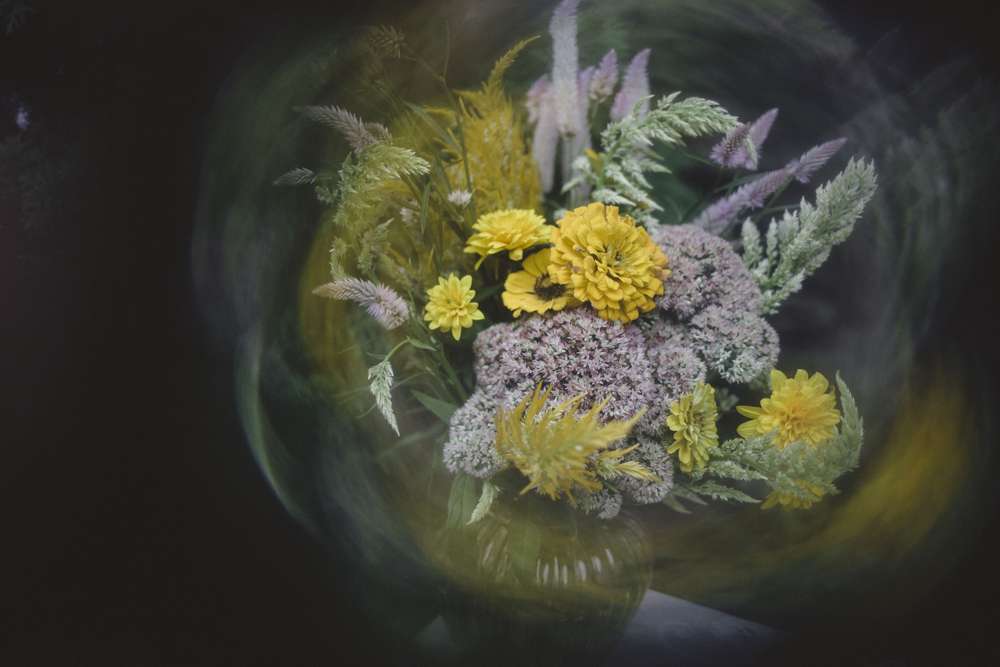 "I would also just like to add that no one is you, you are the only one. Let your love guide you along your wedding planning journey, try to support local artisans, dream like there's no tomorrow, live everyday knowing that your love changes the world, and never stop daydreaming."