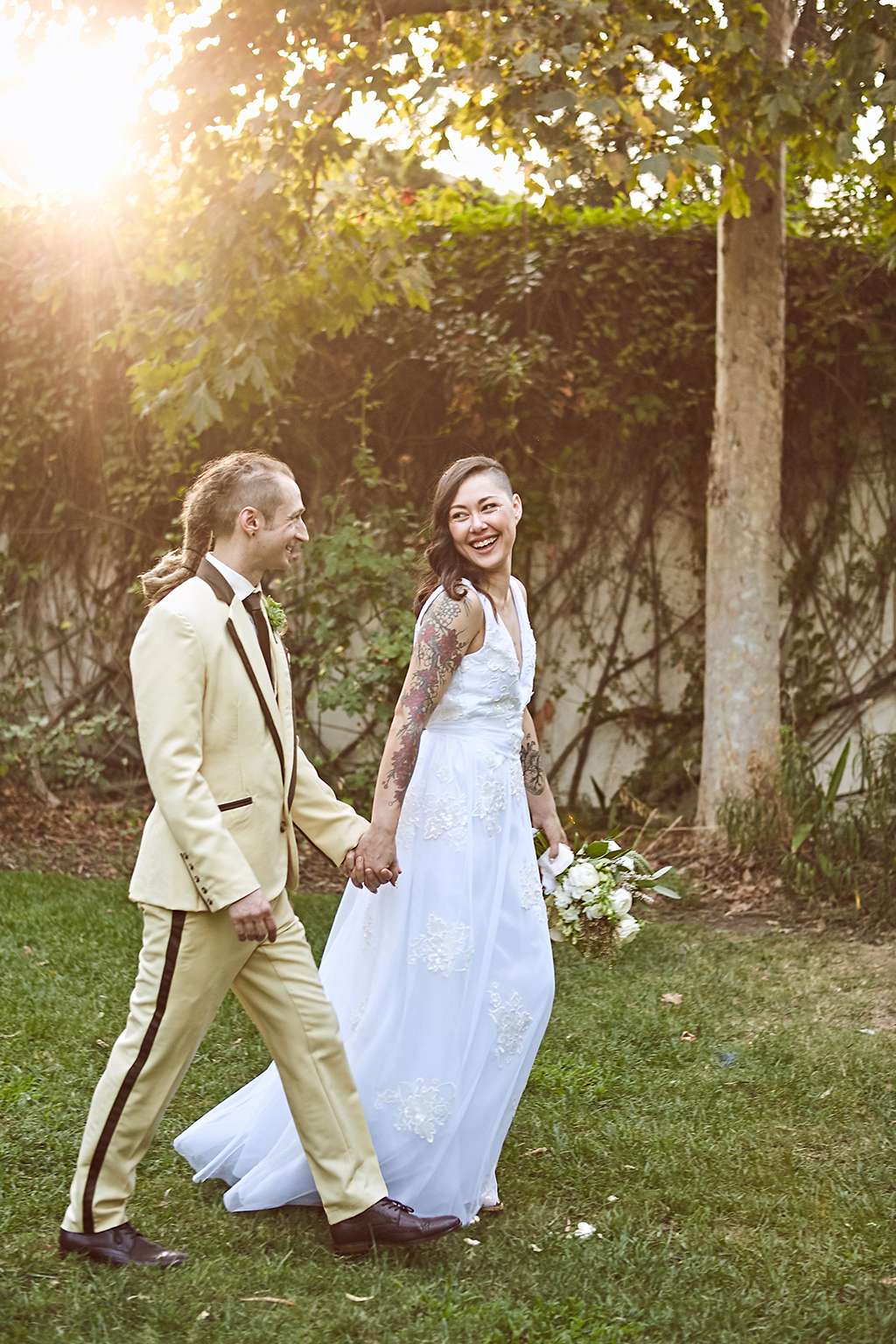 Chris and Luana met completely through happenstance: Chris was on his way home from a pool party with friends, when they decided to stop for food. Luana happened to be working the counter that fateful evening, and the rest, they say, is history. They had their rehearsal dinner at the very same restaurant nearly 10 years later.
After Chris proposed at their annual trip to Coachella, the couple married at the Los Angeles River Centre and Gardens in an outdoor ceremony, with a reception at the same venue after.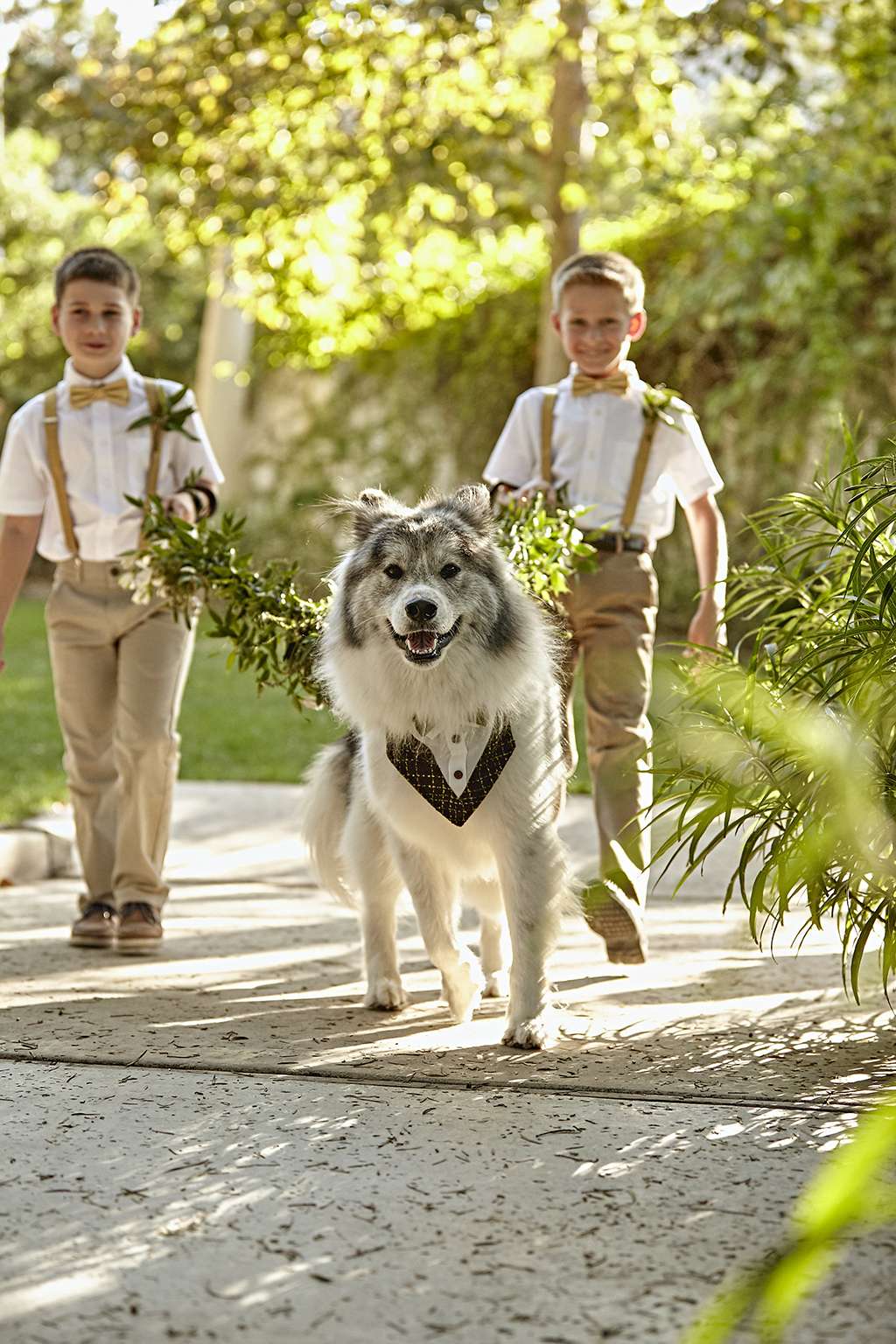 The couple knew from the start that their rescue pup, Roky, would be involved in the ceremony, and he made the most of his moment in the spotlight by barking at the priest during their blessing! "Everyone else was quiet so he thought it was his turn to speak up and give us his own blessing" laughed Luana. "It was one of my favourite moments of the whole day".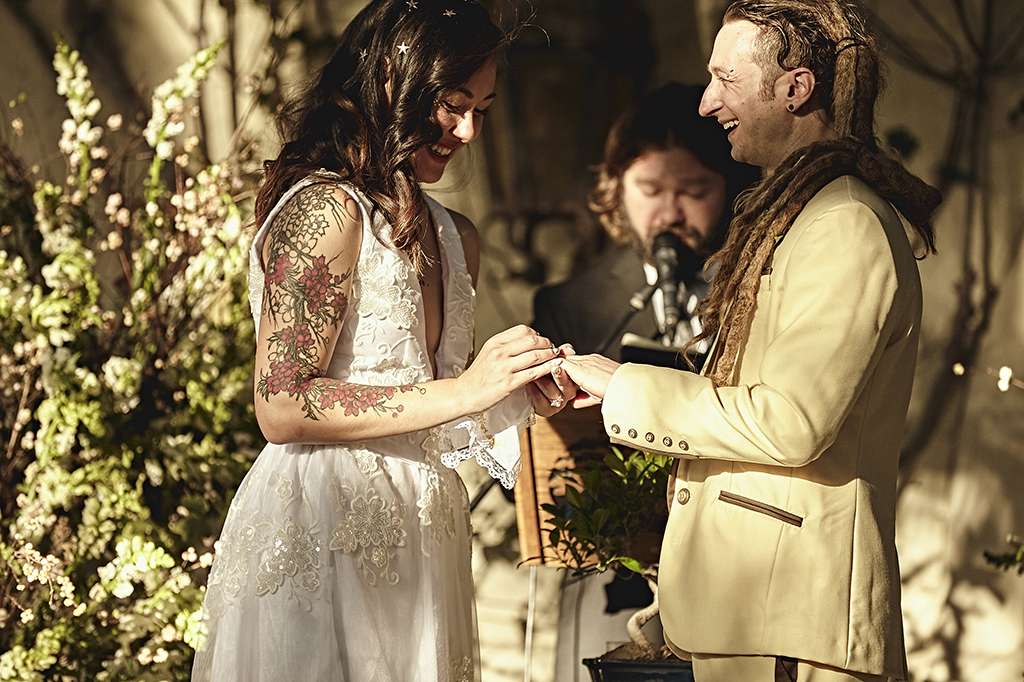 Luana wore a custom dress with metallic gold Oxford shoes, Heidi Gibson rings and adorable star hair clips. The bridesmaids wore mix and match gold sequin dresses and a vintage gold suit, each choosing their own style to allow their personalities to shine through.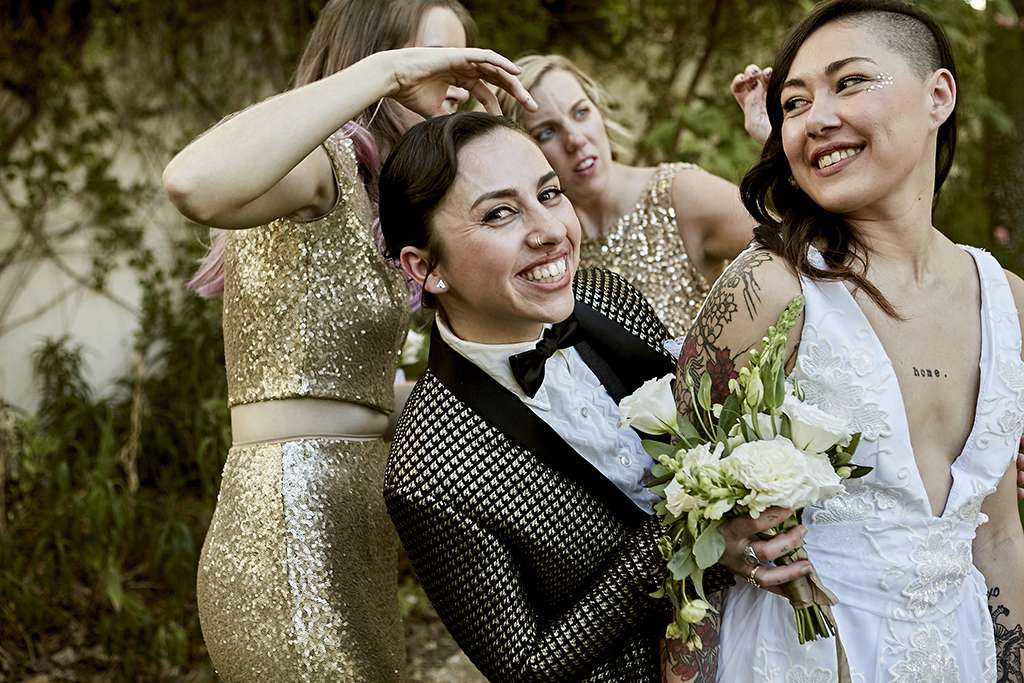 These personal, sentimental touches formed the majority of the choices they made for their special day. Their catering was provided by a chef from the restaurant that they would always go to when they first started dating. They eschewed a traditional wedding cake, instead opting for Monkey Bread – a favourite dessert treat from Chris' childhood. Their union ceremony was held at the tree they were sitting in when Chris first fell in love, and he surprised Luana later on by singing Maps by the Yeah Yeah Yeahs to her on guitar – the song they were listening to when Luana fell in love with him. They even hired their vendors not only for their taste and abilities, but also on their character and personalities – "more than anything, we really wanted to become friends with everyone we worked with" said the bride.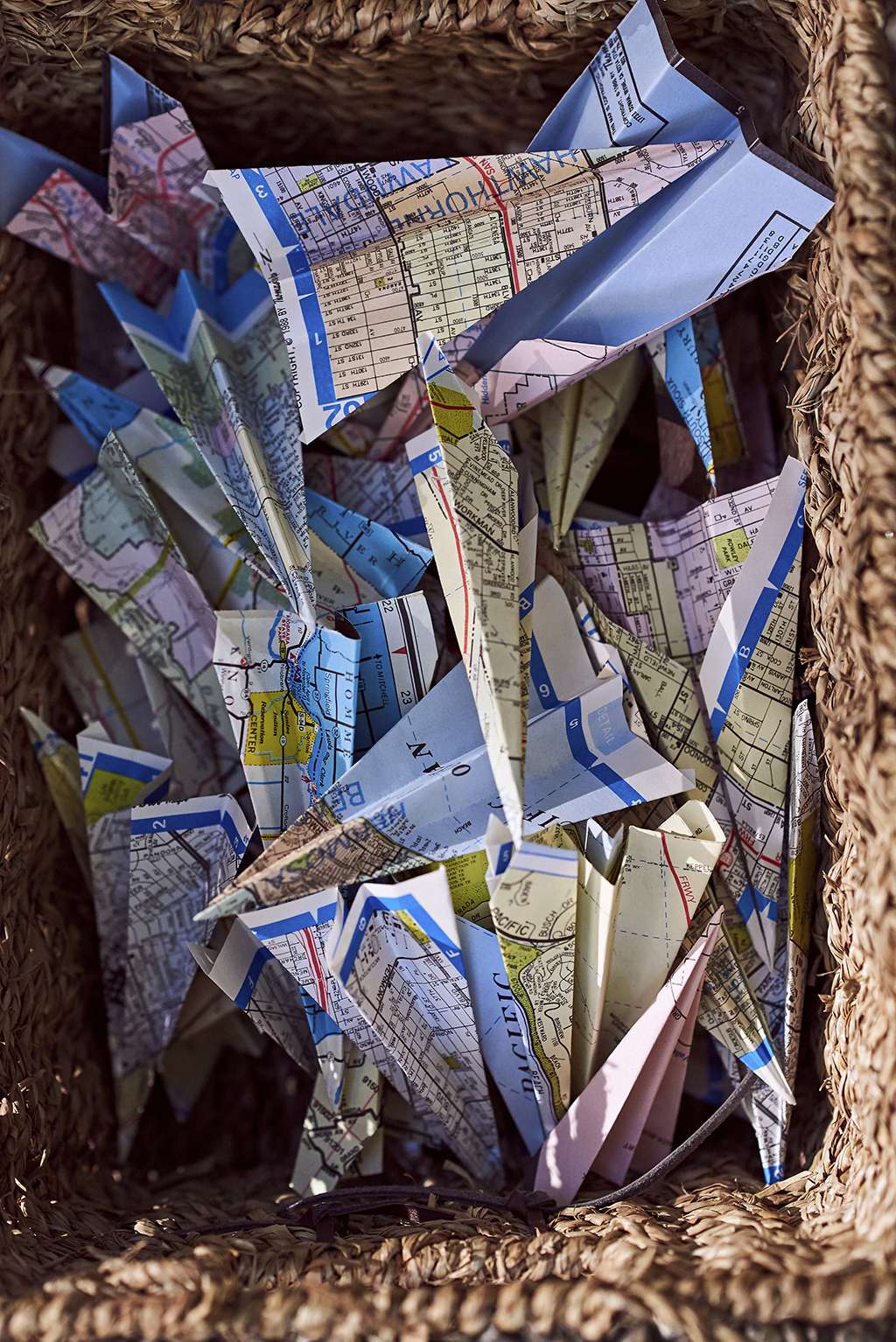 Aesthetics wise, everything was chosen to try and capture what their love feels like to them: playful, whimsical, breathtaking and adventurous. Their invitations were vintage travel postcards, hand-typed on a typewriter by Luana and mailed out to their guests. The flower girls threw paper airplanes instead of confetti. They bought buckets of plastic toys (planes, trains and automobiles) and spray painted them gold to nestle in amongst the greenery and garlands that adorned the tables. Other decor included antique globes and suitcases.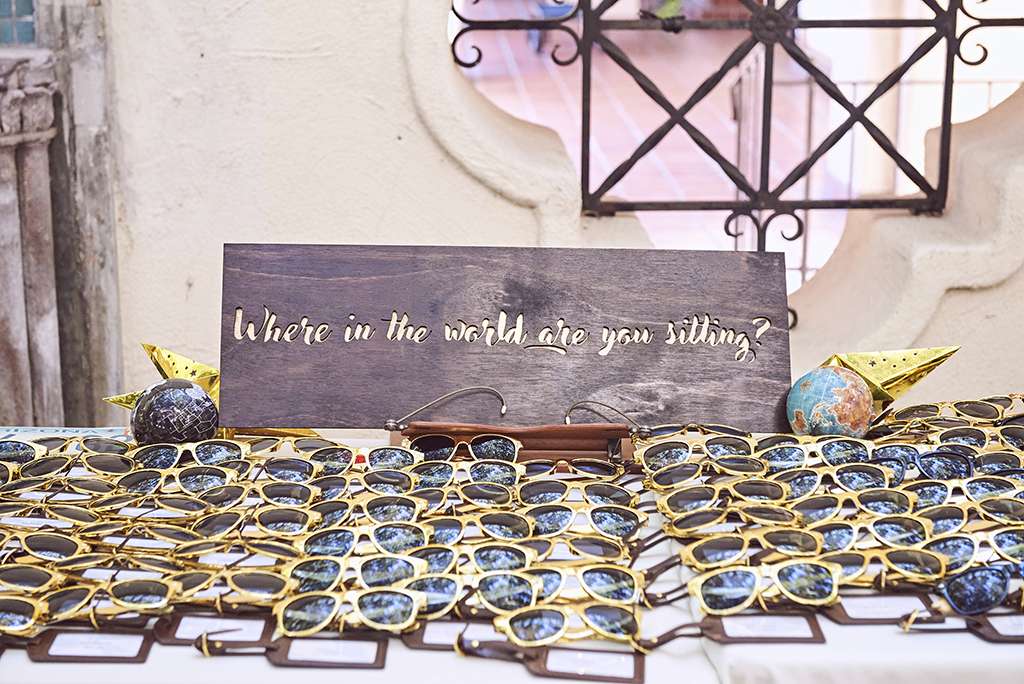 It was also incredibly important to them that they 200 strong guest list knew just how much their presence was valued at their celebration, so they did everything they could to make their guests feel welcome and loved. Each guest had a custom made luggage tag as a place name and favour for them to take away as a memento from the day. They ensured their bar was well-stocked with their favourite, delicious cocktails, which got the whole party started – everyone from grandparents to the kids were cutting a rug!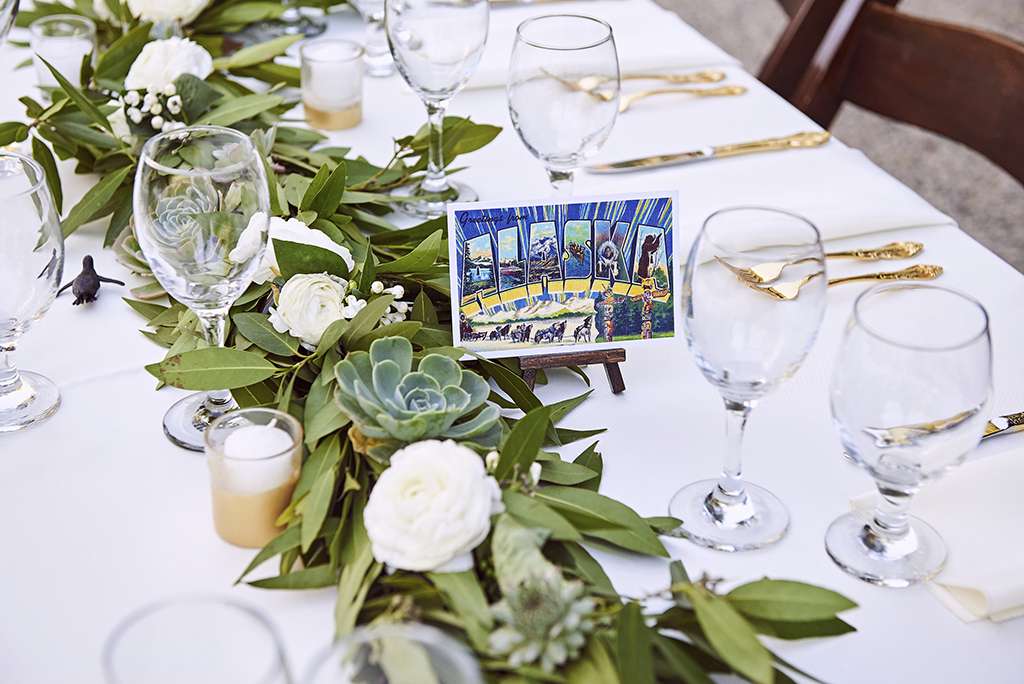 "The best thing about planning our wedding was truly being able to make it ours and represent us in every detail" Luana reminisced. Her advice for future brides and grooms would be to fight for what you want from your day, and if you're on the fence about anything – just go for it. "You'll get to cherish the happy memories from your wedding forever, so fight for what you want – not what other people think you should do!"