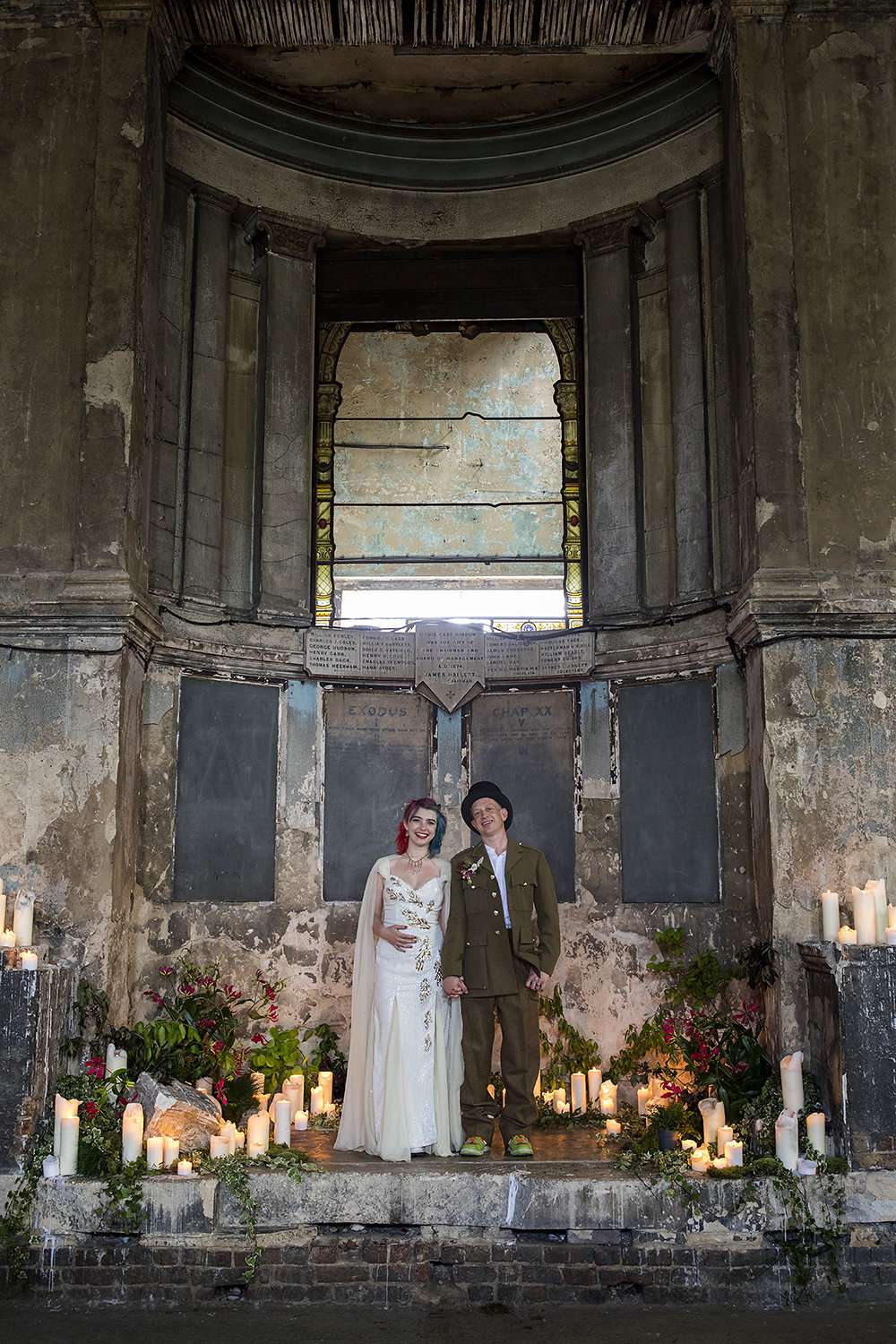 Heather and Fraser met at the London School of Lucha Libre, with Fraser wearing a flying squirrel outfit, so you can already tell their wedding is going to be pretty spectacular. Set in the to-die-for Asylum Chapel, and featuring 120 papier mâché animal masks and a wedding gown made from a Dolly Parton fancy dress outfit, their eclectic, weird and wonderful celebration looks like a riot of fun. And yes, there is Mexican wrestling – of course. What do you take us for?!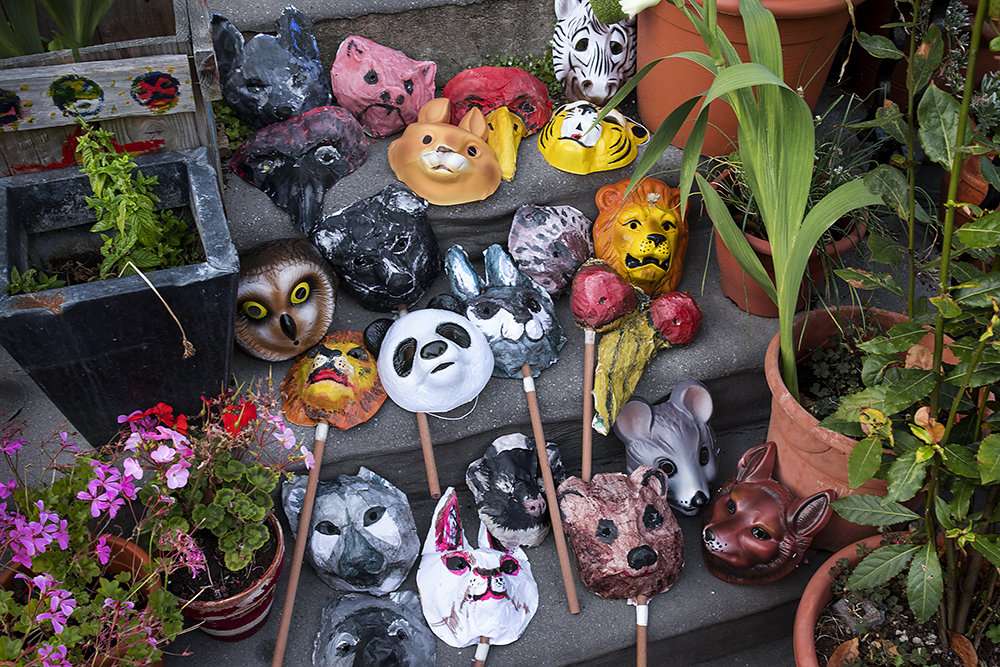 Their super colourful and joyous wedding didn't have a particular theme. "We're not sure how to class it," they say. "Wicker Man? It was just very us! We're both a bit mad and our friends are a bit mad. We wouldn't ever change this so we embraced it fully. We're always the weird ones so everyone had to wear animal masks to ensure we looked the most regal."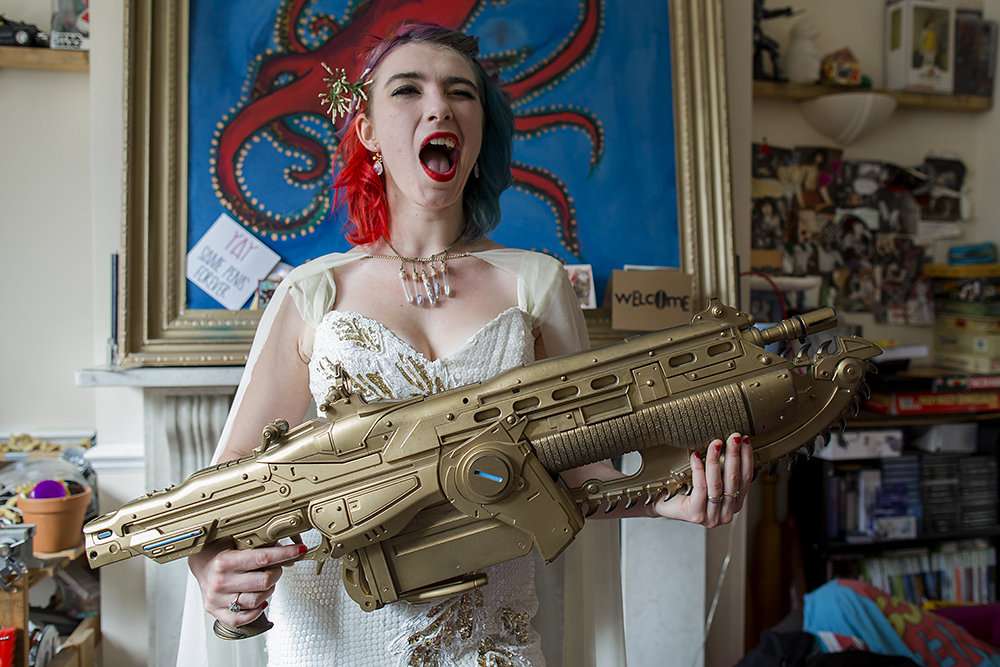 Heather and Fraser spent months making said masks out of papier mâché. "We wanted them to be creepy and homemade, so for ages we spent our Sundays drinking beer and making masks – over a hundred! It was by far the best bit about planning the wedding, as it gave us time together to remember why we were getting married."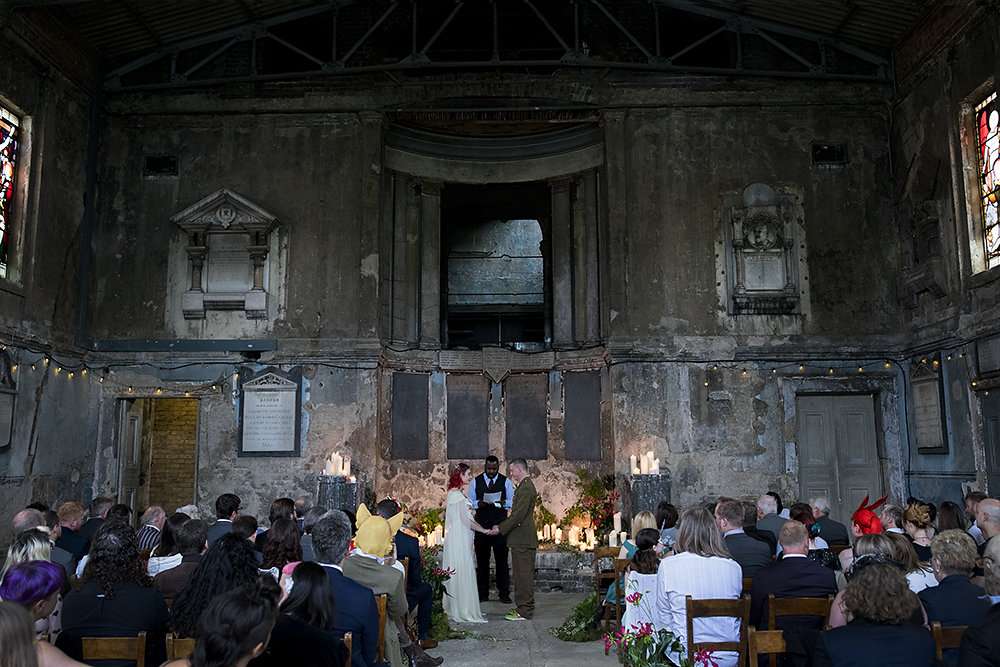 A lot of the rest of their wedding was lovingly DIYed too, as they wanted to call upon the amazing creative talents of their friends. "We learned that asking 'Could you make us a cake?' or 'Can you swallow swords for us?' in exchange for a gift is not a lot to ask if people love you and have the skills!" they explain. "So my friend upcycled my dress, which was a £35 Dolly Parton outfit from a fancy dress shop that was closing down, Fraser's sister made our cake, and our mums made chutney to accompany the cheese. The musicians were also our friends, as well as the other bizarre goings on – sword swallowing and a wedding wrestling performance!"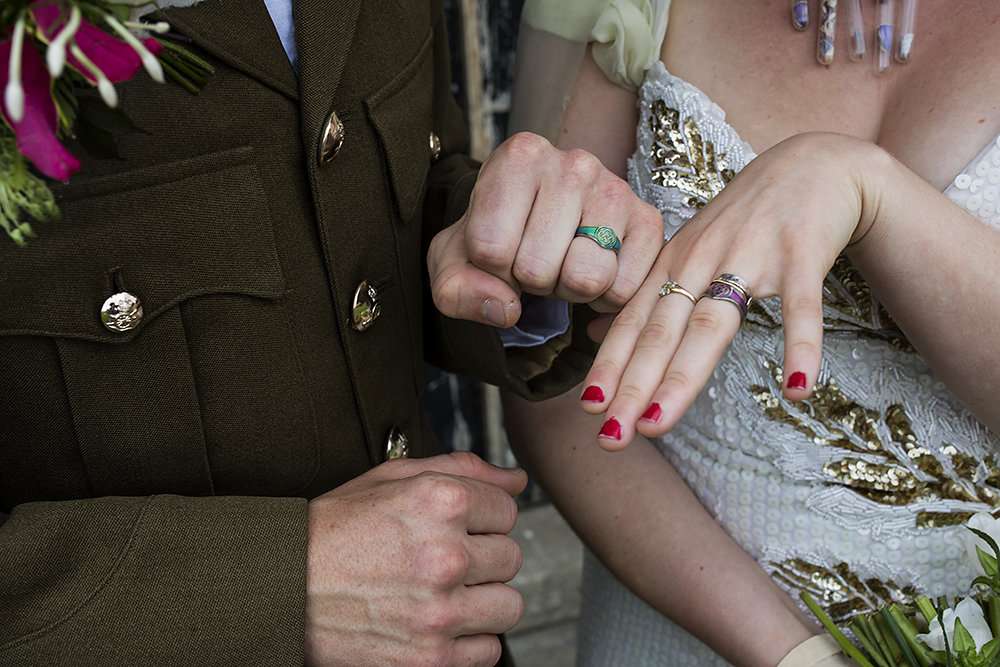 Hiring the Asylum Chapel for their ceremony was their biggest expense, but worth it: "It was so beautiful and unique that we knew that it would be the best place for us, and not need any extra decorating or glitz, apart from the flowers which we took with us to the reception." They laid out masks on each chair for everyone to wear in preparation for Heather walking down the aisle, which she did to Life on Mars – "but I mistimed it, so we sang the chorus loudly and badly at each other at the altar until we had to do the talking bit." Their wedding rings were also mood rings!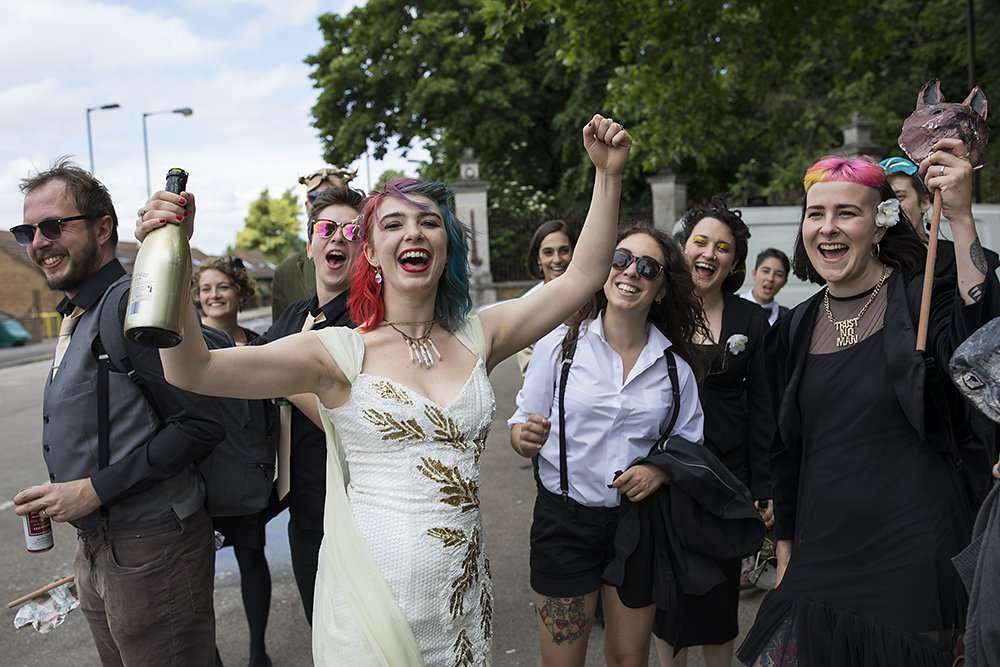 Heather and Fraser held their reception in their local community pub and had an absolute blast walking between the two, walking around the graveyard with a random gaggle eating Pom Bears and drinking Aldi cava. Once at the Ivy House, they had a wrestling-based first dance to Don't You Want Me Baby, and two male wrestlers doing an interpretive dance of the wedding ceremony for those who'd only been invited to the evening.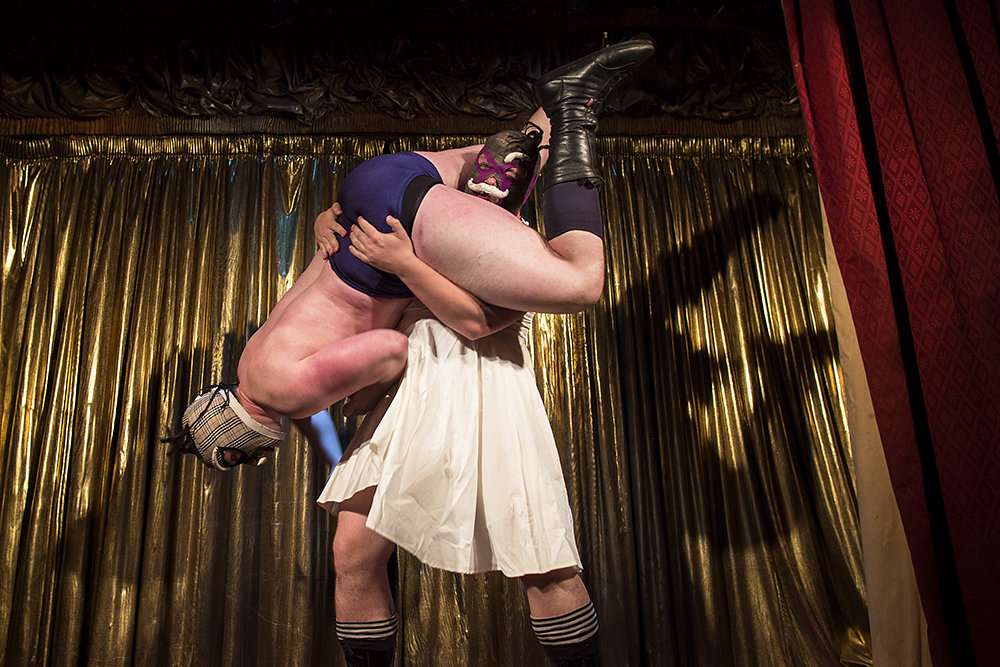 As much as their day was wall-to-wall euphoria, Heather and Fraser have some brilliant advice for couples currently planning their wedding. "Have an allocated person who you can designate as the 'troubleshooter' for when someone comes up to you at the wedding and tells you some helpful information, like 'the toilet isn't working'. You can go 'Oh I'm sorry, please go tell x person and they'll sort it out!' For me it was my best friend, and for Fraser it was his sister."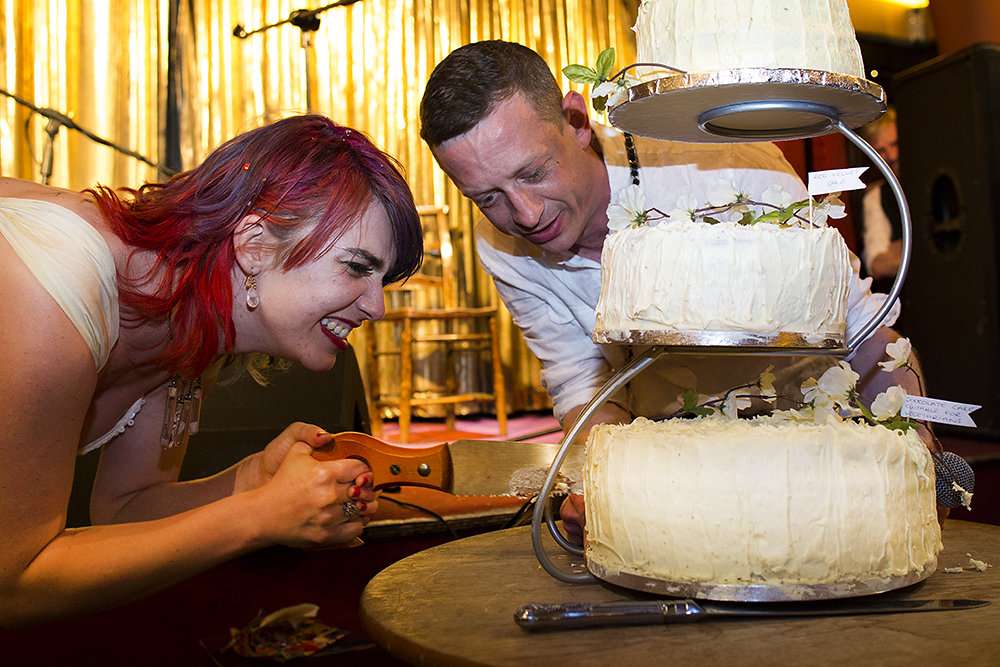 We can double confirm this is excellent advice – if you don't want to be bothered with this on your day and if you don't mind designating that responsibility to one of your chosen few, it's a great method of reducing stress.