If this is how you do weddings in Chicago, I want in. Let me just list the boxes Brandi and David ticked on their incredible day: a romantic rooftop first look, getting hand tattoos in their hotel room, playing with smoke bombs against the backdrop of a spectacular rainbow, and their two pups were the ring bearer and flower girl! Then, as if that wasn't kickass enough, a week later the bride contacted photographers Ed and Aileen Photography to do a 'trash the dress' session, which took place in Lake Michigan on a 2°C day! That's not just setting the bar high, that's sending it stratospheric.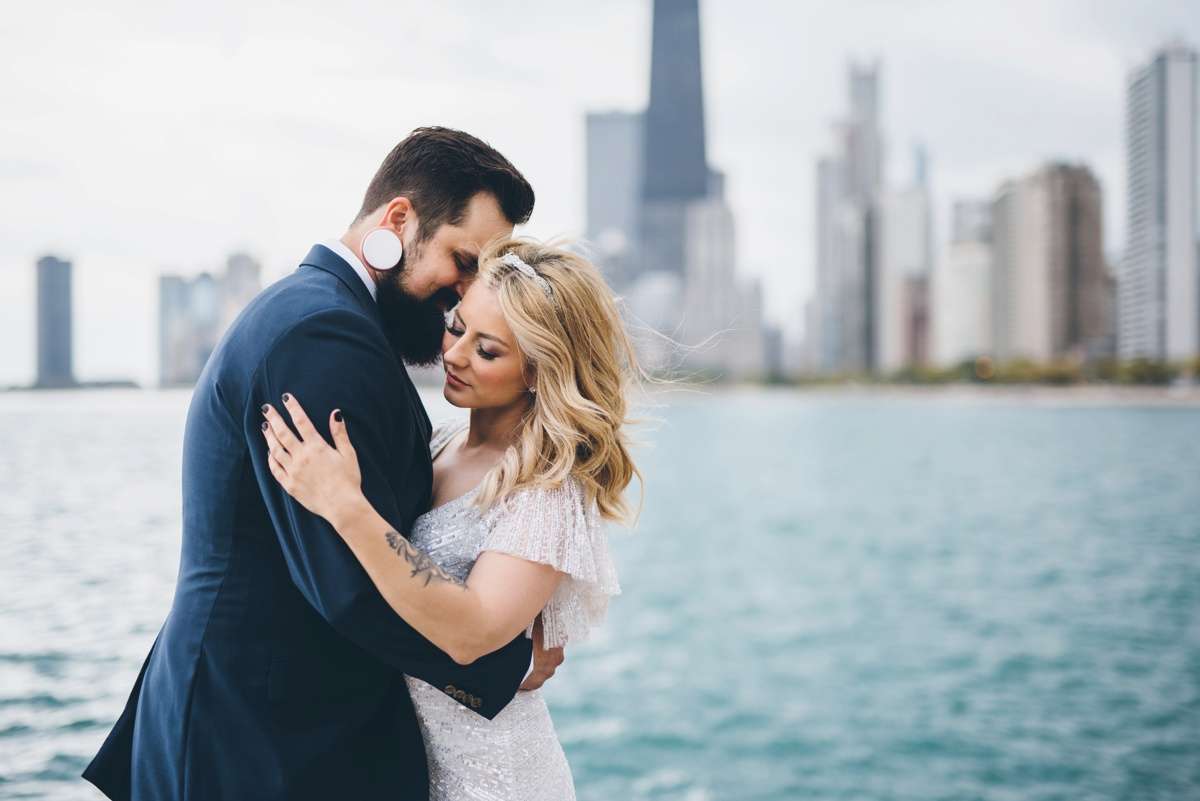 Brandi and David met through mutual friends when the bride worked at a burger bar. When he came in wearing a teal blazer from an '80s party the night before, he made her laugh! "We started hanging out after that and I got that giddy feeling you get when you're in middle school. I had no idea he had a crush on me, too", she said.
The couple had a goal, rather than a set theme, which was to throw the biggest party they could, at ceremony venue Concord Fifty Five, filled with tacos, booze, food, music and love. Brandi said their inspiration was, "Really our personalities. We wanted everything to really show who we are as a couple. It is really the one time you get to throw a party and do what you want, so we definitely took advantage of that." When we asked them what their budget was, Brandi said fabulously "What's a budget? We fell just shy of $30K."
As non-traditional as they were with a lot of things, there were some traditions that were must dos for them, "Significant for me was my mum walking with me to do our first look", said Brandi. "I was so excited to see Dave and it felt really good to have her with me. My mom and I are super close and I wanted my dads to walk me down the aisle, but I felt like her walking me to do my first look was like she got to give me away as well."
In between the first look and the ceremony, this badass couple actually got tattoed! "We were super stoked. We hung out with our friends; it was just super laid back and was such a cool moment for us to commemorate our day."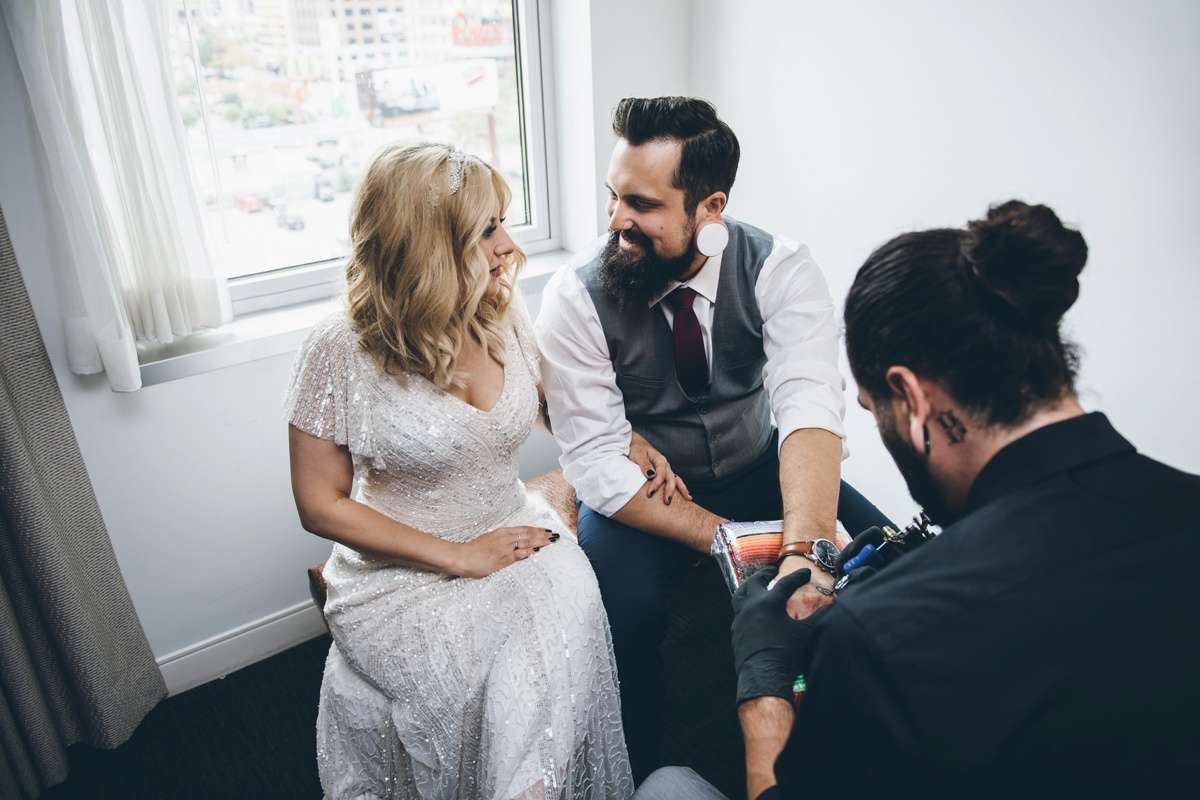 "Our ceremony was super important to us because we really wanted it to reflect our relationship and the life we have built together. It was actually supposed to be outside, but then got moved under a tent (hired from Bedolla Rentals) because it was pouring outside, and then had to get moved a third time because the rain and wind was sooo bad! Our groomsman, our DJ and venue owner totally moved everything last minute, which worked out because the space was gorgeous. Our good friend Tyrone married us and it hands down was the best thing because it is really personal having someone officiate who was there from the beginning of your relationship."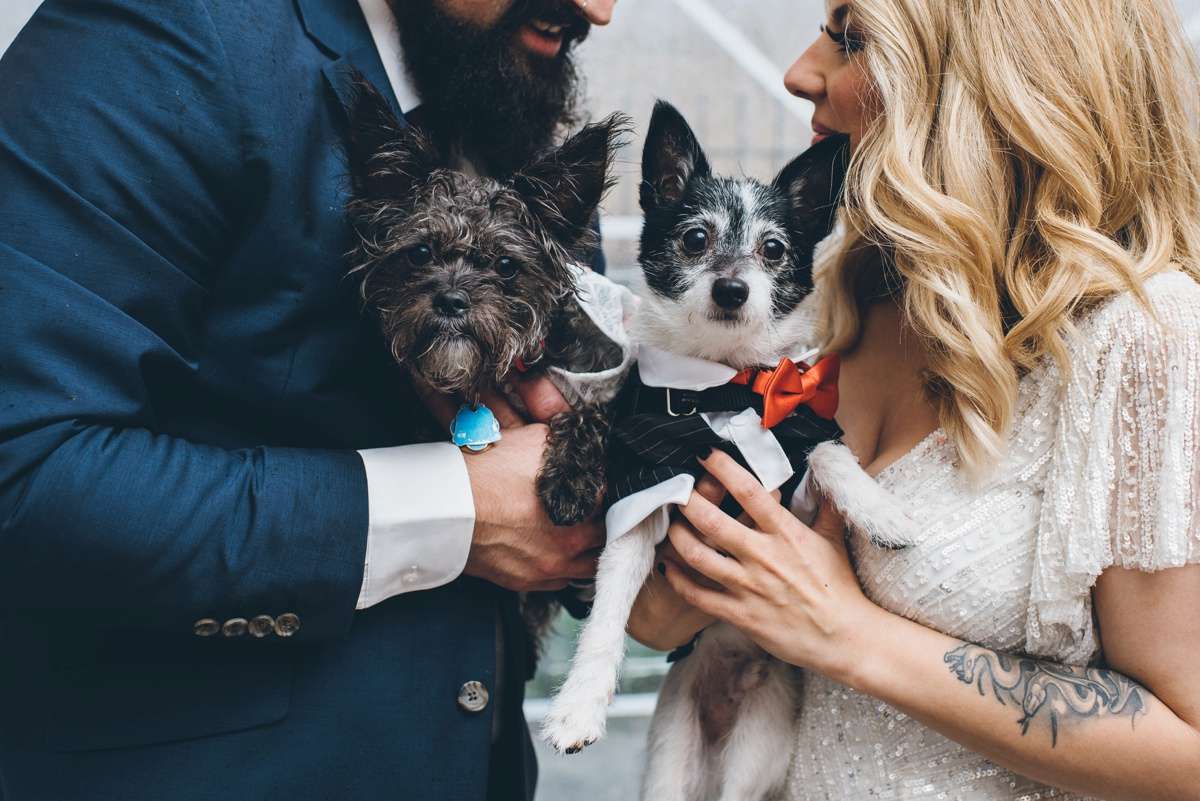 "Our dogs Charlotte and Fitz were our ring bearer and flower girl. I needed to have our dogs there so our amazing future sister-in-law was able to arrange that for us. We had three of our close friends read stories/passages that they felt represented our love, and having them read and share that with the people who mean the most to us was so fulfilling. We wrote our own vows, as well, which we read from our phones. There is something really personal about getting to say how you feel and making realistic promises to each other in front of the people you love the most, as corny as that sounds…"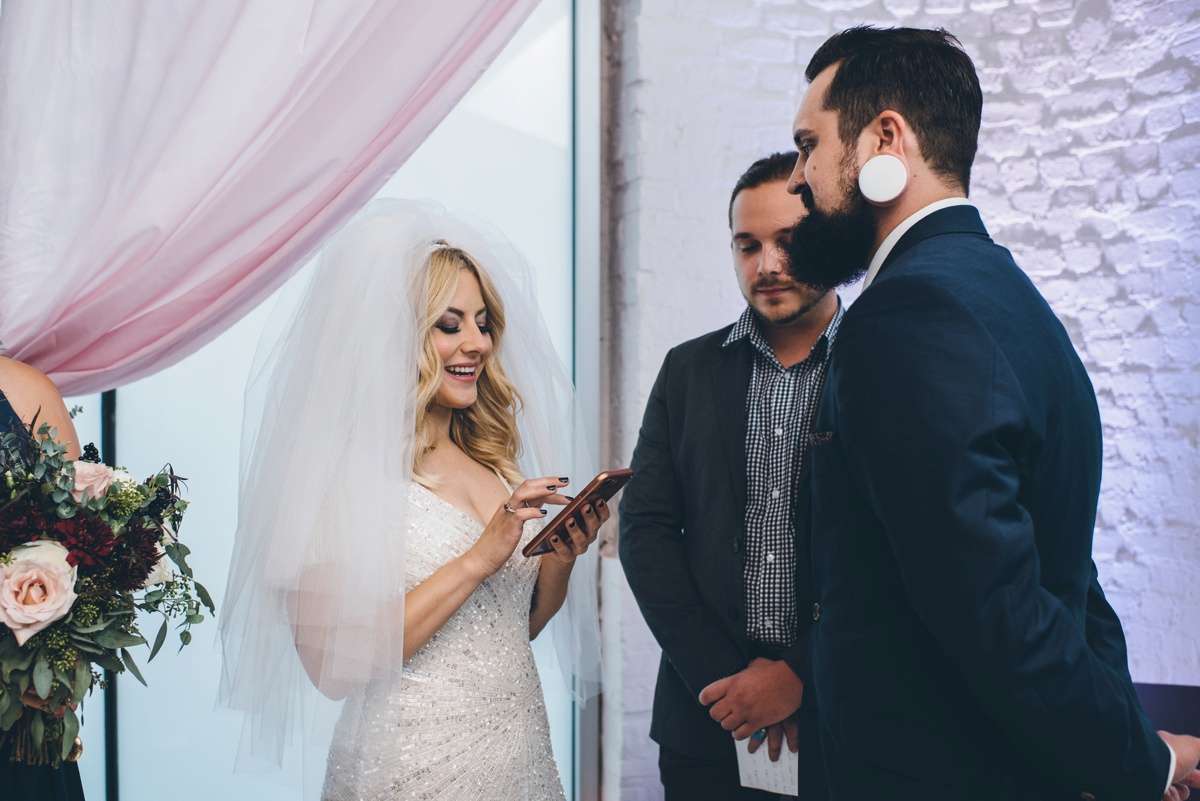 Brandi's beautiful glinting sequinned dress was from BHLDN, worn with complementing glittering shoes from Badgley Mischka, and headband from Etsy. Chris from Kate Johnson Artistry did her hair, while Brooke from Brooke Klay Artistry did her make up. David's suit was custom made by Indochino and his accessories came from The Tie Bar. The bridesmaidsdresses were from David's Bridal and there was a bridesmaid in a jumpsuit from Nordstrom.
Dylan from Chicago DJs (who also provided the uplighting) kept their guests partying hard, while their photographers also provided a photo booth, which was great fun! Apparently this wasn't the only entertainment that night. In Chicago, there's a cult drink that goes by the name of 'Jeppson's Malort' that's famous for being so bracingly bitter that when you drink it you do the 'Malort face' – that being one of shock!! Brandi said, "We got our aunt Joanne to do a shot for the first time and her face was priceless."
"Food was also huge for us. We wanted as many tacos and as much cheese as we could at our reception. We did open plan seating and had food out for hours so people could eat when they wanted and not feel like there was an itinerary to follow. We didn't do garter tosses or dances, with the exception of our first dance. We wanted the night to be super relaxed." And because food and booze was so important to Brandi and David, it was therefore their biggest expense. "We love to eat and cocktail. We basically blew our food budget and threw it out the window!" Getting the catering sorted was problematic at first. "We had multiple restaurants fall through on food for us, which was killing us because we didn't realise that asking for tacos for 130 people was that much! But our venue owner owns a restaurant called Knife & Tine as well, and her assistant did a custom menu for us, which totally took the stress away." Their cake was by Central Continental Bakery, with more sweets on the dessert table by the bride's mum Theresa and stepmum Christine, finished off with a pie by First Slice Pie.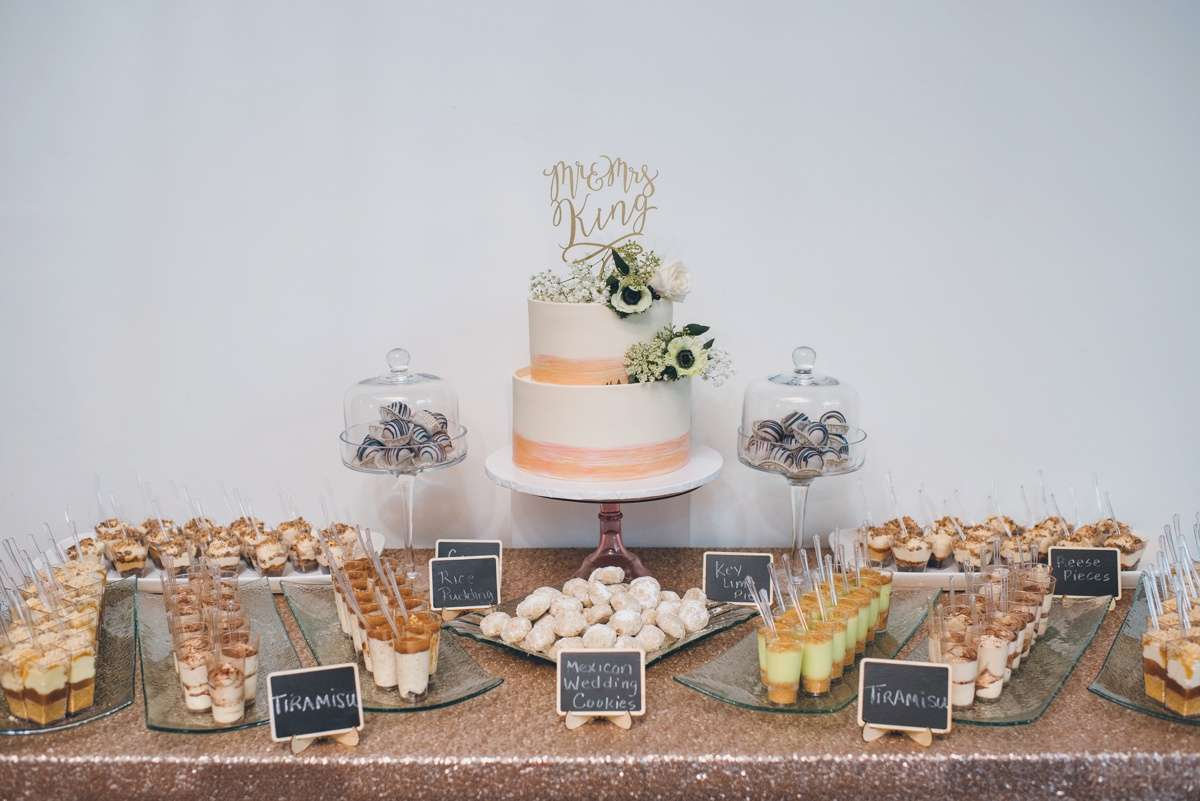 The couple saved money on the flowers and centrepieces. "We just didn't go overboard," said Brandi. "We DIYed all of our centrepieces, which were wine bottles with fairy lights, and pictures of our pets, and we did tags on our favourite hot sauce bottles for favours. We really didn't want favours that people just toss to the side; we wanted something people would use."
The best thing about planning their wedding, said Brandi, was "Getting to do what you want and no one can give you crap about it because it's your wedding. Two of our close friends were getting married a few weeks after us, so it as awesome to be able to have someone in the same boat to share advice with, to share some décor with, and to commiserate with during the hectic times. We actually wish we'd known how much time goes into the planning and research. We live in a city where there are endless choices and it was sometimes a bit overwhelming."
The only thing they would have done differently, said Brandi, was hire a videographer. "Everyone told me that it was not a big deal, but I wish we would've had a video of that day. We jam packed a lot in, and it flies by, so I wish we could have something to watch to see all of the things you don't get to see when you're living it!"
Brandi had a few favourite moments from the day including the "First look and getting to see each other, which sounds crazy because we have been together for five and a half years so I didn't think I would be so anxious to just see him. As soon as we saw each other, nothing else mattered that day; it was like all was calm, and we knew it would be a breeze after that. Also, there was a moment we went outside our venue to smoke a cigarette, and getting to have this five minutes alone, and see everyone we love so much laughing and having a good time, was just incredible. The whole day goes by so fast so it felt really good to be able to have a few quiet minutes with each other to see everything we did from the outside looking in, and to get to hold each other for a minute."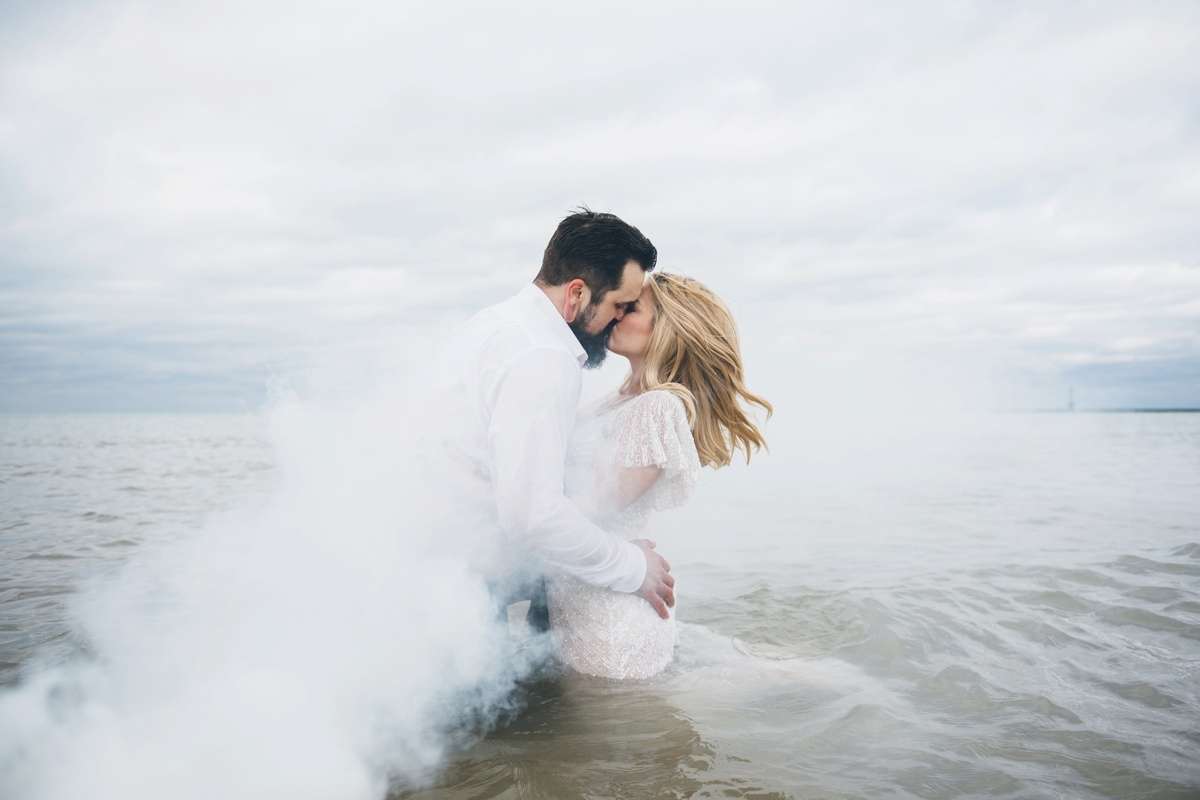 Brandi's advice is to go with the flow. "Some things will go wrong. No matter how much you plan, something will not go according to your plans. BUT it will not matter. As soon as we saw each other, we were so excited to have that day and to get married that the whole town could've been on fire and we would've been like 'okay is everyone eating? Drinking? Dancing? Laughing?' Also DO WHAT YOU WANT and have fun with each other. Don't think you need this perfect Pinterest wedding. Do what makes you happy. Smile and have a beer when you are overwhelmed and think about how it will be worth it because it really is in the end. Take every minute in, as cliché as that sounds. I wish I could do our day over and over again. My face hurt for about 48 hours from smiling and laughing that day."