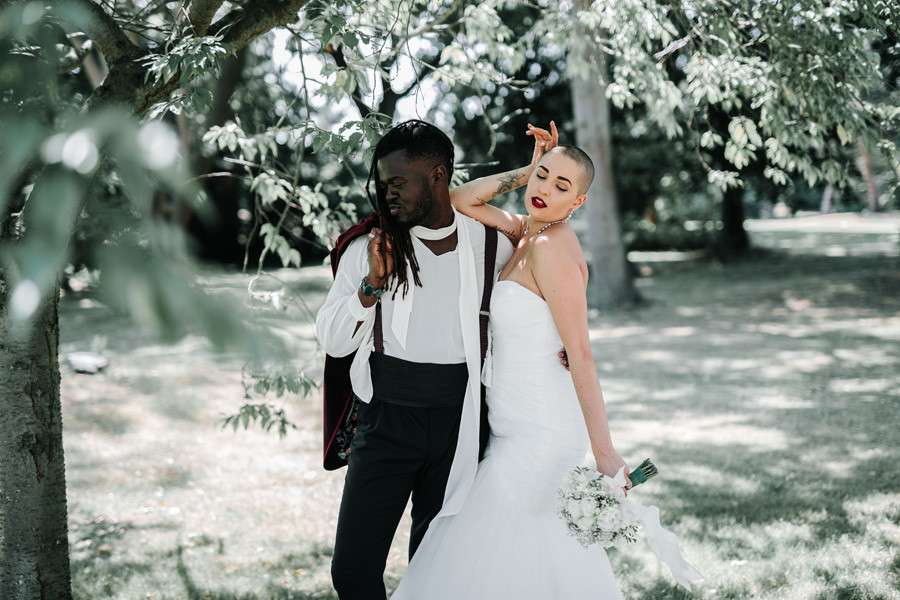 Every wedding we publish is gorgeous, special and wonderful in it's own unique way, but there are some weddings I see that I get SO EXCITED about sharing. Cat and Ade's wedding is definitely one of those. And once you see their pictures and read their incredibly romantic story I'm pretty sure you'll be able to tell why I love it so much.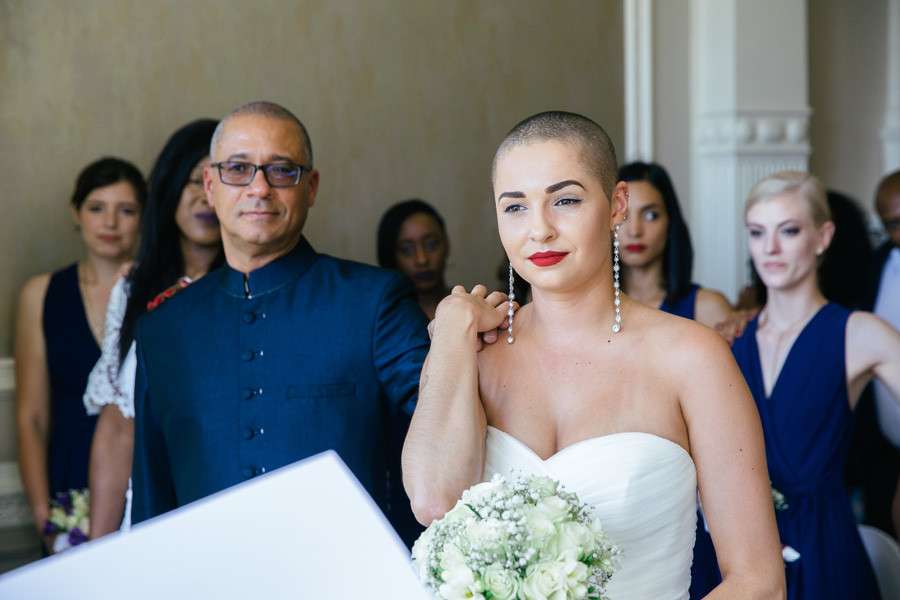 They met through mutual friends when the groom was working on the set of a James Bond film! "I was lucky enough to become friends with an actress when filming Skyfall in Turkey", explained Ade. "It so happened (without my knowing) that this actress believed I would be a good fit for her friend, Cat. I did subsequently see Cat at a party in London (she inevitably stuck out because of her height and continuous entertainment). There were no particular sparks as of yet, our paths didn't quite cross at this party, however, the beauty of social media kept us connected. Wasn't sure why we added each other on Facebook but I sure am glad we did! Anyway, months later we had a random, all-nighter with effortless banter through Facebook which made us curious enough to actually meet alone. We did… and finally it all made sense."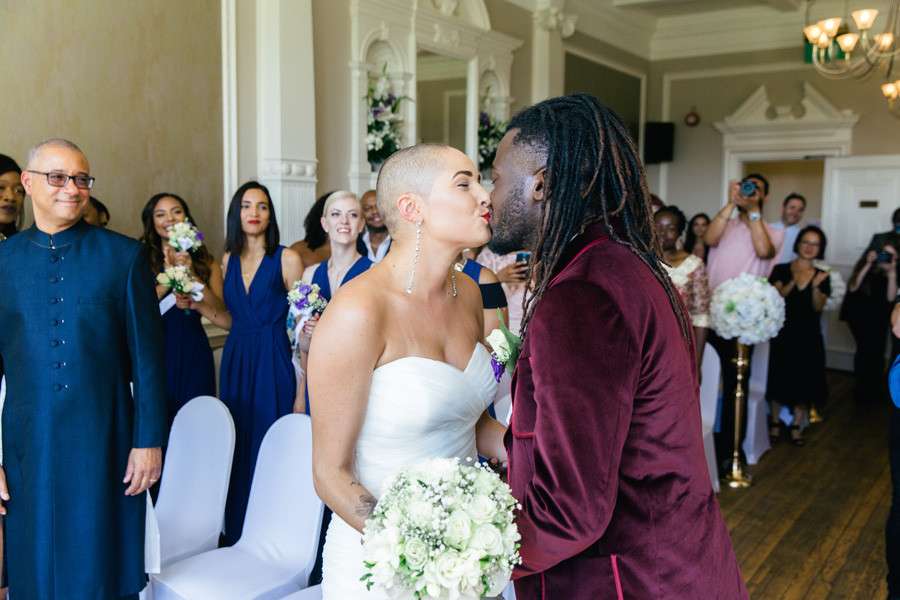 They were married in June at Finchley Golf Club, London. "The day was an extension of us and how we are together, It was just very us," said Cat. "We just wanted to be ourselves and to share that beauty with our family and friends."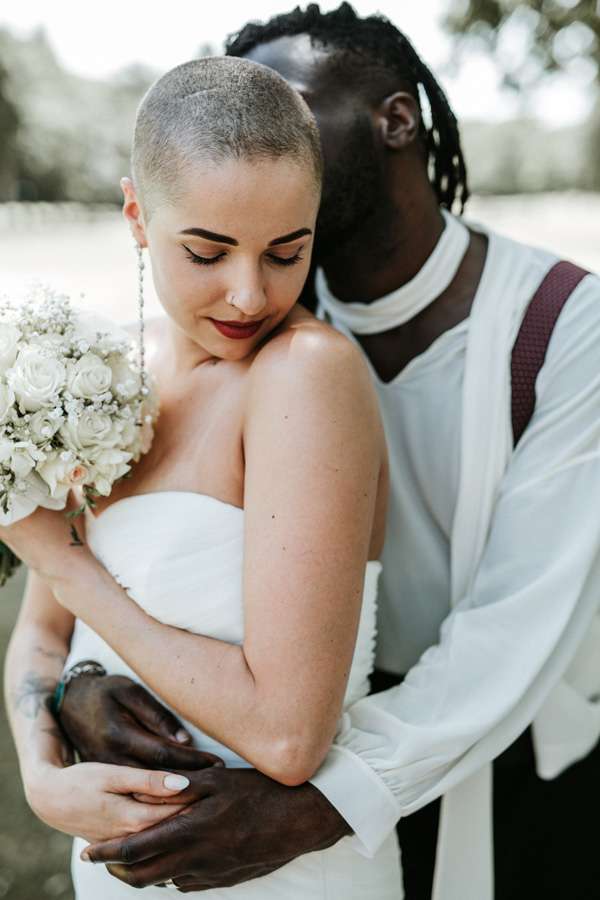 "From the beginning we've made a point of defining our own terms in our relationship. Some call it bohemian but I think it's just taking care of each other, trusting in our own love, being completely vulnerable around each other and doing things the way that works best for us as individuals. I think it's easy to get caught up in conventions. Some conventions are romantic and serve their purpose, but whatever doesn't serve us or makes us better, we replace with something that does. We're both very child like and free spirited so we wanted the wedding to reflect us and how we are with each other, which is very sincere, vulnerable, silly and fun, and just not trying to be anything we're not."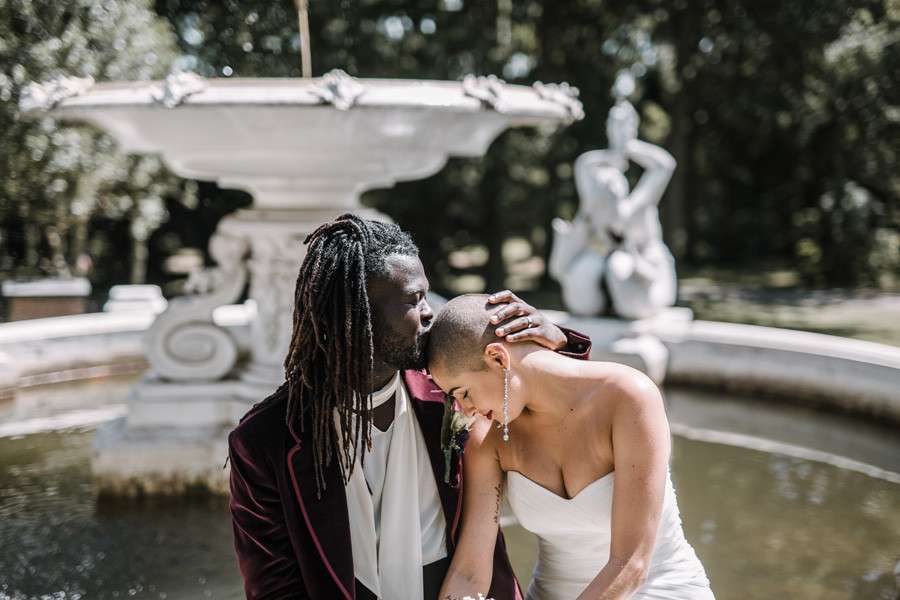 "Without wanting to sound cheesy, our wedding was inspired by my wife", Ade continued. "Somehow if I put her first I too am remembered. I just wanted to make her feel comfortable – and if she/we are comfortable I think that filters into the rest of the room… the day. And it did. There was a real sense of love and honesty in the room and no performance."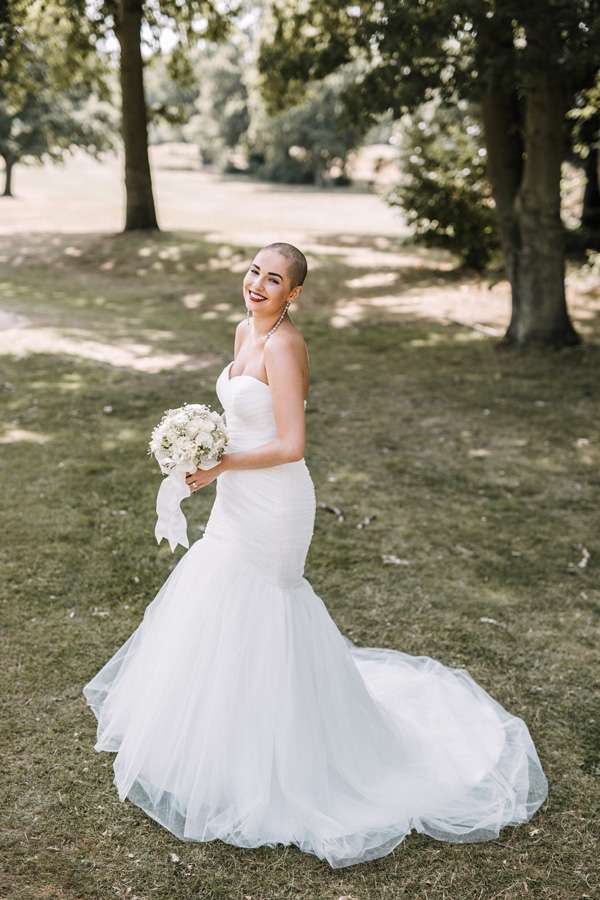 The bride wore a Morilee dress with shoes and accessories from ASOS. She shaves her head herself so there was no need to hire a hairdresser! The groom wore a Gucci blazer, Balenciaga shirt and All Saint trousers. "Our biggest expenses were out outfits", he said. "I'm really fussy when things don't feel right. I wanted it to be a suggestion to something classical but still feel contemporary. It didn't have to be pricey (I searched everywhere!) but the right pieces were just pricey. However they were all worth every penny."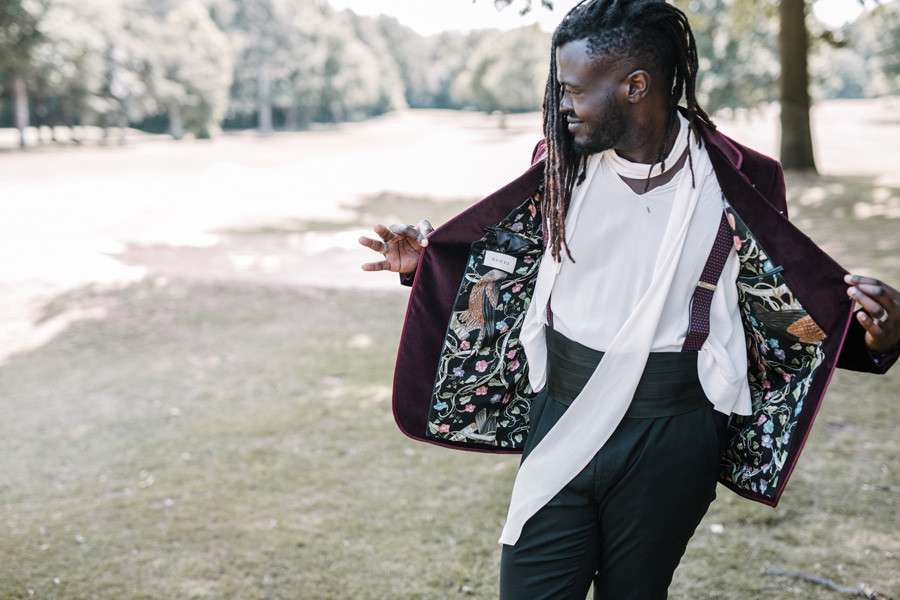 "We saved money on our cake which was a rich lemon drizzle cake, topped with home made limoncello and lemon sorbet. I think if we would have purchased the cake it could easily have cost a couple grand. But all you need is time, a bit of imagination (or Pinterest) and a steady hand and you can do an amazing and spectacular cake that feeds up to 80 people for just a couple hundred pounds."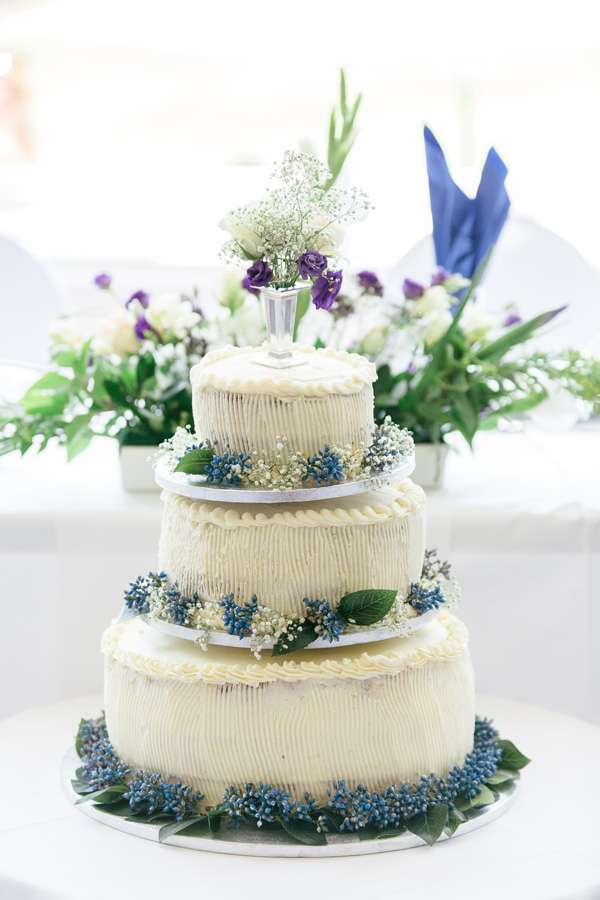 The ceremony was a really special moment for both of them. The bride's mother officiated. "She she did it so gracefully and beautifully, adding all kinds of personal touches without making it just about me", Cat explained. "You could really tell how much she loves both of us almost equally. She was so sincere, caring and yet professional that she had the entire room in tears and laughter, it was such a beautiful ceremony."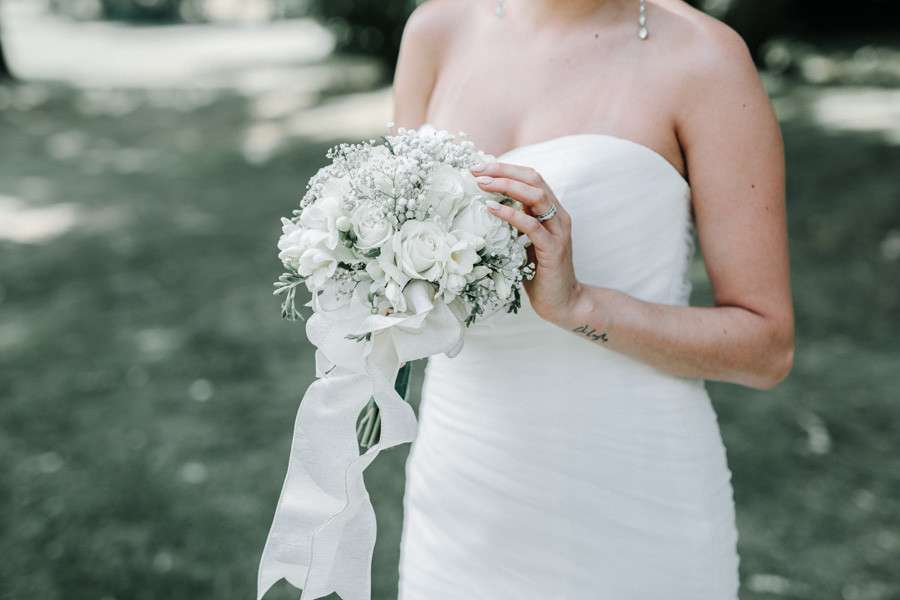 The bride also particularly loved the dancing. "There were so many hilarious moments like when our first dance to As Time Goes By changed into Aladdin's Prince Ali, when the first dance with my dad turned from Sade Babyfather into Snap! Everybody Dance Now. But most of all I think what stood out most to me and very very humbling were people's reactions of how they perceived the day. Some spoke of how much love they felt in the room, that they'd seen a glimpse into how we feel about each other and felt inspired. A couple of my friends said to me 'That's the kind of love I want to have with my future partner'. I think the most beautiful gift is when you are able to touch others without even intending to, just by being yourself, how beautiful of a compliment is that?"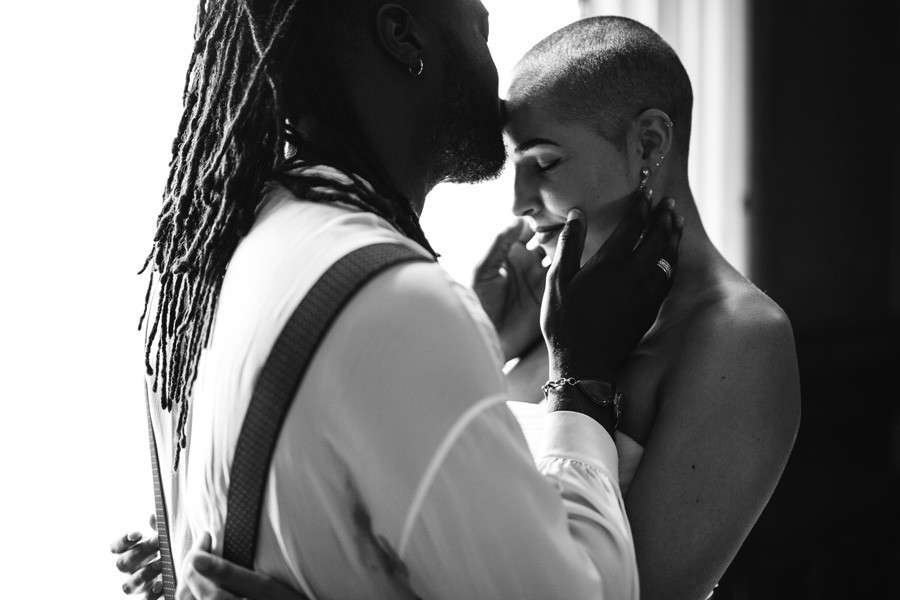 "My advice to other brides would be to wear flat shoes!" Cat laughed. "Best decision I made. If your dress is puffy enough no one can see your shoes anyway, so go for the comfortable option. Also, take a moment out of the day for just you and your new husband/ wife. It all goes by so fast, there's so so much to take in, it can even make you feel 'apart' from your partner even though you're always together throughout the day. So just having a moment to yourselves with no eyes on you, just the two of you, it made the day complete for me."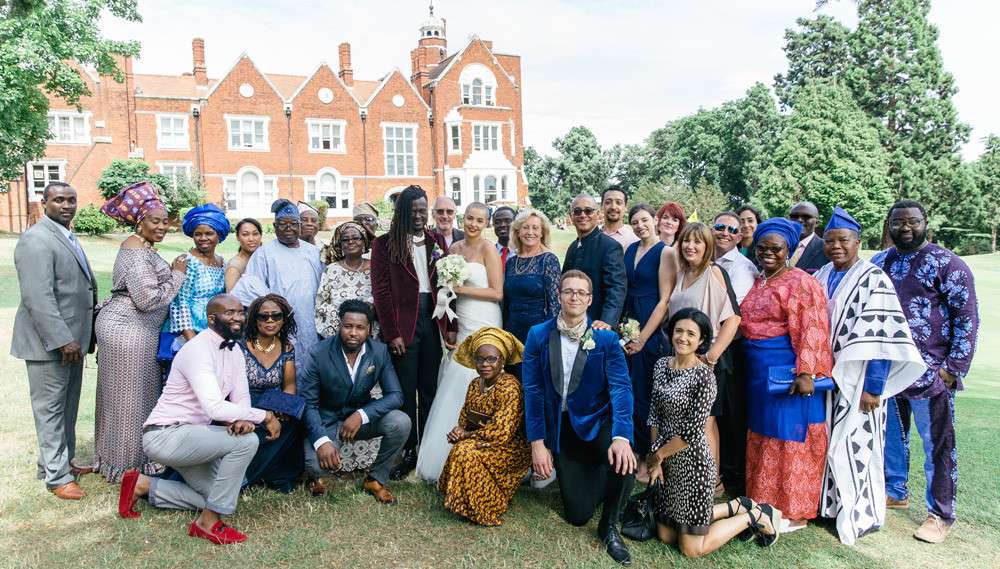 "I would tell people to be practical, realistic but not too hard on yourself", Ade concluded. "If you want to go all out, do it… if not, do that. It's your wedding so just do you."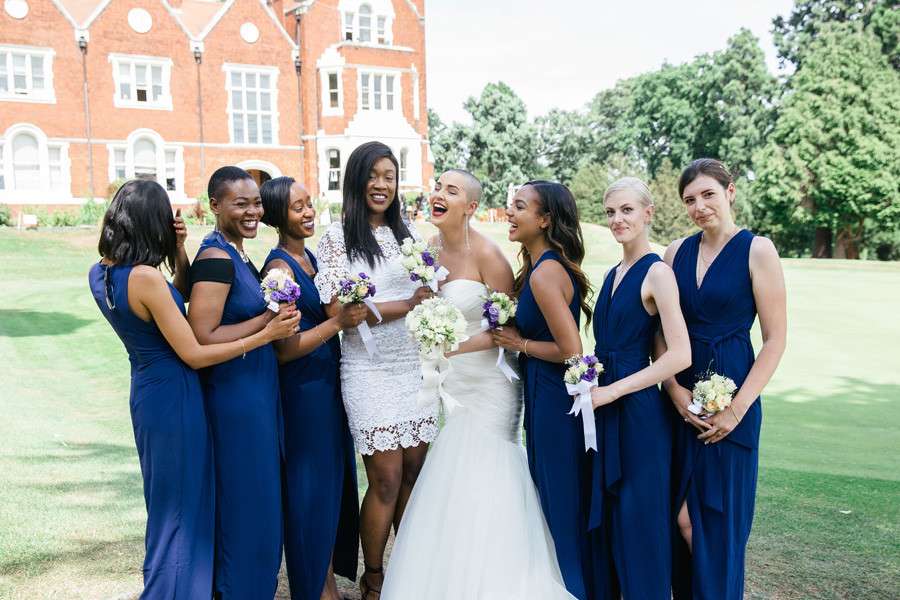 You're going to want to watch their video too. ALL THE FEELS.