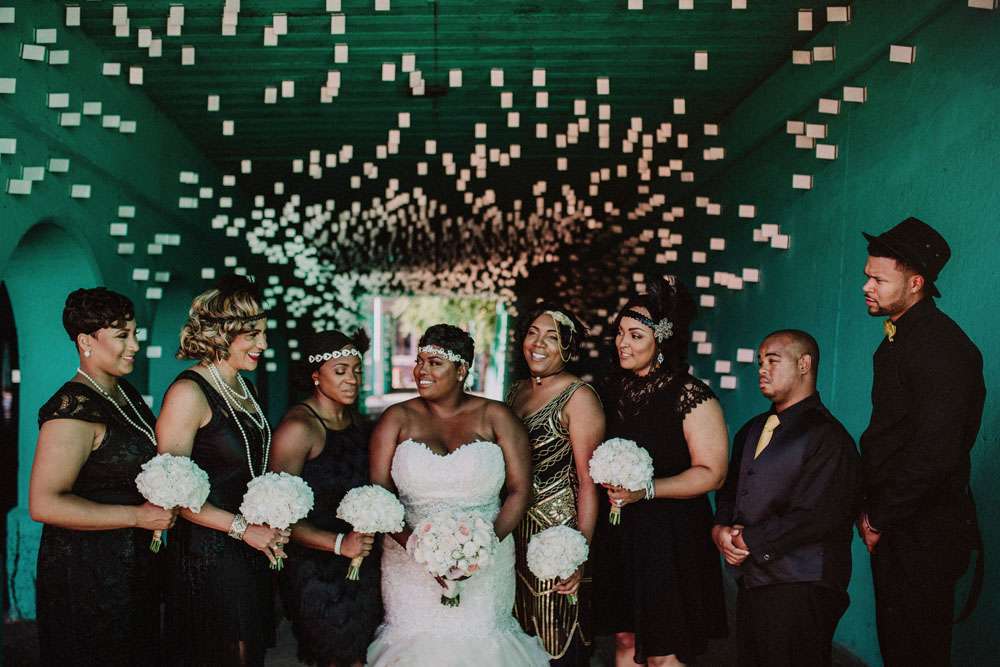 Photo: Megan Melia
To celebrate Pride Month in the US, Kate Schaefer, founder and editor of the fantastic LGBTQ wedding planning resource, H&H Weddings, is here to discuss how she's seen LGBTQ planning change over her past five years in the industry.
The year was 2012. I was a 20-something-year-old intern, sitting at my desk in Brooklyn, essentially rolling my eyes at the Huffington Post piece I was reading. This bride-to-be was venting about how she, as a lesbian, had no resources for planning her wedding. "This is nuts", I thought. And then I started doing some research because, let's be honest, I wasn't actually doing anything else.
As it turns out, the only part about the situation that was nuts was the fact that the bride-to-be was 100% right. The only same-sex/LGBTQ+ wedding resources looked like they had been designed in 1992. I decided to change that.
At the time, my knowledge of weddings was based off of the three or so episodes of Say Yes To The Dress that I had seen. I didn't know what I was doing, but I was determined to get something going. LGBTQ+ folks deserved a beautiful, useful blog where they could go to see themselves, not just a straight wedding blog that occasionally featured a Ken & Ken/Barbie & Barbie-like couple.
Since 2012, I've seen many changes in the LGBTQ+ wedding space. People (on all parts of the spectrum) are choosing to make their ceremonies more and more personal. Five years ago, it often felt like a couple was just taking the hetero wedding mold and plugging themselves into the equation, which meant that, frequently, one member of the couple ended up being labelled the 'bride' and the other the 'groom' despite the fact that that (obviously) wasn't the case.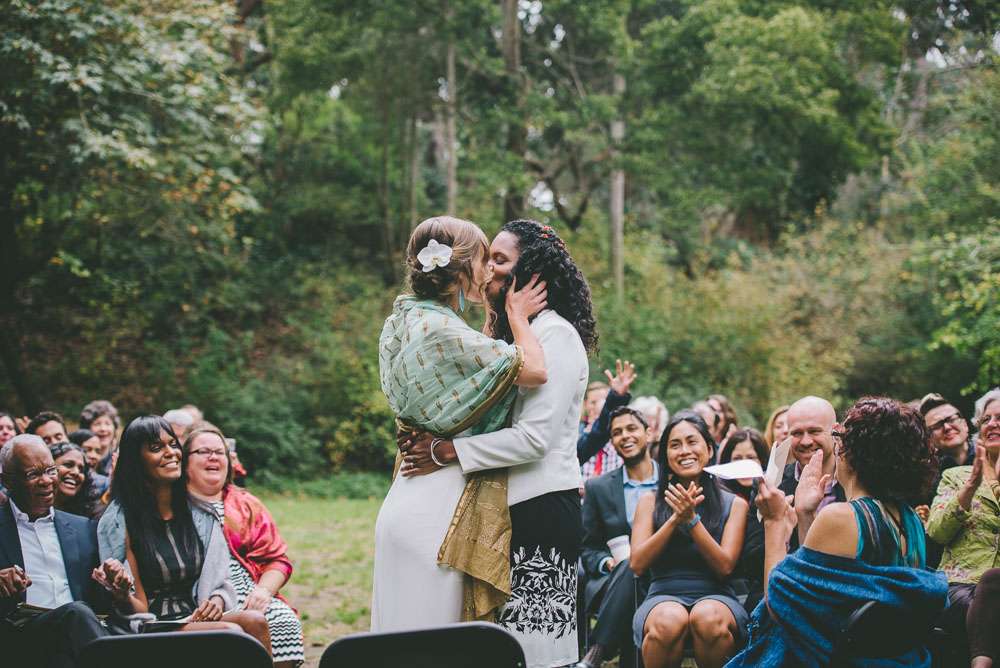 The ceremony
We've featured hundreds of weddings on H&H Weddings and we've seen couples walk with each other down aisles, we've seen circular ceremony set ups, we've seen couples walk down aisles, simultaneously, towards each other. One of my favourite ever ceremonies we shared was Zoe & Lil's outdoor ceremony. They set up a circle around them so that, while they said their vows, they were surrounded by friends and family!
We've seen people dance and cry and laugh while walking down the aisle. We've seen people write their own vows and even sing their vows. The long and the short of it? Do whatever the fuck you want. It's your wedding. No one knows your love like you, why not express it how it feels best?
The wedding party
We have also seen big changes in wedding party set ups. We've shared weddings with huge wedding parties and no wedding parties. We have seen wedding parties made up of all gender identities (straight couples, take note on this one! Why would a bride's brother stand on her husband's side of the wedding party?!)
The outfits
One of my favourite ways that couples get creative these days is attire! I used to feel like I saw a lot of uncomfortable brides in dresses because that's what they felt like they were supposed to do. It was as if you had to options as a bride: 1. Wear a dress or 2. Wear an ill-fitting Men's Warehouse suit that was frumpy.
Now, there are a ton of suiting companies that cater to people of all gender identities and expressions such as Bindle & Keep, Kipper Clothiers, Duchess Clothiers and Sharpe Suiting (just to name a few!). Another favourite of ours is House of Ollichon. They do wedding attire without a single dress in sight! Such a breath of fresh air! As well, couples are wearing a plethora of colours, jumpsuits, rompers, suiting combinations, shorts, dresses, skirts, really, whatever makes them feel their best, which is exactly what we like to see.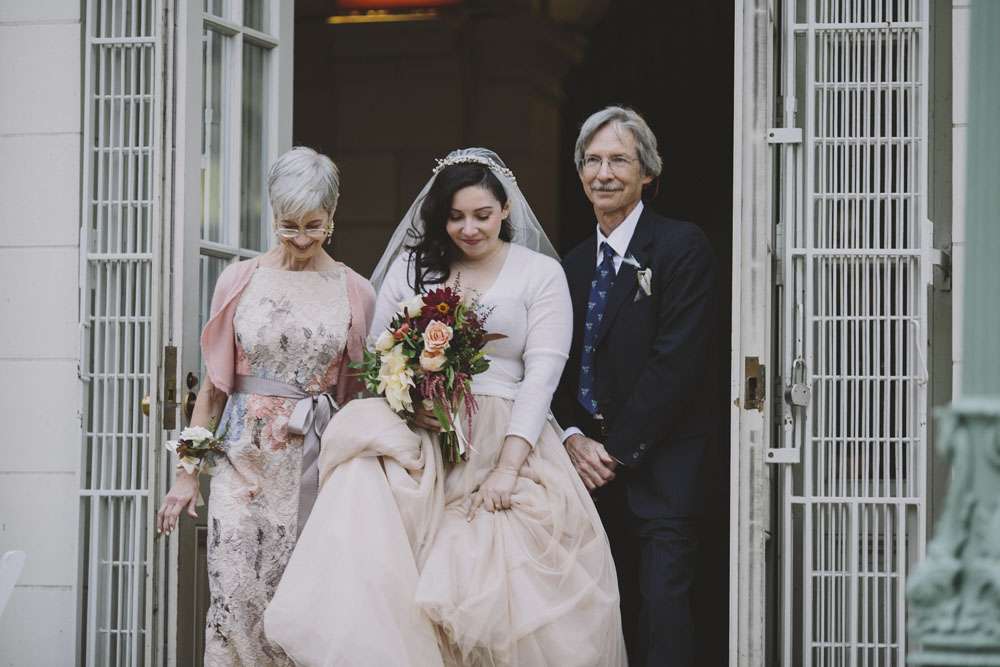 Photo: Rachelle Derouin Photography
Family values
Family is such a huge part of most weddings, so it was truly awful hearing about how unsupportive families could be. We even wrote etiquette posts on how to deal with unsupportive family, talking about how inviting them could be an educational experience and how excluding them could be the right choice as well. Cut to 2017 and we almost never hear about families behaving this way. While it is still a reality for some, the majority of people have realised that LGBTQ+ folks deserve just as much love and support and happiness as anyone else. Some of our favourite weddings include parents and siblings giving heartfelt speeches.
If, as a same-sex couple, you are still experiencing the opinions of unsupportive family members, my advice to you would be to do whatever will bring you the most joy on your wedding day. You can't control others and if you think there is no chance to open the eyes of your unsupportive family members, you may just have to cut them out. In the end, you deserve to feel surrounded by love and support, so you should do whatever you need to in order to make that a reality.
It's amazing to see how far we've come in just five years and I cannot wait to see what the next five years hold!
We'd love to hear your stories about planning your own LGBTQ+ weddings. Have you found it a positive overall experience? What have been your go-to resources? Where can wedding businesses and brands still be doing better?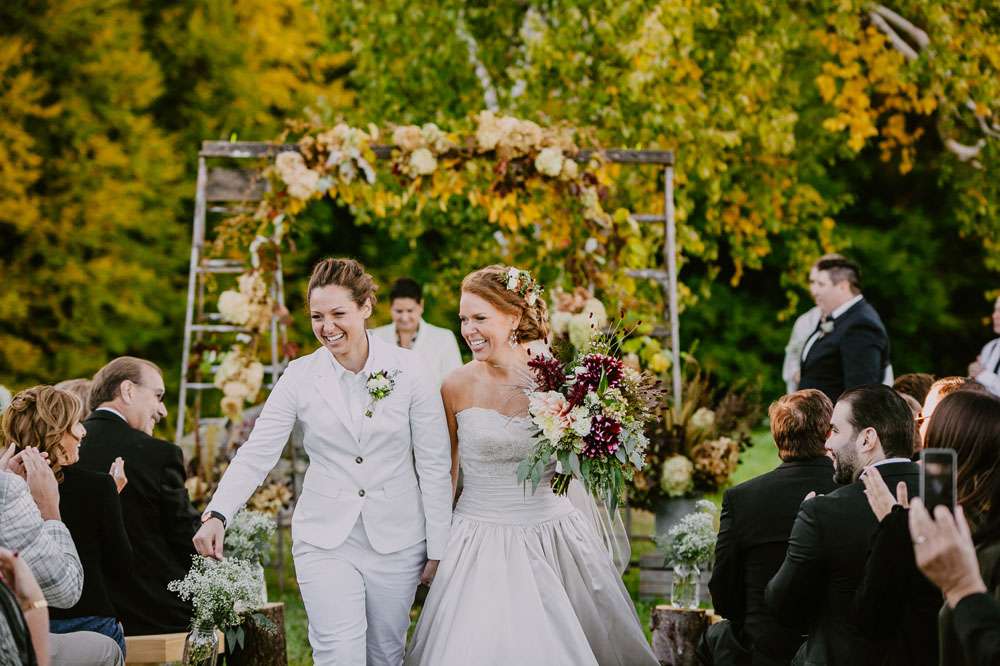 Photo: Ally Schmaling
About the Author
Kate Schaefer is the founder and Editor-in-Chief at H&H Weddings. She is a New York City resident, an avid drinker of Guinness and an advocate of love and inclusion for everyone.