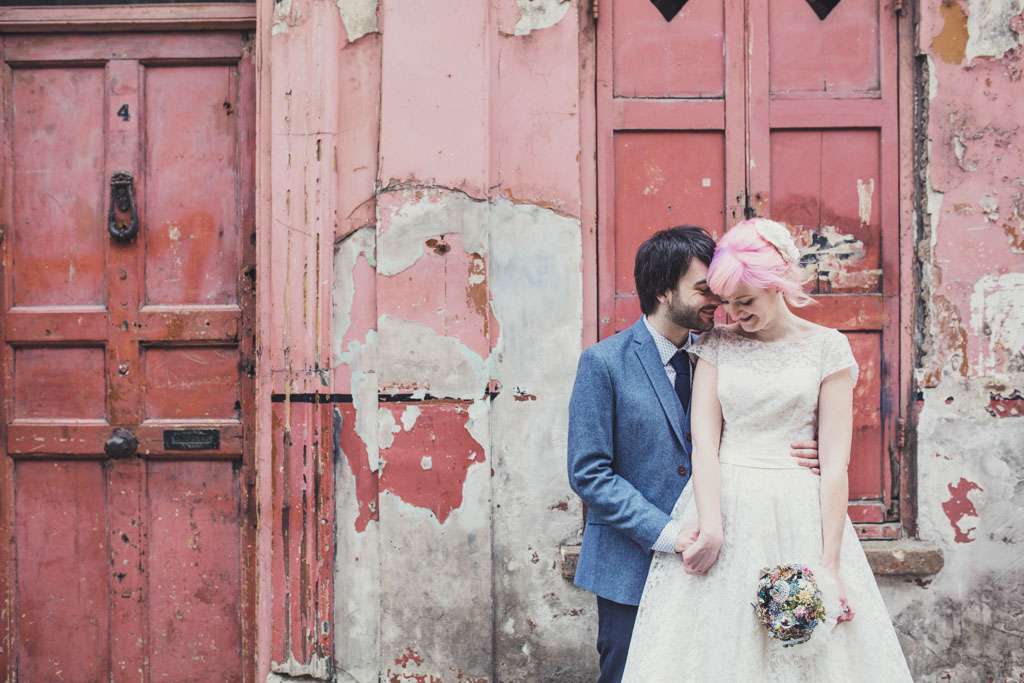 Both introverts, Charley and Simon wanted their wedding to be as undaunting as possible! They achieved this by focusing on what really mattered. Their ceremony at Islington Town Hall was followed by a reception at The Union Club in Soho.
"We wanted a simple wedding that encapsulated our introverted natures while making sure we had a day to remember forever", Charley began. "We're not exactly traditional, so any classic wedding traditions we didn't like – we didn't do. We're both quite shy, so the idea of having a day where all the attention was on us felt really scary! We were particularly worried about having a first dance. The thought of it made us uncomfortable so Lisa Jane, our photographer, suggested we have a secret dance somewhere in the city. We loved that idea! On the day, Simon brought a headphone splitter with him and played our song on his phone while we danced on top of an empty multi-storey car park in the middle of Shoreditch! Our photographer and videographer were there to capture it but only we could hear the song. It was so peaceful and so us. It sounds completely random but we loved it!"
The wedding theme was a mis mash of a lot of the things they love including vintage and dinosaurs! "There were dinosaurs everywhere actually – the cake toppers, toy dinos as favours on the tables, even our reading during the ceremony was about dinos! Our friend Luke read A Lovely Love Story by Edward Monkton, about two dinosaurs finding love. He read it so beautifully, it was a wonderful moment."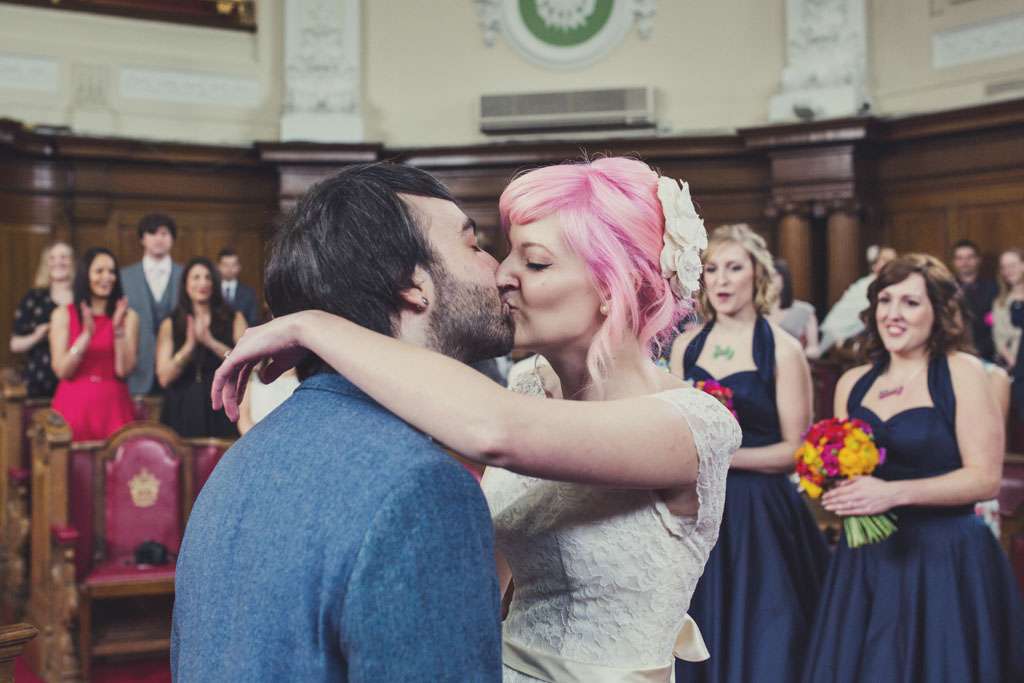 "In terms of DIY, my mum handmade around 50 metres of bunting to decorate the venue. She loves a craft project so got stuck in with it not long after we got engaged. I've grown up with my mum's crafting projects around the house, so it was lovely to have loads of homemade projects around. She also spent hours making my bouquet. She picked the brooches and wired them individually, arranging them and re-arranging them and then arranging them again! It was a true labour of love and I cried at how beautiful it was."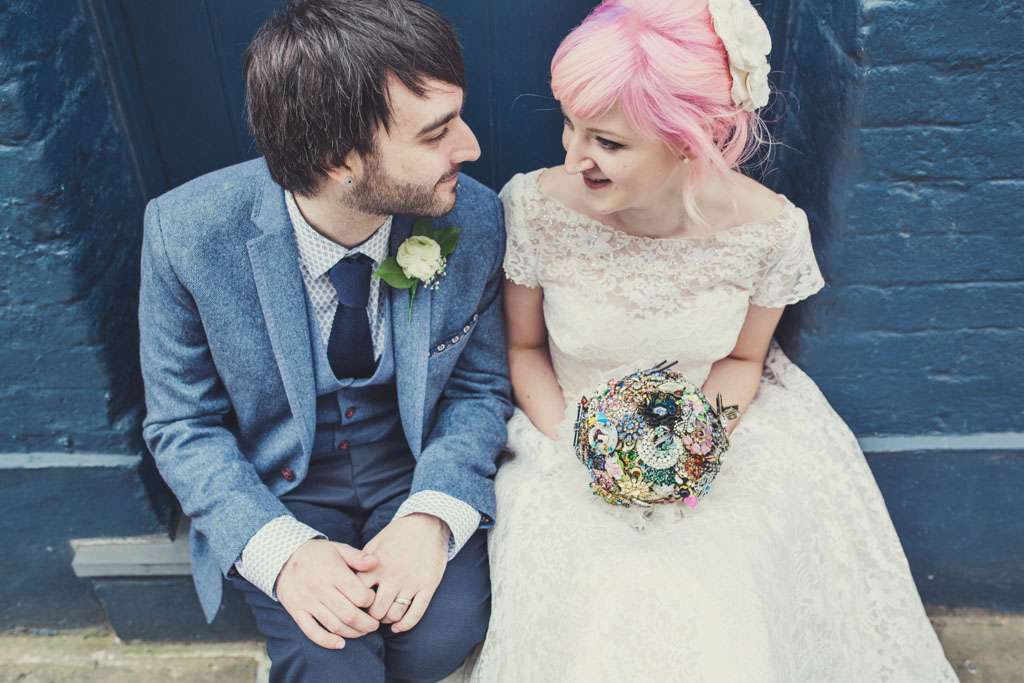 "There were so many personal touches – my grandma and nana's wedding rings, brooches from Simon's grandparents, a little book that had pictures of our cats inside! It told a story about our relationship and my childhood. It had Lego people that looked like us, the Grand Canyon (where we got engaged) a Las Vegas pin (where we partied afterwards!), Alice in Wonderland figurine, Louboutin shoes, the Girl Guide brooch from my Brownie uniform… it was amazing how much she managed to fit in and I was so emotional when she gave it to me in the morning!"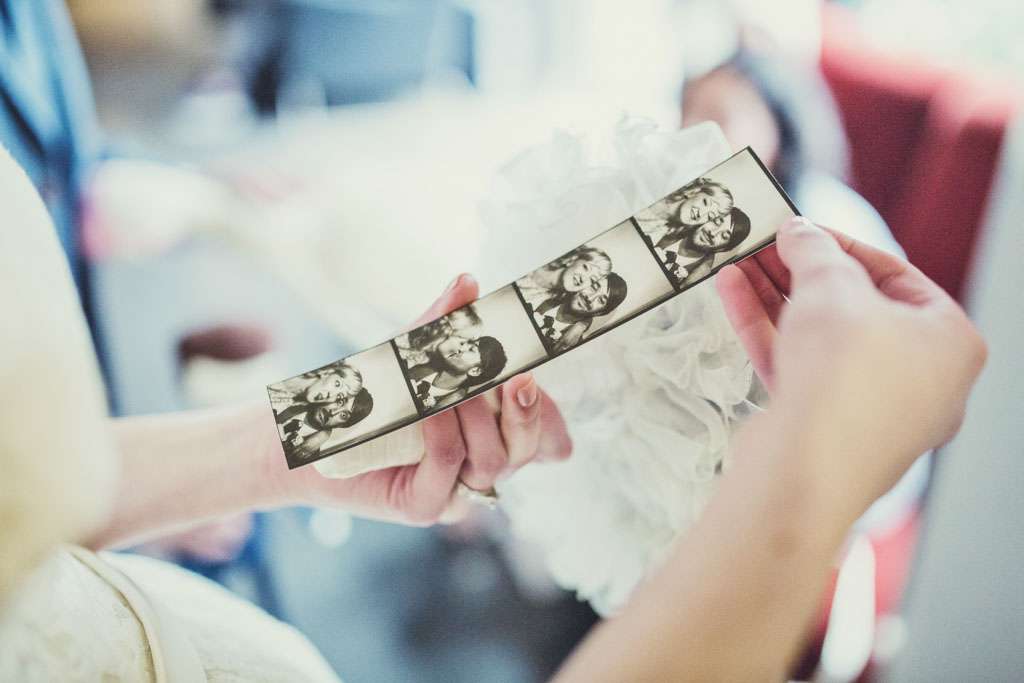 "Simon also commissioned bride and groom dolls by Finkelstein's Centre that we could use as props on the day and have as keepsakes", she continued. "We'd not seen anyone do that before and wanted something cute to have in the photos. Michelle, the creator, made the dolls look exactly like us and had to work off only descriptions of our outfits. We were amazed when the dolls arrived, and of course I had to look at mine in secret so Simon wouldn't see the doll version of the dress!"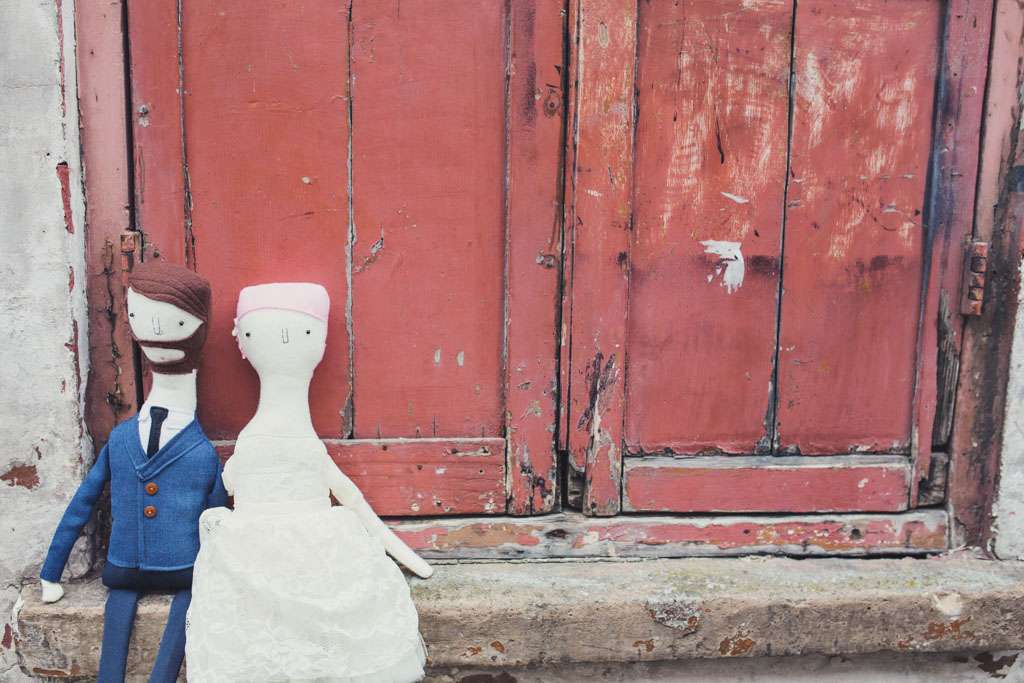 "In terms of the rest of the décor, we had jugs and vases on our tables were a mix of old and new. My Dad still had some of my Nana's so we used those, and I scoured TK Maxx for vintage style jugs for cheap! I'm also a big cross-stitch fan, so me and Simon stitched and hooped our own table letters. I've never liked numbering tables so we decided to go with letters instead, plus I write for a living so it made sense! For the little ones, we made favour bags with toys, sweets, pencils and handmade colouring books. It was a long day for the kids and I knew they'd need to be entertained. They definitely liked the silly putty!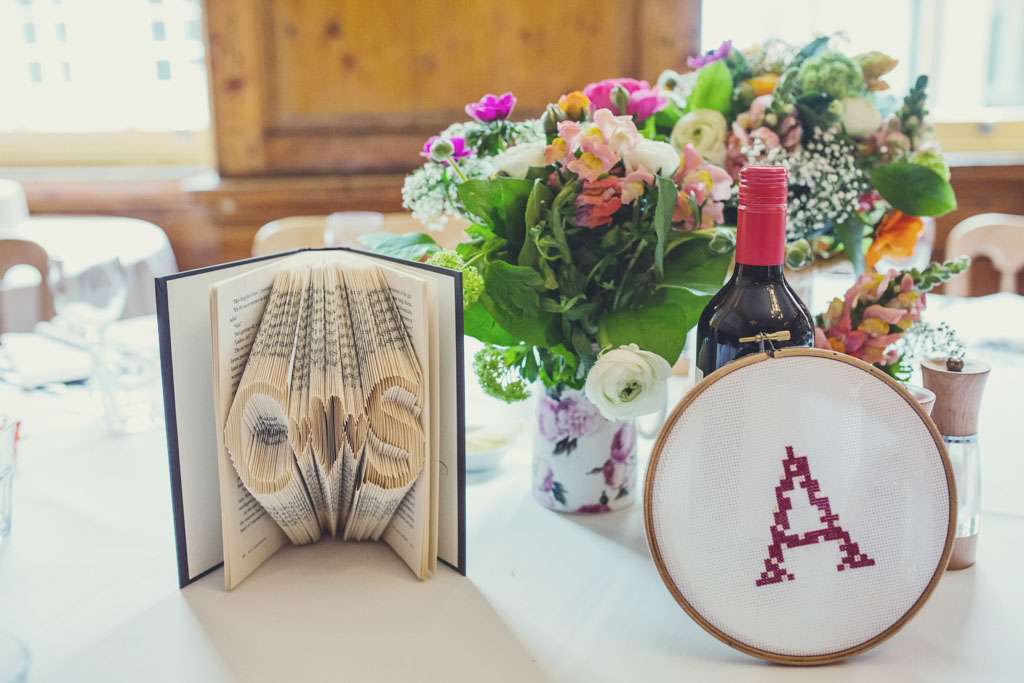 Charley wore a vintage dress Fur Coat No Knickers with Charlotte Olympia shoes. Her headpiece was made from off cuts from her dress. "Fur Coat No Knickers were so amazing and helpful and very patient! I knew I wanted to get my dress from FCNK so they were the only shop I went in. I spent an afternoon with my mum and best friend, trying all sorts of dresses on and eventually whittled it down to three. Then I just kept trying each one on until my head finally went ZING! That's the one!"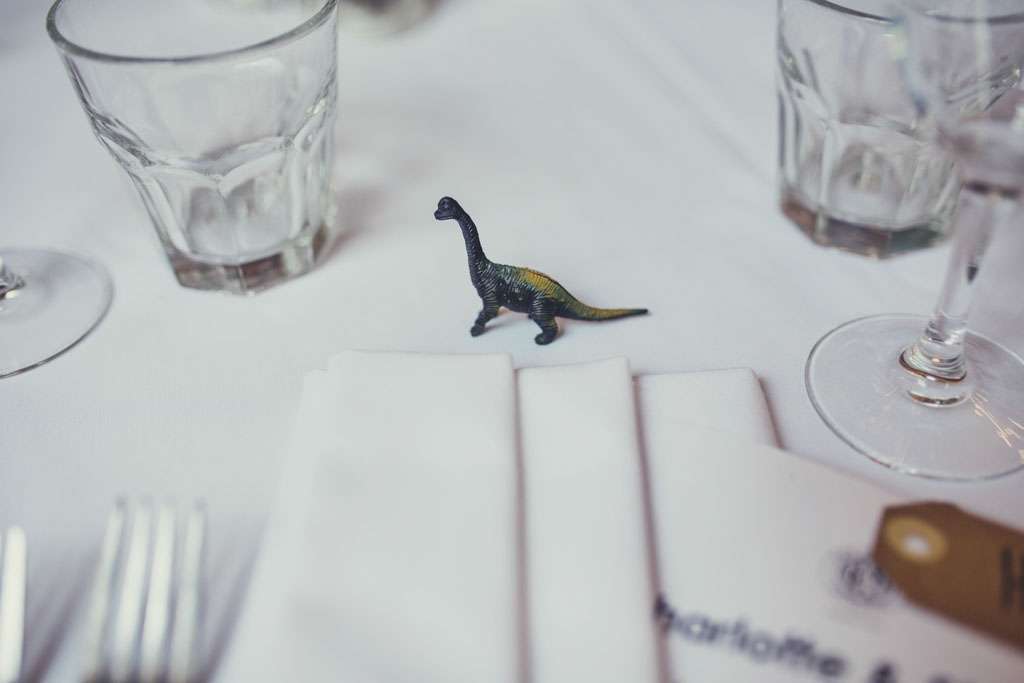 "Something else usual but amazing that I had was my very own personalised perfume. I have a very talented friend, Sarah, who makes it! She creates the most amazing scents as 4160 Tuesdays. I met with her before the wedding to talk about my favourite memory and tell her some of my favourite smells, and she created an incredible perfume for me based on my memory of going to the seaside and eating mint choc chip ice-cream with my grandparents. We named the perfume Mint Choc Chip at Minchella's, after the shop in South Shields. I'm the only person in the world to have this particular perfume because it's made by scratch! The night before the wedding, my mum smelled it for the first time and it got a bit emotional. The memory was about her parents and the smell of the ice-cream and cola cubes just brought back all those wonderful summers up north, so we had a cry together and thought about my grandparents."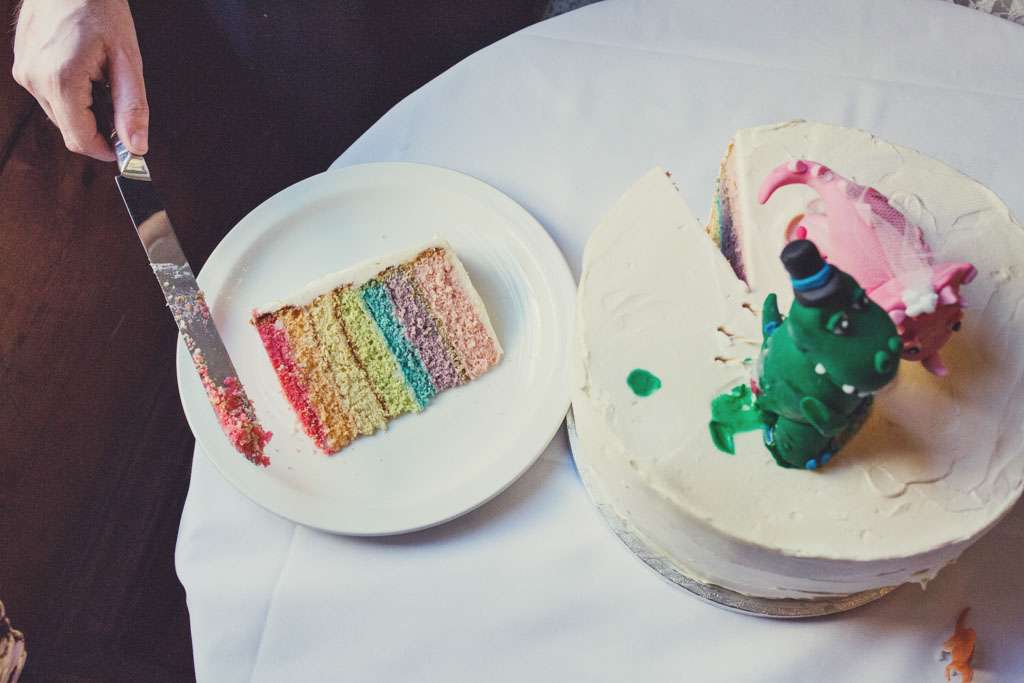 "One thing we learned from planning the wedding is to pick those supporting you on the day carefully", Charley concluded. "My anxieties were off the charts the closer we got to the wedding day, and my two bridesmaids were just amazing. You need supportive people around you and to not feel bad if it all gets too much planning it. We were lucky to have great family and friends behind us, rooting for our plans and picking us up when there were bumps along the way."