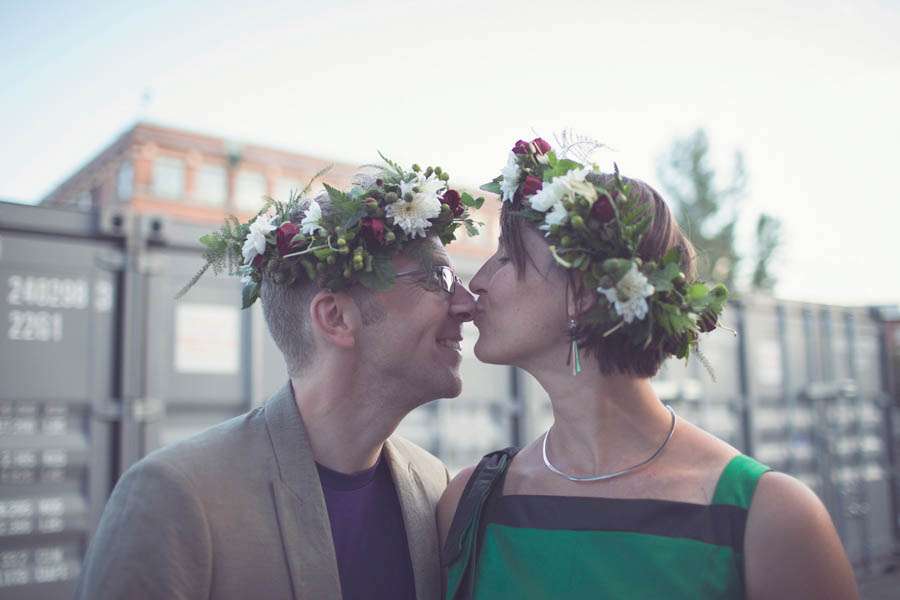 A warehouse might just be one of my all time favourite wedding venue ideas. Maybe it's a throwback from my teenage rave phase or maybe it's the fact that it's so raw and grimy – a fabulous antithesis to the over-saturation of pretty-pretty wedding fluff that I'm subjected to by working in this crazy little industry. But either way I flippin' LOVE Kari & Torkel's wedding. They had their legal ceremony 9 month's earlier but wanted a big party in August to celebrate with their friends & family.
"We both have demanding work and work long hours as well as travelling extensively," began the bride. "We met through internet dating, both sharing a strong interest for physical outdoor training like running, cycling and canoeing. Since we had cheated everyone by having a small 5-minute ceremony the November before, my parent's decided to reenact this part of the day with my father taking the role of the officiator. We used flower wreaths as a symbol instead of exchanging rings."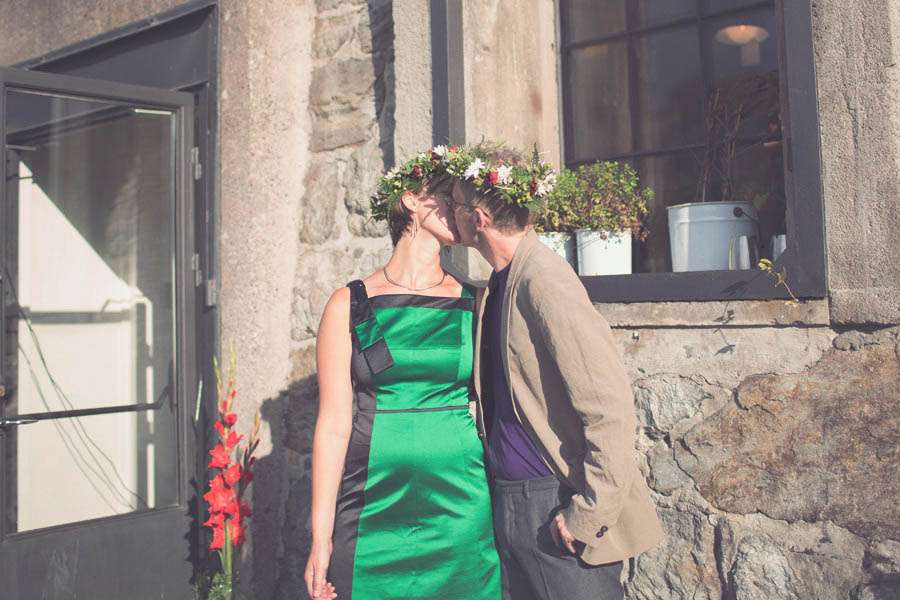 The warehouse, Färgfabriken, an exhibition and art space located in Lövholmen, Stockholm, was an obvious choice for this couple who didn't want to do things at all traditionally. "We did not want a traditional mansion wedding; it's just not for us", Kari continued. "We wanted friends and family to have a good relaxed time and enjoy a great party in a non-traditional setting. We were very happy when we found Färgfabriken, a converted 1930s paint factory located in an industrial area, but still easily accessible in central Stockholm. And of course you can play the music loudly without disturbing any neighbours. Torkel is passionate about music. He's been a tour leader for bands like Deerhunter and has worked as DJ at the coolest nightclubs in Stockholm. So the music was obviously very important to him. He spent A LOT of hours mixing the perfect wedding playlist and the dance floor was busy until sunrise."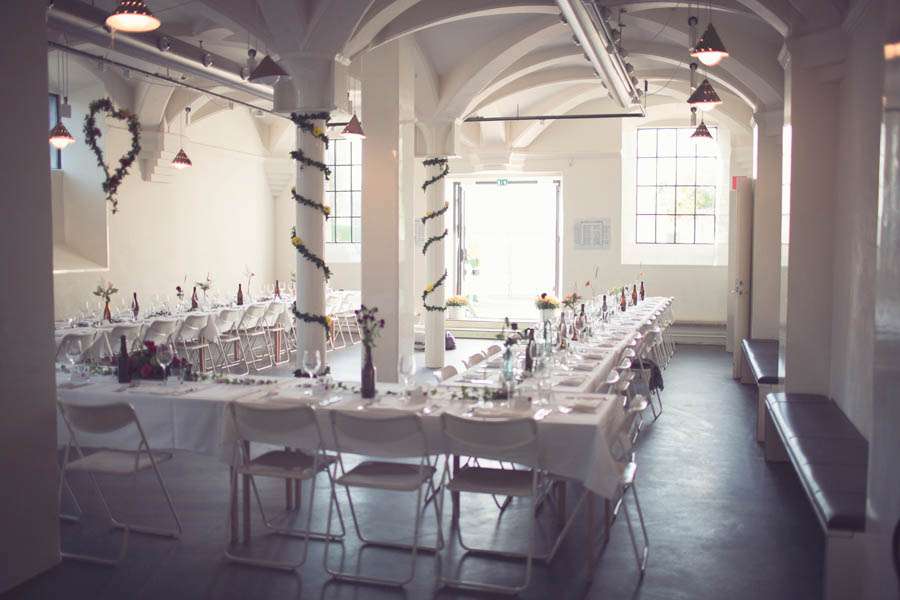 Kari wore a green dress by Karen Millen. Again, she didn't want to be traditional and wear white and the 1060s vibe of her gown suited her perfectly.
Oh I just love it! This is the kind of wedding I would loooove to party at. Thank you to Kari & Torkel and their amazing photographer Annevi Petersson for sharing with us today.
Supporting Cast:
Photography Credit: Annevi Photography
Reception Venue: Färgfabriken, Stockholm
Bride's Dress: Karen Millen
Bride's Headpiece: DIY
Flowers: Strauss blommor
DJ: DIY
Stationery: DIY
Caterers: Landet (vegetarian meal) & Vandenhende (chocolate)