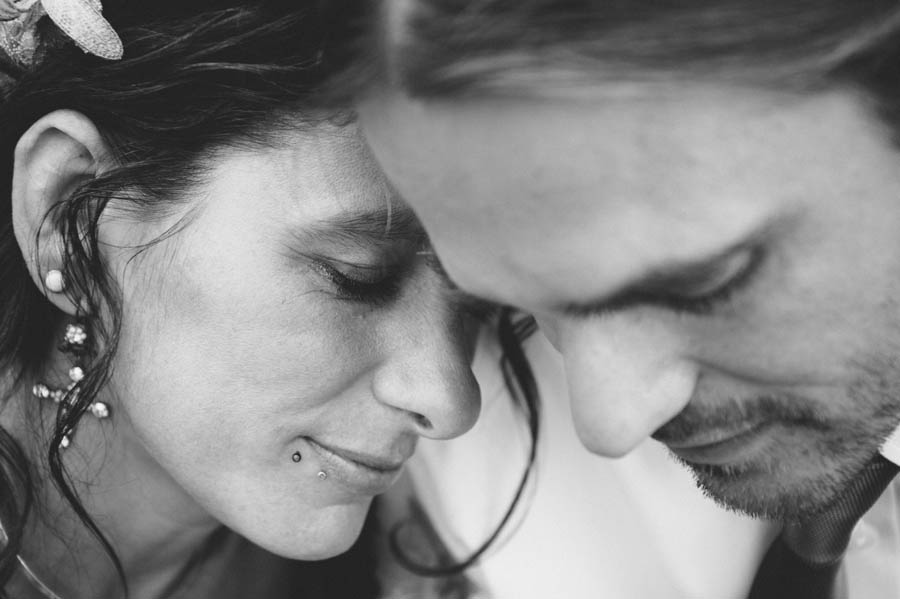 "A weekend of celebration" was how Jen & Rob described their festival wedding to me, and that couldn't have been a more perfect description. Stokes Barn, specialising in self-catering group accommodation, in the Shropshire hills played host.
"We knew we wanted something different," explained the bride. "We wanted to celebrate with the special people who enrich our lives and who share and understand our values and beliefs. We had the idea of a festival type celebration where we could create a magical, memorable and warm weekend (whatever the weather!) of celebration, relaxation, much merriment, Peace and Love!"
After the 'legal ceremony' at a register office on the Friday morning, the couple had a humanist ceremony outside, on the Saturday afternoon, in front of all their guests. "We made our commitment to each other, and shared our aspirations with our guests as they sat on rugs and chairs in a semi circle around us. My brother was our celebrant and our daughter read 'the Owl and the Pussycat' and my son read 'The Art of a good relationship'."
"We are not practising pagans but are pagans by heart and believe deeply in our connection with Mother Earth," Jen continued. "Therefore we wanted to find a peaceful and natural environment where our friends and family could also share with us the beauty of nature and of the countryside. We found Stokes Barn, the most perfect location imaginable, a place which provided shelter but also allowed our guests to camp while enjoying views stretching across Shropshire.   Our daughter came up with the name 'Joyfest', a perfect description of what we were hoping to create: A Festival of Joy!"
For catering, the couple asked their guests to bring their favourite dish instead of wedding gifts. This not only meant they had a really unique and delicious meal, but that everyone was able to feel involved in the day. "We asked people to bring a dish for the Friday night buffet and, if they wanted, to bring something to decorate the courtyard or marquee. We wanted to make the whole event very personal to every single person that was there. We wanted our friends and family to feel like they were truly a part of it and that they could make themselves completely at home!"
"We hired a bouncy castle which was a complete success with not only the 46 children who celebrated with us, but with many of our adult friends and family too," the couple continued. "We asked people also to contribute to the entertainment so our guests organised tug of war competitions and rounders. We also put on a morning of archery."
GORGEOUS! Thank you so much to Jen & Rob and their photographers McKinley Rodgers Photography for sharing.
Supporting Cast:
Photography Credit: McKinley Rodgers Photography
Venue: Stokes Barn, Shropshire
Bride's Dress: Liliia & Naomi Driskell (naomidriskell@hotmail.com)
Bride's Jewellery: Items she already owned – various
Bride's Bouquet: Patchwork Bride
Groom's Outfit: Austin Reed
Cake: Creative Cake Craft