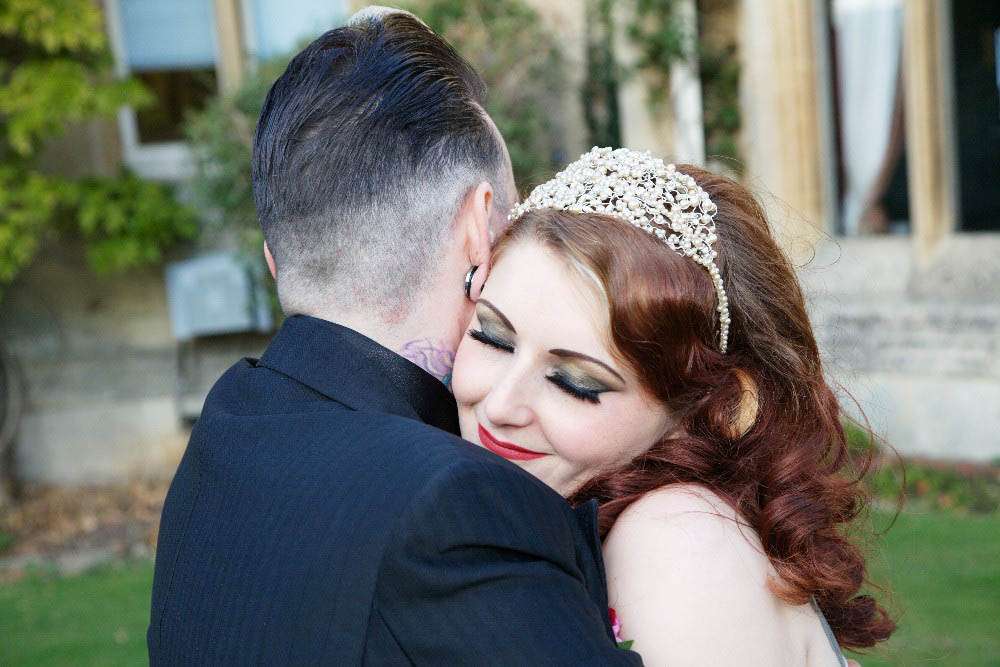 I love weddings like Claire & Lee's. Not just because the rockabilly theme is awesome, but because they put their heart and soul(s) into creating a wedding that reflects how they are in everyday life.
"We're both very much in to the whole rockabilly and psychobilly scenes and have been for quite some time, so it only seemed natural to extend this to our wedding day," Claire told me. "One thing we set out to do from the very beginning was to make our wedding day for us. It seems all too often that people try and tailor their wedding day around their family and other guests, where as for ourselves we tailored it around us and guests had to fit in; which they did wonderfully."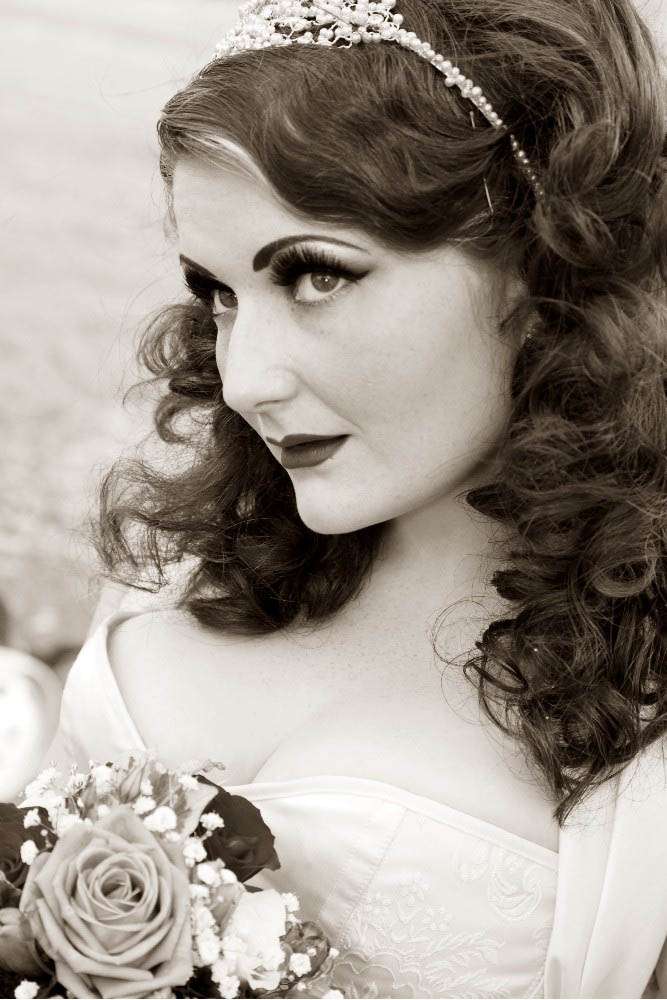 "We sourced everything ourselves to fit our style perfectly; the clothes, cars, venues, music and decorations had to be just right; and although at times it was a nightmare of a challenge to get every thing perfect (antique teapots are notoriously hard to find) we managed it and wouldn't have changed anything for the world."
The wedding ceremony was held at Manor by the Lake, Cheltenham. After a moving service the couple were greeted by Morris Dancers as they departed. "As Lee is a Morris dancer he had his side (The Gloucester Morris Men) waiting outside of the venue ready for when we walked out as husband and wife, their sticks raised in an arch for us to walk through. They then preformed a few dances for us, including Ladies Pleasure, a one man jig, for Claire. Lee also joined the side for one dance." The couple were then whisked off to their DIY styled reception at The Lower Lode Inn, Tewkesbury in a 1959 Black Cadillac.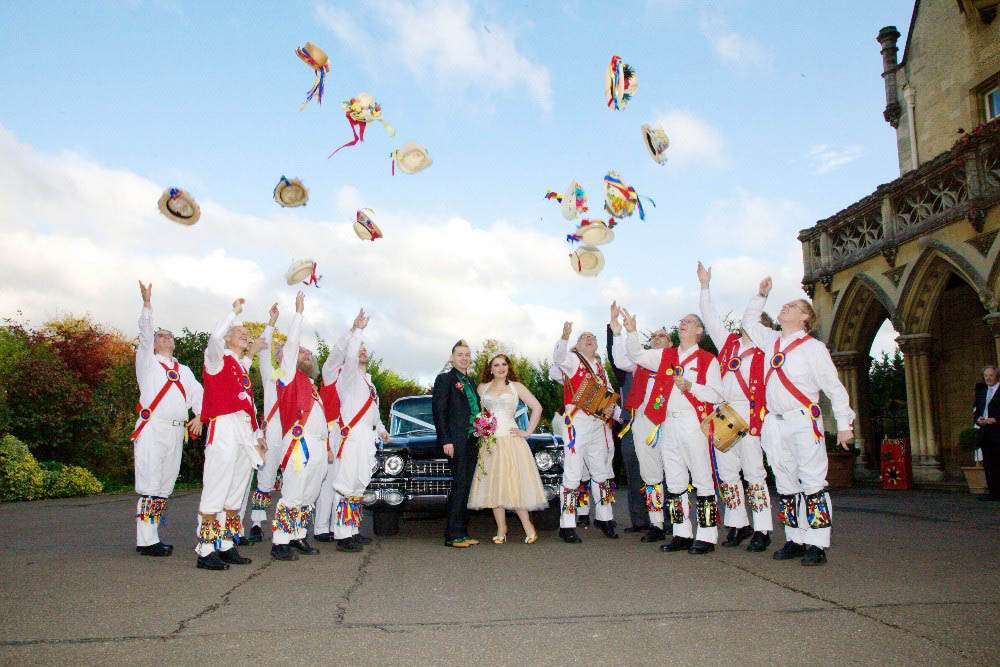 "All of the decorations for the reception I made myself, including 80 meters of bunting and the green and purple polka dot table cloth centres," Claire continued. "The bunting ran diagonally across the room and was coupled up with strings of fairy lights, which came together to form a heart on the wall directly behind Lee and I. The table decorations were antique tea sets, with flower arrangements in the teapots and the tea cup and saucers had floating tea lights in them. There were also cut glass candle stick holders and candles which we collected ourselves.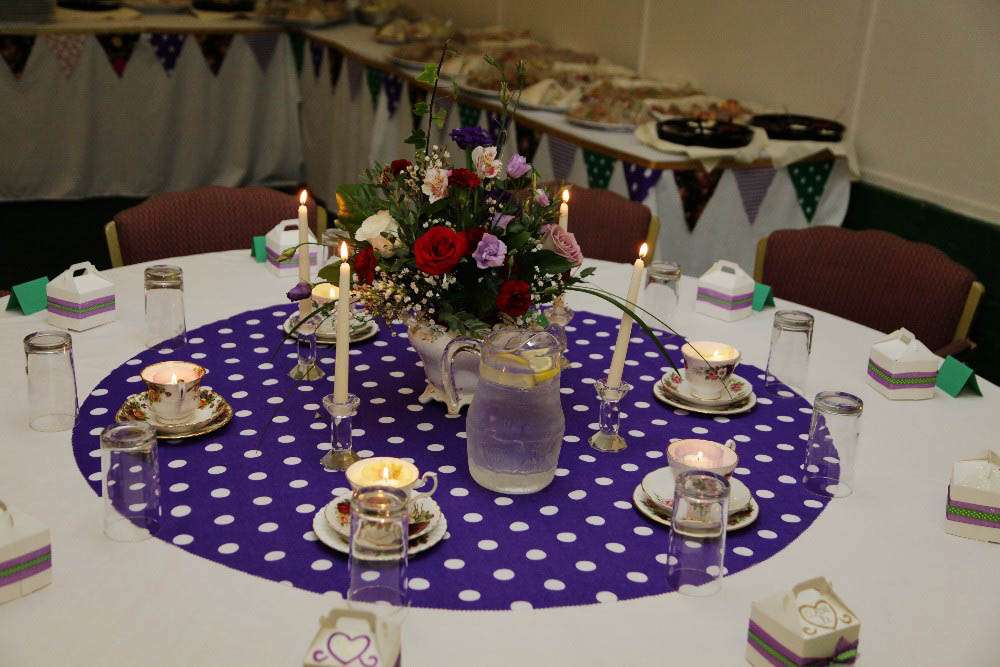 Both the bride and groom wore two outfits, one for the ceremony and one for the reception. Claire changed from her Fairy Goth Mother corset and a skirt (made by a local seamstress to which Claire added – by hand – 500 pearls!) to her Forever Unique reception dress. Lee switched from a black 1950's sharkskin suit (made in Las Vegas and bought on eBay) to a silver sharkskin suit which he found at Moss Bros of all places!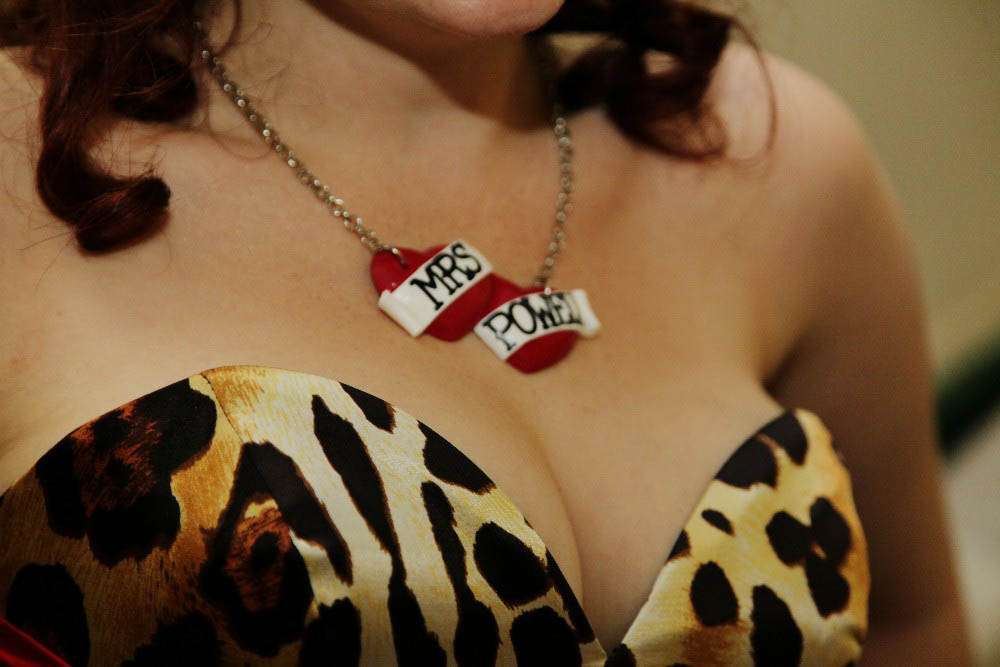 Thank you so much to Claire & Lee for sharing their incredibly cool wedding with us today.
Supporting Cast:
Photography Credit: Film Photo
Ceremony Venue: Manor by the Lake, Cheltenham
Reception Venue:  The Lower Lode Inn, Tewkesbury
Bride's Ceremony Dress: Fairy Goth Mother (corset)
Bride's Ceremony Headpiece: Euphoria Couture
Bride's Reception Dress: Forever Unique
Bride's Reception Shoes: Vivienne Westwood/Melissa
Bride's Reception Jewellery & Headpiece: Clutterfly
Groom's Outfit: eBay
Groom's Reception Outfit: Moss Bros
Bridesmaid's Dresses: eBay
Cake: Melissa Oakley
Cake Topper: Bought in America
Flowers: Petite Fleur in Tewkesbury
Hair: Charlie AntiGirl from Loxx Hair
Band: Luna Vegas