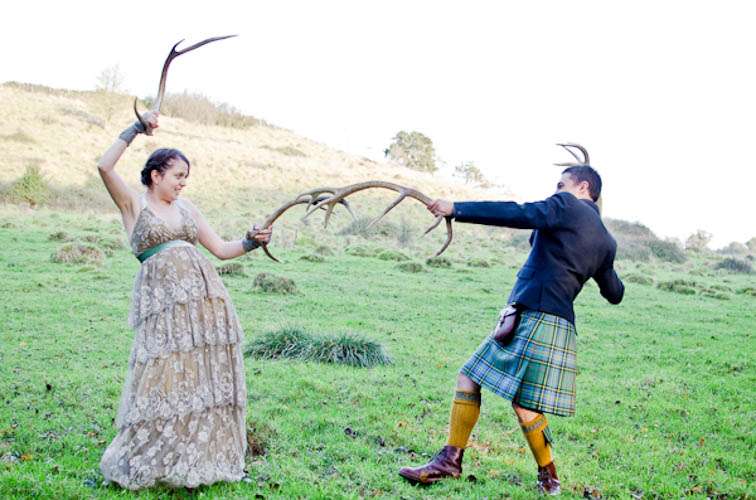 Ali & Dan, who won free wedding photography with Laura Babb through a feature on this little wedding blog of mine, were married in November. With Dan being Scottish, they originally thought about having their wedding in the far North of the country (the area where he's from) but it turned out the logistics were impossible. However they luckily found their perfect venue in Folly Farm, Bristol.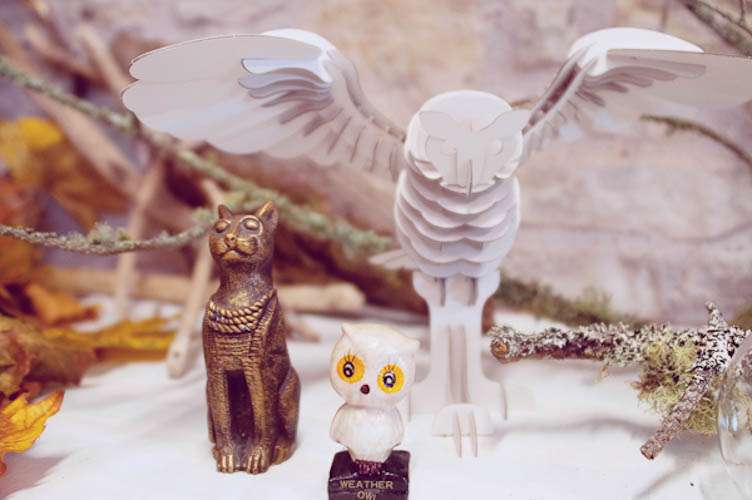 "We trawled around plenty of places with the help of the internet, and even booked another venue at one point – but when we found Folly Farm we knew it was the right spot," Ali told me. "We completely lucked out with the weather on the day, it was hard to believe it was November – but as we fell for Folly Farm's vantage point and woodland walks on a dreich February morning, we knew it would be beautiful no matter what. We will shortly be leaving the UK to spend a few years working in Philadelphia, so the wedding also gave us a chance to say goodbye to our closest friends and family."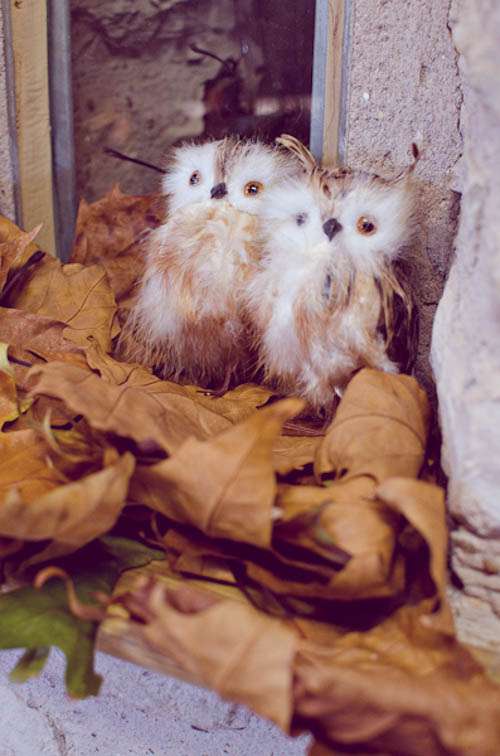 Although the couple didn't really want a theme per-say, the day ended up just being a perfect reflection of them as a couple. "We wanted to include the things that we love: great music, the handmade, plenty of colour, nature, the outdoors and each other," Ali continued. "We were enthusiastic planners though and our non-theme gradually evolved into something we decided to call 'Psych-Folk-Horror'. We've been into folk music and particularly psychedelic folk for a while, so that was always going to be part of the musical element of our day."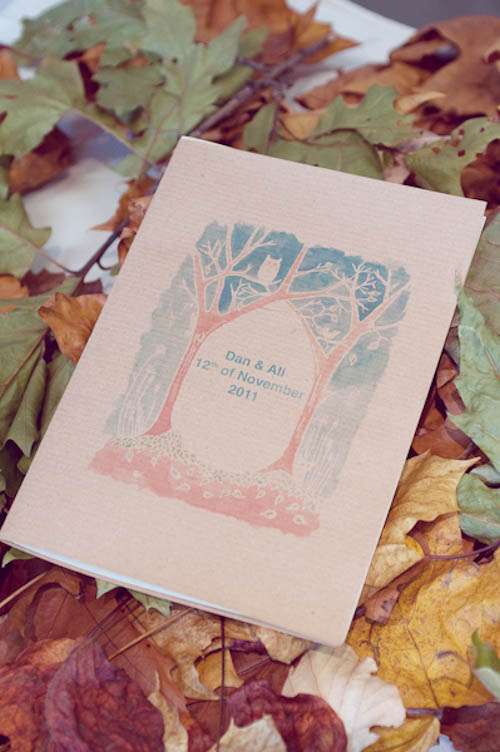 "The tipping point into full-blown theme though was when Dan gifted me "The Owl Service" by Alan Garner, a Folk Horror classic from 1967. After I read it, it became the inspiration for the invitations, RSVP cards and orders of service I designed. Folk Horror as a genre is inspired by nature and we made sure there was plenty of nature and wild things in the decorations. The woods at Folly Farm provided an amazing backdrop, with owls calling in the nighttime, deer and badgers. We let things get a little weirder later in the evening by projecting an animation we made in our living room of our RSVP cards coming to life, followed by the 1960's TV series of The Owl Service."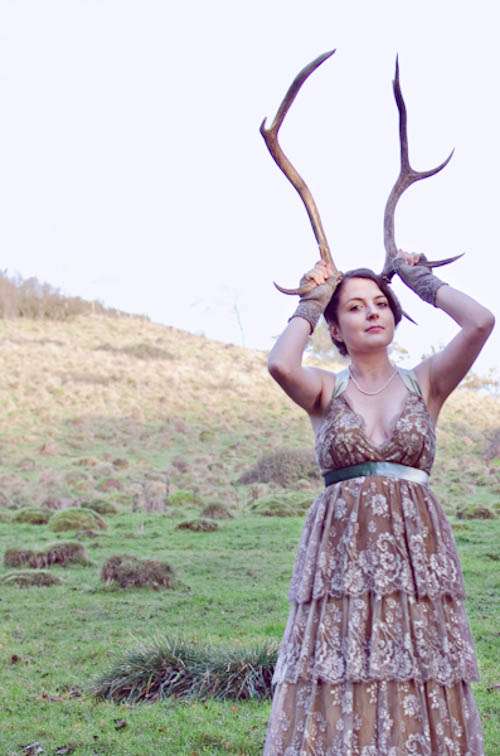 "Our inspiration primarily came from wanting the wedding to feel homely – part of us and the way we live together. That doesn't sound very Rock n Roll in itself, but we tried really hard to cut out the rubbish and keep our own identities – hopefully whilst maintaining our usual sense of humour. It was very important to us that everything had some meaning for us. We collected lichen covered twigs and driftwood from a beach near Dan's home in Scotland, teasels from Dan's mum, and leaves from London's parks (we've both developed a discerning eye for a good leaf!). We're scientists by day and we wanted to include this too, hence the assortment of lab glassware. There were also things that we live with every day, such as blankets, cushions, bike bits and strange mix of ornaments."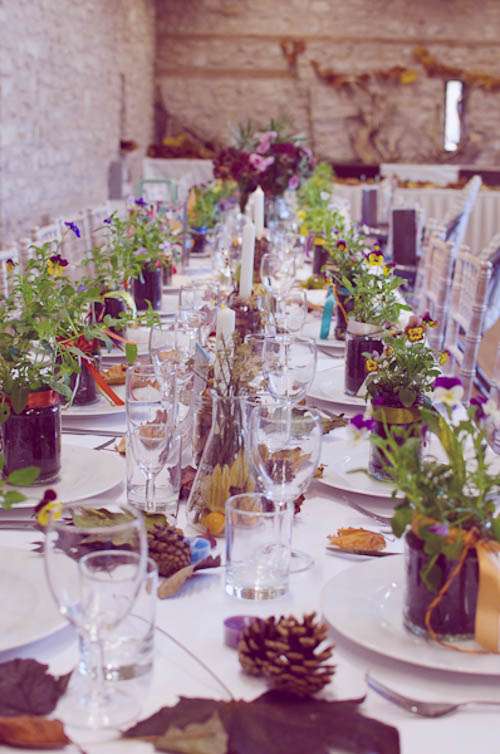 They even made their own 'leaf bunting' which, although looks simple, did take a lot of collecting, drying out and stringing of leaves to make happen! "We love the handmade and hand crafted, especially when those things are made by people we know."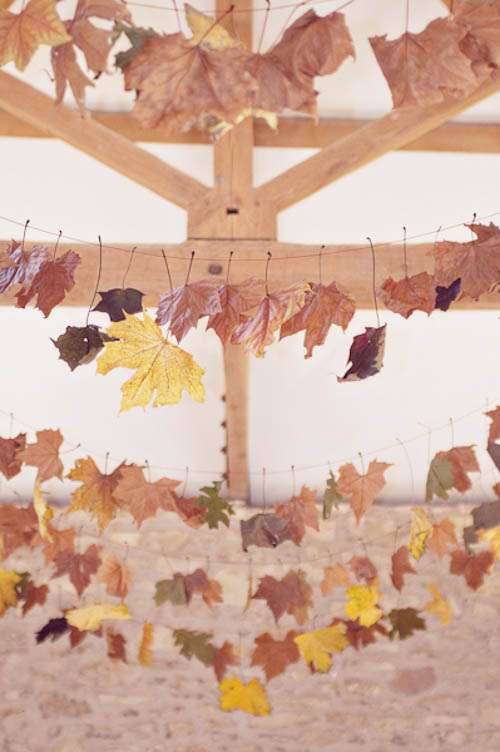 "We had a number of friends and family stay at the farm on Friday night before the wedding, who pulled out all the stops to help us with the decorations; tying leaf bunting, arranging teasels in conical flasks and piling up leaves and twigs late into the night. Dan's Grandma is a weaver in the highlands; although she sadly could not make the journey south for the ceremony she made our cake and we used a number of her woven rugs for the ceremony."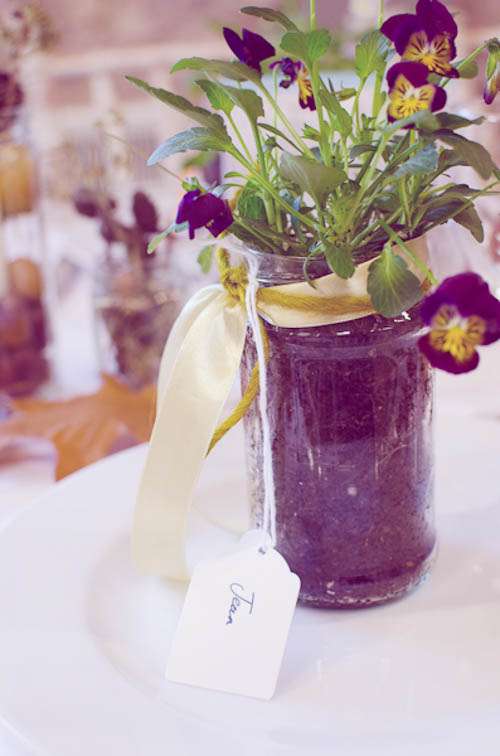 "I've always had a habit of 'making' and in recent years that's predominantly been knitted things. The first bit of the wedding I made was my gloves, before I had any clear idea of what my dress would be like. The wool was an inspired gift from Dan, which I'd been saving for something special. I then moved onto shawls for my bridesmaids and a jumper for my page boy who is very fortunately fond of owls. I ended up designing Dan's socks because I couldn't find a pattern I liked, and I was really pleased with how they turned out. All these things were knitted in Alice Starmore's yarn, whose colours are inspired by the Scottish landscape – specifically places where Dan grew up and we've both shared some of our happiest times together. We couldn't get all our guests up to the remote Highlands, but we did manage to carry them with us during the day."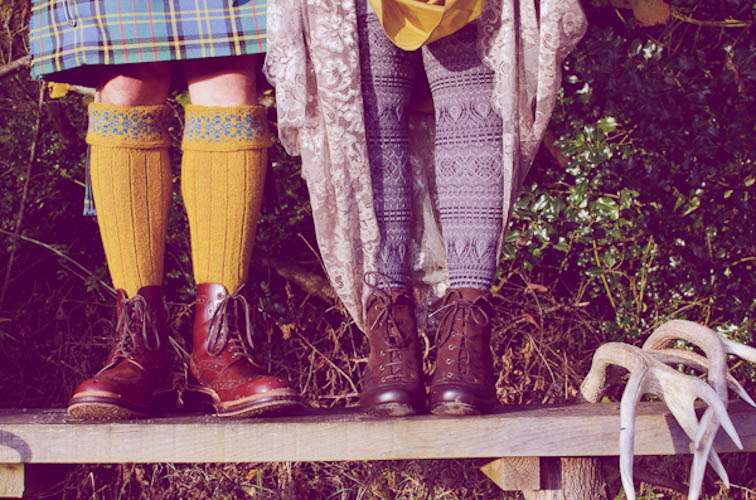 Utterly incredible. Thank you so much to Ali & Dan and their photographer Laura for sharing these today.
Supporting Cast:
Photography Credit: Laura Babb
Venue: Folly Farm, Bristol
Bride's Dress: BHLDN
Bride's Shoes: Hush Puppies
Bride's Headpiece: DIY (pheasant feathers)
Bride's Brooch: Tinctory
Bride's Gloves & Cardigan: DIY
Groom's Outfit: Alan Beith Kiltmakers & MacGregor MacDuff
Bridesmaid's Dresses: Monsoon
Cake: DIY
Flowers: The Real Cut Flower Garden & DIY
Band: The Soggy Bottom Boys, based in Nailsworth, Gloucstershire
Stationery: DIY
Caterers: Pieminister & Earth