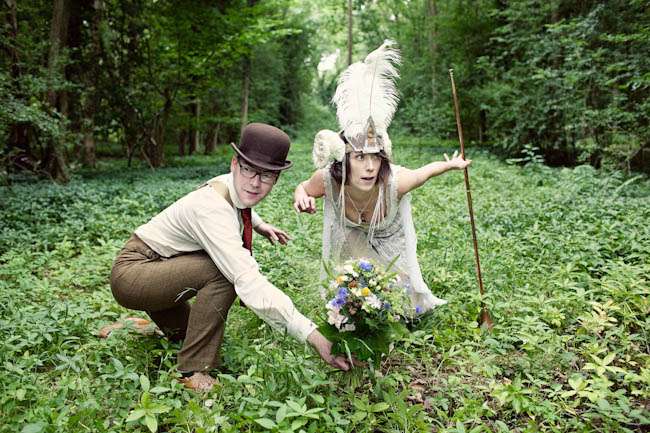 OK so it isn't much surprise that I pretty much died when I first saw Ian & Jo's wedding. The woods! The campfire! The bride wearing freakin' antlers! Oh my lord I'm so thrilled to be blogging this baby.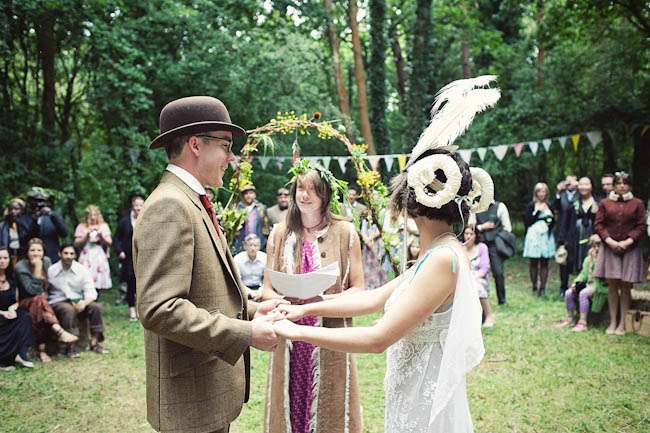 "Our wedding was had a subtle vintage 1920's summer fete theme," Jo wrote, "We love art, creativity and community. The things that make us human. The wedding was never about me & Ian exclusively, marriage to us means the joining of many, a coming together. It was our opportunity to share our love for each other, and extend it to our loved ones. That day was for all of us. I think that vibe came across."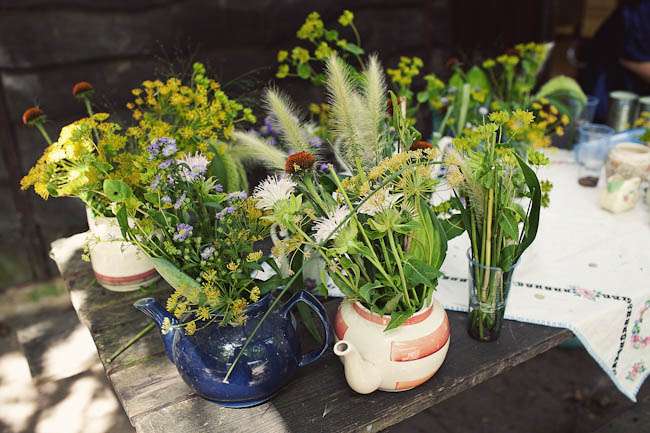 The wedding took place at Lord Hyde wood in Watford. "Tony the Farmer next door lent us his field for camping which we shared with his beautiful, pregnant old breed cattle" the bride continued. "We made as much of the decorations, clothing and games that we could with help from friends and family. I would definitely recommend that. Don't follow tradition, do it the way you want. What exactly is a 'favour' anyway?"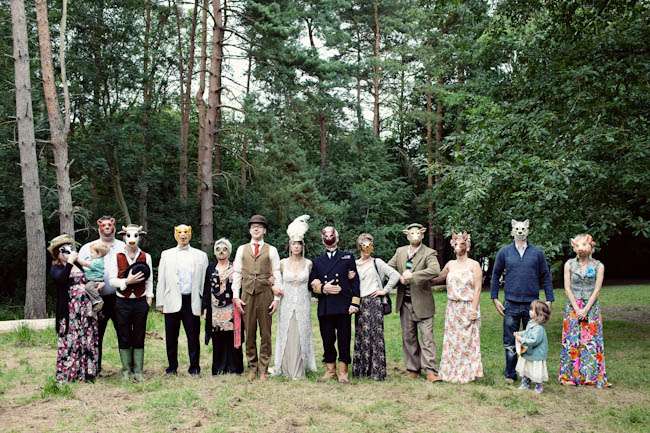 "What made the day work was the wonderful family and friends that we have. All of whom threw themselves into the community spirit of the day, getting involved with the set up, the mucking in, clearing up. It was a real team effort and the vibe was one of togetherness and love. Life is good when we are in relationship with each other in an open, honest and loving way. Nothing was too much trouble for anyone and the day shone with magic."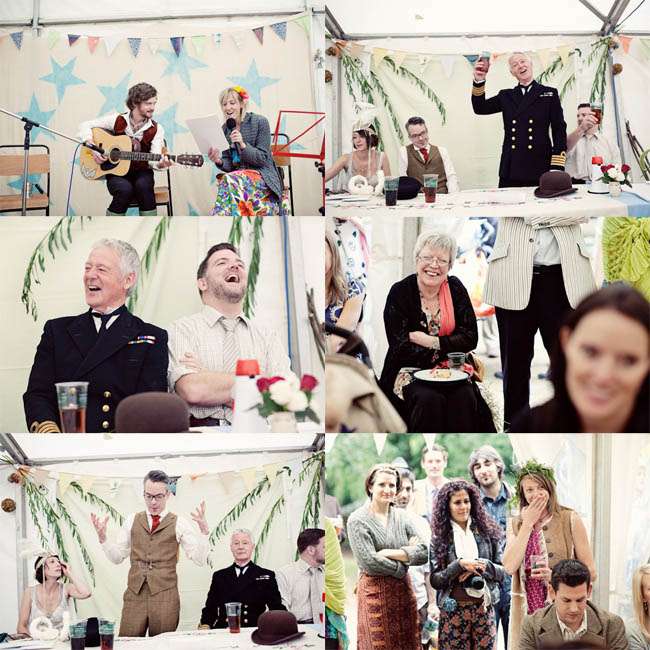 Jo wore a dress from Jane Bourvis on Portabello Road which she customised with vintage lace and pearls purchased from markets and from Annie's Vintage. Her incredible headpiece (seriously, I've never seen anything like it!) was hand made by bride with help from her chief Bridesmaid, Nicole. "We think there are 4,000 beads all hand stitched and it took about 90 hours to complete. The design was inspired from 1920's headdresses."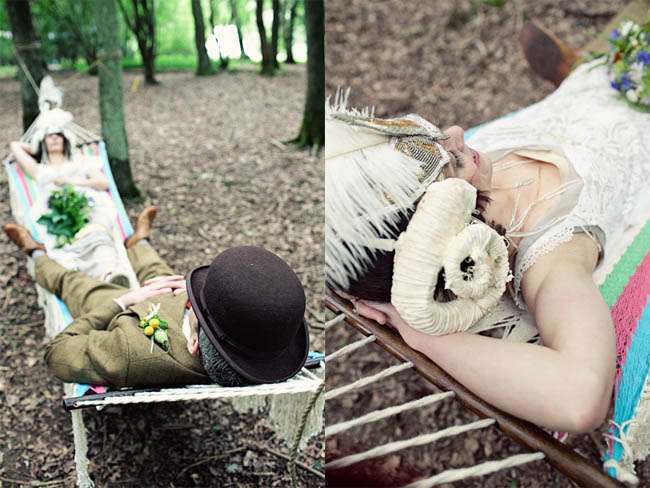 Aaaah-mazing. Oh and Pete (photographer Emma Case's partner in crime) made a video on his iPhone too. Whoooa. Love it.
HUGE love, congratulations and thanks to Jo & Ian for sharing their wedding with us today and a million kisses and love to Emma Case for sending over her incredible images.
Photography Credit: Emma Case Photography
Video Credit: Pete Smyth for Emma Case Photography
Venue: Lord Hyde wood, Watford
Bride's Dress: Jane Bourvis
Bride's Shoes: Indian khussa wedding shoes and converse trainers
Bride's Headpiece: DIY
Bride's Rings: Bushey School Antique Fair & Kingshill Jewellery
Bride's Necklace: Bought in India
Groom's Suit: Barrington Ayre
Groom's Hat: Christys' of London
Bridesmaid's Dresses: Monsoon
Hog Roast: Spitting Pig
Flowers: Marilyn Taylor Flowers
Ceilidh band: Coproliters