Whoa Whoa Whoa…old onto your knickers as they are about to be blown off! Heather & Tyler's wedding is quite simply and all out freak-fest (and I mean that entirely as a compliment!) "Yeah I would describe our wedding as a Red, Black, Moustaches, Beer, Victorian, Wild West, Freak Show" Heather told me.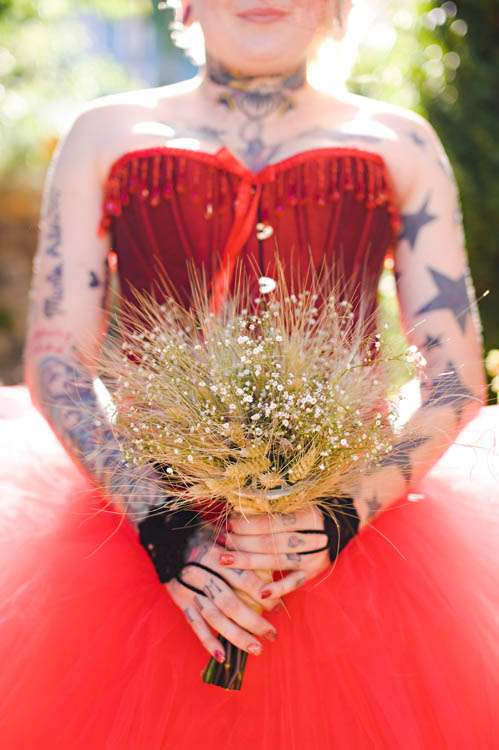 "We wanted to get married in place with a lot of history (and liberal liquor laws) so we chose Virginia City, NV becasue it still has the Victorian beauty, but has decayed a bit to make it spooky and they welcome rowdiness. The ceremony venue was The Mackay Mansion and it is thought to be haunted. For the Ceremony, the wedding party (bride included) walked out to 'Hysteric' by the Yeah Yeah Yeahs. We had a gender-blind wedding party with both guys and gals on both sides."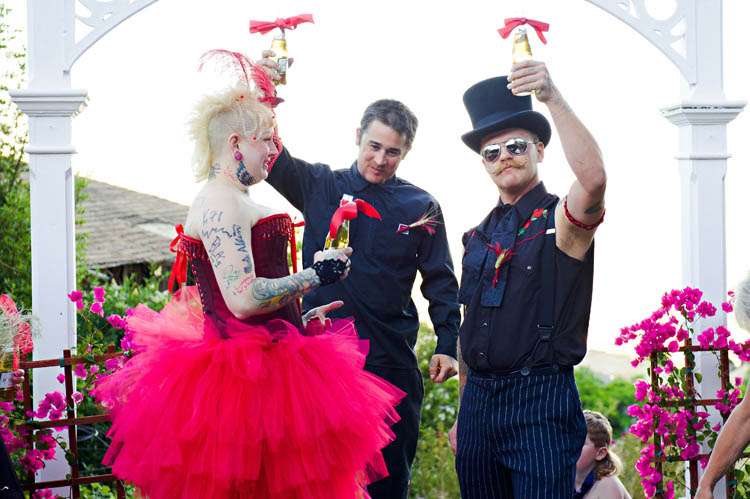 Instead of flowers each member of the wedding party carried a beer decorated with ribbon – that is all kinds of awesome no?
"Our officiant is a friend of ours who got ordained online," Heather continued. "We had a hand fasting as well as a ring warming and and during the ceremony, my son (who is afflicted with severe autism) ran up and tried to join in the handfasting. That was pretty cute. The cord for the handfasting was made from *gasp!* the bed sheet where we first got lucky!"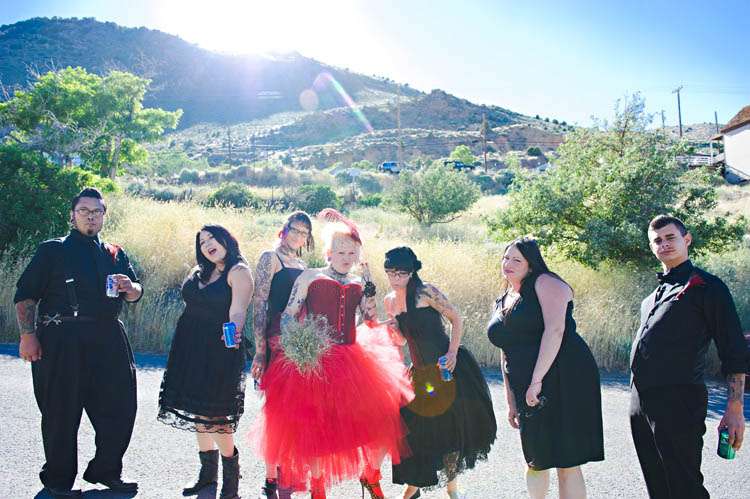 "We wrote our own vows which included 'always bringing paper when you are stranded in the bathroom' and Tyler promised to 'always see Alkaline Trio with me even though he doesn't like them very much'. At the end, we all had a celebratory beer toast."
"After our recessional of 'The Final Countdown' by Europe, we went for a pub crawl/scavenger hunt back to the reception. We had tons of free booze, a billion pizzas, and live music by a local country band. In between sets, we had Swingshift Sideshow perform for our guests. Our first dance was to 'Home' by Edward Sharpe & The Magnetic Zeroes and we cut our cake with a sword. We are both ex-squatters, so in his speech, the best man commented on our lack of personal hygiene! Ha! the reception got shut down early because everyone was waaaay too drunk and someone even went to jail! All in all, it was loads of rowdy fun and we have soo many great memories."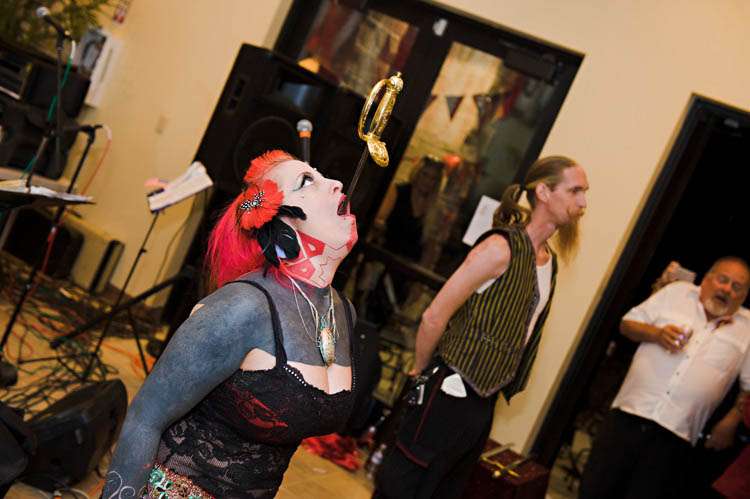 The bride's outfit inspiration was Lydia from Beetlejuice, "In the scene where Beetlejuice is trying to force her to marry him. She looked so amazing in that red lace puffy dress. I have always wanted to look like that since I was a wee one." She wore a custom corset from Battie Clothing on Etsy and a custom tutu skirt from Sisters of the Moon, also on Etsy. She accessorised with fingerless gloves from Yaso Knitting and Betsey Johnson shoes.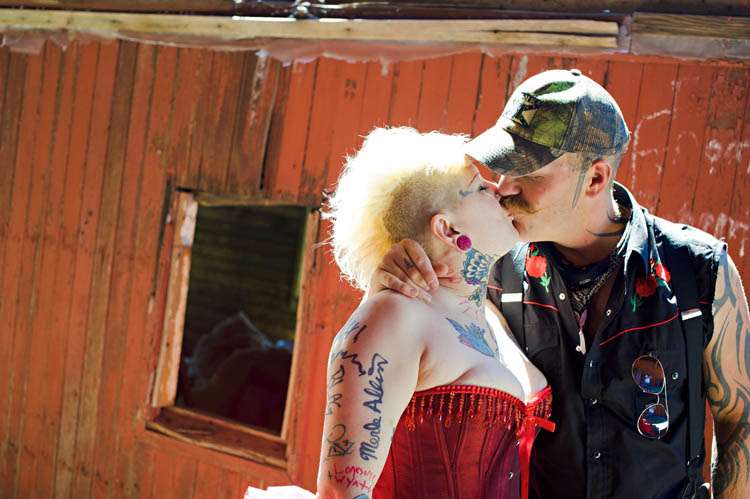 Mental! What's not to love?!
Thanks so much to Heather & Tyler and their photographer Mike for sharing this wedding with us today.
Photography Credit: Mike L. Photography
Ceremony Venue: The Mackay Mansion
Reception Venue: Silverland Inn Virginia City, NV
Bride's Dress: Battie Clothing & Sisters of the Moon on Etsy
Bride's Shoes: Betsey Johnson
Bride's Headpiece: DIY
Bride's Gloves: Yaso Knitting
Groom's Outfit: Gentleman's Emporium
Bridesmaid's Dresses:
Cake: Isabel's Bakery
Flowers: Carson City Florist
Band: Lady and The Tramps from Virginia City, NV (no website)
Other Performers: SwingShift SideShow