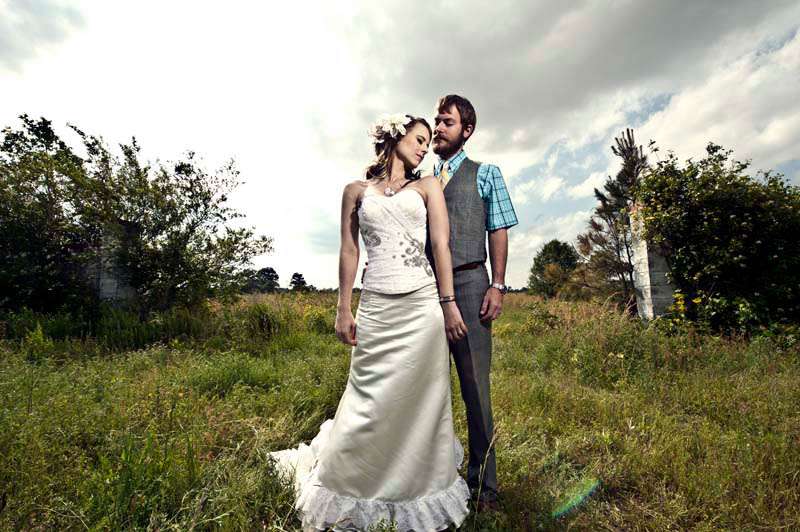 When the recently married Joie emailed me to share her awesome first dance video, I knew instantly I wanted to share it! Anyone that dances to Weezer is bad ass in my book! I was surprised though that Joie didn't send me her full wedding as she said wasn't sure that it wasn't 'Rock n Roll' enough for the blog. Erm…no way lady! As soon as I saw the beautiful Meschantes Couture corset dress and the portraits on the swing I was smitten!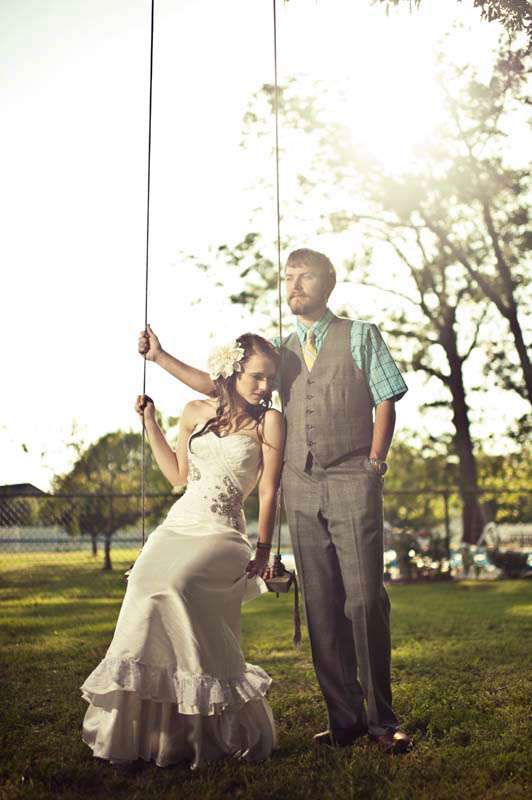 Joie & Cody were marred at Preston Woodall House in Benson NC. "We were NOT hell bent on making a unique wedding really." the bride bagan. "We were hell bent on making it OUR wedding. We were also very determined to make our guests feel as comfortable as possible!"
They did however put a few quirky touches into their day to make it their own. Joie continued, "We had our dinner before the ceremony. It was a casual buffet style that lasted from 6-8 and if you were late – no big deal! The wedding party did not wear their ceremony dresses or suits but whatever they felt like wearing and we went upstairs about 30 minutes before the evening ceremony. It worked out really well, we got the dinner out of the way and after the ceremony it was party time!"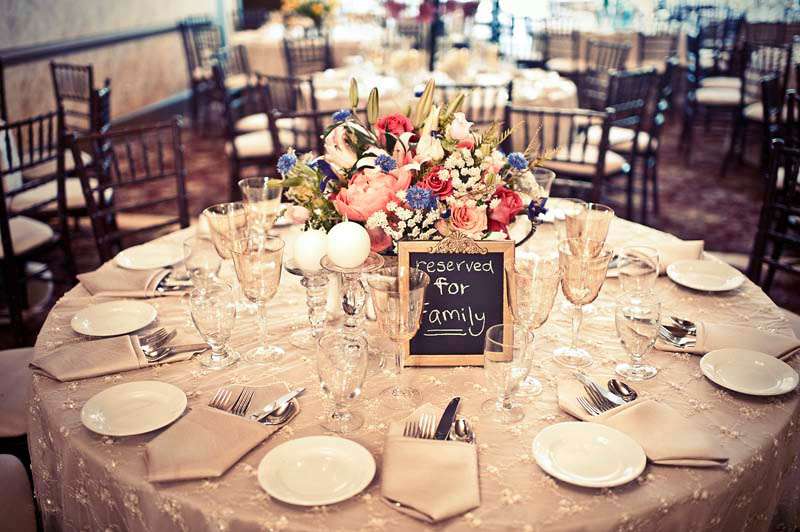 "My dress was made personally for me by Meschantes Couture. I have worked with them in the past and they offered to make me one and I damn near cried when they did. And I almost cried again when it was finished. I designed it and they were able to make it come to life. I can not even to begin to show the gratitude I have for them. It was made from the material they have in their shop plus as old wedding dress I found at a thrift store in my hometown of Dunn, NC."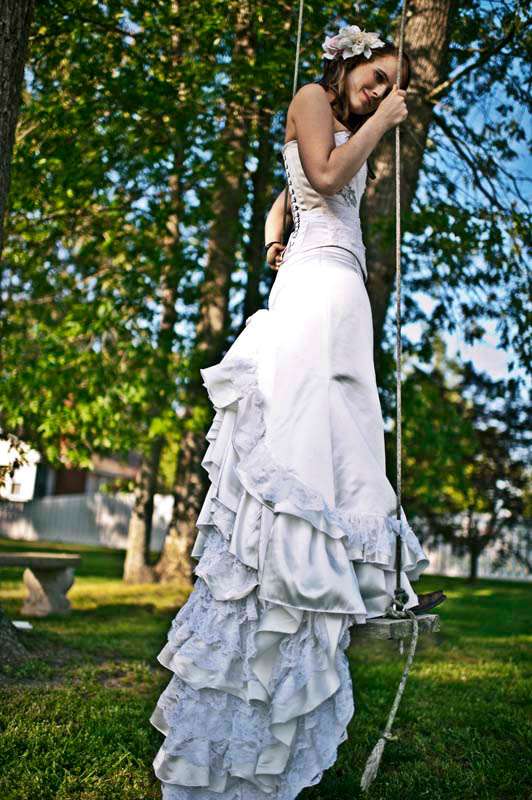 "My necklace pendant was made from my Grandmother's chandelier. Growing up I always LOVED it. At 5 and 6 years old I would steal the "jewels" off of it and pretend they were earrings, and necklaces, and jewels for crowns. The christmas before the wedding their house was burnt to the ground with my grandparents still inside of it. Luckily they came out ok but they were sedated and asleep in a burn unit for about a month and it was a pretty rough time. During this period we went and salvaged what we could from their home…I immediately went for the dining room where I found my beloved jewels scattered and covered in soot. I cleaned them and made necklaces of them from my family. I'm still making them. To me. it's one of the most valuable pieces of glass in the world."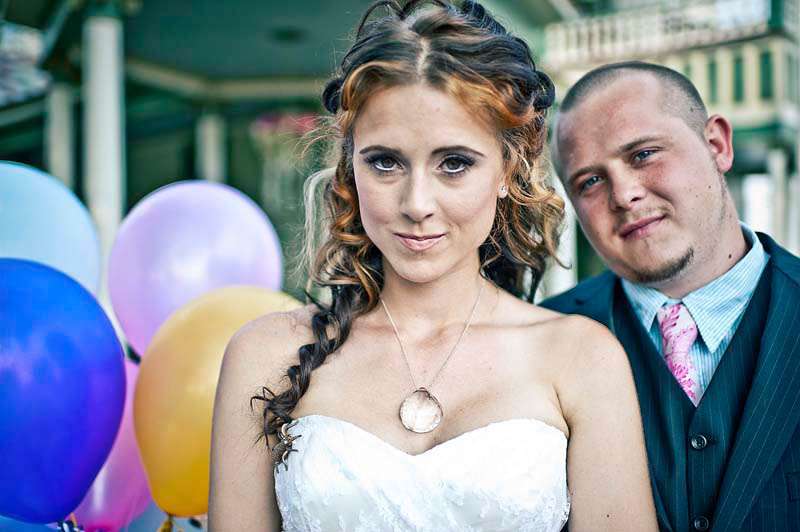 "If I had to pick a theme for our wedding it would have been "Structured Chaos". Haphazard with a purpose," Joie laughed. "All of our programs were tied with twine and each had a different charm on it. Each table had a centrepiece that was completely unique from any other table. Along with our wedding cake we got about 10 dozen cupcakes and each dozen had a different look. We spent a year and a half collecting 300 different china plates. If it were up to us we would have done the same to chairs and tablecloths and well…anything you can think of! But we also wanted to get married before we turned 50! Our vows were taken from 'Between the Buried and Me' and Butch Walker songs."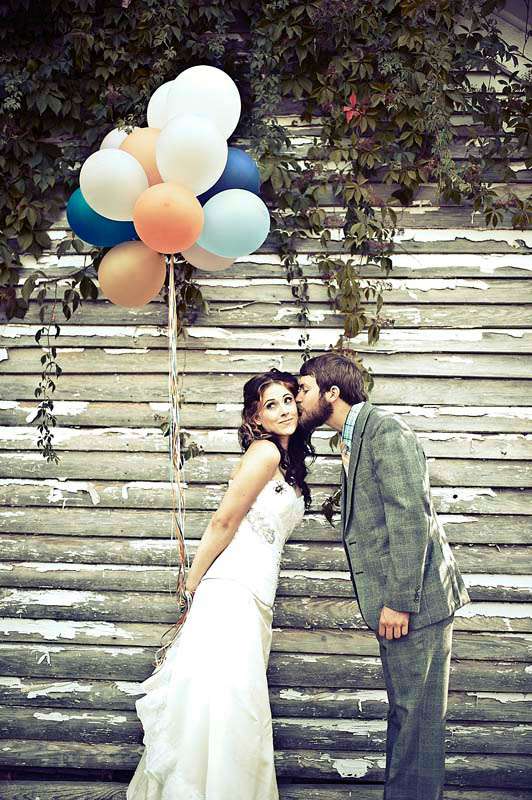 Oh, and don't forget about the video that started it all…Joie & Cody's awesome first dance to Weezer!
Big love to Joie & Cody for sharing their awesome wedding with us today!