Never one to turn down a good party, the invite to Alice's hen night (bachelorette party for my American readers) a few weeks ago couldn't have been more exciting news. I was all geared up and ready to rock Thorpe Park with soon-to-be-wed Alice and her hens…Reading Alice's report is a little scary though because I have no recollection of a lot of the late night (early morning!) stories she's telling. Maybe one too many Cosmo's maybe? Whoops…
♥  ♥  ♥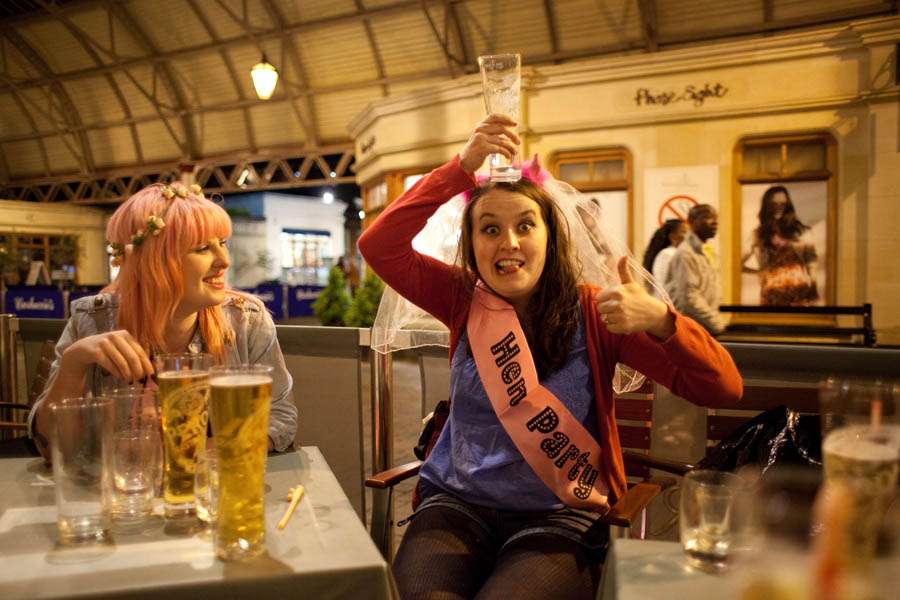 It's set up to be one of the most classic nights of your life…you hear horror stories about it, have to delete the pictures of your Facebook profile so great Aunty Val in Australia doesn't see them, and overall enter the experience with a sense of trepidation.  I can only be talking about one thing: your hen night.
I say hen night, but the stag do is just as important.  Admittedly a lap-dance limo and copious amounts of semi-naked ladies never appealed to me much, and not just because of typical 'girly' insecurities.  I fully DO NOT agree with the sentiment that your hen or stag do is your last night of freedom.  This implies that by getting married you are throwing your best days behind you, and also that nothing counts until 'I do'.  Well I disagree with both of these sentiments; getting married is going to start the best chapter of my life, and I would never dream of trying to get one final conquest on my hen (although a man in the queue at Thorpe Park did offer me "one final bunk up" before I got hitched. Obviously I was very tempted by such a romantic offer…!)  So while Graham was off at a surprise band practice and bbq on the beach back home with all his old friends, I hurriedly arranged a day at Thorpe Park and a night in the cheapest hotel I could find, which just happened to be the Travelodge at Heathrow Terminal 5! Only the best for my girls…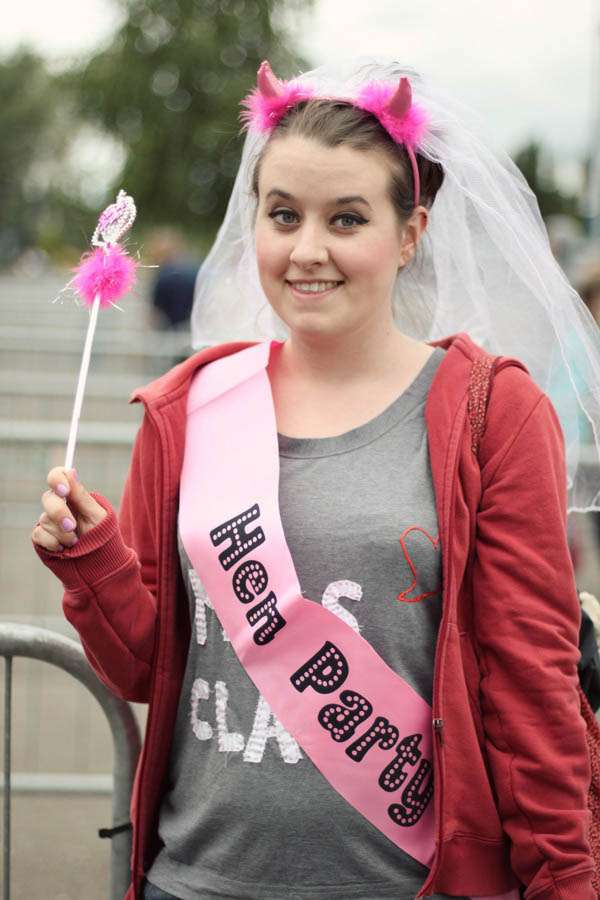 Five of us met in the Thorpe Park car park, and I was met with a flurry of pink 'hen weekend' sashes and a 'bride to be' custom made tee shirt courtesy of my art teacher friend.  I also had a wand and a veil.  Now let me tell you straight, at first I found the idea of dressing up in stereotypical hen do paraphernalia simply horrifying.  However, out of the context of a seedy nightclub in Brighton I suddenly found it quite a novel idea.  Also the attention we drew was quite funny, although I'm still reeling from the muppet who shouted "as if she's getting married"!!
After a day of fun and frolics at the theme park (and a few water rides that Kat was not loving!) we drove to our hotel via Sainsbury's for an essential booze run.  Champers and pre-mixed Cosmopolitans purchased, we made our way to the hotel and settled down for a drink and a gossip.  I'd booked three rooms for 6 of us (my photographer and now good friend Sassy from Assassynation was meeting us after she finished at a wedding she was shooting that day) but we hung out in the largest one all together.  At this point we had NO plan for the evening, and I'm so glad of this.  We let the evening pan out, and it ended up being beyond classic!  We asked at reception where was nearest to go out for dinner and they told us Windsor.  So, as soon as Sassy arrived we called a cab and made our way there.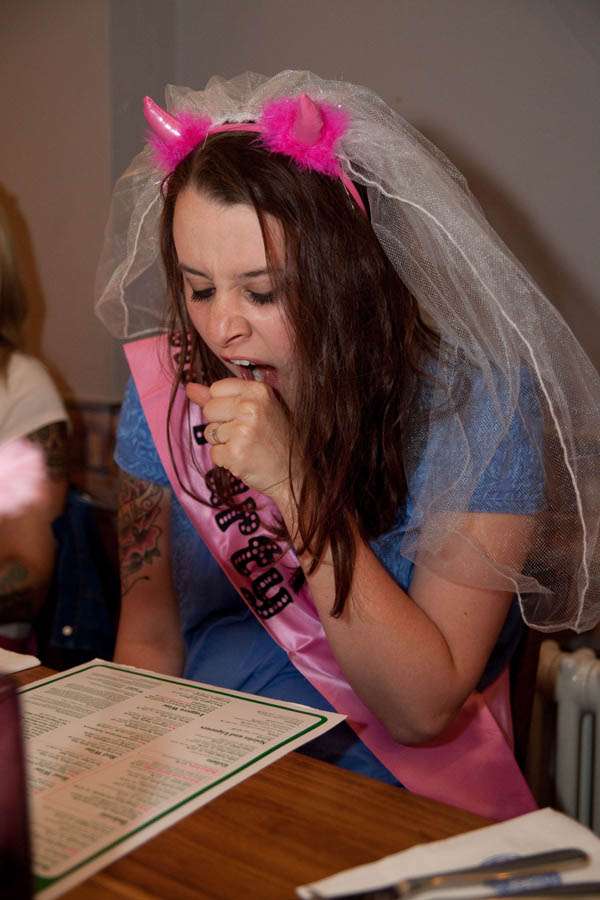 Keeping you up are we Alice?
As soon as we saw the castle we knew we were in a whole different world…posh just isn't the word to describe how out of place penis straws and pink sashes were!  We went for dinner and then followed the masses of beautifully dressed young people until we found a bar called "AllBarOne".  And let me tell you, it all went downhill from here.  We made friends with a stag party, where the stag just happened to be Peter Jones from the Dragons Den's little brother (apparently), and the men were all over fifty and incredibly well to do.  However they loved downing Jaeger bombs with me, so we enjoyed their company for a few hours and enjoyed the drinks that followed suit even more!
At around midnight we went on another wander, and came across a bar that had a dance floor and DJ at the back, so naturally we just had to hit it up.  Cue dancing on chairs and feeling like a celebrity as Kat and Sassy both snapped away while I was dancing with various characters. Oh dear, if only this was the end of the night….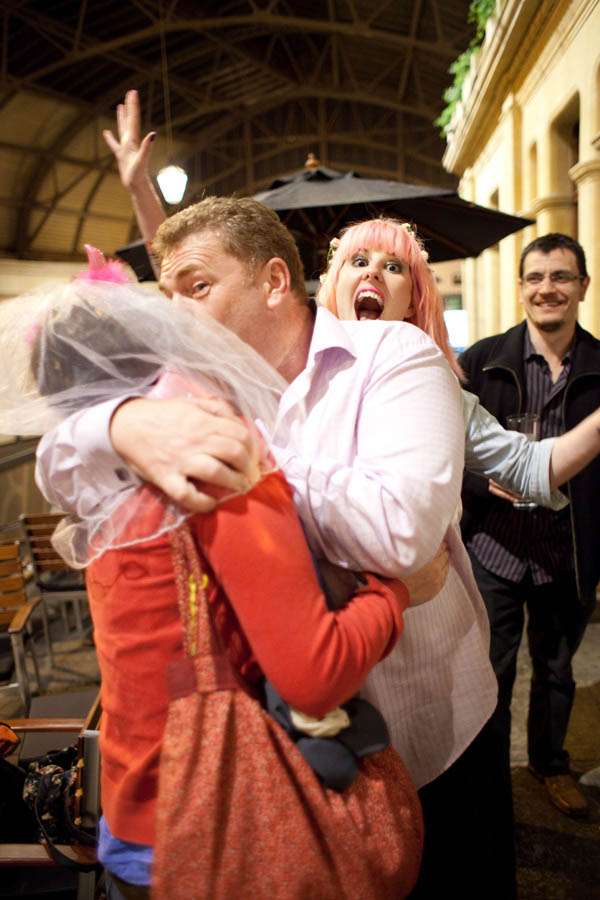 Photo bomb!
We headed back to the hotel by 3am, and as we had some alcohol left over from earlier, we kept drinking.  Fast forward 4 hours later and you have a video of me streaking down the hotel corridor, a tee shirt from a random lad we met in the foyer, and one huge mess of a room.  In fact security came and told us off so many times that they even went and got the master key and tried to physically make us leave! (Kat: although secretly I think the guard was enjoying the entertainment…I can't imagine the Terminal 5 Travelodge usually sees so much action!) However being drunk and more then a little brazen we bolted the door from the inside and hid in the bath tub (yes the bath tub, not even the bath room, the bath tub!) and waited for them to leave.
The next day I had to rush home to Kent for midday where mine and Graham's families were having a big meal together in preparation for the wedding.  I was feeling very sorry for myself indeed, until I got to Graham's parents house and found him lying on his bed, curtains closed, in the dark.  I asked if he was okay, and he replied "Well I would be, if I hadn't come home from the stag without my shoes and half my shorts missing". Looks like it wasn't just us girls that got up to mischief!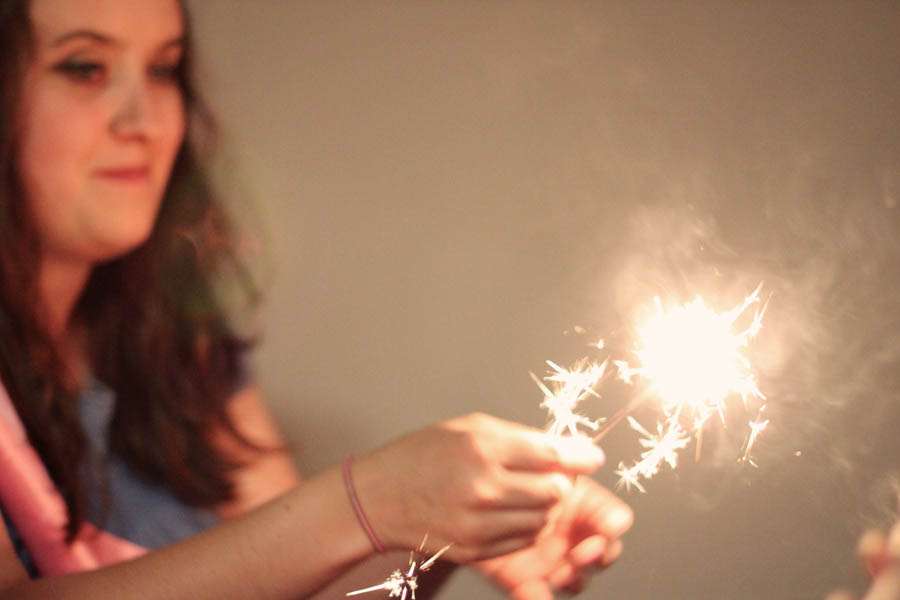 Massive thanks to Kat and Sassy for taking photos throughout the evening, and to all the girls for coming and partying with me!  I had a truly awesome hen weekend, and have so many memories to take into married life with me. I love you all.
You can see the rest of Alice's adventures in weddingland here.
Photography Credit: Assassynation & Rock n Roll Bride