Big love to all that entered our contest to win free wedding photography from Xanthe Roxburgh. The time has now come for me to announce our 3 finalists and I need you, dear readers of Rock n Roll Bride to vote for your favourites to win! Simply read the stories below and select your winners via the widget at the bottom of this post. As always, just one vote per IP address please but feel free to get your friends, family, neighbours and pets to come pop by and vote too.
You have until Sunday 27th March to vote and the ultimate winners will be revealed at 9am (GMT) Monday 28th. Good luck to all these gorgeous couples.
♥  ♥  ♥
Christine & Simon are getting married on 12th May 2012 in Oakham, Rutland, UK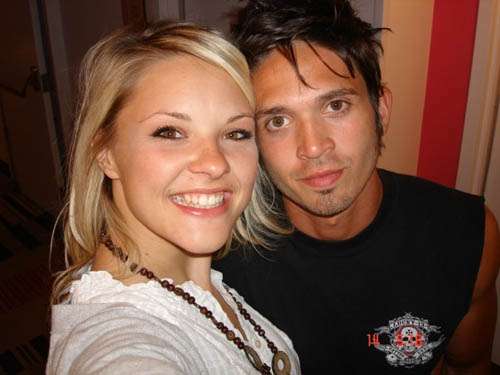 Simon and I still have a way to go with planning but we do have lots of brilliant ideas that will be quite unique to us!
The actual wedding ceremony will take place at our town's church, mainly this is convenient but more importantly Simon's parents and his grandparents were Wed there!  Our general theme for our wedding is an English Country Wedding with a shimmer of elegance (nothing too shabby chic).  Our evening reception will take place in a Marquee on the grounds of a beautiful country house, very private and exclusive.
After the wedding breakfast at around 9pm we will have an ice cream and cookies bar served with every sauce and topping under the sun!  It will be a lovely evening twist to get rid of the dreary finger buffet!  We will also have milk and hot chocolate to wash it all down with.
My dad's brother is kind enough to be walking me down the aisle on my big day, unfortunately my dad was murdered back in August 2010.  He was a big lover of life and wanted to live life to full, so having an amazing photographer capturing my day would be magical.  I want the vibrancy of the day and the close family ties to show through my pictures.
Like everyone I also love photographs!  I would be so thrilled at the opportunity to have a shoot with Simon, capturing our youth and our love for one another.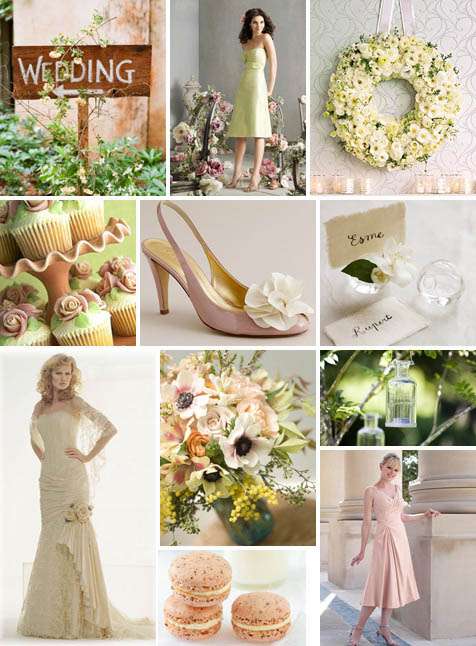 Lacey & Dennis are getting married on 16th July 2011 in Columbia, USA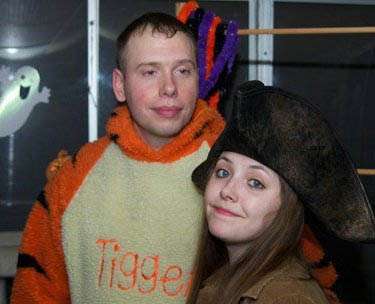 This is Lacey on behalf of myself and my amazing man, Dennis.  We'll be getting married Saturday, July 16th of this summer surrounded by family and friends in Columbia, MO–one of the many places we call home, but no longer live.  We've booked a lake cabin resort with unlimited fishing, swimming and trails.  Our friends, family, and one rather precocious weinerdog will be flying in from 8 different states and 4 foreign countries! There will be a croquet tournament, buy-in poker, and a whole lot of beer, so we ask that if we win, our darling photographer bring her very best A-game: We mean business.
We should win because you will never see another wedding like this again!  We've booked the resort for a whole weekend theme of vintage/found decor, family fun, and mischief.  Besides the lake, croquet, and the poker tournament we plan to thoroughly enjoy the (yeah) menagerie of (ridiculous) taxidermied animals, rustic old fences, paddleboats, and (brace yourself) golf carts we'll be renting to traverse the positively gorgeous 164 acre estate.  Throw in some eagerly-awaited mint juleps, a keg of beer for my Grandma (and it's cute that you think I'm kidding), along with the North African influenced barbecue reception, and our soon-to-be-world-famous dessert buffet, and you really don't want to miss this!  No seriously–please, pick us!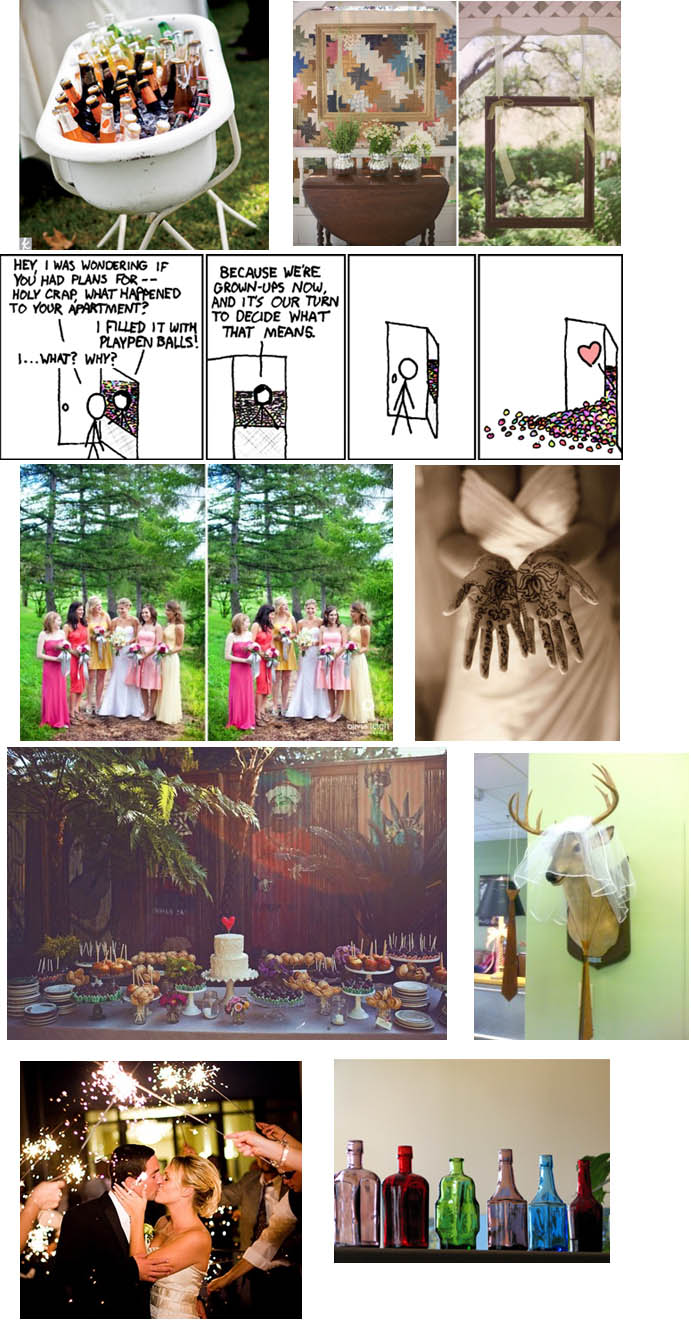 Jessie & Toots are getting married on 31st December 2011 in Auckland, New Zealand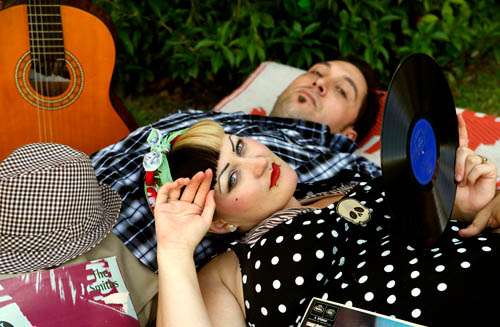 I'd ask Mum "How do you know?" How would I know when I met the right guy? I'd had a few guys. Some gems, some heartbreakers, life's usual curveballs. Then life threw me the biggest curveball yet. I'd been struggling with horrific pelvic pain.  My doctor ordered a CAT scan, and *BOOM*, just like that, life was changed forever. The doctor said something was wrong. Soon, I felt my bright light diming, slowly slipping down the scary slope of depression…
The diagnosis was iterstitial cystitis, an extremely painful condition, which meant I couldn't work.  It seemed the most unlikely of times to fall in love. However, my car needed a tyre, and the salesman caught my eye. He was cute.  I was in mechanics overalls, hair in scarf, in my typical rockabilly style, tattooed & scruffy!  He describes this first look as sexy!  He introduced himself as Toots, fixed the car, and we got caught up in conversation. He offered to help me out with a creative project I was involved in – paper mache'-ing!  He showed up after work & attentively paper mache'd next to me!. Our first date was very DIY! A sign of things to come…
Within weeks, I was smitten. I quickly learnt what a gentle, beautiful soul I had fallen for, a wonderful attentive father to his 8-year-old son.  We both love music, camping, family… he loves that I love hot rods, I love that he loves a good tickle fight. He believed I would get through this awful time, and I did.
I had my last surgery in November, and since then I have been pain-free.  Very soon after, Toots got down on one knee, pretended to do up his shoelaces, and asked me to marry him, amongst the marshes at the edge of my neighbourhood.
I'm now marrying the man who believed in me, who stood by me through the darkest of times, who held me as I cried, held my hand to and from surgery and specialists, hospital visits and still loved me more.  The man who believed I had more to reveal to him, and who patiently waited.
Toots & I have been through some hard, hard times, but his belief in us has never wavered.  It now feels wonderful planning to honour this love, in a typically unique fashion – our wedding theme is just freakin awesome! Nicknamed "Wanderlust" – festival style – we have a campground to ourselves, next to Lake Karapiro, New Zealand. A mix of Cook Island music and dancing, rockabilly & luau influences, slightly carnival-esque with a magician and circus performers, ENDLESS DIY,  a 'secret garden', bands, bonfire &  countless vintage knick-knacks. Tons of 'kissing cats', deer & owls, old tins and jars for vases, homegrown & silk flowers, bright colours, big hibiscus…dirt dancefloor!!
It would mean the world to us to have this momentous occasion captured by Xanthe.  Certainly the best way to see the New Year in! Come party with us!

♥  ♥  ♥
Loading…