Voting is now closed
I love running contests but even more than that I love finally unleashing the finalist for you, my darling readers, to vote in spades for your favourites to win! As always the competition was fierce and whittling all the entries down to just 3 was challenging to say the least. Let alongside Carina & Amanda of Love Me Do Photography I am proud to announce the top 3. You have until next Sunday 1st November to vote…get on it! Just one vote each via the voting form below please..as always lets keep it clean.
May I introduce…
Gaelyn & John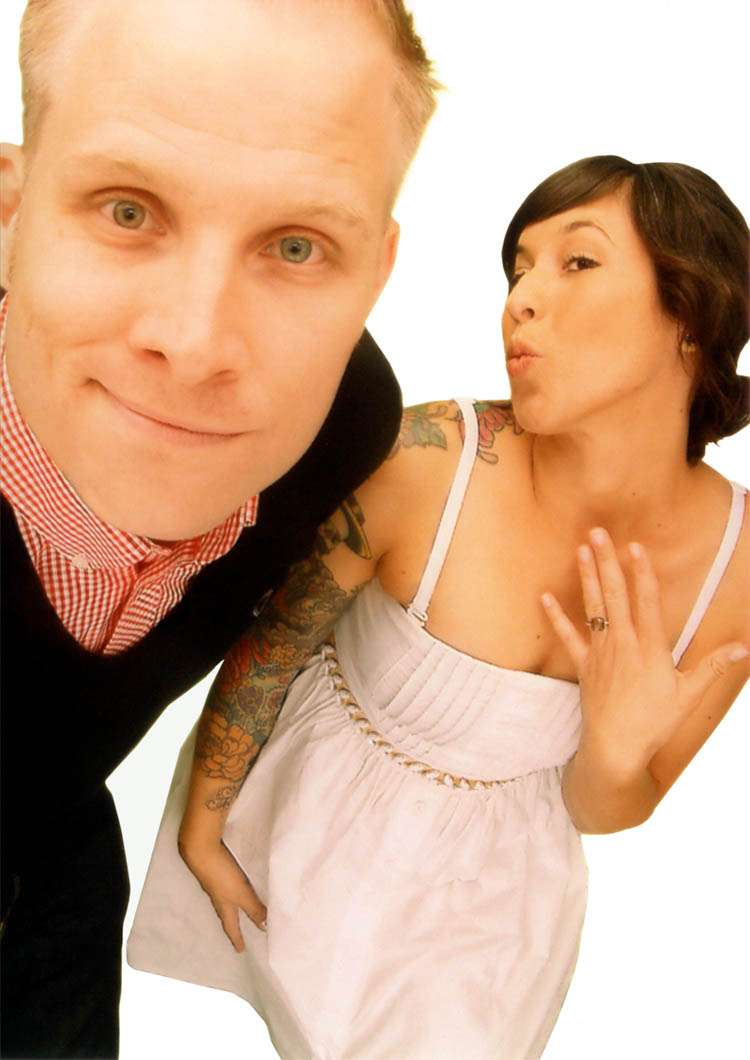 My Fiance John and I met through mutual friends in high school, and through a shared music scene. A few years after high school we reunited and have been inseparable through college and touring the world, and eight years later we are happily engaged. John and I share a love for music, spontaneity, adventure, arts, creativity, diy crafting, humor, friends, San Francisco, family, good food…the list goes on.
We are planning to have our wedding at his families beach house in Carpinteria, California. The house is an amazing 20's beach cottage, one of the oldest in the area, full of charm. We have spent many happy times there over the years and it means a great deal to us and our family and we are happy to make it a part of our big day. There is a large park across the street from the house, the beach is at the end of the block, and a running railroad a block in the other
direction, its adorable. I am a very crafty girl and i have a fairly small wallet so I intend to do a lot myself. And it will make it so much more special and unique. We also hope to get lots of help from our friends and family, contributing baked goods and side dishes.
I like to refer to our wedding as "English country picnic with a Mexican flair". A "marriage" (if you will) of both our backgrounds. There will be gingham and tea as well as hand cut papel picados (Mexican paper banners) by yours truly,  and tamales from a small family run bakery.
If you want to see more of Gaelyn & John before you make your mind up then go check out their adorable blog!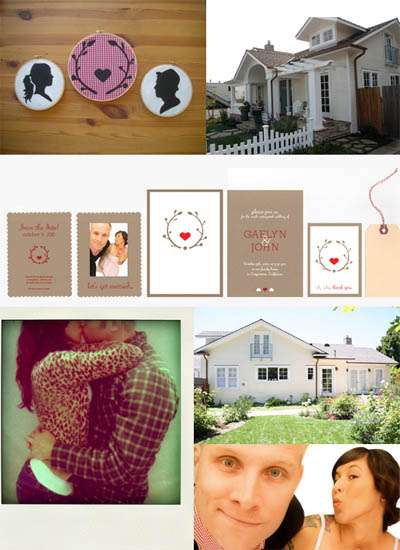 Kristen & Jimmy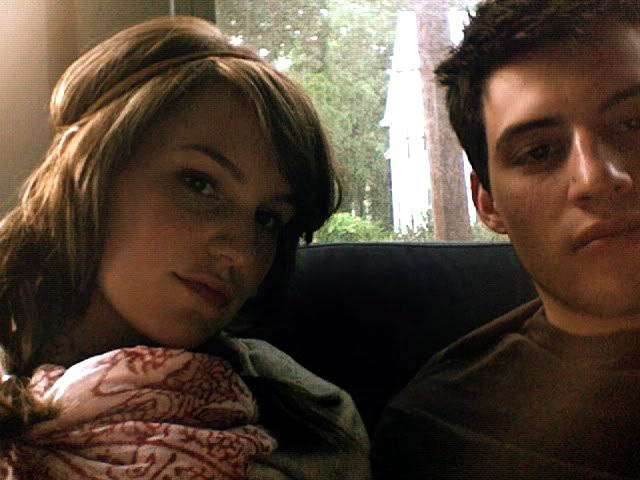 Our "love story" is not as exciting as some of the others may be as we were just 14 when we met and 17 when we started dating. I tried to write out little details I remembered about us getting together in high school but it looked like the plot to some new teen movie, so I'll keep it to the point! Jimmy and I met in high school and were best friends throughout until we started dating halfway through our senior year (the truth is that we both had liked each other for years but never admitted it). Our first kiss was in the back-seat of our friend's car (haha). We have since graduated high school, gone off to 2 different colleges – twice, graduated, moved in together, and adopted and raised our puppy Penny Lane. We originally wanted to elope in Italy during a vacation this Spring but my mother burst into tears at the idea and so here we are.
I view the wedding itself as a venue to publicly commit to each other in front of family and friends what we both already know to be true. I want it to be a celebration, obviously, of us and our awesome relationship but to also have it be a celebration FROM us to our friends and family. In essence, I want it to be a celebration of love for everyone close to us in our lives. Everyone that will be attending has had some hand in who and what Jimmy and I have become and I can think of no better way to say thank-you.
We are both currently 23 years old. Jimmy has a decent job and I have a part-time one but am recently enrolled in grad school for Library Science which makes our money situation tight – especially when you throw a wedding into the mix! – This wedding will be very DIY – my mom is helping pay for the location but a lot of it is going to have to be paid for by us.
Jimmy's family is 100% full-blooded Italian on both sides and so most of the guests will be related to him and IT WILL BE LOUD and hilarious and fun.   The wedding is at Canterbury Shaker Village in NH and is exactly that – an old village where Shakers used to live. The ceremony will be outdoors in a giant field/garden with a beautiful pond and "forest" backdrop. There will be no real "wedding party". Jimmy may have 1 friend stand up there with him and I'm having my best friend and little sister "walk me down the aisle".
Jimmy and I plan on making our own "arch" out of birch tress and cloth much like the one attached as inspiration. The reception will be held in the 18th century barn. Everything is original and completely beautiful and unique. We were told we could roam anywhere to take pictures – this place is STUNNING and I could only dream of having a super creative photographer to take advantage of it.
I intend on have two huge family-style picnic tables covered in vintage table cloths with vintage mis-matched cups and plates for the reception. The "theme" is color color color and awesome party fun– I'm going to make my own paper chandeliers and pom pom garlands from every different color tissue paper and hang lanterns for lighting. We really wanted a photobooth of some kind and will have a couple of our Polaroid cameras there for instant photos.
The bottom line is this is going to be the best party that we can make it and we are so laid back that the ONE and ONLY thing I REALLY care about and that I'm really "stressing" to get right is the pictures. If we are going to have an actual wedding there should be some really beautiful documentation of it, right? I always thought that I would never be able to have any really unique and creative pictures because we, simply, could afford them.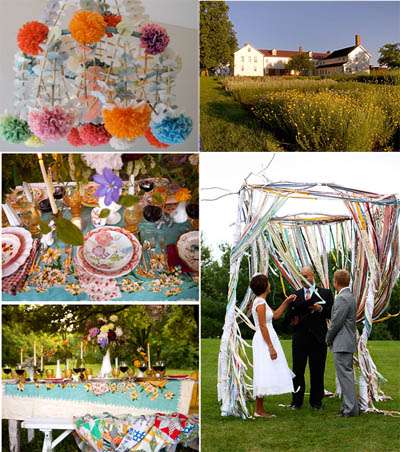 LaKethia & Jared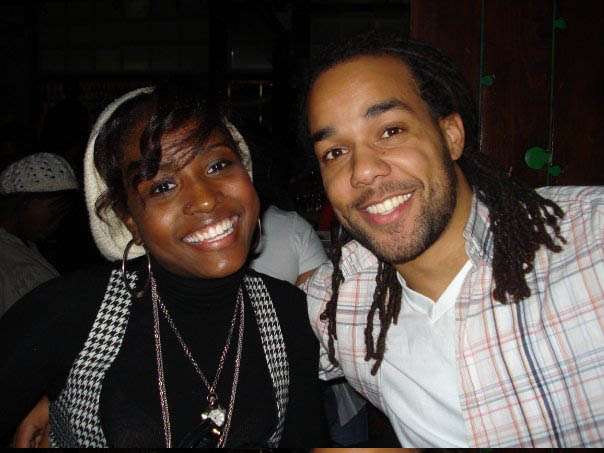 Wearing my pajamas, fresh out of bed after a late night of studying partying, while wolfing down my favorite university brunch of chicken broccoli bake, was not exactly how I planned to meet the man I would one day marry, but you can never predict these things can you?
Jared and I met in the fall of 2002, while brunching at the oh so glamorous and upscale Bursley Dining Hall at the University of Michigan-Ann Arbor my freshmen year.  I was mortified when my friend invited the cool, curly haired, skater/break-dancing dude I'd secretly been checking out from afar for the past two weeks, over to our table.  Imagine my surprise, when he accepted the invite and sat down to have brunch with us.
If our life was a romantic comedy, our eyes would've met, the room would've stopped, and we would have instantly made a connection.  But it didn't happen that way.  I continued to stuff my face with chicken broccoli bake (hey, they only offered it every two weeks on the menu) and he nervously chatted with my friend about ordinary things like the weather and blah blah blah, yadda, yadda, yadda.  Did I mention I was starving?
This was our first encounter but certainly not our last. We continued to run into each other often, as we lived in the same dorm and had mutual friends.  We bonded over our love of dance, Chicago deep dish pizza, and an aversion to the cold.  I liked him and thought that he liked me.  My suspicions were confirmed when during a bout with a terrible cold, he taped cough drops and cold medicine to my door.  We've been inseparable ever since.
We've traveled together, made a move to New York together, and will spend our lives together.  We should win free wedding photography because while we have a lot of love, after paying outrageous NYC rent, exorbitant student loan fees, (to borrow from the Five Heartbeats, our favorite fictional band,) "[We] ain't got no money. Ain't got no fancy caaarrrs."  New York City public school slaves, I mean teachers, don't make much these days nor do freelance editors/artists.  We could use a helping hand.  Not only that, we'll be performing our own rendition of the infamous dance scene from House Party 1 as our first dance. Now who'd want to miss that?
Our theme is a Do It Yourself Destination wedding.  As we're having our wedding at the A Stone's Throw Away in Nassau, Bahamas, we aim to incorporate our love of the beach, vintage finds, and DIY projects.  Even though the wedding is abroad, we'll still put together our own centerpieces and creating the table numbers, my mom and I are making my veil, we're creating our own Save the Dates, and Jared's mom is doing the bouquets and boutonnieres.   We've spent the summer rummaging through Brooklyn stoop sales to find inspiration and decor for our reception.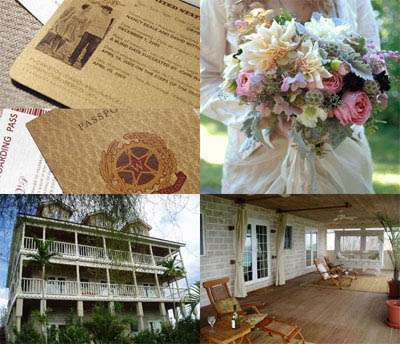 Please note, even thought I know you all want your favourites/friends to win, only one vote will be counted per IP address so voting more than once is futile. The winners will be chosen fair and square!
Voting is now closed