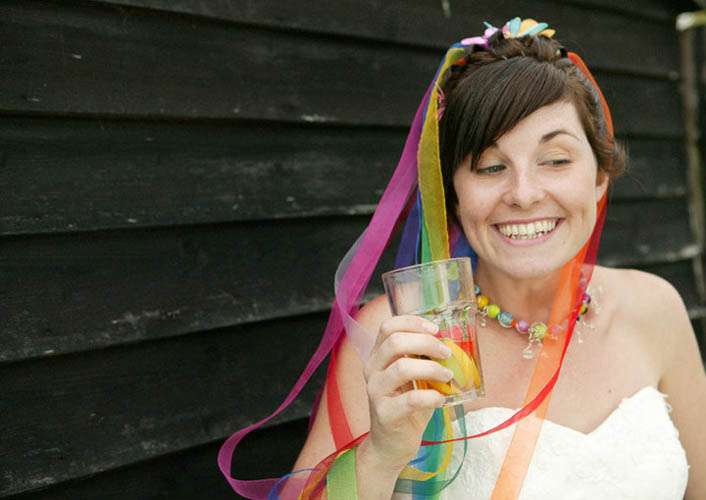 The thing I love about all you Rock n Roll Bride's is the diversity of all your weddings. Every morning my inbox is flooded with so many different wedding visions that it my days are never dull!
Farley & Niko's wedding was planned in only 8 weeks. They explained, "We decided to go for it when Farley's Dad was diagnosed with pancreas and liver cancer. We therefore hadn't saved for it and had to cut corners where ever we could. We did have some very generous donations form family members which made it possible. I think we did it all within £4000 (that's 120 guests all fed)."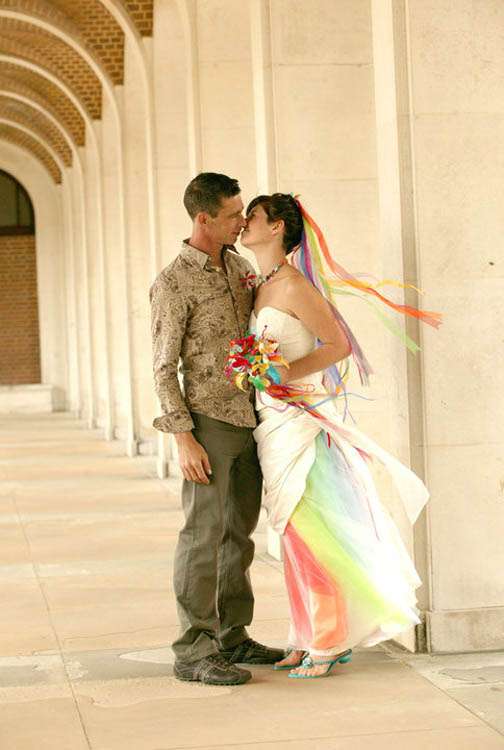 "The timing couldn't have been better, Farley's Dad was able to come as it worked out that he was due a break from his chemo on the date that we had set (he travelled over from Portugal where him and his wife live). Although he is still doing really well, he is no where near well enough to travel now so it was worth the mad rush. He came to see the last of his children get married and was well enough to enjoy the day. We were also obviously really happy to have him there."
The wedding reception was held at Albury Village Hall, Hertfordshire and only cost the couple £250 to hire! By saving so much money here, it meant the couple were able to put their own stamp on the decor and styling of the wedding.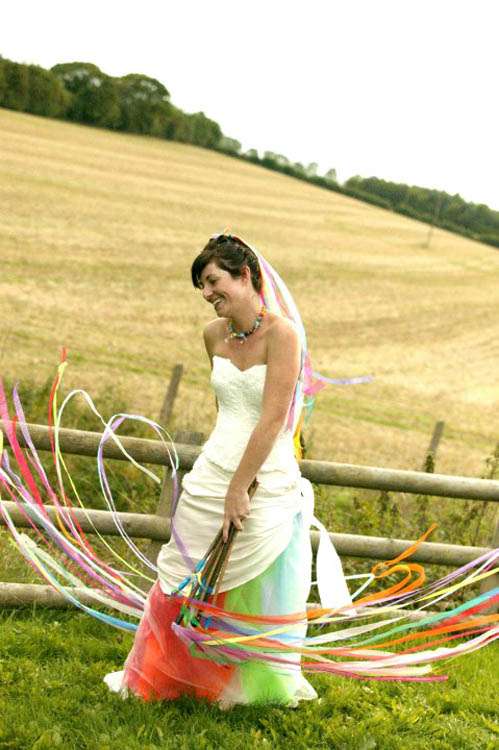 Niko's dress was a DIY project. She bought two dresses (she didn't know the designers) for just £100 each (reduced from £1000 each!) and used the top half from one and the skirt from the other. Her friend Daisy helped her create it and make it into a rainbow by adding multi coloured strips. She saved money on her shoes, finding them for just £5 on eBay and she made her rainbow veil herself by gluing lots of different colours of organza and ribbon to a clip.
"My bouquet was made from garden wire (bought in a garden centre), tissue paper and pva glue," continued the bride. "I used pliers to twist and shape the wire into funky flower shapes, then using a bit of a paper mache technique covered them in different coloured tissue paper, applying layers of glue and paper. I got lots of friends to help out with this. I finished it off with loads of different coloured organza ribbons."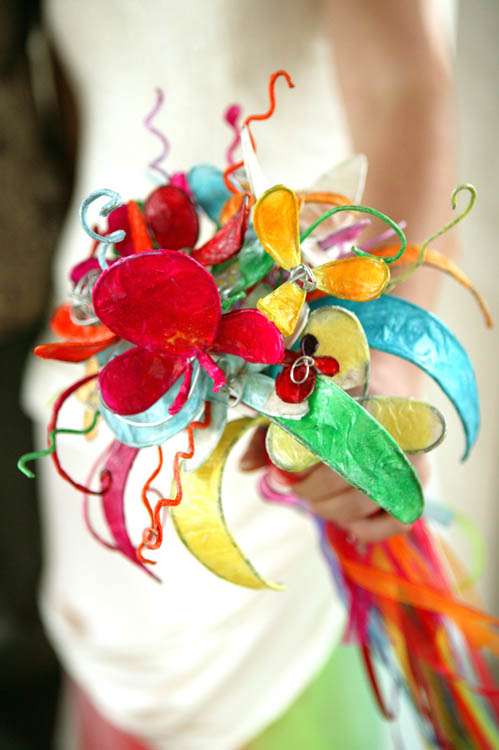 This provided the inspiration for her jewellery too as she took it a long when she had a meeting with the girl who made her and her bridesmaid's accessories. "I took my bouquet to a jewellery designer and asked for a necklace to go with it. She then created my necklace form glass beads that she made herself and silver wire. The bridesmaids/flower girls also had simplified versions of the necklace made for them."
In further efforts to save money, the entire reception decor was created by the couple and their friends and family. The flowers were potted pansies, which the bride was then able to take home and plant in her own garden, and only cost £29 in total! The cakes came from Tesco and were chopped up to make them 'wonky' and were then iced.  Niko also made rainbow wands for all the children so they had something to play with. These were easily created by attaching different coloured ribbons to hazel sticks. Finally, they attached different coloured strips of fabric and ribbons to the trees for extra decoration, which looked great and swayed in the wind – beautiful!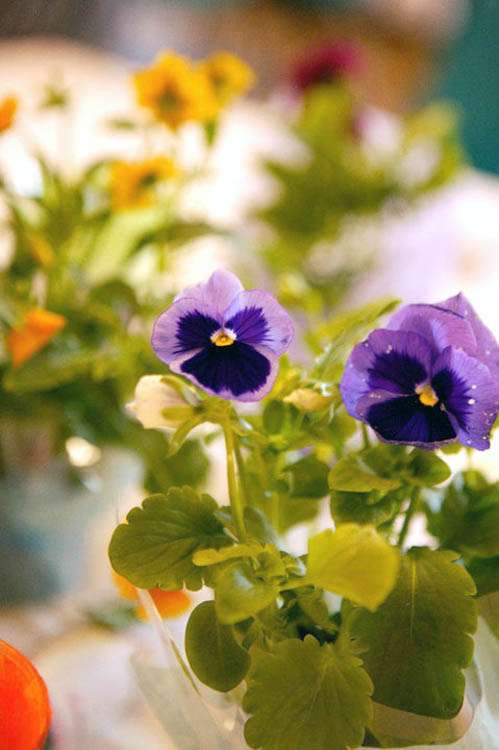 "I have never been one for dreaming of a big white wedding," she concluded. "The thought of a wedding dress scared me a bit – it just wasn't me. I was trying to think of a theme and I really liked the idea of rainbows. It's bright, cheery and fun. I really didn't want it to be a formal serious wedding. I was looking on google and found there have been a few rainbow weddings and one in particular caught my eye, after seeing what she did, I got to work! My house was full of ribbons and all things rainbow for weeks! I was still a bit scared of the whole dress thing, but because it was rainbowy and fun I felt a bit more comfortable and ended up totally loving it! (im not a natural girlie girl who loves all things pretty and feminine). Our three daughters on the other hand totally loved it all. They spent weeks asking 'is the wedding today, can I put my dress on yet??' "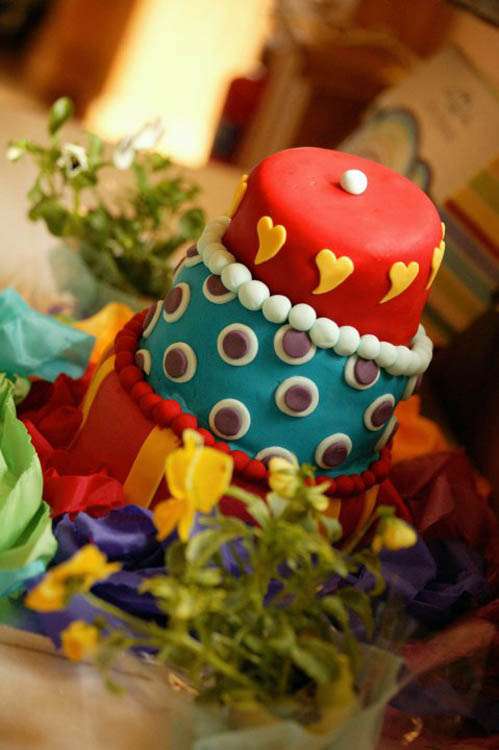 Huge thanks to Farley & Niko and their photographer Bethan for sharing this fabulously bright, rainbow wedding with us today
Photography Credit: Haywood Jones Photography
Ceremony Venue: Hertford County Hall Registry Office
Reception Venue:  Albury Village Hall, Hertfordshire
Bride's Dress: DIY
Bride's Shoes: eBay
Bride's Veil: DIY
Bride's Jewellery: Sarah Lamb Jewellery
Bride's Bouquet: DIY
Groom's Shirt: Ben Sherman from John Lewis
Flowers: DIY
Cake: Tesco & DIY
Band: 3 Madonnas
Bridesmaid Dresses: Coast
Invitations: DIY – emailed
Bar: Barcode